From Danville to Alamo to San Ramon, excited homeowners like you are eager to remodel their bathrooms thanks to record resale values. But money isn't the only motivator, since the pandemic has forced us home like never before, reminding us about our Dream Bathroom plans. Make them happen! The timing has never been better to transform a dull room with plumbing into a luxurious bathroom or transformative health and wellness spa for the family.
Speaking of cost, budgetary ranges for bathroom remodels vary tremendously, and are dependent on numerous factors. By their nature, bathrooms (next to kitchens) are the most complicated and expensive home living spaces to upgrade: costly fixtures, materials, and lighting, not to mention plumbing and electrical infrastructure that may force you to make significant structural changes. Given the complexity, you will first want to consider:
Bathroom size and overall layout
Quality of fixtures and materials to be used
Whether or not you want to move fixtures, change the layout
Partnering with a traditional or Design-Build contractor
The last point brings home the idea that regardless of your budget, partnering with a proven, trusted, and experienced contractor capable of handling all aspects of the work is key. From sharing your vision to bringing it to life, having a single "throat to choke" helps guarantee your project gets done on time and on budget. Speaking of budget, let's break down those ranges into three categories for you to choose from, which we'll call: Cosmetic, Remove & Replace, and Custom.
Cosmetic Bathroom: $6K-15K
A little can go a long way, as they say, a truism that also applies to your bathroom remodeling choices. The first and least expensive budgetary range involves mostly cosmetic changes that breathe new life into an old space. The assumption is that no fixtures will have to be moved, and the layout stays exactly the same. Even a tight budget allows a few fixtures to be replaced, such as a prefab vanity and sink, and a new store-bought toilet. A fresh coat of paint does wonders.
Low-cost bathroom accessories and lighting can bring a dated bathroom back to life. Creativity can lend a hand, with some improvisation along the way. In this budget range, you should expect to do most of this work yourself. Something is certainly better than nothing, and if you're handy, you can transform your bathroom with some very basic cosmetic upgrades. But, if you have something more luxurious in mind, and are considering a bathroom remodel that is a little more complex, then you'll want to reach for the next level of comfort and enjoyment.
Remove & Replace Bathroom: 8-12% of Home Value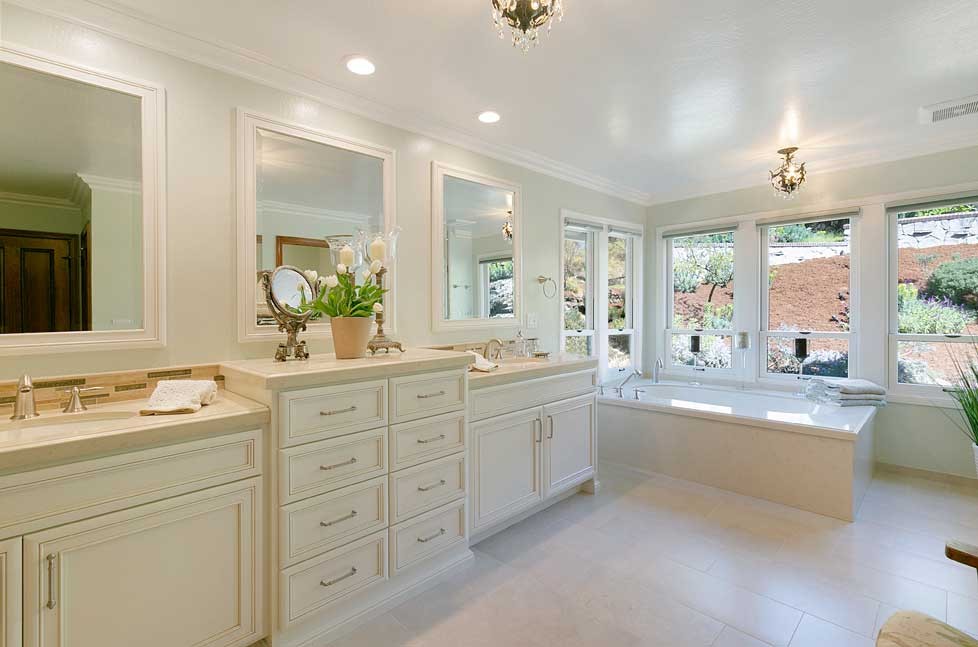 The next budgetary range to consider is between the bare-bones basic remodel and going all out. For this choice, the trick is to indulge your designer with options to replace all the fixtures with improved models, but leave their locations and layout intact. With enough budget, you can also choose to move a non-structural wall, or place a divider between areas to evolve the living space. Higher tech embellishments like a heated floor and smart sensors will excite. Consider:
Double sink/Semi-Custom vanity
Stone countertops with stone or tile backsplash
Double head shower with frameless glass shower doors
New soaking tub
New toilet and/or bidet
A new faucet for tub, sinks, and shower
New tile floor with innovative designs
Tile tub deck and shower stall accessories
New advanced lighting effects and mirrors
Radiant heat in the floor
Custom Bathroom: 12%+ of Home Value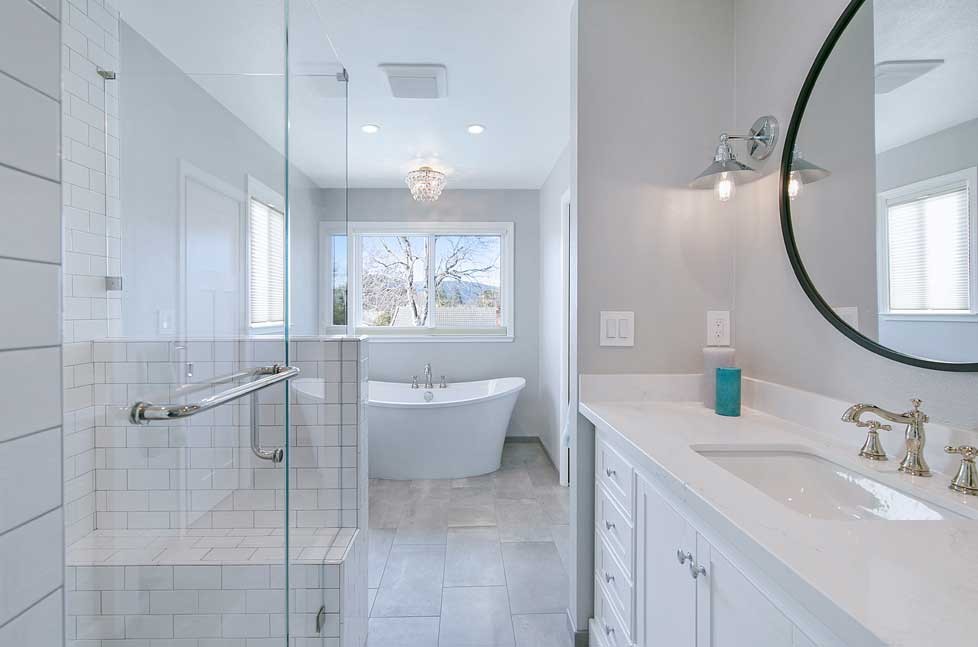 Homeowners throughout Contra Costa County dream of transforming their traditional bathrooms into modern health and wellness centers and home spas. If this tier suits your pocketbook, then the sky's the limit – including embedding a skylight! Team closely with an expert designer to bring your marvelous vision to life, and then select the perfect fixtures, lighting, accessories, and finishing materials to make the dream finally come true. There's never been a better time.
With this cost range, you can pretty much go cart blanche and design your bathroom from the ground up. Start with a custom layout ideally suited to an expanding family, live-in grandparents, or any and all needs. With the ability to tear down walls and reroute plumbing and electrical lines, you'll be able to increase the overall size of your bathroom and change its dimensions, thereby creating a custom environment ideally suited to everyone's needs:
Custom design/layout
Repositioned and repurposed walls
New framing as required
Relocate and update plumbing and electrical
Soaking jetted tub
Custom-designed shower
Designer cabinets, stone tops, designer sinks
Tile flooring and backsplash
Radiant heat and all-new mood lighting
Smart fixtures and accessories
Gorgeous surfaces and decorations
New venting and air circulators and purifiers
And whatever your imagination and designer recommends!
With great power comes great responsibility – and freedom to choose, especially when designing and building a high-end bathroom. Age in place, for example, is an option for many homeowners in Contra Costa County, necessitating a few important remodeling decisions. Bathrooms can be dangerous places, so investing in a non-slip floor, shower, and bathtub handle and rails, and strategic placement of your new custom toilet, sink, and cabinets smooths the transition.
After You Choose Your Bathroom, Choose Gayler
Now is the time. Gayler Design Build is an unrivaled, award-winning design-build firm with 22 national and regional design awards and specializing in remove and replace as well as custom bathroom remodels. Founded in 1961, they are located in Danville, CA, and serve the Tri-Valley and Lamorinda areas. With an enviable 23-year track record, Gayler is your best choice for home remodeling done right, especially during these chaotic times.
Gayler's thorough planning process, quality of craft, dedication to excellence, and clear communication keep each remodeling project on track at every step. Family-owned and headed by Chris Gayler, their five-year written warranty means they stand behind their work and their word, and ensure fairness and efficiency every step of the way.

Take a look at Gayler's comprehensive design-build bathroom remodeling services, sign up for a webinar, stay informed with their newsletter, and contact us with any questions at 925-820-0185. Despite all the challenges of this unprecedented couple of years, the folks at Gayler Design Build are here to make your remodeling experience smooth, efficient, and even enjoyable.