Looking to give your bathroom a makeover? With the focus in interior design shifting from luxury baths to luxury showers, there's never been a better time to remodel. Whether you're seeking a vibrant wake-up splash or a calming steam session to cap off the day, a modern shower has it all.
This article looks at innovative opportunities to design the perfect shower for your Contra Costa County bathroom. Our tips and ideas cover the ideal blend of aesthetics, functionality, and comfort that will enhance your lifestyle and help increase the overall value of your property.
Start with Location and Size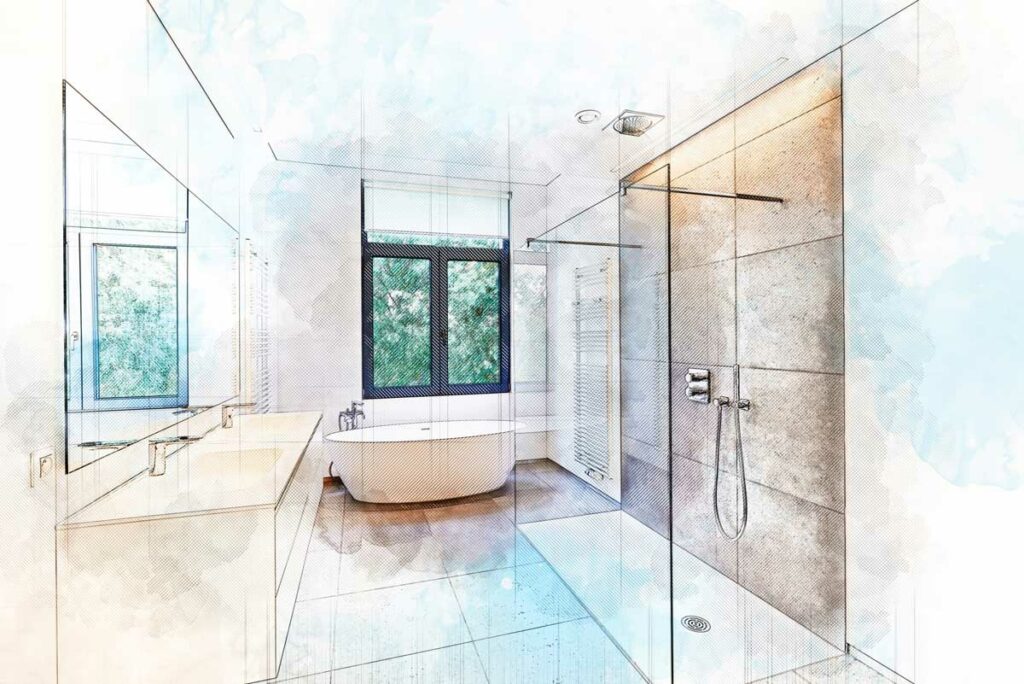 Kickstarting the design of your dream shower begins with identifying the perfect location and size. While corner spots are a popular option, center-room – or even separate enclosures (like a water closet) – offer unique possibilities.
The shower size should resonate with your personal needs, budget, and bathroom dimensions. For smaller bathrooms, a more compact design will be preferred. On the other hand, if space isn't a constraint, go grand for a luxurious, relaxing experience.
It's crucial to harmonize your shower with other elements in the space, like a vanity and toilet. If your heart is set on a specific shower size, consider ways you might be able to expand your bathroom to accommodate your desired features.
Curbed or Curbless?
The curbless vs. curbed shower debate largely depends on your style preference and practical needs. Curbless showers, with their sleek and modern aesthetic, eliminate the traditional barrier, fostering an open, spacious vibe.
They're also more accessible, especially for family members and guests with mobility issues. However, they require a specific drainage system and a sloped floor, which could add to the cost.
Conversely, curb showers are more traditional and may be a better fit for homes with a certain older look or homeowners who prefer a more enclosed showering experience. While both types add value and style, the choice ultimately comes down to your lifestyle, budget, and design vision.
Statement Shower Doors
Statement shower doors lend style and elegance to your bathroom while enhancing the perceived spaciousness of the shower itself. There are several styles to choose from depending on your bathroom layout, shower design, and physical preferences.
Sliding doors are ideal for compact spaces; folding doors offer a practical, space-saving solution; and hinged doors deliver a timeless appeal for all bathroom sizes.
Frameless doors are a fantastic option for a contemporary look, contributing to a more open and spacious ambiance. Regardless of the style you choose, it's always sensible to prioritize high-quality materials for durability, so your shower will stand the test of time.
Statement Shower Walls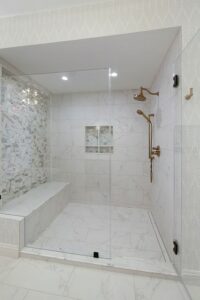 Like with shower doors, statement shower walls are a fantastic way to infuse personality and flair into your bathroom. For example, depending on your desired look, you might go bold with a vibrant color or opt for a unique tile pattern to generate visual intrigue.
Feature walls with contrasting tiles can create a dramatic focal point. Practical yet stylish elements like a built-in shelf add utility while also enhancing visual interest. Whatever your design preference, ensure the materials are easy to clean for long-lasting beauty.
Choose the Right Fixtures
Choosing the right fixtures for your shower can make all the difference.
First, consider the shower head and handles placement—do you prefer a traditional or a more modern layout? The range of options is broad, from handheld and rain shower heads to body sprays for a spa-like experience.
Next, consider your drain options: standard or linear? The standard drain is a traditional round or square hole, while the linear, as the name suggests, is a rectangularly shaped, long, and narrow drain. Both come with a variety of finishes and drain grate styles.
The location of the drain also matters, affecting the shower's overall design and functionality. It can be right in the middle, slightly to the side, against a wall, or almost invisible beneath a built-in shower bench.
Seating Selections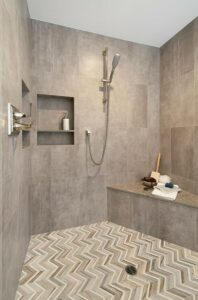 Integrating seating in your shower can significantly increase comfort and accessibility. Whether you prefer a built-in bench or a removable stool, your choice should reflect your needs and the shower's overall style.
Built-in benches offer a seamless look, while removable stools provide flexibility. You might also consider a footrest as part of the shower design, providing a shaving shelf and a platform to massage tired leg muscles.
For a luxurious touch, consider a waterproof teak bench. If accessibility is a priority, opt for seats with handles and non-slip surfaces. Remember, safety and comfort are paramount, and the perfect seat can enhance both the practicality and enjoyment of your shower experience.
A Niche or Shelf is a Must Have
Every shower needs a place to store essentials like soap and shampoo. But if you've ever struggled with a shower caddy, you often wish for something sturdier and more permanent. A built-in niche or shelf helps keep your shower clutter-free while enhancing its appearance.
When planning the size of your niche or shelf, consider how many items you typically need close to hand. Also, think about the height differences of family members and how easy it will be for each person to reach the shelf.
Regarding materials and colors, there are two ways to consider your design choices. You can blend your niche with the rest of the tiling, so it's almost invisible. Alternatively, the niche can have a contrast of some kind, so it stands out – such as a different tiling style, material, or tone.
Incorporate Lighting into Your Shower Design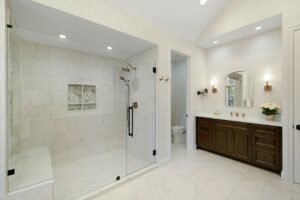 A well-lit shower enhances functionality and creates a safe, stylish, and relaxing ambiance. There are so many wonderful lighting options for shower areas these days, many of which can illuminate selected features such as a niche, shelf, mirror, or even the shower head itself.
A mix and match of lighting creates a lovely layered effect and offers different lighting options for different moods and times of day. Options include recessed, track, and pendant lights, with LEDs offering energy efficiency and durability.
Consider Smart Technology
Smart technology for the home is advancing rapidly, including in the bathroom. There are many high-tech options for showers, including installing a control hub from which you can easily control water temperature, pressure, spray options, and even manage lighting controls, all from one touch panel.
Waterproof speakers with voice control can turn your shower into a personal concert hall, while a heated, fogless mirror ensures you'll always be able to see a clear reflection. Smart tech is constantly evolving, so it's worth talking with your trusted design-build team for advice on the best technology for your shower.
Consider A Wet Room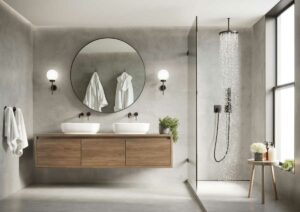 A wet room is a bathroom with no separation between the shower and the rest of the interior. This type of room is growing in popularity throughout California as it creates a more spacious, light, and airy feel, as well as actually saving space.
Wet rooms are also easier to keep clean and are excellent for accessibility, complying as they do with many aging-in-place design rules. They also give a spa-like atmosphere. However, they do result in a wetter bathroom, so waterproofing measures are essential. Nevertheless, with careful planning, a wet room can be a stylish, practical, and cost-efficient solution for your bathroom renovation.
Choose a Bath Remodeling Expert like Gayler Design Build
Since 1961, Gayler Design Build has been remodeling homes in California's Tri-Valley and Lamorinda areas. And we are the only design-build firm with a 23-year unbroken record of on-time and on-budget project completions. It's something we're incredibly proud of.
As a third-generation, family-owned design-build firm, we want you to be proud of your home renovation too. That's why we work with uncompromised values. It's how we define our company and what we believe in. So when you want to remodel your home in Contra Costa County, trust Gayler Design Build.
Learn more about our design-build process and visit our portfolios for inspiring photographs of some of our previous remodeling projects. Then, when you're ready to discuss remodeling, contact Gayler Design Build at 925-820-0185 for a complimentary in-home design consultation. Or use our contact form to schedule your appointment.
Want more inspiration? Sign up for our newsletter and follow us on social media!