Any home remodeling project is exciting, especially a bathroom. But, if your budget has put a damper on your enthusiasm, you might be reevaluating which features are must-have items and prioritizing those over nice-to-haves. In this post, we'll look at 12 high-value bathroom upgrades that will significantly improve the overall design and functionality of your space. Then you can decide which ones to include in your bathroom remodel.
Include a Place for Everything with Custom Cabinetry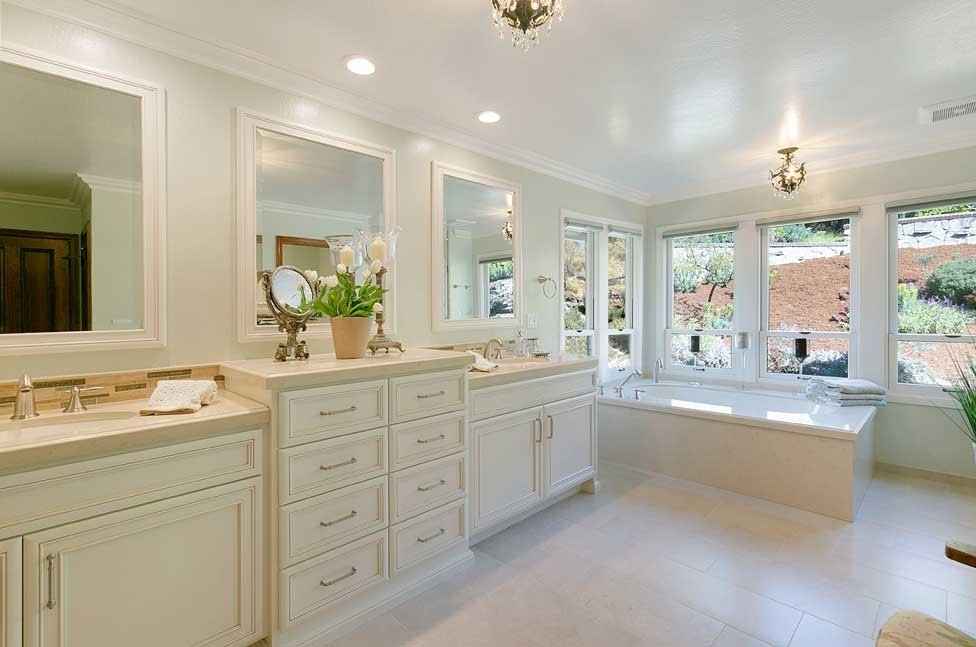 When choosing custom cabinetry, you get a finished look tailored to your style and needs. Custom cabinets are built with higher-quality materials than off-the-shelf cabinets and are color-matched to your particular palette. Specialty cabinet choices include a myriad of options you won't find at a big box store like drawer organizers, integrated electrical outlets, built-ins, and open shelves.
Open Up the Heavens with Skylights
You can never go wrong with flooding a space with natural light. The light provided by a skylight brings a warm and inviting atmosphere to what could be a relatively cold space, particularly if the bathroom has no windows. In addition, natural lighting saves you energy usage and inhibits mold and mildew growth. A professional contractor can advise you on the best number and placement of skylights for your bathroom remodel. And, they can enlighten you on modern options like solar-powered, electric, motorized shades, tinted glass, and even timers.
Breathe Easy with a Steam Shower
The ultimate spa-like luxury, a steam shower is a shower enclosure that safely produces steam. The enclosure is sealed so the steam doesn't escape into the bathroom, creating a sauna-like effect. With a steam shower, you'll reap a sauna's benefits without sacrificing another space. Those benefits include soothing relief to some skin conditions, clearing the sinuses, relieving joint pain and inflammation, and relaxing tired muscles. In addition, adding a steam shower to your bathroom will increase the value of your home.
Make Showering Comfortable with a Niche/Bench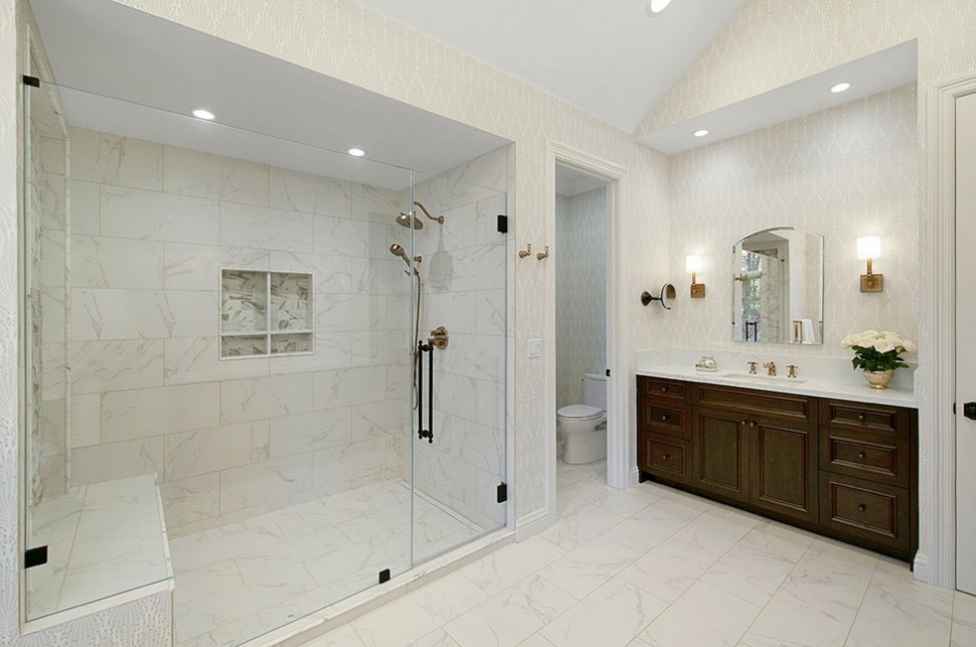 Shower niches maximize the wall space in your bathroom and provide out-of-the-way storage for your products without additional units. No more tripping over bottles with shampoo in your eyes when they're all tucked neatly inside the wall niche. A shower bench provides a place for senior, injured, or disabled family members to sit while showering. Both additions add value and visual appeal to any design style. 
Relax and Unwind in a Freestanding Tub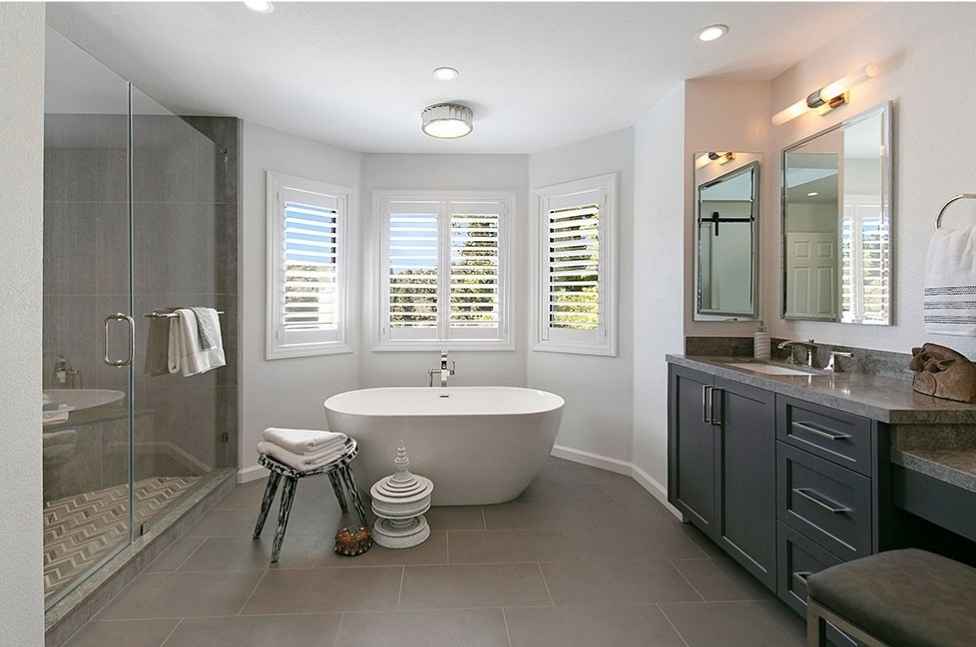 Nothing in the bathroom is more luxurious than a freestanding tub to soak away the world's cares. Available in all styles and finishes to complement any bathroom remodel, a freestanding tub can be located anywhere in the room, unlike a built-in tub which must be up against a wall. In addition, they have a distinct style that gives the illusion of space, making the most diminutive bathroom look quite large. And even the most modern-style tub still gives the room a hint of nostalgia. Add a stunning chandelier overhead, and you have the perfect spa-like atmosphere.
Feel Like a Movie Star Using a Custom Makeup Station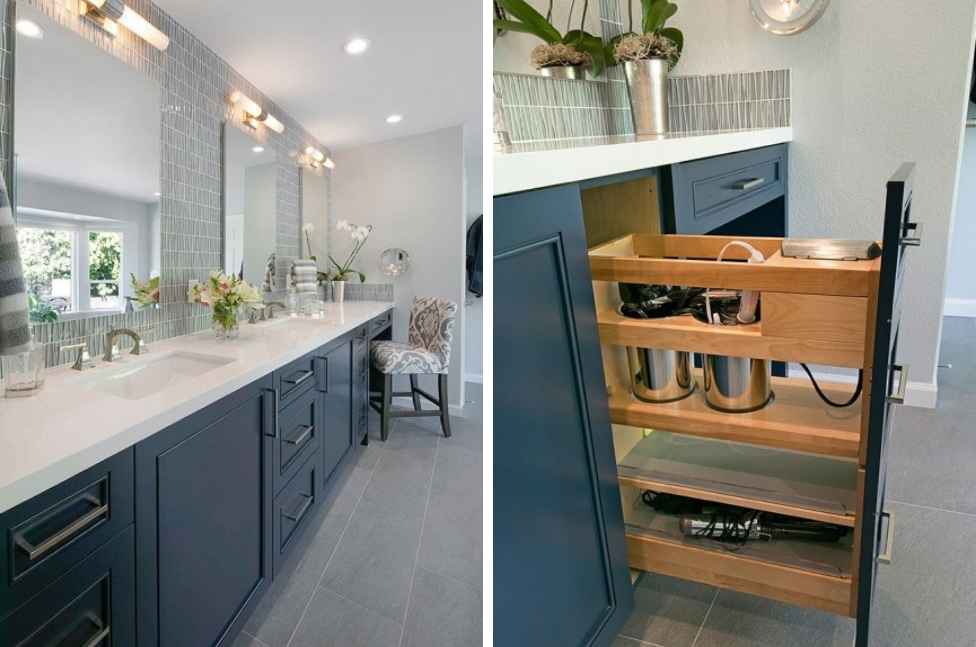 Many old movies include a scene with the leading lady sitting at a bedroom vanity, brushing her hair, and preparing for a restful night's sleep. Imagine having a contemporary-style vanity or makeup station in your new bathroom. When choosing custom cabinetry, you can include specialty drawer organizers for your makeup and hair tools with integrated electrical outlets. Add a lighted magnifying mirror, and you have the perfect place to prepare for an evening on the town or just a day at the office.
Add Elegance with Marble Tile
Marble tile gives any space the look and feel of luxury. Added to the bath, you have an authentic spa-like atmosphere. Italian White Carrera tile is an opulent choice for floors and walls and is available in many shapes and sizes. When you partner with a design-build professional, they can advise on the perfect use of marble in your remodel and can use it to increase the value of your home. 
Save Space with a Mirrored Medicine Cabinet
Keep clutter at bay by switching your over-the-sink mirror for a mirrored medicine cabinet. These slim-form cabinets maximize the use of wall space by fitting inside between the studs. They also provide the perfect place to store small personal care items where you can reach them easily.
Heated Flooring Keeps Your Feet Warm
Imagine stepping out of bed in the middle of a cold winter night, and your bathroom floor is not cold but warm and inviting. Accomplished with specially heated mats that install under the tiles, heated flooring is both luxurious and economical. To bring the comfort level of your bathroom remodel up a notch, let your design-builder know you want heated flooring when planning your project. 
A Heated Towel Rack Has Multiple Benefits
Never try to dry yourself off with a towel still damp from the morning again. A heated towel rack gives you the luxury of having a warm, dry towel for every shower. Also, heated towel racks use less energy than popping those moist towels in the clothes dryer, reduce odor-causing bacteria that grow in damp towels, and reduce the number of towels in the wash. 
Add a Bit of Romance with a Fireplace
Bring the romantic ambiance of a fireplace into your bathroom without the mess of a traditional fireplace when you choose electric. When you partner with a professional design-build team, they can advise you on the best placement and style to give your bathroom that warm, comfortable glow that helps you relax while soaking away the trials of the day. An electric fireplace can be perfectly safe in a bathroom, whether a built-in, freestanding, or wall-mounted unit. They provide realistic flames, heat, and in some models, the heady scent of burning pine.
Stay Clean and Green with a Heated Bidet Toilet
Long used in other parts of the world, bidet toilets are starting to catch on in the US. And not without reason. A bidet provides a stream of water that removes residue left on your skin without the irritation that toilet paper creates. In addition, the user can vary the water's direction, temperature, and pressure for greater comfort and effectiveness. Not only are bidets more comfortable, but they're also a greener option for homeowners concerned about paper and packaging waste.
Partner with Gayler Design Build
For more information about high-value bathroom upgrades, contact Gayler Design Build in Danville, California. Founded in 1961, their award-winning team serves the Tri-Valley and Lamorinda areas, where they're known for an enviable 23-year track record of completing every project on time and on budget.
The Gayler design-build team specializes in multiple projects, including bathroom remodels. Their five-year warranty demonstrates they stand behind their work and their word. In addition, they use a project management platform that keeps the lines of communication open. Clients can access daily logs, photos, and scheduling items through a private portal.
To work with their amazingly skilled team on your bathroom project, contact a team member at (925) 820-0185 or use the contact form on their website to schedule an appointment for a complimentary consultation. Or, if you're not quite ready, stay up to date with current trends and ideas by subscribing to their newsletter. Gayler Design Build is always here to make your remodeling experience smooth, efficient, and enjoyable.