If you find your kitchen space not living up to its full potential, perhaps it's time for a remodel. After all, according to the 2021 U.S. Houzz & Home Study, kitchen renovations are the most frequently requested of all interior upgrades, and they offer a great return on investment. According to Remodeling's 2021 Cost vs. Value Report, a kitchen remodel can bring a 53.9 to 72.2 percent ROI, depending on its complexity. 
How Much Does a Kitchen Remodel Cost?
Many factors go into the final price of any home remodeling project. Consequently, a remodel designed for your home will have a different end cost than one done for your neighbor. The complexity of the project, your style and tastes, and the home's current condition all come into play. Some other factors to consider include: 
Whether the electrical, plumbing, or HVAC systems need repaired or relocated
If you're keeping the current floor plan or knocking down walls
The quality of the materials you want to include
Whether you're replacing the cabinets and appliances
Necessary repairs to any hidden damage
In addition, you've probably noticed the cost of living going up significantly in the last couple of years. Remodeling costs have too. A few reasons for the rise in home remodeling costs include:
A higher demand fueled by the onset of the pandemic
Fluctuating lumber costs
A nationwide labor shortage 
Supply chain issues continue to slow the beginning of construction
What Can I Do to Control My Kitchen Remodeling Cost?
To get ahead of rising costs, reach out to a professional design-build firm now. But choose your contractor wisely. "With high prices across the board," says Chris Gayler, owner and general manager of Gayler Design Build, "margins are shot out the window, enabling less principled contractors to extract exorbitant and unfair budgets from impatient homeowners." Instead, he recommends you be patient, diligently vet your contractors, and partner with an ethical firm that has the experience to bring your project in on time and on budget. Gayler Design Build specializes in everything from mid-range remodels to high-end, luxury kitchens and can provide a ballpark estimate based on your needs and expectations. To illustrate, here are three budget ranges to assist you in exploring all the options. They tell you what to expect, depending on the size of the job, the scope of work, and the quality of materials.
The Cosmetic Kitchen Remodel (Basic $15,000-$35,000)
A basic kitchen remodel is for the homeowner who's generally happy with their design but needs a few cosmetic changes. This type of kitchen facelift keeps the walls, utilities, and cabinets in place but replaces fixtures, appliances, or lighting. If you want to spruce up your kitchen on a budget, here are some of the things to expect from a cosmetic kitchen remodel.
Updated lighting for a more modern style and energy savings
New smart appliances that are easy to use and energy-efficient
New easy-to-clean flooring 
Painted or refaced kitchen cabinets with new hardware
New laminate countertop with backsplash. "You can really play with these surface elements to get a unique, stylish, or classic look that you love cooking with," says Gayler. "Modern laminate surfaces use photo printed technology and a unique edge design to grab attention without a huge budget."
Mid-Range Kitchen Remodel (15% to 18% of Home Value)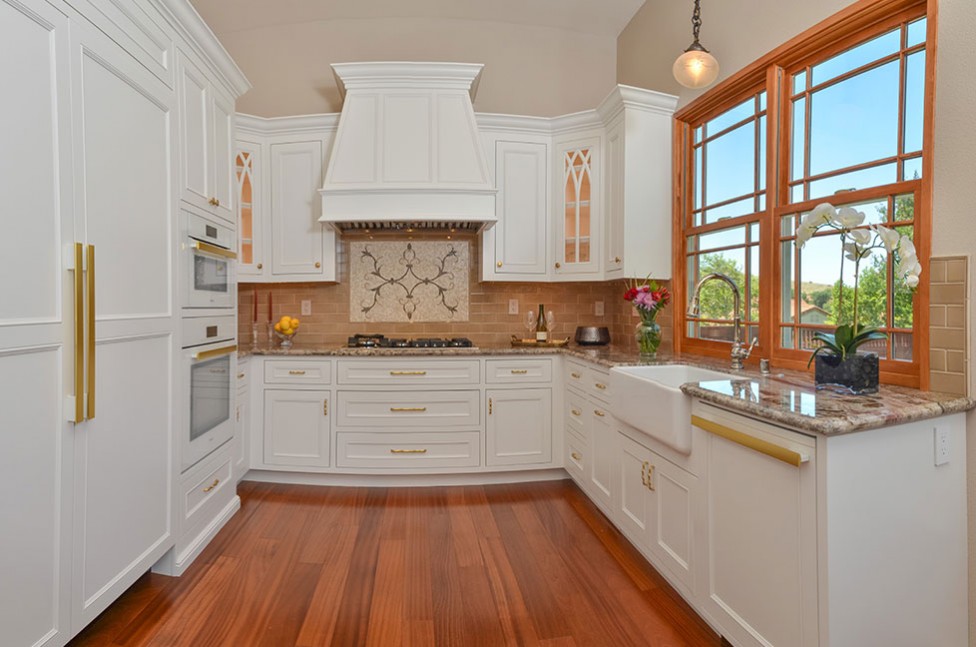 If you want to give the kitchen more than a facelift, you're in the mid-range budget category. This type of remodel involves changing the basic layout to update the flow of the space. You may even move some of the mechanics like ductwork or plumbing. For this range, you can expect the following options.
Items like double convection ovens, a steaming oven, an induction cooktop, or a French-door refrigerator are within this budget range. "Let your inner foodie out with some serious professional-grade appliances," says Gayler
An added island for food prep, dining, or entertaining
Upgraded cabinetry with some specialty cabinets to improve storage
New upgraded flooring like hardwood or ceramic tile
Natural stone countertop
Glass tile backsplash
Personalization with light fixtures, hardware, knobs, and other accessories
Luxury Kitchen Remodel (18% or More of Home Value)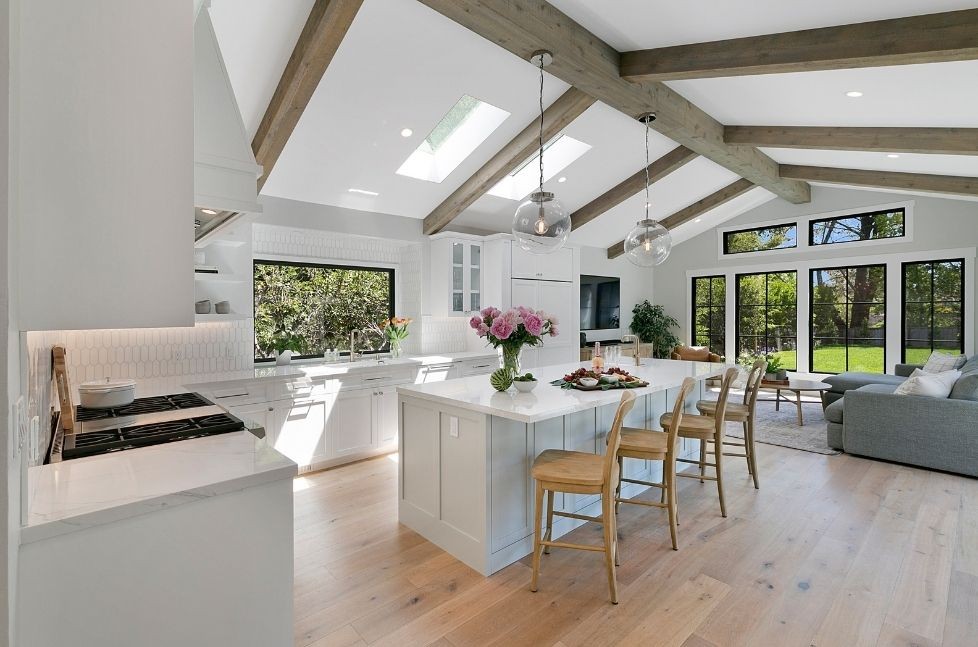 If money is no option, neither are the options for a luxury kitchen remodel. "A luxury kitchen remodel can change the entire space," says Gayler, by removing walls, adding islands, and incorporating architectural elements you've always dreamed of. So, for your luxury kitchen, you can look forward to:
Professional-grade, built-in appliances from top manufacturers like Sub-Zero, La Cornue, or Wolf are hidden from view behind custom-made doors to match your cabinets. "If you're entertaining large parties, the bigger, the better when it comes to all of the appliances," says Gayler.
Architectural elements like crown moldings, custom-designed windows, and tall ceilings
A professional design that fits your kitchen with the rest of the home
Quality materials like hardwood floors and natural stone countertops–A professional design consultant can help you find the best materials to reflect your style and taste.
Custom-designed hardwood cabinetry including built-ins for both storage and display, specialty pull-out cabinets, and premium finishes 
Statement pieces like a crystal chandelier, a mosaic tile focal point with stone, ceramic, or glass tiles, a solid wood live edge bar, a beautiful farmhouse sink, or vintage faucets 
After You Choose Your Kitchen, Choose Gayler Design Build
If you're hoping to remodel your kitchen this year, award-winning Gayler Design Build is ready to help you create the kitchen you long for while staying within your budget. They use a project management platform that keeps the lines of communication open. Clients have access to daily logs, photos, and scheduling items through a private portal. For 23 consistent years, Gayler has completed every remodeling project on time and within budget.
Family-owned Gayler Design Build has served the Tri-Valley and Lamorinda areas since 1961. If you desire a mid-range to luxury kitchen remodeling project, contact Gayler Design Build at (925) 820-0185 for a complimentary, in-home design consultation or use the contact form on their website to schedule an appointment. You can also learn valuable tips by subscribing to their newsletter.