Have you found your family spending more time outside? If all that outdoor living has you wishing for a more comfortable space, you're not alone. Whether you add a new deck or patio, an outdoor kitchen, or just a firepit, you'll gain an extension to your home with the casual, outdoor vibe your family cherishes. But is it in your budget? The cost to design and build an outdoor living space in Contra Costa County depends on several factors:
Size and location of the space
Design specifics–deck vs. patio, covered vs. uncovered, built-ins
Amenities and finishes–outdoor kitchens, fire pits, lighting, and materials add to cost
Pre-existing structural conditions to work around–steps, irrigation, retaining walls, or trees
Access to utilities–electricity, water, and gas
To help you plan your backyard renovation, we've broken down the project into three pricing tiers and what each may include. But first, let's look at the benefits of living life outdoors.
First Things First: What are the Benefits of Outdoor Living?
During the pandemic, homeowners spent more time outdoors because they were tired of the isolation. But, scientists have known for decades that outdoor elements positively impact mental health. For example, a 1984 study conducted by architecture professor Roger S Ulrich, Ph.D., found that post-operative patients recovering while gazing at nature healed faster and required fewer pain killers than those who didn't. But that's not all. Here are more benefits of outdoor living.
Extension of the Home
Outdoor living space makes your home larger. You can bring indoor amenities like cooking and entertaining outside to enjoy with family and friends. And the design can be as simple or extensive as you like.
Entertaining
With the extra space, you have more room for entertaining. Whether you have a large extended family or many friends, hosting is easier when you can keep most of it outside. And, when your home has a unique outdoor living space, your backyard becomes the ultimate hang-out for barbecuing on the deck, having fun in the sun, or celebrating under the stars. Best of all, friends will look forward to your get-togethers and ask when you'll host again.
Easy Meal Prep
Keeping the mess outside makes cooking a breeze in an outdoor kitchen. Whether you add a barbeque, gas cooktop, or pizza oven, cooking becomes a social event you'll love.
The Ultimate Staycation Spot
Create your dream destination and do away with the stigma of the budget-saving staycation. With a backyard that rivals a summer resort with a pool, hot tub, and space to entertain, staying home and enjoying the fruits of your labor never seemed more enjoyable. And you avoid the cost of a pricey trip.
Increase Property Value
Outdoor living space adds character and value to your property. According to the 2021 Cost vs. Value Report, just a deck addition gives you a 65.8 percent return on investment. Imagine the value if your backyard includes features like an outdoor kitchen and great room, pool and guest house, deck, pergola, or arbor. The possibilities of adding value to your home are endless.
Family Gatherings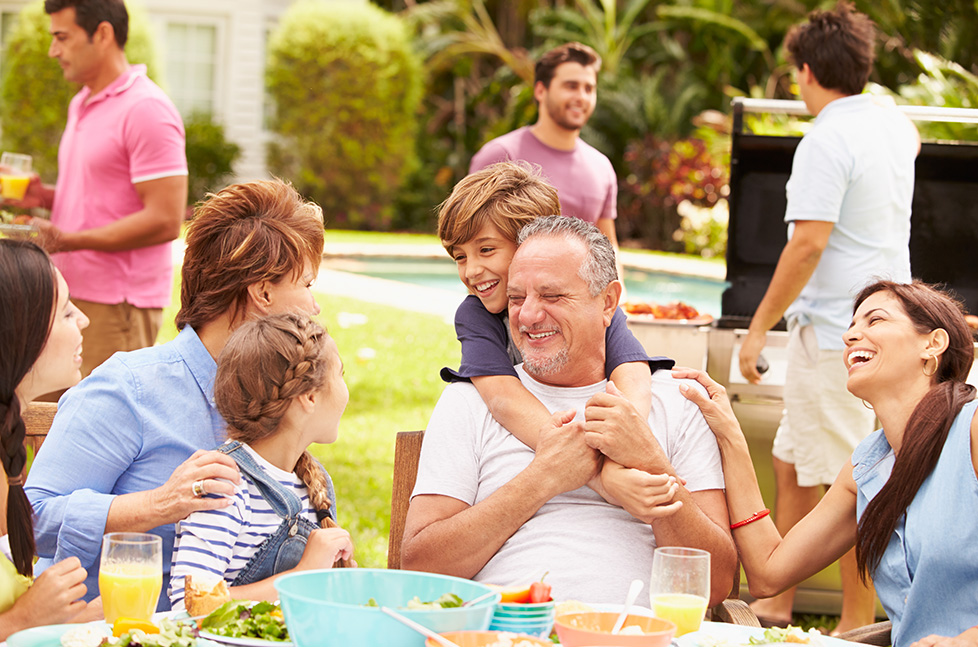 The ROI of family time is immeasurable and priceless. A new outdoor living space creates an environment for the family to spend time together. Daily outdoor dining, telling stories by the fire, swimming in the pool, movie night, and "camping" in the guest house are opportunities for making memories with those you love.
Small Outdoor Renovation: $2,800-25K
You can enjoy the benefits of a backyard makeover, even on a budget. With just a few minor changes, you and your family and friends can relax and revitalize while at home. Typical elements in a small outdoor renovation can include:
Kitchen-Style Island With Grill—With plenty of space for food prep, you can cook up a mess of ribs, burgers, or steak while spending more time outside with your family. If the budget allows, upgrade this feature with a cooktop and refrigerator.
Firepit or Fireplace—Enjoy the glow of an open fire on a chilly evening while roasting marshmallows, telling stories, or sharing drinks with friends.
Patio Flooring—Surround your new firepit with patio pavers or a poured concrete patio. Add some comfortable seating, a dining ensemble, or some lounge chairs for sunbathing, and you have the perfect space for whatever strikes your fancy.
A Bit of Shade—Budget-friendly shade sails and umbrellas provide the perfect place to get out of the sun during the hottest part of the day and can be removed when you want to work on your tan.
Water Feature—Nothing is as relaxing as the sound of running water. Include a small fountain or goldfish pond in your outdoor renovation, and you'll have the perfect place to unwind after a hectic day.
Mid-Level Outdoor Renovation: $75-200K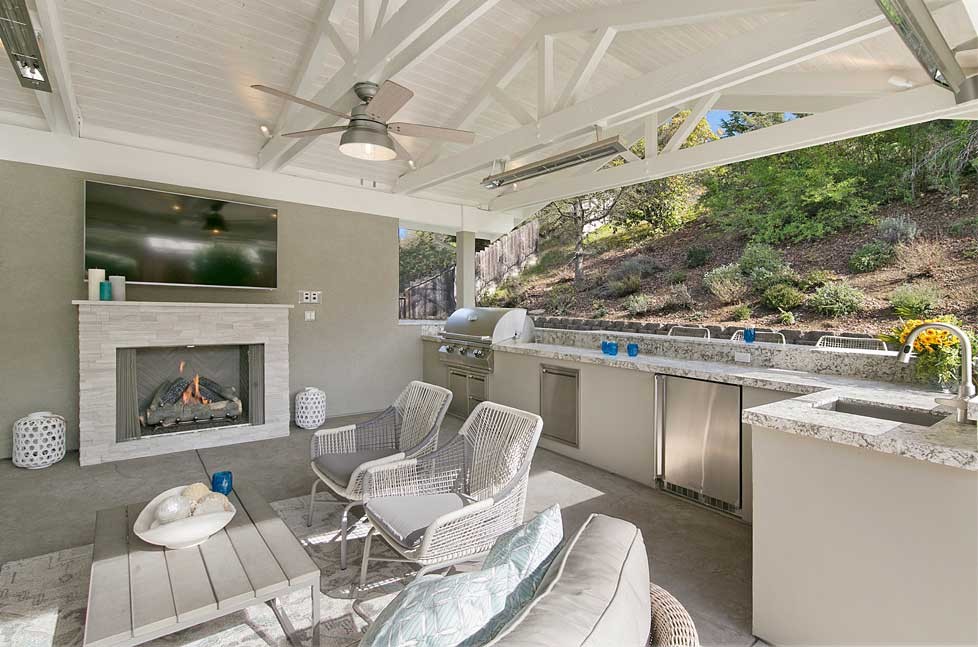 With a bit more in your budget, you can step up to a mid-level outdoor renovation. This project would include additional features and amenities to make your outdoor living more comfortable.
Fully-Functional Outdoor Kitchen—A chef-inspired outdoor kitchen adds a whole new level of luxury to the space. More than an island with a barbeque, this feature can include upgrades like specialty cabinets, pizza oven, outdoor sink, refrigerator, wine/beer fridge, ice maker, heaters, fans, and sound systems.
Additional Structure—A gazebo or pergola adds a stunning design element to your backyard, provides shelter and shade, and defines a space for conversation, dining, or relaxing.
Eliminate Barriers—Install sliding, stackable glass walls that open your home to the outdoors. When moved back, out of the way, guests won't know when they've crossed from inside to out. And to connect your indoor kitchen with the outdoor one, install a pass-through window to make moving items from one side to the other effortless.
Integrated Landscaping—One of the joys of outdoor living is enjoying the view of beautiful natural elements. Give the California sun something to shine about with a landscape professionally designed for the space and the climate.
Fully Customized Outdoor Renovation: $200K+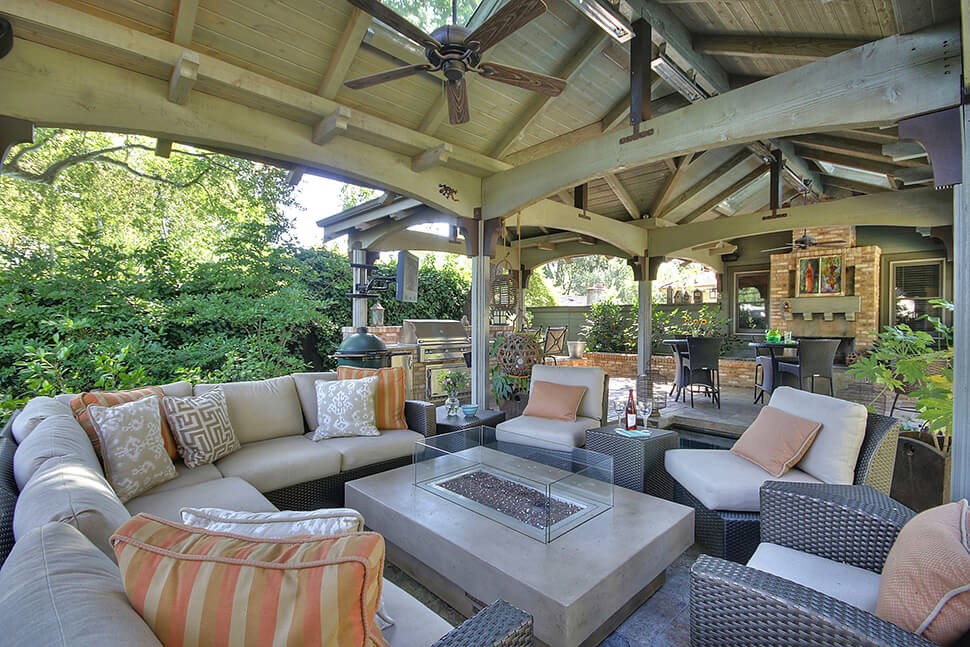 The possibilities are endless for a fully customized outdoor space with all the bells and whistles. With a bit more in the budget, you can add even more upgrades to create a unique space for luxurious outdoor living.
Roof Extension—Tie your outdoor space into your home by extending an elegant roof structure over the patio. The extension provides a permanent cover that protects from rain and the hot California sun. Roof extensions may also include power and lighting for all your activities.
Pavilion—Built separate from the main home, a pavilion is a free-standing roof structure that provides a shaded place for dining or other activities. Include lights, heaters, a fireplace, bar, and even television, and you have the perfect spot to watch the game with friends.
Luxury Louvered Roof—Unlike a traditional pavilion roof, a louvered roof has horizontal slats that open or close electronically. They rotate 180 degrees, allowing you to maneuver them in response to sun, rain, and wind.
Custom Pool House—Designed in the same style as your home, a pool house provides a place to change when swimming, grab a towel, or use the bathroom. Or, it serves as a guest house for out-of-town company or a personal retreat when you need to get away, but not too far.
Outdoor Great Room—Technically a large pavilion, an outdoor great room will have a custom kitchen on one end, a space for dining, and another seating area for conversation.
Latest Outdoor Living Design Trends
Design matters inside and outside your home. Partner with an experienced design/build team on your outdoor living project for a consistent style. A professional designer is familiar with the best materials, many options, and the latest trends in the industry. And they know how to put it all together to make your outdoor space the envy of the neighborhood. Here are some of the latest outdoor living design trends in the Tri-Valley and Lamorinda, California areas for you to consider.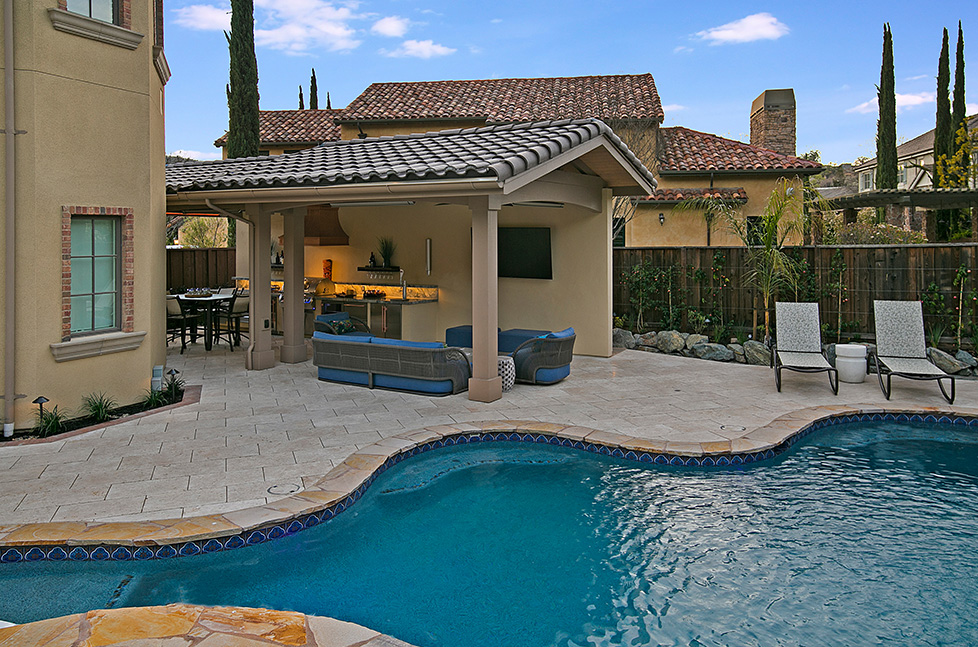 Concrete Rocks
Dorene Gomez, founder and owner of Dorene Gomez Interiors, sees a lot of concrete used outdoors. For everything from countertops and outdoor tables to firepits and patios, homeowners include it in their design. And, since concrete can be colored, stamped, stained, and stenciled, it fits well with just about any style. It's also naturally weather-resistant and can handle many years of use. "Of course, other natural stone is still popular," says Gomez, "like granite, quartzite, and ceramic tile."
Thin Is In
"Patio and deck designs for 2022 have less bulk with simpler lines," says Gomez. Trimming down the design provides an open view of the natural elements of the landscaping and gives homeowners a calmer, earthy feel. Sleek, less noticeable rails with lighter finishes like whitewash or gray stain make decks more weightless and airy. Also, mixing painted and wood finishes capture interest when styling outdoor spaces for overhangs and pergolas. For example, Gomez suggests adding a natural wood pergola and painted outdoor furniture to achieve this look.
Less Is More
A minimalistic style is everywhere. This style includes neutral fabric colors for the outdoor furniture seating, saving pops of color for pillows, cushions, and other accessories. Gomez recommends earthy tones like shades of green and relaxing blues to keep the space one of tranquility and renewal. "The hot style for outdoor furniture continues to modular seating," she says. "To be able to configure the seating at any time is very appealing to homeowners."
Quality Is King
Because outdoor living is more popular than ever, homeowners want higher-end functional furniture that lasts for years. "We always recommend Sunbrella fabrics because they are durable, easy to clean, and have fade-resistant UV protection," says Gomez. And, because Sunbrella has plenty of colors and patterns to choose from, homeowners often choose their fabrics.
Hire a Design-Build Firm
Your outdoor living area is just as important as the space inside your home. And California's fantastic weather affords many opportunities to spend time outside doing the things you love with friends and family. Work with a professional design/build firm like Gayler Design Build in Danville for a seamless experience and an outdoor living area you won't want to leave.
Collaborating with a design/build firm is like a "one-stop-shop" for home remodeling. The firm handles everything from the planning and design phase to construction and beyond. Gayler's project management platform keeps the lines of communication open and assures that everything is done in the proper order and on time. Of course, they also handle all the paperwork, like permits and warranties.
Gayler professionals have completed projects for homeowners in the Lomarinda and Tri-Valley areas on time and on budget for over 23 years. And as experts in designing and building mid-level to fully-customized luxury patios, pool houses, outdoor kitchens, and other outdoor living spaces, they're equipped to help you create the perfect oasis for your home. Take a look at their comprehensive outdoor living portfolio to spark ideas for your backyard.
Once you've collected ideas for your home, sign up for Gayler's next live educational webinar on designing and building a custom outdoor living space. During this one-hour presentation, Chris Gayler provides free professional advice on trends, features, and countertop selections. In addition, you'll learn about various types of space options, how to budget for your project, and what to expect during the process.
When you're ready to get started, or for questions, call 925-820-0185 or email. And if you're not quite ready, subscribe to their bi-monthly newsletter for the latest tips and trends in Contra Costa County.