Building a room addition or remodeling your kitchen, bathroom, whole house or outdoor living space can be complicated, and definitely complex. After the initial project plan and design stage, there are a number of moving parts that need to be planned, prepared and coordinated in order for your remodel to successfully complete on time and on budget. That's where an experienced Project Manager comes in. Here are some of the benefits of having a Project Manager for your home remodeling project.
Your Project Manager Acts as Your Main Point of Contact for Easy Communication
If you've thought about remodeling your kitchen or adding on to your home, you may also have had fleeting thoughts of just how to maximize productivity on your construction project. Will you need to be involved in every decision? Will you need to be there on site? The last thing you need is confusion when your home is in construction disarray.
By working with a design-build firm like Gayler Design Build, each remodeling client is assigned a dedicated Project Manager who oversees the project from the point where the design plan is approved and construction begins, and who serves as the homeowner's go-to source for any questions, comments or concerns. This creates one point of contact to keep everyone involved in the construction loop.
Risks are Minimized with a Project Manager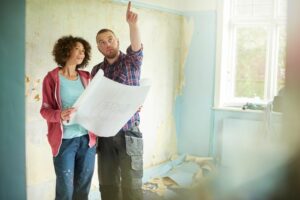 Any remodeling project has two types of risks: patent (obvious) risks and latent risks. Patent risks are those that can be seen with the naked eye, like rotting window sills. Latent risks are harder to find, and may be hidden behind walls or under floors, including plumbing or electrical wiring problems, or building code violations. These may not be revealed until walls or floors are opened up. Your Project Manager is knowledgeable in the types of issues that might emerge on a remodeling job, and is constantly inspecting, guiding and managing issues as they arise. Ultimately, this experience becomes invaluable to you in minimizing risks.
No remodeling project is perfect. Issues always arise. Knowing how to handle them is your Project Manager's expertise. Whether latent issues alter the scope of work or supply chain issues affect the production schedule, the Project Manager is there to mitigate any potential impact on you and your project.
Your Project Manager Frees Up Your Time
It's the Project Manager's job to eliminate any worries you might have about how the project will be managed—freeing you up to focus on your family.
The Project Manager is responsible for planning and implementing every detail of your construction project, so you don't have to. They know exactly what needs to happen and when, and will ensure that all materials are ordered and delivered on site at a particular time and sequence. They also manage the schedules for the production crew and subcontractors so everyone arrives and has access to your home on specific days.
Your Project Manager Acts as a Go-Between Among All Stakeholders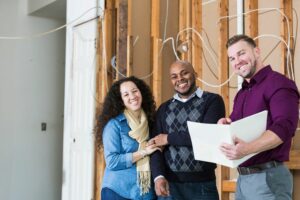 Within a remodeling firm there are layers of people responsible for your project, starting with the owners or general managers, the design department, production department, and office staff who handle bookkeeping and your customer service experience. Remodeling firms also hire vendor partners or subcontractors to perform specialized functions.
The Project Manager becomes invaluable in coordinating, cooperating and collaborating among all parties on your behalf. He or she manages timelines and schedules, obtains permits and inspections, and ensures, as the main point of contact, that your project stays on track and runs smoothly from pre-construction through post-construction.
Expectations Are Managed Through Your Project Manager
When homeowners start a remodel, they can often have unrealistic expectations about renovation costs, timelines and living through a remodel. Not surprisingly, home improvement TV shows have been a culprit for blurring the lines between fantasy and reality.
Project Managers help keep the record straight and manage expectations, and place client care above all else. You might have expected demolition would have been less dusty or disruptive, or that the plumbing and electrical would have been installed more quickly. The Project Manager is there to lay out realistic scenarios and outcomes, and address any perceived unrealistic expectations.
Your Project Manager Helps Ensure Your Remodel Finishes On Time and On Budget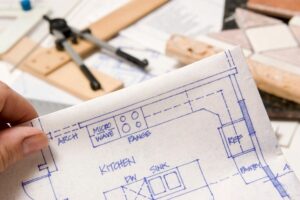 When you engage with your remodeling company, you expect your project to be delivered as promised: on budget, on time, and of course, with the highest construction quality. However, there is an amount of uncertainty in any job, especially with rising material costs and labor shortages. The Project Manager is there to manage through the uncertainty—keeping an eye on costs as well as delivery and labor schedules.
Coordinating schedules of vendors, subcontractors and trade professionals isn't easy. The Project Manager needs to know how long each aspect of the project will take, what materials and labor is required, and the lead times in ordering and receiving materials. It's not uncommon for Project Managers to use effective communication tools, like Buildertrend®, to facilitate clearer, more concise communication between trade vendors, production crew, office staff, and you as the homeowner.
Your Project Manager oversees all construction to ensure it is done correctly and to code requirements. His/Her job is to make certain your project finishes on time and on budget, and that you are thrilled with the end result.
For a High-Quality Remodeling Experience, Trust Gayler Design Build
The benefits of having a Project Manager for your Contra Costa remodeling project are essential for the overall coordination and completion of remodeling projects. Gayler Design Build's unblemished 23-year track record of on-time and on-budget delivery is a result of our award-winning teams who provide each and every client with a high-quality experience and exceptional results, along with an unprecedented five-year written warranty.
As a family owned and operated operation founded in 1961, Gayler Design Build serves the Tri-Valley and Lamorinda areas of California with remodeling for additions, kitchens, bathrooms, outdoor spaces, ADUs, and whole house transformations. For inspiration, visit our Gallery's Design Portfolio. And download our free guide to preparing your home for remodeling.
To work with Gayler's skilled team on your remodeling project, contact us at 925-820-0185, or fill out our contact form to schedule a complimentary consultation. Or if you're not quite ready to remodel, subscribe to our newsletter for the latest tips, trends and inspirations.