With the dawn of 2021, homeowners are ready to welcome new, fresh, functional design trends for their home remodeling projects. Every homeowner wants their home to exude chic distinction. So, what home design ideas are truly on point, and which are just a flash-in-the-pan? In this article, our design-build experts share their favorite 2021 home design trends that are sure to garner long-term satisfaction. To follow is what our remodel team is embracing this year in kitchens, bathrooms, and outdoor living spaces:
Kick Up Your Kitchen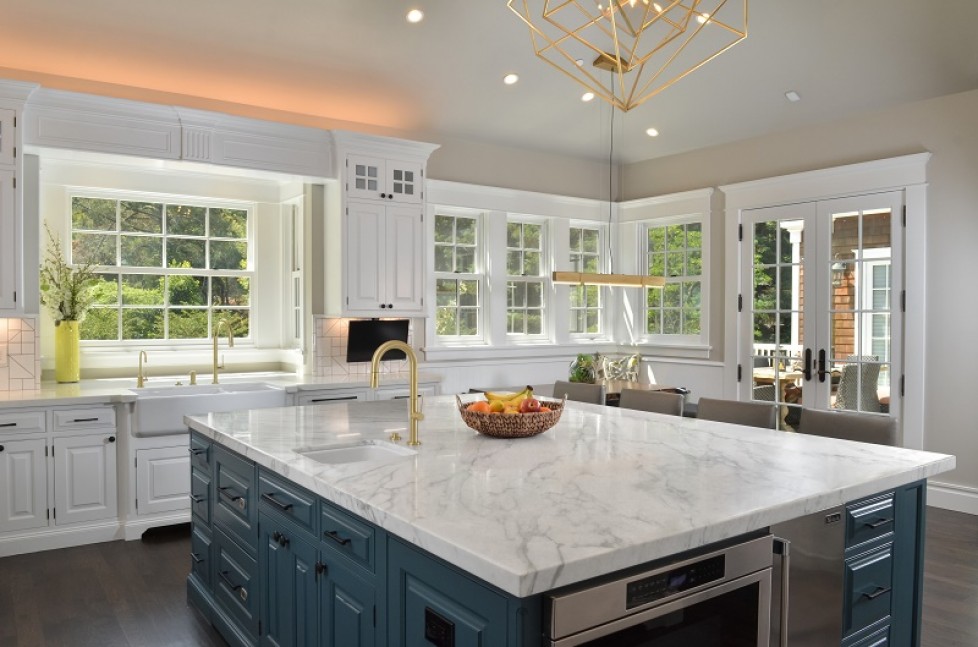 The kitchen has always served as the hub of any home, so it's a popular room to remodel. With that in mind, you may find yourself desperately craving a kitchen update. In that case, keep these important design trends in mind:
Marble countertops: You can hardly get more classy than marble countertops and backsplashes. It's sophisticated, elegant, and has been used in building for centuries. Because it's softer than granite and some other stones, it's easy to customize into different shapes to fit your needs. And while it does require regular maintenance, it is an ideal surface for working with pasta, pastry, and other baking doughs. Its lustrous white with gray veins fits gorgeously in nearly every type of kitchen design scheme.
Black kitchens: Think classy and contrasty, not dark and moody. Consider pairing black with white or other lighter colors as an exciting contrast. The monochromatic kitchen look is both refreshing and classic. And black is by no means a one-trick shade. Consider dialing up to a lighter black (dark gray) or glossy black tiles contrasting with glossy white on your backsplash. Or pair black lower cabinets with a bright marble countertop.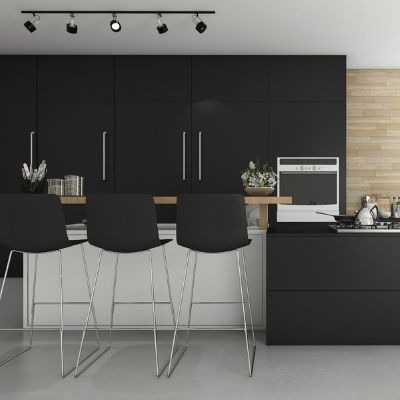 Custom wood cabinets: 2021 is all about choice, and if contrasty kitchens are not your thing, classic, rustic wood cabinets are another direction that works. After spending way too much time indoors last year, many people crave the outdoors. Natural wood brings nature inside, and custom cabinets are essential for people who want a kitchen to really work for them. Think custom pull-outs for bulky items, Lazy Susans for corners, and specialized drawers for storing spices or produce so you can keep your countertops clear and everything stowed and organized.
Pops of color: Even if you go monochromatic or rustic, this is the year to try bold colors in the kitchen to wake the senses and stimulate creativity. A good rule of thumb is choosing color combinations you feel good about—and that's not the same answer for everyone. Ask yourself how you'll feel about those colors five years from now. You can add pops of color with stunning tile backsplashes, appliance colors, cabinets, and even quartz countertops. But if you're not sure, you can always start with a wall color that could easily be updated should you change your mind.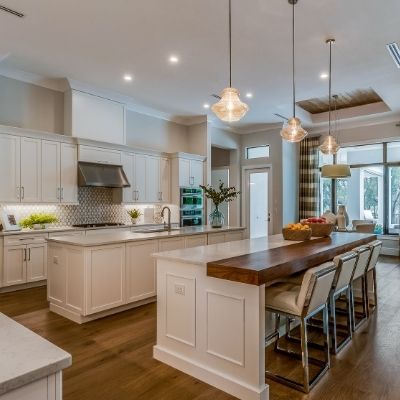 Double islands: If you've got the space and inclination, there's no reason you can't have two kitchen islands. In fact, two smaller islands can be a more efficient use of space than one big island. Double islands can help you streamline your kitchen work and even increase your customizable storage space.
Handleless cabinets: For a sleek, modern design, consider cabinets without handles sticking out and getting in the way of the visual or functional aspects of your kitchen design. Whether you opt for recessed handles or pressure-open drawers and cupboards, this look is all about simplicity.
Gold finishes: Few things say "Luxe" better than gold, and gold faucets, fixtures, and finishing touches are so 2021. They look incredibly stunning in those "black" or monochromatic kitchens as pops of shine.
Beautify Your Bathroom
If you're eyeing a bathroom remodel, focus on spa-like comfort and zen-like aesthetics that bring warmth, comfort, and natural refreshment into your daily routine:
Blended design bathrooms: Of course, the spa bathroom should be a place that is visually relaxing but never dull and boring. Bathroom design trends for 2021 are moving away from the polished, clinical feel toward bolder nature murals and other pops of natural and visual interest that spark the imagination, so you feel like you're luxuriating in an oasis.
Minimalist bathrooms: On the other hand, many people love the feeling of "less is more" in bathrooms. Banishing clutter and sticking to the essentials is one classic way of creating a zen space that feels free, open, and light. You get more open space by adding fewer non-essentials, especially in a smaller bathroom.
Luxury bathrooms: This year, gorgeous luxury tiles, warm rain showers, and natural luxury are growing more important in the bathroom. Gold fixtures and accents, as well as marble, are not just for the kitchen this year, but they work beautifully in luxurious bathroom designs as well.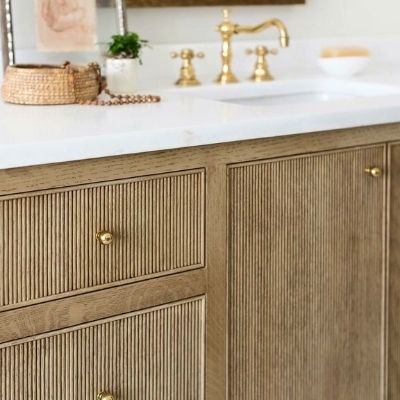 Ribbed surfaces: Create texture and visual interest by adding ribbed surfaces to vanities, cabinets, and even sections of your bathroom walls. There are no firm rules about which direction the ribbing should go; vertical, horizontal, diagonal, or even an artistic mix of directions can turn even a monochromatic, minimalist bathroom into something extra special.
The color green: Different shades of green are in demand for bathrooms as they bring feelings of calm, nature, contentment, and freshness. What better way to create that spa feeling in your bathroom by bringing such an emotionally refreshing color into your daily self-care rituals? You can go for muted, natural greens mixed with bolder, more saturated colors to stimulate the senses.
Warming earth tones: Soothing, rich, and warming; earth tones are another way to evoke calm and comfort in the bathroom. Natural stone elements like travertine tiles are luxurious, natural, and calming, which is just the sort of thing you want to experience in your spa bathroom design.
Embrace the Outdoors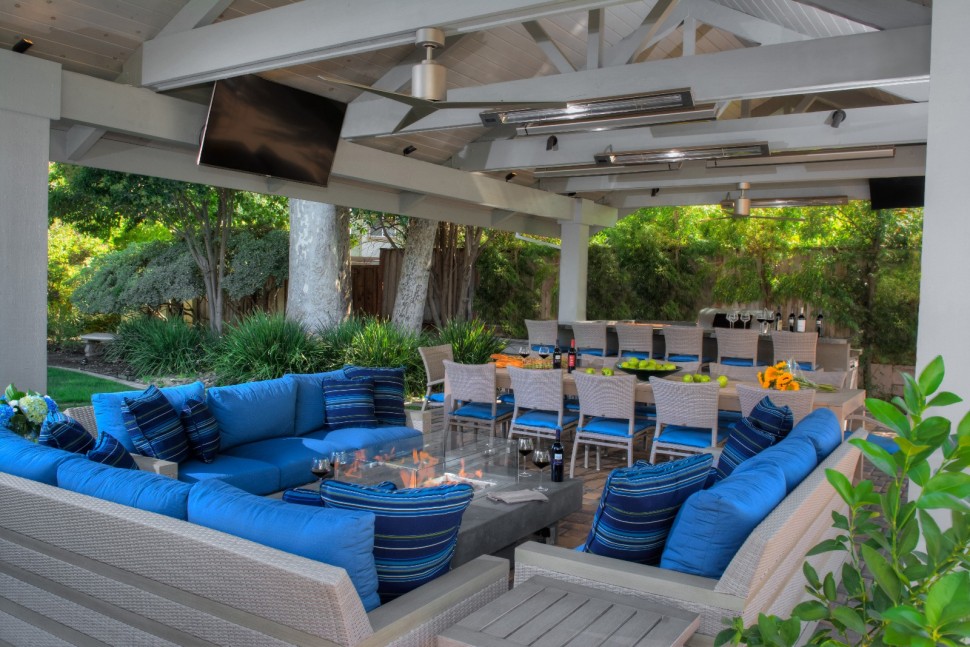 Making the most of your outdoor space is a key design trend for 2021. Your outdoor space remodel should create a place that feels like a vacation, even if it's just a staycation or an escape from the indoors. Consider upgrading your outdoor living space with some of these fresh ideas:
Bright colors—If one of the most popular indoor design ideas is bringing the outside inside, the reverse is true with outdoor living spaces: bringing bright indoor colors outside into the natural world. This blending of spaces can create a seamless flow of design from the indoors to the yard. Consider bright marigold, french blue, or burnt coral furniture and other design elements that stand out and bring a sense of joy.
Stone elements—Natural stone is the material of choice for outdoor kitchens and countertops because it comes from nature and is up to the challenge of handling nature's elements. Travertine, slate, and limestone are fantastic choices for outdoor wall cladding, pavers or countertops, and other hardscape elements.
Outdoor furniture—Another way to blend the indoors and outdoors is with the perfect outdoor furniture. These four ideas are key for 2021 outdoor furniture ideas: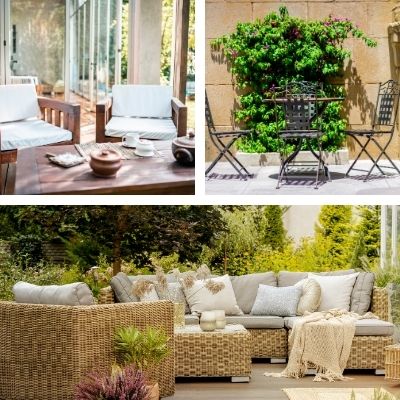 Wicker—If you want wicker, you're in luck this year. The lightweight, weather-resistant smooth curves are great for lounging and dining. It's easy to maintain, and since it's lightweight, it's easy to move into different configurations.
Wrought iron—If you're looking for something more substantial, wrought iron is an excellent choice that comes in a wide range of shapes and styles that will last the test of weather and passing trends. It resists rust and corrosion and won't blow away on a windy day.
Teak—Unlike other kinds of wood, teak is highly moisture resistant and doesn't warp or fade like other wood types.
Modular—More of a style than a material, outdoor furniture that comes with precise lines like square and rectangular sofas, chairs, and tables make an excellent choice for outfitting whatever outdoor space you have because you can again configure the pieces depending on your needs and design.
We Monitor Remodel Design Trends so You Don't Have To
The fact is, design trends can be so wide-ranging from year to year that it's a full-time job to keep up with them all. Rely on the 60 years of design experience from our award-winning Gayler Design Build experts to guide you through the remodeling process each step of the way. To get insider remodeling trends first hand, sign up for one of our webinars, or subscribe to our newsletter. You can also take a look through our portfolio for more inspiration. And when you're ready to begin, schedule a consultation with our home design experts: (925) 820-0185.
Dorene Gomez, GDB Team Interior Designer