Work from home used to be a convenient option for some, yet due to COVID-19 it has become a necessity for many of us. Now's the perfect time to not only make the most of these unusual and often trying circumstances, but create the home office you've always wanted. Here are 7 design and build considerations to help make your Ultimate Home Office (UHO) dream a reality:
Consideration 1: Know Your Needs
Every home renovation should begin with questions, the answers creating the vision of success. Your UHO is no exception, so let's start by asking the basics related to size, utilization, and atmosphere: How many people will be working there? Will most of the work be done on a computer? How important is the look and feel? Should there be silence or distractions?
Your responses will help visualize a personalized UHO design: Number of people and type of work done suggest an optimal size and configuration; the comfort you're trying to create will also lead you to design recommendations for type of furniture, fixtures, and decorations — and influence your choice of location, be it near your kitchen, living room, garden, or elsewhere.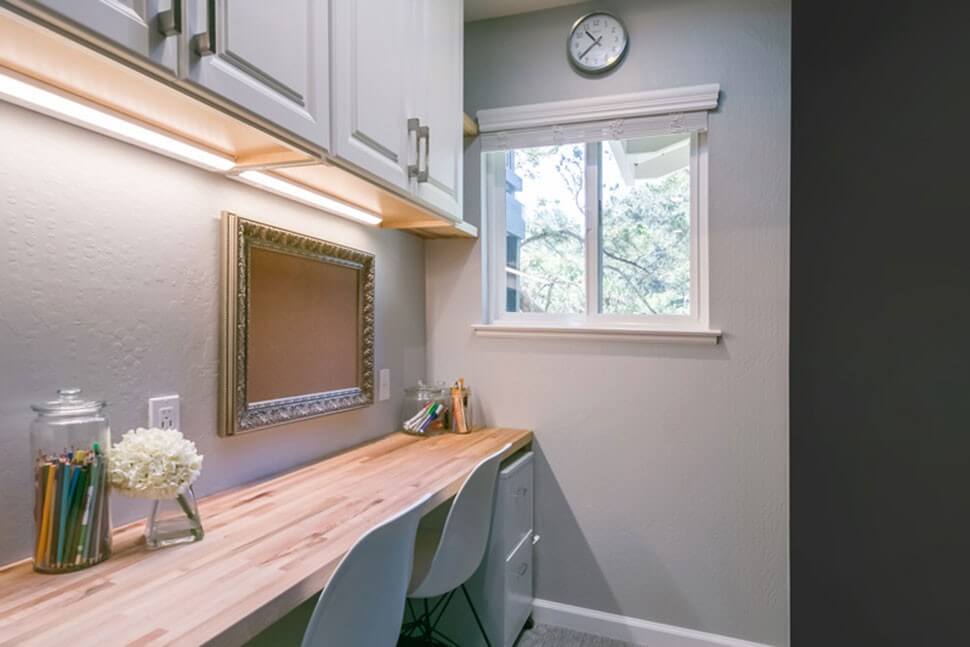 Consideration 2: Stake the Claim
Now that you have a general idea as to the size and layout of your UHO, the next question becomes: Where exactly should it go? Best case scenario is if you have an existing, unused or under-utilized room that can be readily converted. If not, now's the chance to re-engineer and repurpose an extra living room, guest room, or even a storage area and hidden alcove.
Depending on your needs, creative utilization of temporary room dividers, screens, pony walls, and hideaway storage areas can quickly convert a living area into your home office as required. On the other extreme, an entirely new room addition could house a large, secure, quiet, and completely private new UHO. Discuss and compare all these options with your contractor.
Consideration 3: Balance Form & Function
Now that you know where, the size and shape of your desk should frame the layout of your UHO. Whether custom configured or stock, desks should fit your personalized needs and match the look, feel, and style of the available space. Standard configurations include L- and U-shapes, corner, curved, and rectangular forms. Tailored desks are variants of these or unique designs.
Free-standing desks are the most versatile and affordable, and built-in desks the most solid with ample room for storage space and hidden drawers. Standing desks have become increasingly popular to help with lower back problems; if choosing one make sure the height is freely adjustable, and don't forget raised chairs and side stools for resting and changing things up.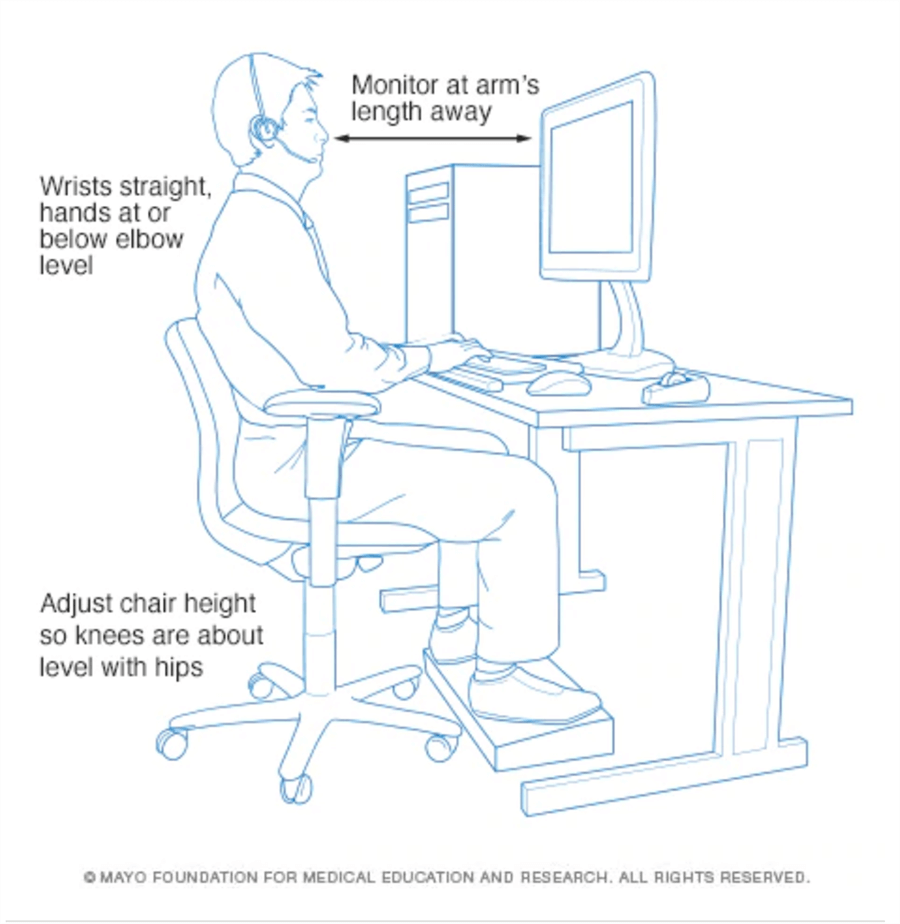 Consideration: 4: Focus on Comfort & Ergonomics
How you work determines not only the layout but the design of your essential UHO workstation. Tools you use most frequently such as a computer, monitor, and phone should be at your fingertips, leaving plenty of room for various office equipment, drawers, shelving, and files. Depending on your storage needs custom cabinets keep you organized and hide any mess.
Properly setting up your workstation for efficiency and safety is vital for your health. Sit in the chair before you buy it, and account for your body dimensions to precisely adjust monitor and swivel seat height, lumbar support, and armrests. Choose a variable desk, adjustable keyboard platform with padded wrist wrests, and an anti-fatigue mat or footrest for optimal comfort.
Consideration 5: Seeing is Believing
Proper lighting is the cornerstone of a renovation, and central to your UHO experience. Dependent on your office size, wall colors, and furnishings, lighting smoothly combines style with functionality when done right. Ambient lighting illuminates the whole space with recessed lights or ceiling fixtures, while accent lighting highlights a particular area for a pleasing effect.
Task lighting is also extremely important and must fit the type of work being done. Prevent glare on computer monitors with indirect lighting, and use high-powered desk or standing lamps for paperwork. Whenever available, make the best use of natural lighting through windows, doors, and skylights to bring warmth and openness to your office space without creating screen glare.
Consideration 6: Get Wired
Let's face it, today's office is mostly electronic and typically consists of everything from computer equipment to printers, scanners, copiers, routers, modems, and video conferencing technology. Cable and telephone lines, electrical outlets, surge protectors, and paper shredders create quite a complicated scene. If you can, hire an electronics expert to set you up quickly and efficiently.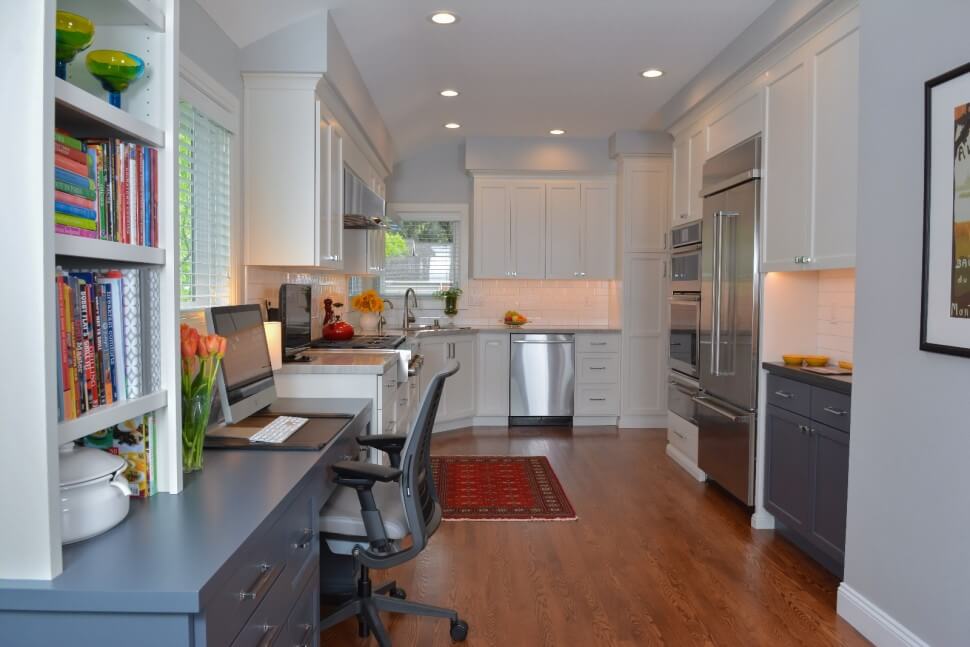 Functionally, make sure all your devices are accessible to power, their wires and cords are neatly strung together, and safely hidden behind and within furnishings. Aesthetically, all those screens and electronics surfaces can be boring and dark; supplement them with contrasting wall colors and coverings, and tasteful arrangements of office furniture and lighting accents.
Consideration 7: Balance Work & Play
After your desk, workstation, and electronics are set, you can take full advantage of the extra space for storage and display. Whether you like supplies immediately accessible or hidden determines the use of open shelving, rolling cabinets, and sliding drawers. Exposed surface area is perfect for family photos, arts and crafts, and potted plants and vines if you have a green thumb.
Since your UHO is an organic and seamless part of your home, don't hesitate to personalize it further with a comfy sofa or easy chair. Coffee makers, blenders, a portable fridge, and even a nearby wet bar help mix business with pleasure. If space allows a conference table enables meetings while a gaming center can release some steam. Make your UHO a place you love!
Design and Build Your Ultimate Home Office with Gayler
Gayler Design Build is an unrivaled, award-winning design-build firm with 20 national and regional design awards. Founded in 1961, they are located in Danville, CA and serve the Tri-Valley and Lamorinda regions. With an enviable 22-year track record, Gayler has completed every project on time, and on budget, including Ultimate Home Offices of every imaginable size, layout, and style.
Gayler's thorough planning process, quality of craft, dedication to excellence and clear communication keeps each UHO project on track at every step. Family-owned and headed by George and Darlene Gayler, and their son Chris, their five-year written warranty means they stand behind their work and their word. They can't wait to create your UHO!