A Kitchen Countertop Guide: The Pros and Cons
Selecting countertops for your kitchen remodel can be confusing with many materials to choose from. While it's important to consider the overall look of your kitchen when making a countertop selection, it's equally essential to think about how you will use the surfaces. Do you cook a lot or a little? Some materials scratch or stain more easily, and some owners are more troubled by signs of use.
Durability is an important question to explore when meeting with a kitchen design expert, along with maintenance requirements and design options. To help you, Gayler Design Build has put together this Pros and Cons countertop guide. We hope you find this information beneficial to you as you decide on a kitchen countertop that fits your needs exactly.
Most Economical
Butcher Block
Pros: Natural looking and homey, butcher block has enduring appeal, especially if you love country-style kitchens. Scratches from knives are easy to remove by sanding but give the material a pleasantly worn look if left alone.
Cons: Regular oiling is necessary to minimize swelling from moisture.
Laminate
Pros: Love the 1980s or 1990s look? Laminate is a good choice to achieve it but is also available in colors and faux natural designs for the 2020s. Often called Formica, this mix of paper and resin fused to particleboard resists bacteria and is easy to clean with soap and water.
Cons: Scratches, burns, and stains may occur. Also, particleboard does not work with undermount sinks.
Solid Surface
Pros: Unlike laminate materials, this tough acrylic and resin composite is seamless. Often referred to as Corian, it's available in solid colors and natural look-alikes, including faux granite and marble.
Cons: Keep trivets handy. Although stain-resistant, solid surface materials can be marred by hot objects.
Tile
Pros: A favorite of the 1970s and 1980s, tile countertops are reappearing from fancy geometric patterns to glossy subway looks. It also comes in natural stone from granite to marble.
Cons: Keeping grout clean between tiles can be difficult.
Moderate Cost
Concrete
Pros: Whether you like a practical country look or a sleek, industrial style, concrete countertops fit. They can be poured to fit many shapes and tinted in a wide range of colors. And, they're roadway tough.
Cons: Settling of a house can cause concrete to crack. Also, it is a porous material so you will need to seal it to avoid stains.
Porcelain Slab
Pros: If you love tile, but want to minimize problems with grout, porcelain slab may be the answer. It is manufactured in large, thick, non-porous slabs that can be made to look like natural materials from stone to wood. Both heat and cold-resistant, it's a good choice for outdoor kitchens as well as indoor ones.
Cons: Avoid chipping it, because the pattern of a porcelain slab doesn't go all the way through it.
Quartz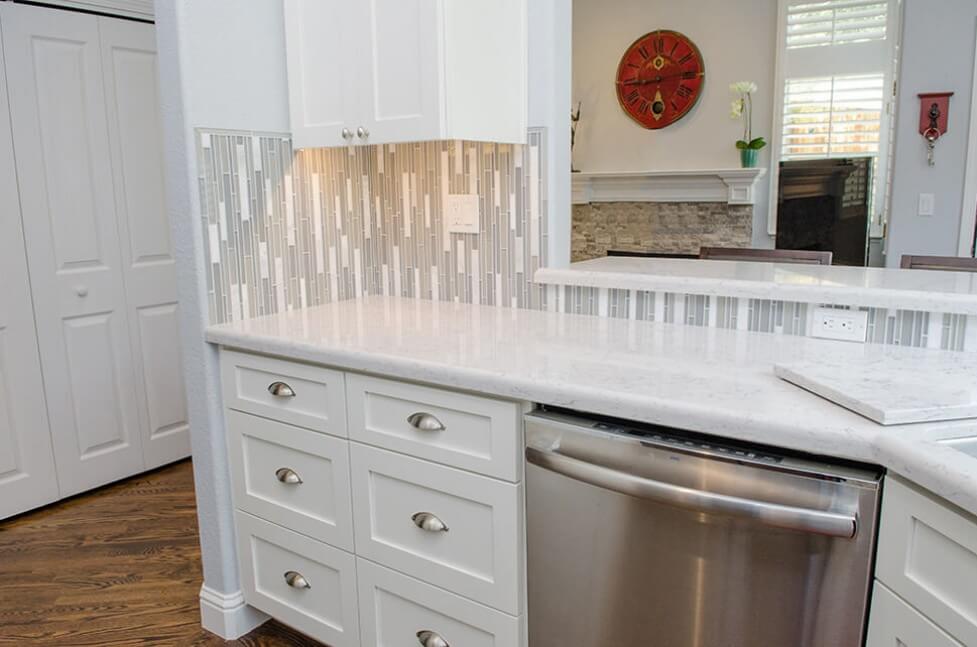 Pros: Often called "engineered quartz," this durable product combines bits of real quartz with resin and pigments in a wide range of colors to fit many decorating schemes. Unlike real stone, it doesn't require sealing.
Cons: The variegation isn't natural looking like it is with real stone and like solid surfaces you need to be careful with hot objects.
Soapstone
Pros: Many people who choose soapstone love it not only for its soft feel and old-fashioned look but also for its surprising characteristic of darkening as the countertop ages.
Cons: When choosing other kitchen colors, such as paint for walls, you need to remember that soapstone won't stay a light to medium gray. It nicks and needs oiling to avoid cracks.
High End
Copper
Pros: A rich penny gleam is one of copper's attractions. It's a material that works well in kitchen styles ranging from traditional bungalows to industrial lofts. Cleaning is a simple and environmentally friendly process involving a washcloth and a bit of soap or a more thorough scour with salt and lemon juice, followed by rinsing with water.
Cons: Unless regularly sealed with wax or oil, copper discolors as it oxidizes. Also, it dings and scratches easily.
Granite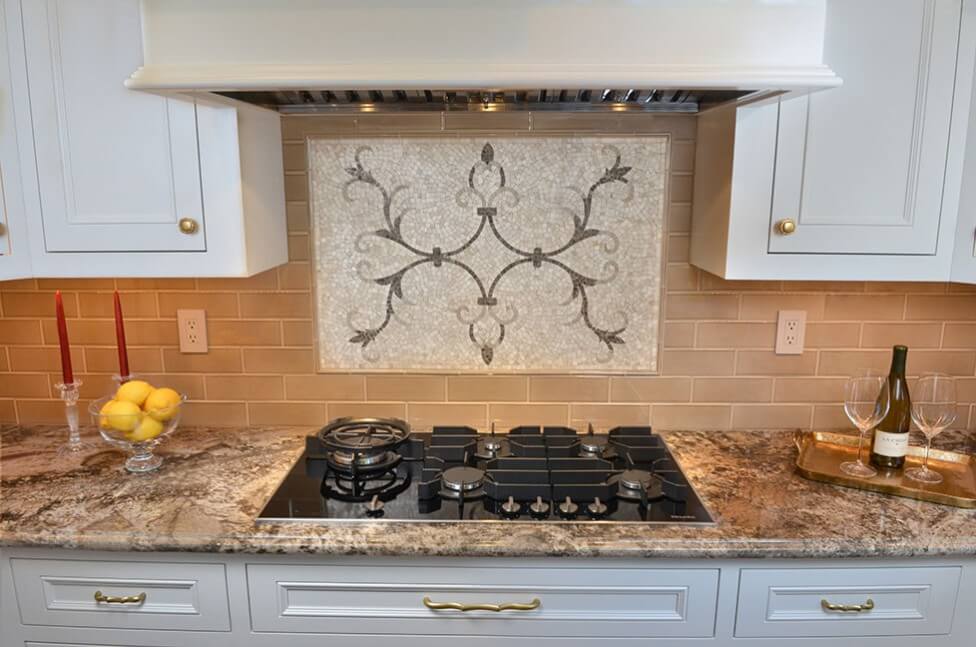 Pros: Granite brings an authentic sense of nature inside and offers quiet multi-colored variegation that makes it work with many kitchen designs. It's tough and withstands wear.
Cons: Sealing is necessary periodically to avoid staining.
Marble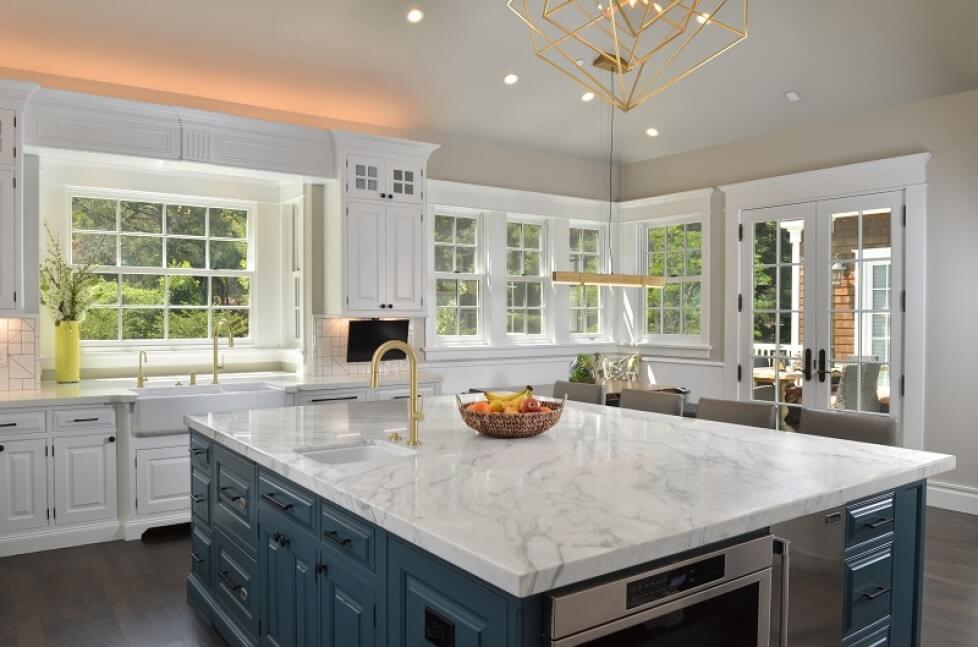 Pros: Marble is a top choice for anyone who loves to bake because it maintains a low temperature that aids the preparation of bread doughs and pie crusts. Aside from its natural streaks, it offers a crisp white contemporary appearance.
Cons: Softer than other stone countertop materials, marble mars more easily. It also stains easily due to porousness.
Quartzite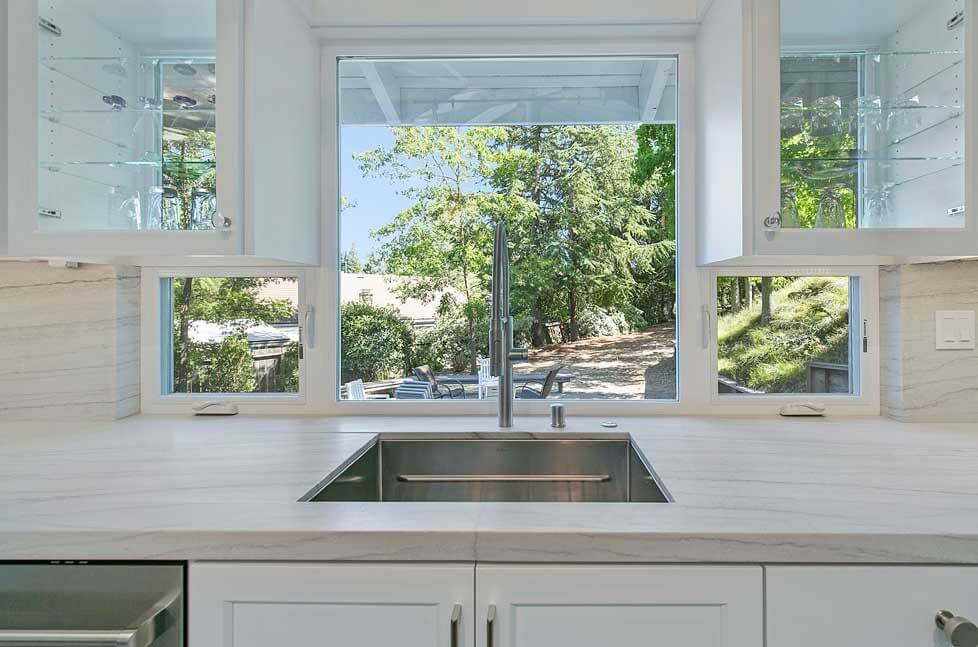 Pros: The dark veining amid pale white, natural stone, make quartzite a great choice if you love the look of marble but not its maintenance or softness. Matte-finish quartzite resists smudges.
Cons: It's less resistant to stains than engineered quartz.
Recycled Glass
Pros: Glass chips are mixed with cement to create this pretty, ecofriendly material, which is so unique that no two countertops look the same. It's durable and customizable.
Cons: Scarcity of the material makes replacement difficult if accidents occur. The glass can chip.
Stainless Steel
Pros: Gleaming stainless steel is no longer limited to commercial kitchens. Durable and non-porous, it's a good choice if you like to work directly on counter surfaces. Clean it up easily with soap and water.
Cons: Cleaning to achieve an attractive shine is difficult if you put it off. Dents and scratches are a problem. A tendency to show water spots and fingerprints makes it a difficult choice for homes with children.
In-Depth Answers to Kitchen Remodel Questions
Gayler Design Build is ready to answer your kitchen countertop questions and any other inquiries you may have about your kitchen remodeling project. Contact us for an exploratory design consultation. Not quite ready to discuss ideas for your home? Sign up for one of our upcoming Kitchen & Bath Remodeling Seminars.