Do you envision turning your primary bedroom into a spacious private retreat? Perhaps you're dreaming about eliminating clutter in your children's bedrooms or finding space for your family's eclectic, growing collection of sports gear? If your answer is a resounding "yes," then you'll want to make sure to include custom closets in your home remodeling design plan.
What Are The Benefits of a Custom Closet?
A custom closet system ensures that you have a place for every item that is hung or stored behind closed doors. Beyond making it easier to find your wearables and collectibles, a well-organized closet can save you time. It can also help you eliminate clutter. A professional designer can help you create a well-designed custom closet that addresses your organizing challenges and storage needs. It may even increase the resale value of your home – even if you don't plan to sell it in the foreseeable future.
Assess and Analyze Your Available Space
Assessing the amount of available space you have is a critical first step in designing a custom closet for your home. The amount of space you have will determine how elaborate you can design your space. Do you have room for a walk-in closet or a reach-in closet, for example?
Assessing your space also includes measuring, in particular, items that will be stored in the closet. For example, as in the case of a bedroom closet, you will need to measure standard clothing pieces like coats, jackets, suit jackets, shirts, blouses, etc. to make sure everything fits. These measurements will help determine the depth of shelves and hanging areas.
Plan to Create Storage for Everything You Put in the Master Bedroom Closet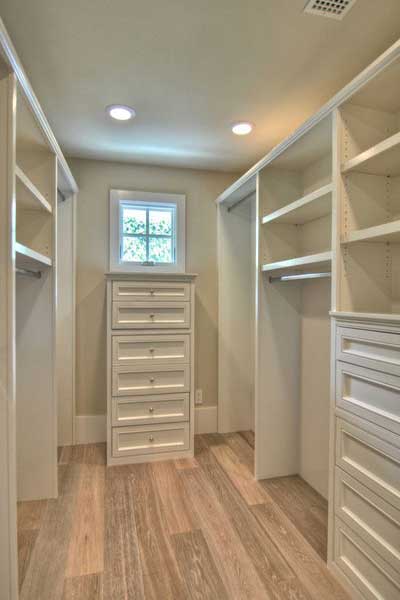 When you're designing a custom closet, you will need to consider everything you might want to store in it, now and in the future. A professional designer is an expert at using space efficiently and can be invaluable at helping you through this decision-making process—well worth his/her weight in gold. As a general rule, you can expect the following:
For clothes that hang, coats typically need 68 vertical inches; pants and jeans need 50-inches, and skirts need 45 inches.
Plan to allow a depth of 24 inches for shelves and hanging spaces. That depth will accommodate all standard clothing width measurements.
Use corner areas to maximize storage.
Plan for shoe storage. Do you prefer shelves or cubbies?
Create storage space for accessories, including purses, belts, ties, scarves, and miscellaneous accessories.
Add drawers for concealed storage, particularly for items like jewelry.
Custom Closets Can Add Value Throughout Your Home
When people think about remodeling closets, the primary bedroom closet is often a top priority. However, there are plenty of areas in the home that lack storage space beyond the primary suite that could benefit from a custom storage solution. There's really no limit to the ways you can solve storage issues throughout your home. Think outside the box. Where are your biggest challenges with clutter?
Custom Closets in Children's and Teen's Bedrooms
As parents, we all face the perpetual battle of asking our children to clean their rooms. When you custom design a closet for your child's room, you can design a space that not only provides ample storage, but it can also make it easier for your children to keep their toys off the floor. Create specialized areas for hanging clothes, storing toys, books, or personal items, in shelves or drawers—unique to their personal belongings.
Closet Storage at the Back, Front or Side Doors of Your Home
Do you have a designated place for family and friends to store their jackets, backpacks, purses, briefcases, shoes, or other personal items when they walk in the door? If family members and guests drop their coats anywhere when they walk into your home, you're unintentionally creating a dangerous obstacle course. A custom closet near the doorway or even a mudroom will eliminate clutter and create a welcoming area for you and your guests.
Take Advantage of Wasted Space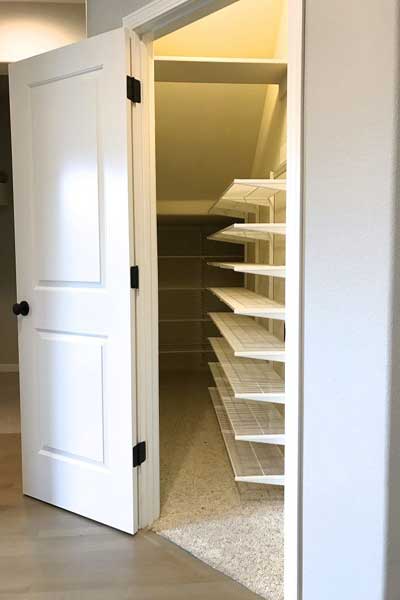 Valuable space under the stairs is often underutilized. Consider converting this area to functional closet space, perfect for bulky items you use frequently and want to keep dust-free (think extra home supplies like paper goods and bulk food items.) Crawl spaces are another often unused space that can be converted to handle seasonal items like clothing, suitcases and holiday decorations.
A Custom Closet for Sports/Outdoor Gear
Expensive bats need to be protected from extreme weather conditions. Hockey gear needs to drip dry between use. Loose balls, uniforms, and other equipment can take up space inside your home or in the garage fast. If you're struggling with sporting/outdoor gear that seems to grow with no room to contain it, now may be a perfect time to custom design a closet into your space.
A Closet for Craft Supplies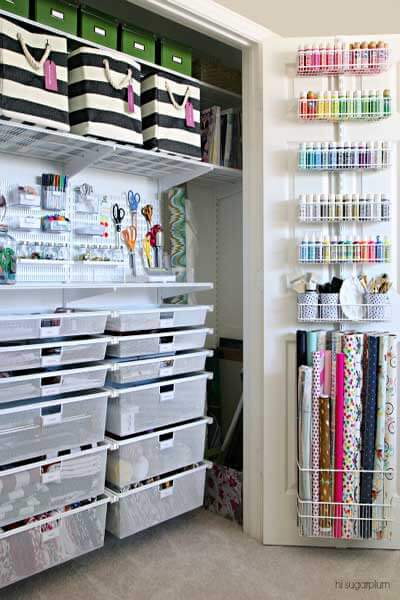 If your family enjoys crafts, a custom-designed craft closet can give you just the organized space you need to store your supplies. A craft closet can store everything from card-making and scrapbooking supplies to sewing, knitting, and jewelry-making essentials. Every item should have its own place, making it easier to access, and put away.
Do you lack closet storage space in your home? A professional designer can work with you to design a closet area into your home that fits your needs exactly—even in places where you never thought possible. Designated storage eliminates clutter. You'll find it also minimizes stress and allows everyone in your home to relax and feel more comfortable. It's time to eliminate chaos and get organized!
Learn more about incorporating custom closet design into your next home remodeling project. Contact Gayler Design Build today. Rely on our knowledge and expertise to guide you through the process. Not quite ready? Sign up for one of our home remodeling seminars or join our mailing list to receive our bi-monthly newsletter full of home remodeling tips, ideas, and inspiration.