Every home bathroom is a hardworking space, whether it's part of a luxurious owner's suite, a functional family bath that serves the needs of both children and adults, or a tiny powder room. While function may be of prime importance, never underestimate the value of color, whimsy and pampering extras that can lift bathroom design from ordinary to noteworthy.
For 2019, there are ample new trends to choose from that will be sure to inspire your next bathroom remodel, here's just a sample of what's new in bathroom design:
Bigger is Better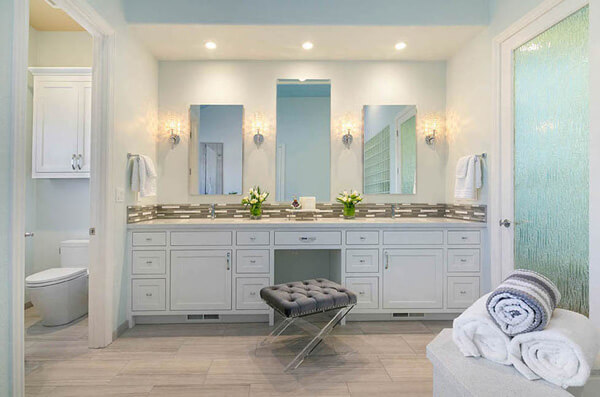 If you have the room to expand a primary bath by incorporating a closet or some space from an adjacent room, you probably should. Not only will additional square footage increase the function, but it will also offer other design options. Think about adding spa-like features like an oversized soaking tub, a separate makeup vanity or a large zero entry shower with a luxury rain shower head to your newly redesigned primary bath. Gain extra space for a family bath by moving an existing washer and dryer elsewhere. Or, add function by incorporating a stackable washer-dryer in addition to dual vanities and individualized storage for each family member's toiletries. And for that tiny guest bathroom? Make a small space dramatic with color, lighting and innovative fixtures such as a wall-hung vanity sink.
Color it Natural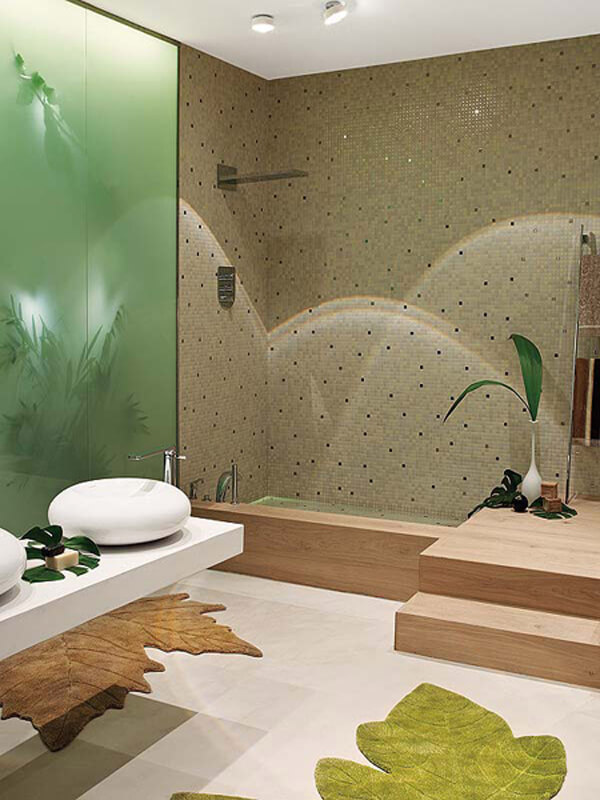 Wondering about color for your remodeled bath? Trending color schemes will continue to be drawn from nature. Right now it appears that forest greens "in all their nuances" might dominate the scene, but sun-kissed colors, gray and white will continue to be popular. The goal is to keep bath decor clean and fresh-feeling without straying toward clinical and sterile. A suggestion: In light-filled, sometimes humid bathrooms, green plants not only thrive but help to freshen and purify the air as well. Consider a "green wall," hang baskets of live greenery from the ceiling, or place a trio of blooming orchids on the vanity counter.
A Material Difference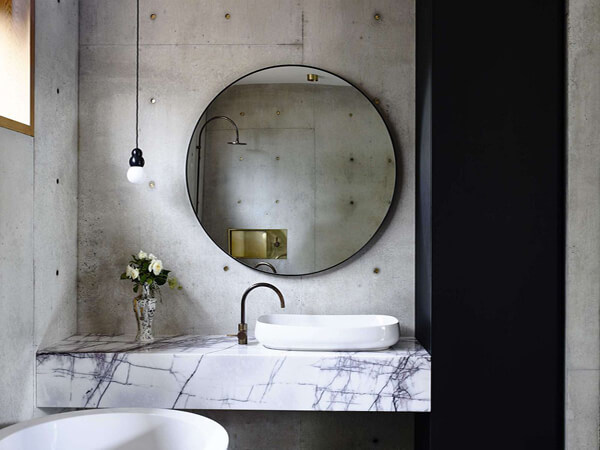 Concrete and plaster are moving into the bathroom to add both drama and function. Plaster was developed as a non-porous wall covering for operating rooms, and while concrete is sometimes thought of as stark and cold, it is also durable, easy to maintain and well-suited for areas subject to splashing and spills. We believe there will be exciting new design possibilities for both in the year ahead. If you want to be ahead of the trends, consider poured concrete counters with integrated vanities, colored concrete floors, and smooth tinted plaster walls. They will lend organic appeal, and you'll appreciate the ease of maintenance.
Shower Storage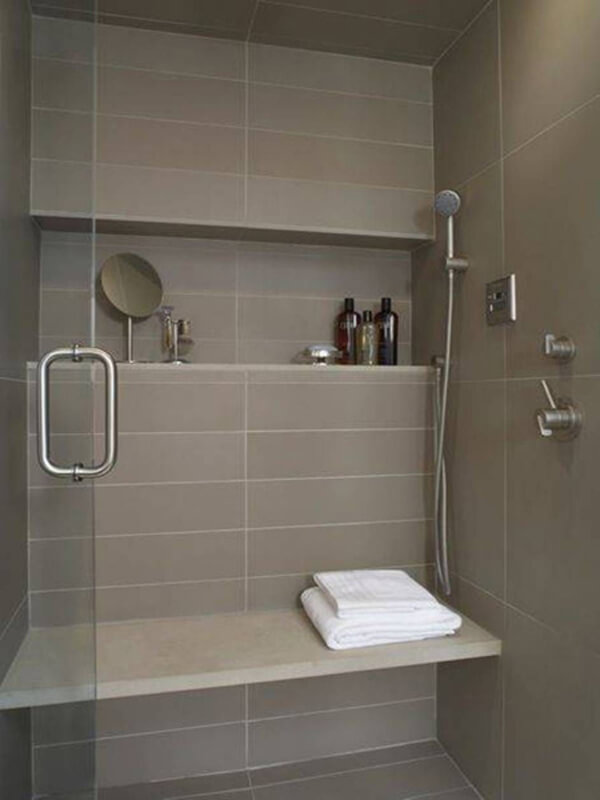 Incorporating one or more soap or shampoo bottle niches into a shower is not a new idea. What is creating a stir in design circles, however, is the expanded shower shelf, sometimes used in tandem with a shower bench to expand usable space in the shower. Designers have now widened the scope of the shower shelf, using ledges to encircle freestanding tubs and even extending them into vanity areas. The bathroom ledge is not only attractive but perfect for keeping bathing and grooming toiletries near the point of use. Think of it as a bonus bathroom option that requires no additional space but offers maximum function and design impact!
Not Your Mom's Medicine Cabinet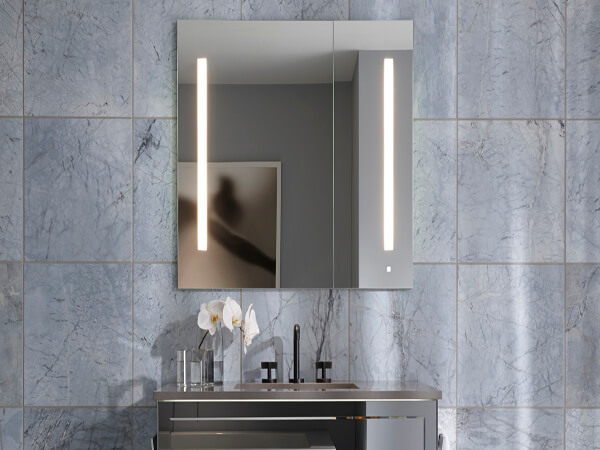 A traditional wall-mounted or between-the-studs medicine cabinet with a mirrored door still serves a useful purpose in bathrooms that are tight on space or short on storage. However, new models go way beyond utilitarian! From the minimalist design of a simple frameless mirror concealing serviceable shelves to a massive triple-door cabinet that could store make-up needs for a Broadway star, modern medicine cabinets might even be considered luxury bathroom options. Think about boosting the function of any bath space with a non-traditional medicine cabinet, a perfect way to combine beauty and function.
Let the Light Sparkle and Shine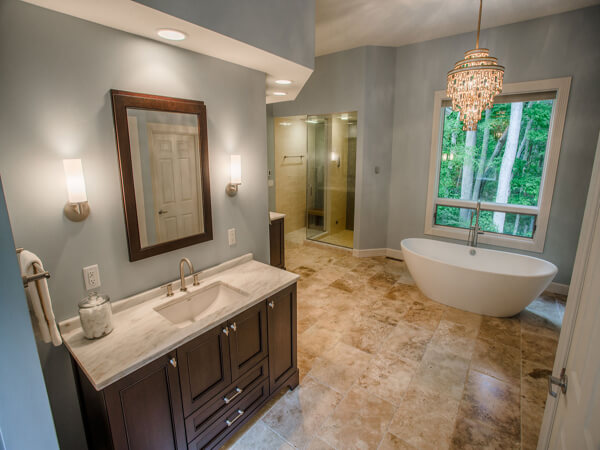 Bathroom lighting options get more exciting every year. Choose a stunning crystal chandelier for over the tub; add built-in mirror lighting for the vanity, add a soft glow under the countertop with flexible strip lighting, and don't forget a light above the shower. Also, lighting placed above a vanity mirror can cast unwelcome shadows: sconces on either side are a better choice and don't forget to add dimmer switches to help create the perfect ambiance.
High Tech? You Bet!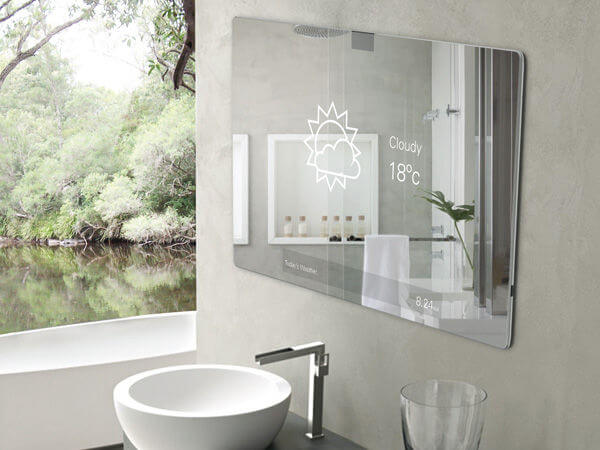 It was always inevitable, but now it's entirely possible to integrate technology into bathroom design. Hands-free faucets, programmable shower temperature controls, in-floor electric heating, heated towel racks, and numerous other conveniences are commonplace. Smart toilets and mirror-integrated touchscreens are innovations we believe will become increasingly desirable for home bathrooms; they are already prevalent in European and Asian hotel rooms. Aromatherapy and mood-changing LED lighting are also becoming a reality. Watch for it!
Asymmetrical Design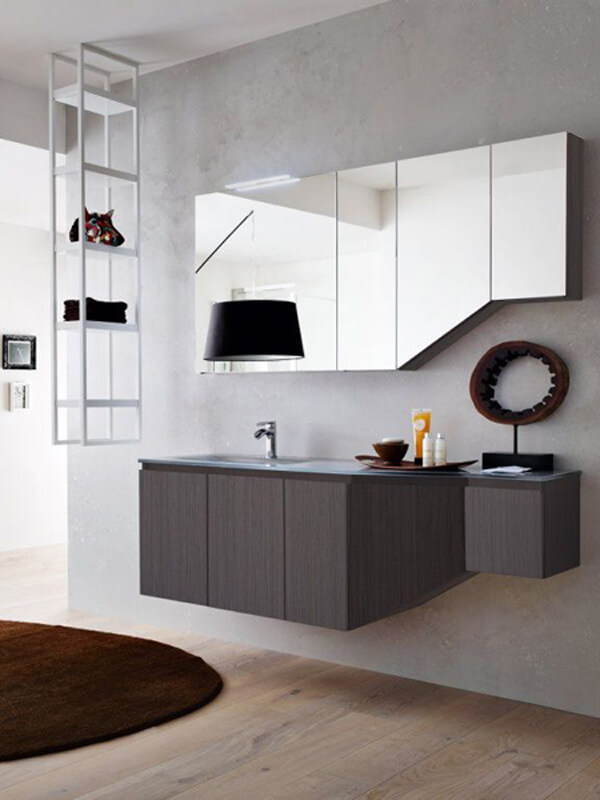 Mirrors will continue to be big news in next year's bathrooms, and the standard plate-glass mirror over the vanity is apt to gain a new personality. Asymmetrical framed mirrors are on-trend and can bring artistic ambiance, while new anti-fog mirrors assure better function. Both faucets and lighting can be mounted through wall-hung mirrors. Pedestal mirrors, adjustable, swing-arm magnifying mirrors, backlighted mirrors, mirror on mirror designs and multiple mirrors will all make appearances in 2019 bathrooms.
Statement Walls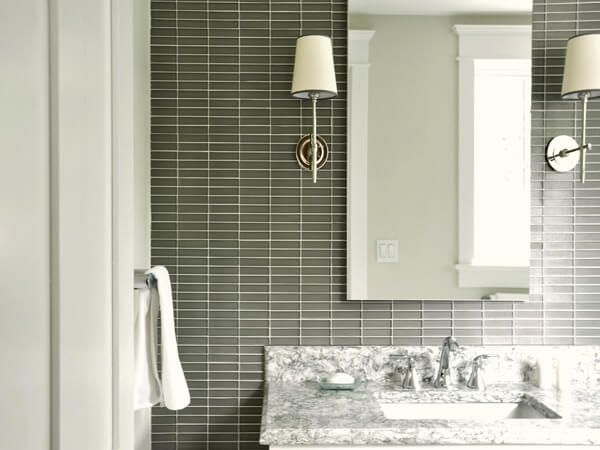 Photo Courtesy of Architectural Ceramics
In a small room, make a design statement with graphic wallpaper, stunning wall tile or a living wall of greenery. And look up: ceiling murals that reflect in a large bathroom mirror — or even a mirrored ceiling that will magnify the light from a glittering bathroom chandelier — can become the focal point of a powder room renovation.

Need additional ideas? Our design team is in sync with the upcoming trends and would love to help you find great solutions for a future bathroom remodeling project. Contact us to discuss your plans for a bathroom remodel, or to enroll in an upcoming complimentary kitchen and bath seminar.