Once considered merely a utilitarian part of kitchen design—to protect the walls behind a countertop from moisture and spills—the backsplash has now evolved into a significant statement piece, instilling your personality into one of the most frequently used rooms in your home. From solid slab to intricate tile work, the backsplash is now both practical and beautiful.
Yet, with a near unlimited selection of materials, finishes, colors, and patterns to choose from, injecting your own personal style into your kitchen can appear daunting. The more choices you have, sometimes, the harder it is to decide. Rest assured, here are 5 backsplash decisions to guide you in choosing a backsplash that will fit your kitchen perfectly.
1. First Things First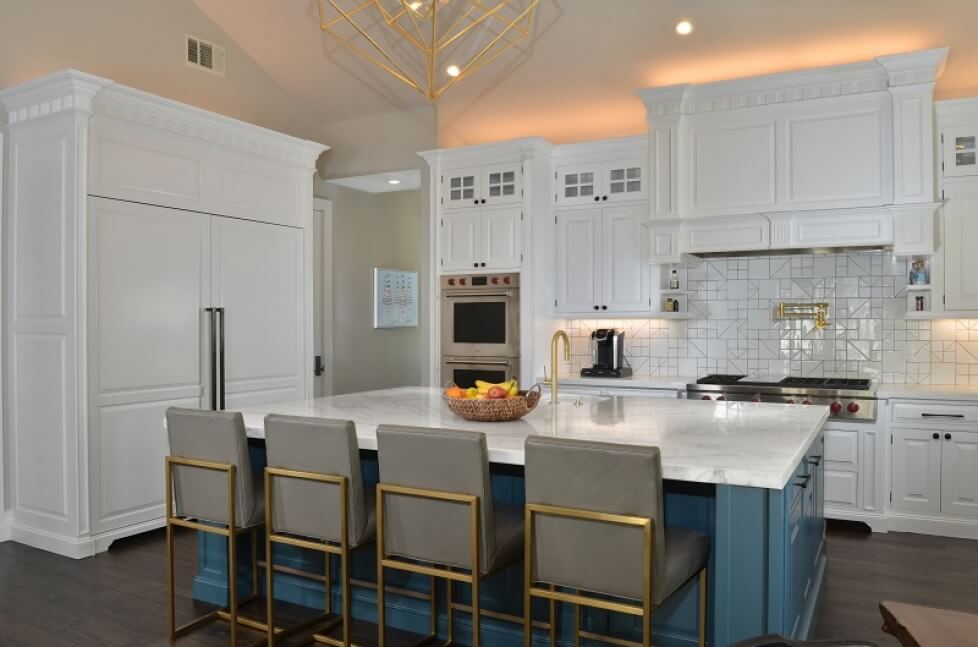 It is important to look at the big picture. Select your main kitchen elements first, before deciding on a backsplash. How you see your kitchen as a whole should determine how elaborate you want to be with your backsplash. Perhaps you love particular elements in your kitchen that you want to accent, such as the countertops or custom cabinetry. Then, importance should be placed on accentuating these features, rather than overpowering them with a dominant backsplash. On the contrary, if your kitchen could use a distinctive edge—something chic and stylish or bold and unexpected—creating a stunning focal point and possible conversation starter then becomes your focus. It is far easier to figure out a backsplash to match the rest of your kitchen than to figure out a kitchen to match a backsplash.
2. Your Style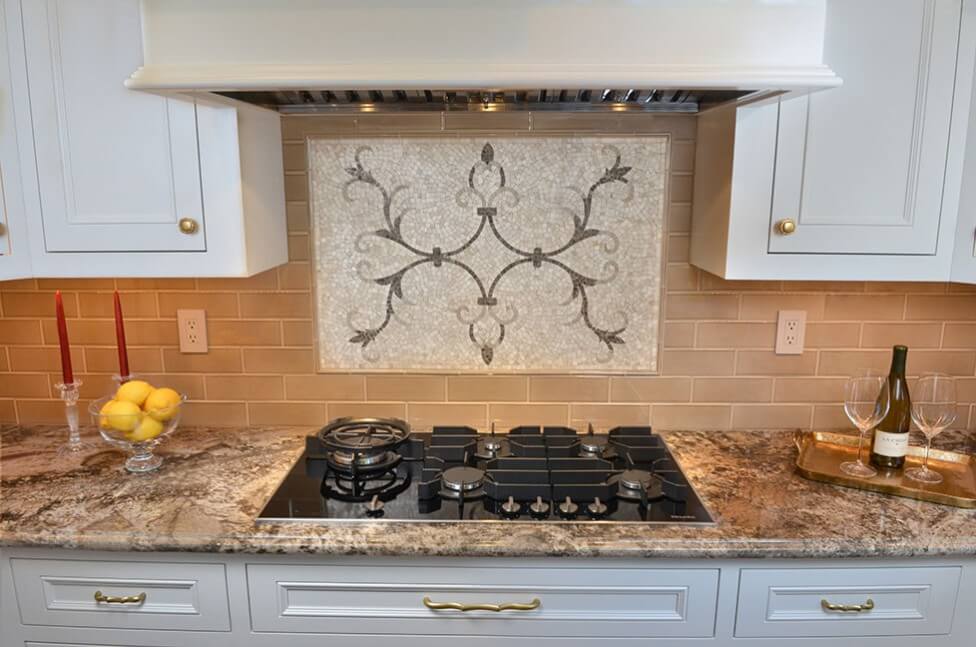 Think about the style that best represents you. From simple to funky to traditional and modern, your options are limitless. Finding a style that fits your needs, desires, and aesthetic preferences will help you narrow your selection.
Of course, consulting with one of our talented design consultants is always advised—helping you quickly and efficiently diagnose what you need and want to take into account your unique lifestyle, personality, and taste.
3. Know Your Budget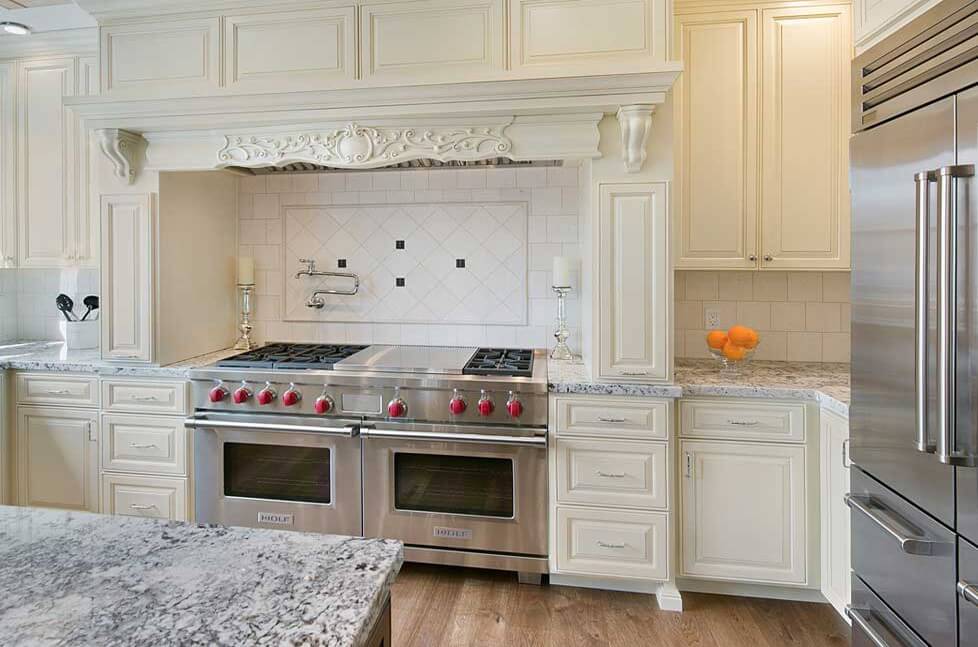 Backsplash tiles come in not just several colors, patterns, shapes, and sizes but also price points. With more than enough options to choose from, make a decision on how budget conscious you want to be. Are you comfortable spending $10 per tile or $100 per tile, or somewhere in between?
4. Evaluate Your Options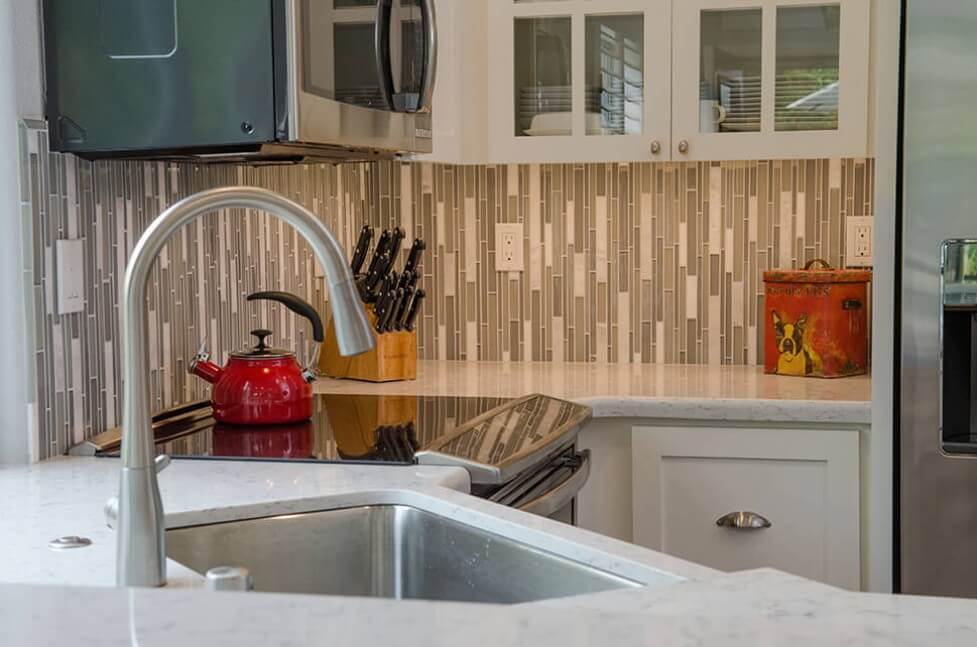 Deciding on the material for your backsplash can be admittedly difficult. Your decision should be based on personal preference, budget, maintenance, and the overall design style you are trying to achieve. Here are a few of our favorites, and a description of their unique properties:
Porcelain & Ceramic Tiles
Porcelain and ceramic tiles are one of the most popular backsplash materials, and also the most budget-friendly. From simple and easy-to-clean; to glass or metal; or high-end natural stone, the possibilities are endless. You can even select a tile that is manufactured to look like wood or stone.
When you're working with tile, you also need to incorporate grout into your design decision—equally crucial to your tile choice. Most design professionals will advise you to choose a grout color closest to the color of your tile. Also, there are different grades of quality. Investing in more expensive grout that will withstand the test of time is as important a decision as investing in a more expensive, ornate tile.
Marble
Beautiful and elegant, marble will instantly make your kitchen appear more luxurious. While seemingly indestructible, it actually is naturally porous, so it scratches and stains fairly easily. That is unless you seal it properly every one or two years. So, if you embrace a few of its maintenance requirements, marble will never disappoint—particularly as an impressive, natural, artistic statement to your kitchen. Marble also comes in a variety of unique, one-of-a-kind patterns.
Granite
Harder than marble and priced slightly lower, granite is more resistant to chips and scratches. It's also durable but porous, so it too needs to be adequately sealed every one or two years. With plenty of beautiful options, granite is an attractive alternative to marble. With grain that appears as specks that are varied in color, granite contains a variety of hues, in medium to dark shades, made to fit any look you're after.
Glass
Less porous than ceramic tile, which helps to resist stains and mold or mildew, glass tile is another fabulous option. Typically used in modern, contemporary design, glass tile will help your kitchen stand out in style. It is luminous and colorful with a variety of options. Glass tile is also often slightly transparent and reflects light, so it can make your kitchen appear larger than opaque ceramic tile would. While glass tile is also durable, it is prone to scratches and is typically more expensive than ceramic tile.
Other Materials
Today's backsplash options are not just limited to glass, tile, granite, and marble. Other unique materials to explore include wood, metallic, terrazzo, metal, textured tile, etc.
5. Maintenance and Care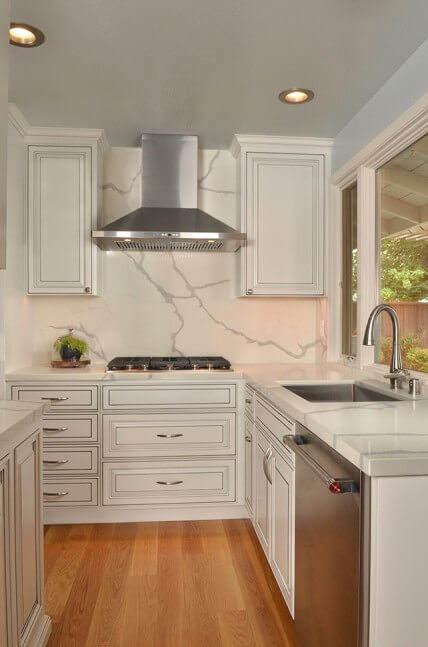 As mentioned above, any backsplash material you choose requires maintenance of some sort. When selecting a backsplash material, make sure you consider how much convenience you are willing to exchange for style.
Starting a new kitchen remodel or adding a new backsplash to your existing kitchen is not something that should be done hastily. Give it some thought. Spend some time exploring what you like and don't like. Get inspiration from places like Houzz, Pinterest, or our Design Portfolio to help you identify the right look for your kitchen.
Ready to share your backsplash ideas with a kitchen design specialist? Contact us today. Join hundreds of homeowners in Tri-Valley and Lamorinda who have made the right decision to work with Gayler Design Build—minimizing their remodeling risk and eliminating their fears.