Do you want more space in your kitchen? Who doesn't? But don't start knocking out walls yet. Kitchens have more room for added storage than you might think. You can use the space above the cabinets, beside the refrigerator, or even an unused nook. Here are twelve of our favorite kitchen design solutions.
Install Ceiling Height Cabinetry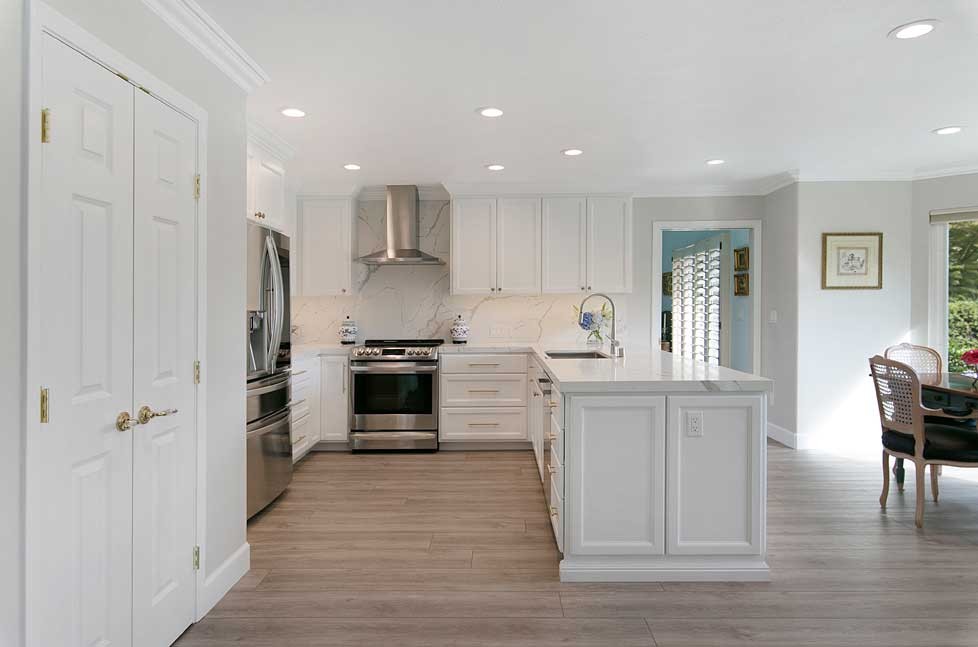 Extend your upper cabinets to the ceiling to maximize your vertical space and eliminate that useless gap that collects dust and grime. Use the top-most shelves to store rarely used items like holiday ware, extra-large platters, and cake decorating supplies. Keep a step stool in the pantry, or ask your kitchen design professional about integrated cabinet step stools to help you reach up high. 
Suspend Cabinetry from the Ceiling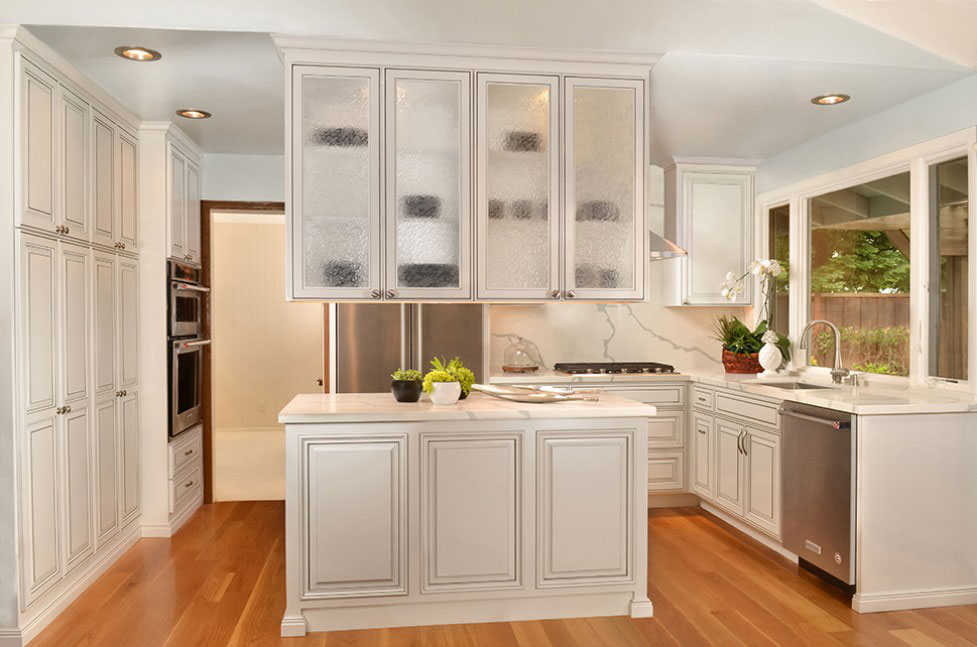 Open floor plans remove a lot of wall space, resulting in fewer upper cabinets. To remedy this, suspend the cabinets from the ceiling. Or suspend open shelving that allows light from both sides. Use the shelves to display your best glasses and dishes.
Design a Custom Walk-in Pantry
A walk-in pantry keeps everything in one place, making it easier to find what you need when you need it. Before designing your custom pantry, ask yourself the following questions:
How will I use this space? Storage only, or will I use it for food prep?
What will I store there? Food, appliances, cleaning supplies?
Do I have enough room to build a large enough pantry for my needs?
Who will see the pantry? If it's for your eyes only, you can stay pretty utilitarian. However, if guests see inside, you'll want to match the style and materials in the rest of the kitchen.
If shelving goes to the ceiling, how will I reach the top?
When you partner with a design-build firm, they'll walk you through the answers to these questions and more to discern the best solutions for your pantry space. 
Incorporate Custom Pull-Outs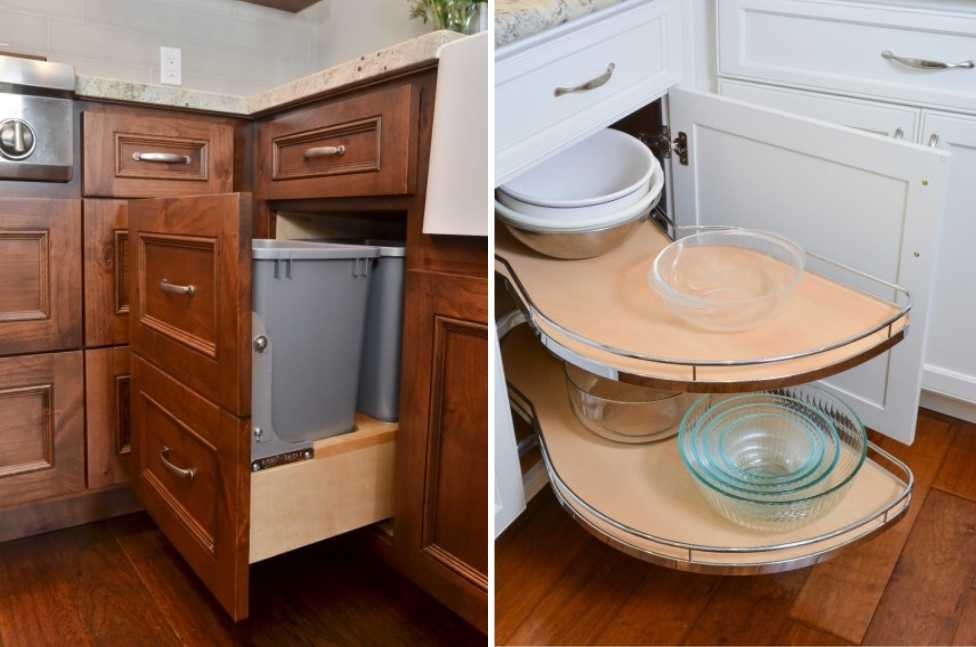 Cabinet designs get more innovative each year. And according to the 2022 Houzz US Kitchen Trends Study, remodeling homeowners like the new options. The five most popular specialty solutions for custom pull-outs are:
Pull-out for trash or recycling bins keep the mess hidden away
Cookie sheet/tray organizers are generally placed next to the oven for easy access
Spice organizers, both for a drawer or a pull-out, help you see everything at a glance
Deep drawers for utensils, dishes, or plastic containers eliminate messy crocks on the counter or the inevitable Tupperware avalanche
Lazy Susan base cabinets replace blind corners
Other creative storage solutions include:
Small appliance garage or drawer
Wine or storage bar
Pull out or swing-out shelves in base cabinets
Cutlery organizers
Under the sink drawer
Maximize Corners with Pull-out Corner Cabinets
A corner kitchen cabinet with a non-visible storage area is called a blind cabinet. And, rightly so, as you can't see a thing in the back. So instead, maximize the space in your corner cabinets with pull-outs especially designed for this hard-to-accommodate space. Lazy Susan inserts are great, but pull-outs that slide from the recesses of the corner out into the light give you more storage capacity. And you can retrofit these units for existing cabinets.
Custom Drawers for Specific Uses
Things get into a jumbled mess when you have an open drawer with no dividers. Get your drawers in order with custom organizers. There's an organizer for everything from coffee and tea to knives and utensils. Here are a few examples:
Coffee/Tea Drawer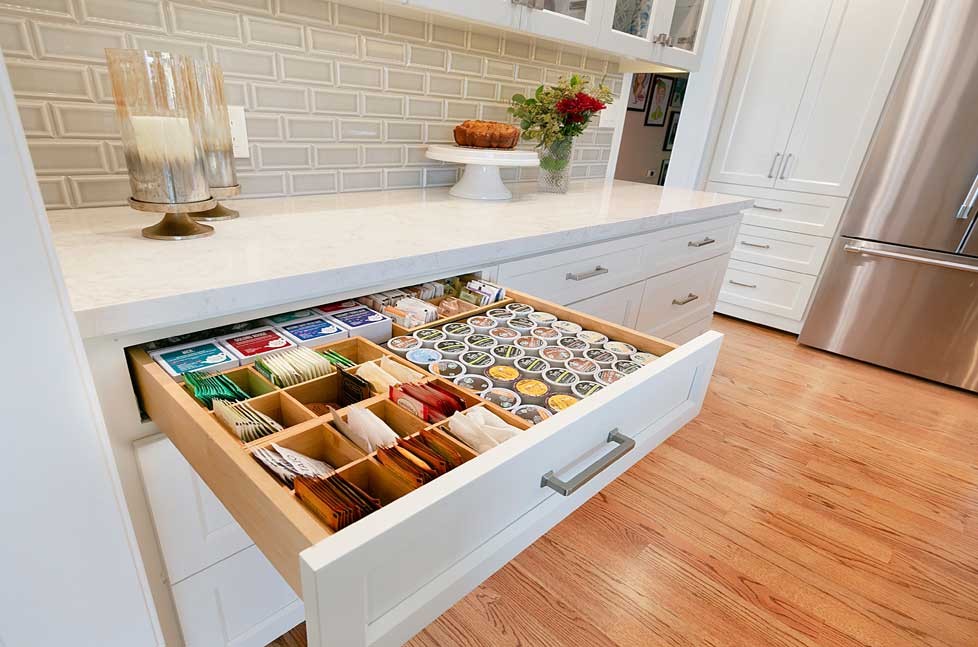 Organize your K-cups with a specially designed drawer insert. Or, include dividers for your tea bags and boxes.
Custom Spice Drawer
A spice drawer organizer allows you to see the bottles semi-reclined so you can read the labels.
Utensil Drawer
Dividers in a utensil drawer keep your whisk from comingling with your garlic press and your knives from cutting up with your meat thermometer.
Deep Dish Drawer
With adjustable pegs to keep everything in place, dish drawers hold your everyday dishes. And, because they can withstand the weight, these drawers make using stoneware easier because you're not removing it from overhead cabinets.
Transform Awkward Nooks or Alcoves into Usable Space
Some homes are known for nooks and crannies that present design challenges, particularly older homes. The historic old fireplace, the closet under the stairs, or even a bay window can prove tricky when remodeling a kitchen. But for a professional design/builder, these challenges turn into resourceful storage solutions. Fill the old fireplace box with a wall oven. You may even have space for drawers below. Create a desk for menu planning or bill paying where there's a recess in the wall. Or, turn that hovel under the stairs into a creative set of pull-out drawers to store everything from spices and utensils to linens and party supplies.
Appliance Garages
With so many options for eliminating the utensil crock, knife block, and bread box on your countertops, you're close to being clutter-free. But what about the mixer, toaster, and slow cooker? You can hide them away, too, with an appliance garage. A small cabinet in the corner or at the end of the countertop, an appliance garage houses those small appliances behind closed doors. 
Charging Stations
Stop untangling cables and losing chargers all over the house. Instead, include a charging station in the kitchen. Kitchen placement keeps your tablet handy when you follow a recipe or your phone to accept calls while chopping veggies. With charging ports in the back of a drawer, you have a secure place to stash all your electronics when not in use.
Pet Eating/Drinking Station
Don't trip over Fido's water bowl again. Instead, include a pull-out pet station in your new kitchen island or cabinetry. These specialty drawers are popular with owners of large or older pets because you can install them at a comfortable height for your furry friend. Or, create a pet-sized alcove to give him a bit of privacy while nibbling his kibbles. Then, with a designated cabinet for food next to it, you make feeding time a breeze.
Toe Kick Drawer
There is space in the kitchen no one ever thinks about–under the cabinets. That's right. There are four inches under there begging to be used. Add a drawer, and you have the perfect place for flat items like cookie sheets and placemats or those rarely used utensils like fondue forks and nutcrackers.
Utilize Your Outdoor Kitchen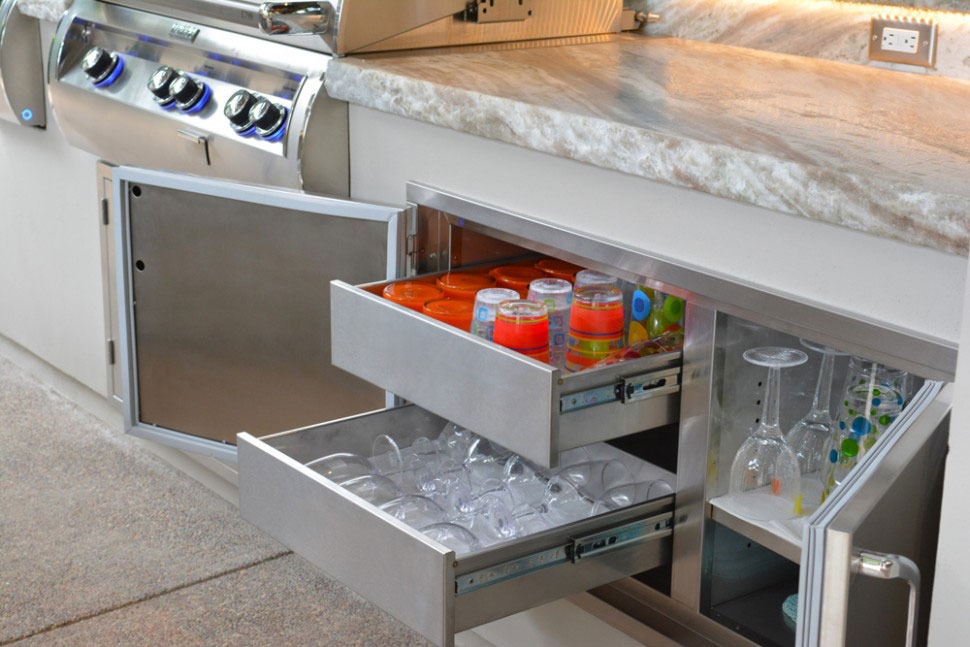 Have an outdoor kitchen with unused cabinet space? Move everything you use while grilling–tongs, outdoor dinnerware, and large platters–outside. And if you still have room, use the cabinets in your outdoor kitchen to store out-of-season tableware, cleaning supplies, and other rarely used items. Once you fill the cabinets outside, you'll be amazed at all the free space inside.
A professional kitchen designer stays abreast of all the trends and new cabinet options on the market. Make choosing your kitchen cabinet design solutions a breeze by partnering with Gayler Design Build in Danville, California. Their award-winning team is ready to help you create a kitchen to suit your tastes and lifestyle. 
Family-owned Gayler Design Build has served the Tri-Valley and Lamorinda areas since 1961. And for 23 consistent years, they're the only design-build firm that's completed every remodeling project on time and within budget. Learn more about their design/build process on their website. And visit their portfolio to view stunning photographs of previous kitchen remodels. Then, when you're ready, contact Gayler Design Build at (925) 820-0185 for a complimentary, in-home design consultation or use the contact form on their website to schedule an appointment. You can also learn about the latest kitchen trends, recent work, and valuable tips by subscribing to their newsletter.