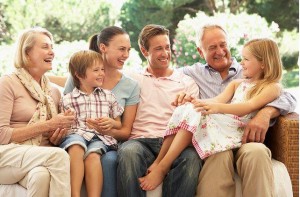 Home design trends are constantly evolving. These days, multi-generational households are on the rise, becoming more common among nearly every age and racial group – male and female alike.

According to the U.S. Census Bureau, multi-generational families consist of two or more generations living under the same roof. In 2014, the Pew Research Center distributed a report stating that a record 60.6 million Americans – 19% of the total U.S. population – live in a family household containing at least two adult generations. Many live with grandparents, for example, with at least one more family member of a different generation.

There are several reasons for the increase in multi-generational family living. The growing racial and ethnic diversity in the U.S. – especially among Asian and Hispanic populations – is one contributing factor. Culturally speaking, multi-generational family households are very common among Asian and Hispanic populations. Additionally, younger adults (age 18 to 34) without college degrees are choosing to live with their parents rather than creating new households. Adult children of Baby Boomers are bringing their parents into their own homes, too. By providing an alternative to assisted living centers and nursing homes, they can actively improve their parents' level of comfort and care.

Regardless of the reasons for their increasing popularity, multi-generational homes are here to stay. As a result, design-build remodeling contractors like Gayler Design Build are aiming to assist multi-generational families by transforming their homes to fit their unique lifestyle needs.

The Unique Design Features of a Multi-Generational Home

In addition to a common living space for the whole family, every multi-generational home requires a private living space for each individual family member. Other design features can include:
Equal Access Features (Universal Design) – Multiple family homes regularly require accessibility for older family members with limited mobility. Utilizing Universal Design principles such as wider doorways, zero threshold showers, and adequate lighting, design-build remodeling contractors can ensure the comfort and safety of all household members.

Main Floor Master Suites – First floor primary bedrooms – typically with adjoining private bathrooms – are commonplace in multi-generational homes. They allow for easy access while eliminating the need to climb stairs. They also offer increased privacy from the common areas and other residents of the house.

A Plan for Privacy – In addition to each family having their own private space, it's also important to create shared areas that cater to the diverse needs of each family member. For example, architectural features like retractable walls or Pony walls can help create smaller, distinct "zones" in a large, shared space, allowing multiple family members to use the room simultaneously for a range of different purposes.

Keeping It Flexible – Families grow and change over time. Therefore, it's important not to customize a room too much. Keeping design elements simple will increase the adaptability of rooms, creating added versatility in your home. So when someone moves in or out of the house, rooms can be repurposed as needed. For example, a single room can be converted from a home office into a bedroom or an extra sitting room, depending on the needs of the family.

Suite Additions – By converting a basement or attic into an additional private living space, or by building a separate room addition, some homeowners choose to add what is commonly known as an "in-law suite" to their home. It's also possible to go one step further and create a "home within a home," that includes a fully private bedroom, bathroom, kitchen, laundry room, and living space with a separate entrance. While this may seem like a lot of added expense, surprisingly, it is often more cost effective solution for elderly family members than an assisted living facility, for example. What's more, these renovations may increase the overall resale value of the home – all while allowing loved ones to continue living comfortably nearby.

However, before any construction is started, it would be important that your design plans don't violate any zoning laws applicable to your property. A design/build firm would check the zoning ordinances for you, guiding you through this process to ensure you end up with exactly what you envisioned while avoiding any zoning law violations.

Strengthening Family Relationships with Multi-Generational Homes
Not only are multi-generational homes practical for many families, they are also a wonderful way to strengthen bonds between older and younger generations! For ideas or questions on how to begin the process of expanding your home to accommodate your growing family, start a conversation with Gayler Design Build today.