A home's exterior is the first thing people see—often perceived as a reflection of the interior and overall condition of the home. Usually, this perception is correct! So, whether you're trying to impress potential buyers or the next-door neighbors, first impressions are critical. A classic, yet trendy home exterior that is crisp, inviting and well maintained can add thousands of dollars to a home's value. So, settle in and consider the following 7 hot home exterior trends for 2019.
1. The Fabulous Farmhouse Front Porch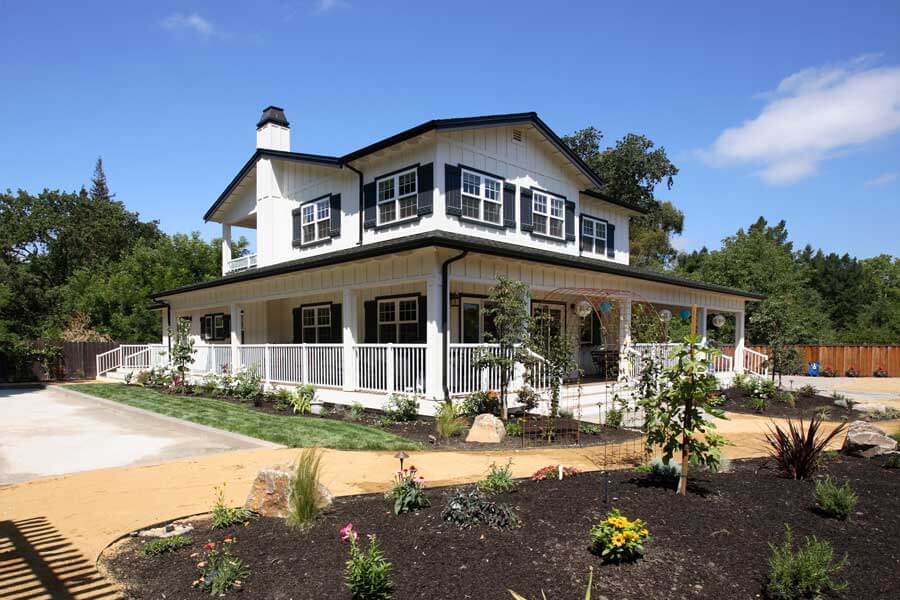 Nothing says, "Welcome home!" like an inviting, generous farmhouse front porch. Also popular among California homeowners, a well-designed farmhouse front porch offers two great benefits. First, it can actually make the home look bigger. Second, it adds a touch of inviting nostalgia in the classic American style, even when done with modern farmhouse accents. Beautiful columns and railings give you opportunities for hanging plants and lights. You can add high-quality outdoor furniture on the front porch to create style and comfort as well as impress. Consider a solid wood table and chairs where you can invite a friend over for a casual brunch or evening dessert; or a beautifully designed porch swing with comfy, weather-hardy cushions to provide an ideal place to read a book, entertain or relax.
2. Inviting Outdoor Living Spaces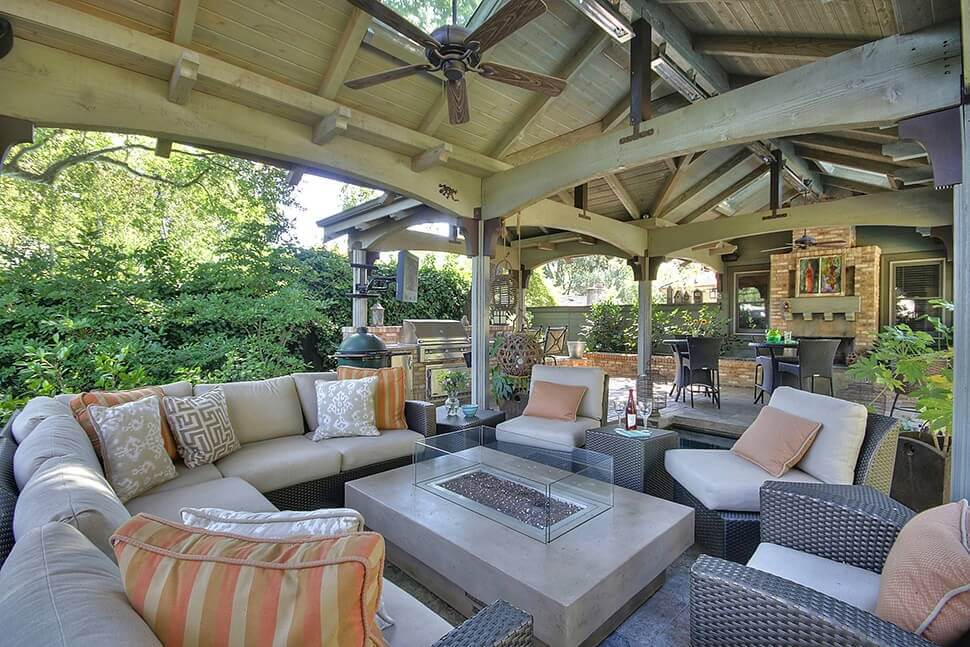 Climbing the charts as one of the hottest home exterior remodeling trends this year is bringing your indoor lifestyle outdoors. The back patio has become far more than just a stretch of concrete with a grill and some fold-up chairs. Consider an entire outdoor living room under a vine-covered pergola, or a pavilion with built-in benches, cushions, and a fireplace. Stunning outdoor furniture, planters and even water features bring a touch of luxury to a space meant for relaxing and socializing. Outdoor kitchens and dining rooms are amazing additions that are perfect for gracious entertaining. Stay outside longer with friends by installing a custom-designed fire pit that adds warmth and light well into the evening.
3. Marvelously Mixed Exterior Materials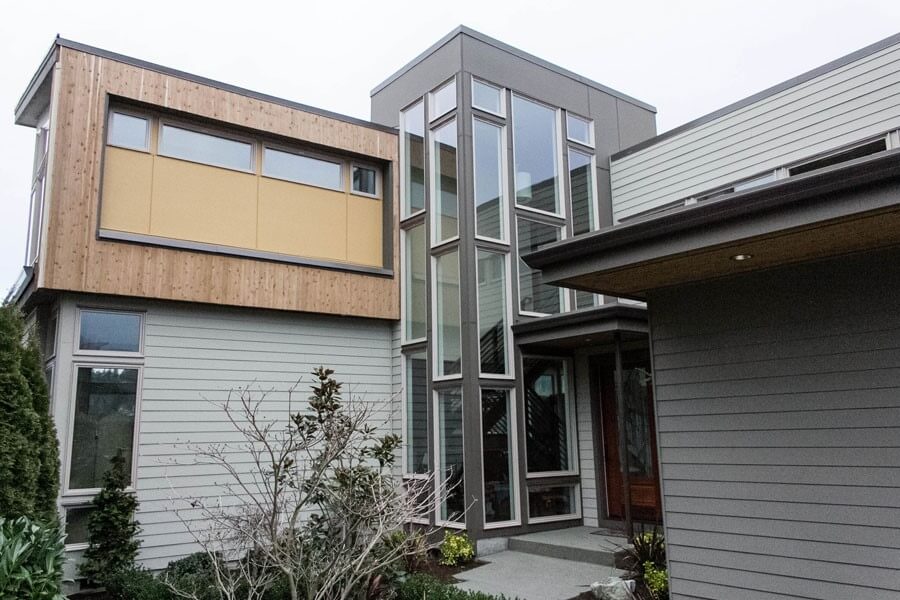 Dull uniformity is out; well-matched mixed exteriors are in. Combine darker siding with a stone retaining wall or walkway that blends into stone accents on your home's exterior, giving it the feel that it is emerging organically from the landscaping. Interesting stone and brick accents are very popular this year. Even the roofing can be mixed on different levels, such as between the porch roof and the roof to the main house. Metal, shingles and even tiles provide wonderful accents.
4. Gorgeous Glass Garage Doors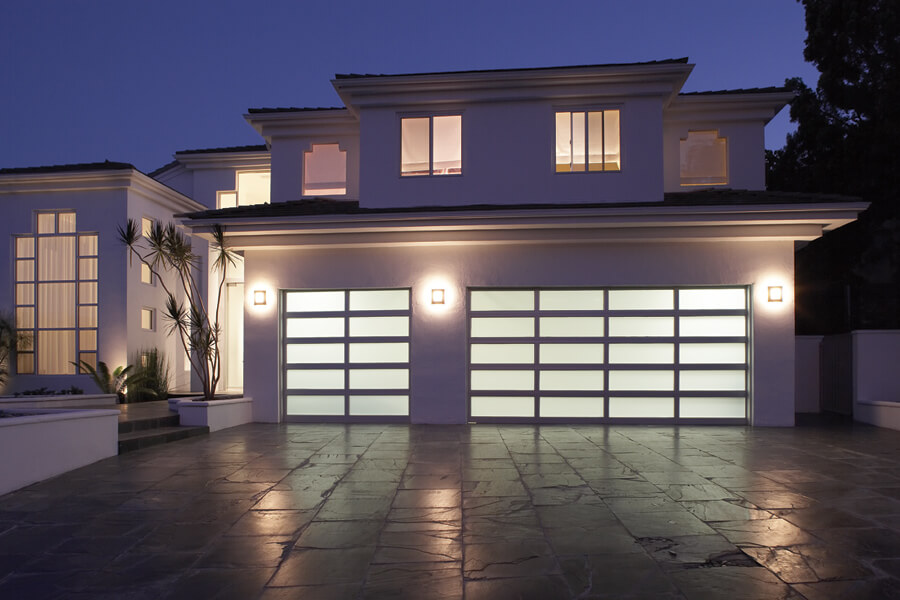 Until this year, the idea of bringing natural light into living spaces has shined everywhere but the garage. The glass garage door is now one of the biggest home exterior trends because it's a great way to brighten an otherwise dark space, giving it new uses and spunk. The extra natural light also makes your garage seem larger, which can appeal to potential buyers. Does this mean you'll have to clean out the garage more often? Not if you use a frosted glass garage door design, of course. Glass garage doors can look amazing on everything from a modern exterior home to a transition farmhouse-style home with crisp contours.
5. Unique Front Doors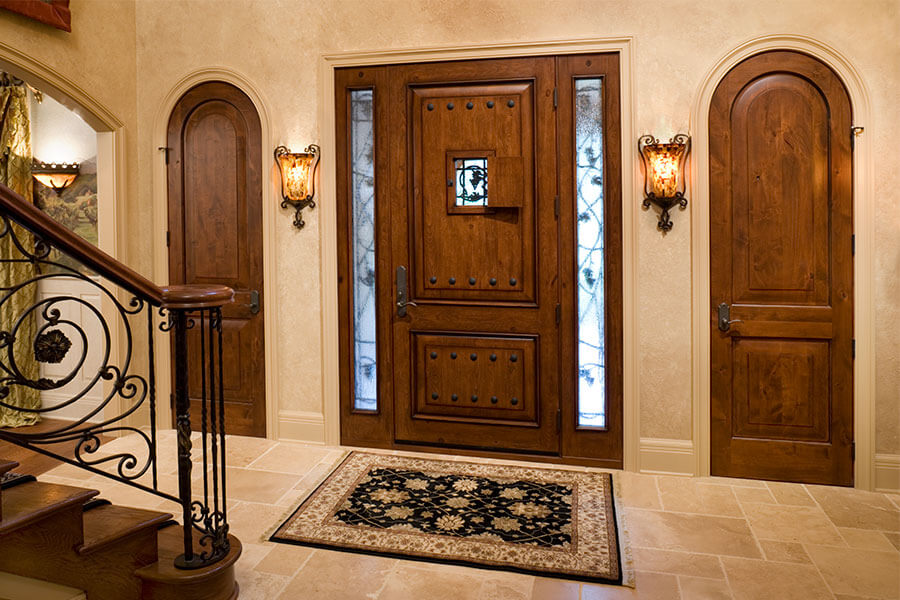 Although the red door trend is falling out of favor, the idea of a unique front door is climbing up the charts. You now have many more choices, indoor colors, and styles to choose from that will fit your home's exterior more organically. Or, stage a beautiful contrast with colors that pop. For example, a home done in gray shades and stone would look fantastic with a natural wood double door. A glass and iron front door can make a classy statement. Dutch doors are also making a big comeback this year, particularly for farmhouse-style exteriors. Also consider adding statement knockers in brass, copper or iron to welcome visitors with additional texture.
6. Striking Black and Copper Accents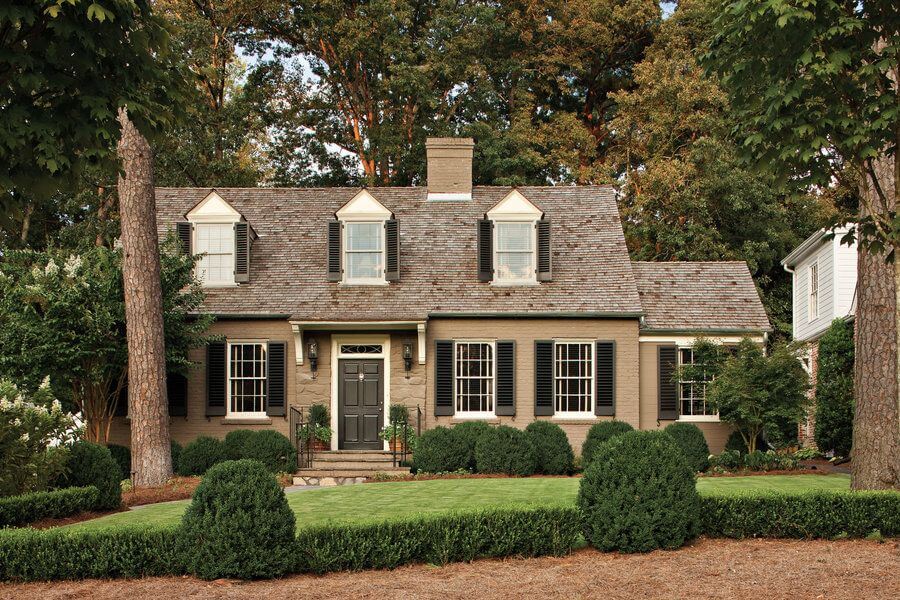 This year, the overall exterior color scheme is trending darker, in siding and stone. But if dark isn't your thing, consider black accents around the windows, doors, and trim. If you do like the idea of classy dark or gray exterior colors for your home, then you might consider copper accents like gutters, doorknockers, railings, light fixtures, planters, etc. The theme for this year's home exterior remodel trends is "classy contrast".
7. Wondrous Windows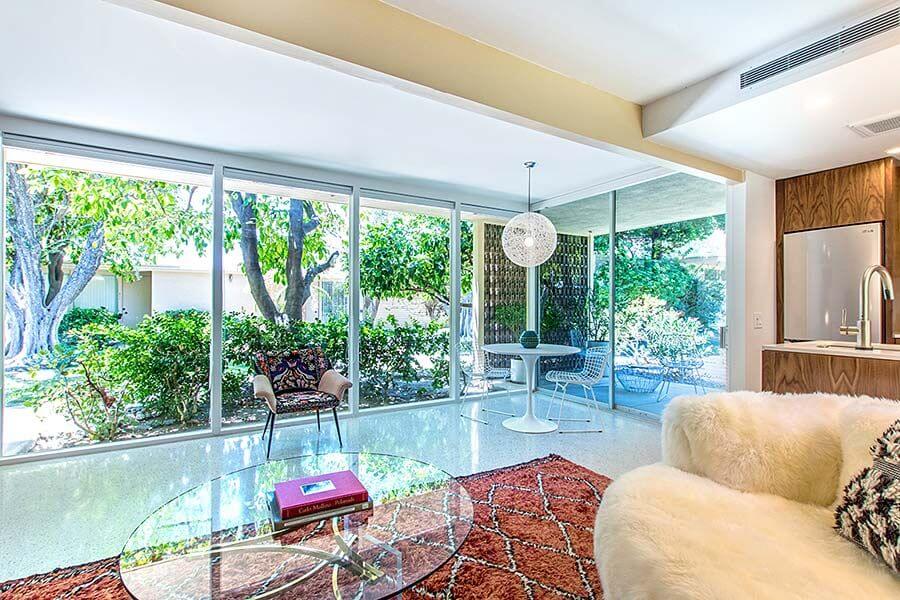 More windows and light are in demand this year. The theme is the bigger and taller the better. Floor-to-ceiling windows are especially in demand, whether they're sliding glass doors or long accent windows. The main goal is to let in more natural light indoors while making the exterior look taller, and brighter. Transom windows can add extra light over and around doors. But that's not all: transom windows can add a little extra ventilation too, making them both beautiful and functional.
If this is the year for sprucing up your home's exterior, contact Gayler Design Build in Danville today at 925-820-0185.
If you're still mulling over the possibilities, make sure to peruse our design portfolio, or sign up for one of our upcoming seminars, where you'll get a chance to talk with our A-List remodeling and design experts in Contra Costa County.