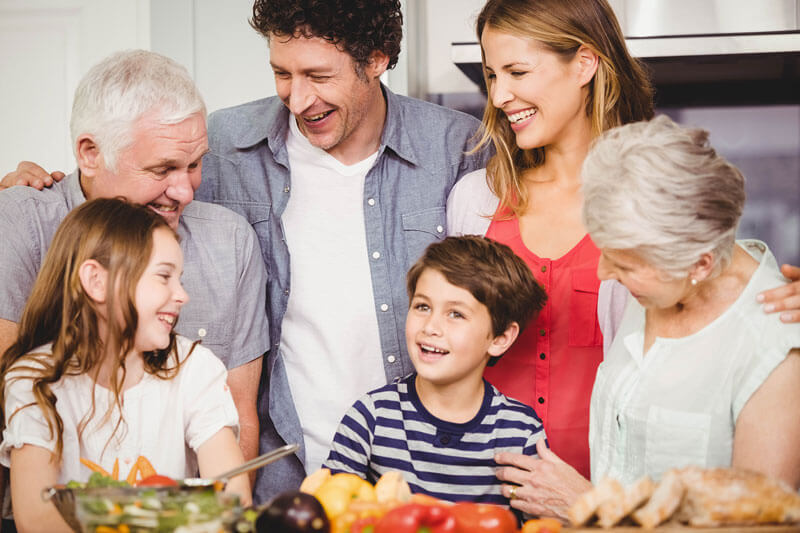 Originally developed in the 1950s to accommodate lifestyle changes for aging adults, universal design principles are now commonly used to create living spaces that benefit a broad range of people—to improve form, function and comfort. Universal Design is a multi-generational approach to designing the home environment, which is friendly and accessible to people of all ages, sizes and abilities. Are you familiar with universal design principles that emphasize wheelchair ramps or grab bars in the shower? While these design elements can still be incorporated into universal design features, they are no longer the primary focus.
Whether you're looking to stay in your home indefinitely, or plan to sell your home in the future, these universal design principles are a smart idea to incorporate into your home. Here are just a few universal design suggestions to consider as you plan your next home remodel:
Universal Design Ideas for the Kitchen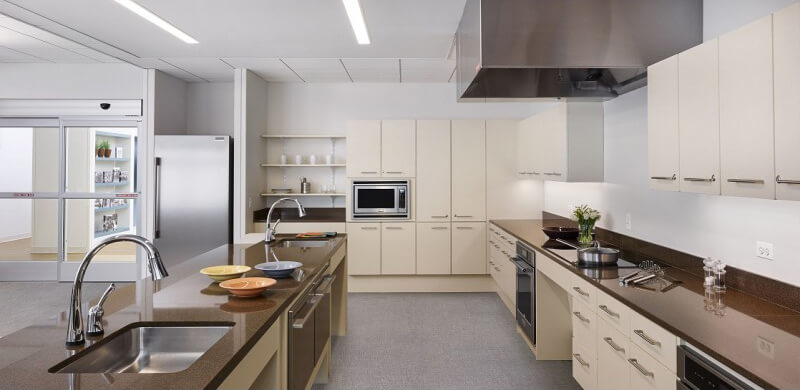 Choose handle-style hardware over knobs for ease of use.
Install countertops of varying heights for specific tasks (for example, a lowered countertop for rolling dough) and to accommodate cooks of different heights.
Consider designing your kitchen countertop with a contrasting edge to not only help someone with poor eyesight, but also family members maneuvering in the dark to grab a late night snack.
If your new kitchen is going to include an island, make sure to leave enough clearance (48 inches is optimal) between the island and cabinets. This not only makes it possible for a wheelchair to maneuver freely about the space, but also accommodates multiple cooks in the kitchen and creates a comfortable, open space to work in.
Raise your base cabinets or toe kicks to 8" (utilize a 9-inch high minimum for anyone in a wheelchair).
Choose a shallow style sink to avoid potential back problems caused by hunching over the sink while doing dishes or other food prep.
Incorporate creative cabinetry accessories, such as slide-out shelves, pullout corner drawers, pullout mixer stands, and Lazy Susans, to promote easy access to kitchen gadgets and appliances.
Consider non-skid flooring to prevent accidents, for both young and old.
Install new, user-friendly kitchen appliances that are ADA compliant for people of all abilities. (e.g. under counter microwaves, side-opening ovens, side controls on cooktops and sinks, touch faucets, etc.)
Layer your home's lighting, to include task lighting, whole room illumination, as well as decorative and mood lighting. You'll also want to incorporate functional task lighting in your lighting plan (i.e., under cabinet and overhead lighting).
Universal Design Ideas for the Bathroom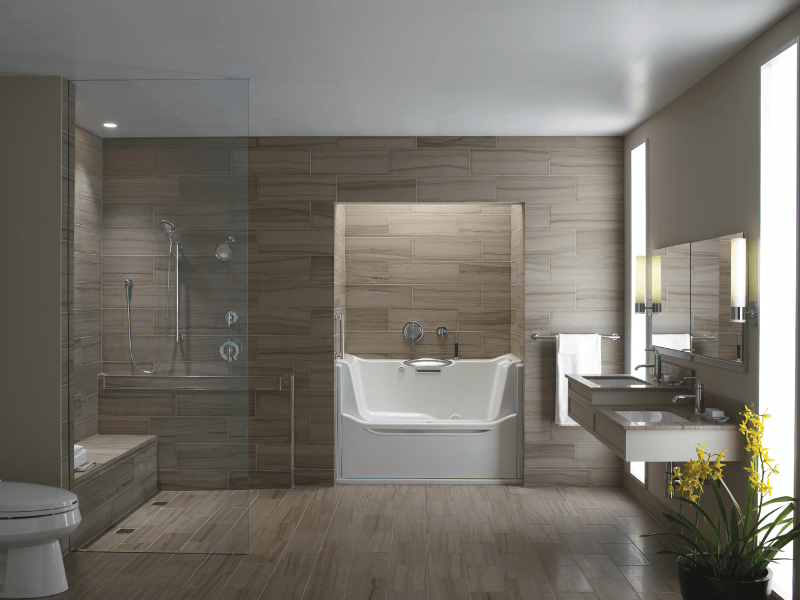 Include a full bath on the main level of your home to ensure that people of all abilities have access to a shower or toilet.
Design an open area in front of the toilet as close to 4-5 feet as possible to ensure someone with a wheelchair can maneuver within the space and make full turns, as needed.
Homeowners are electing to replace their bathtubs with large zero entry walk-in showers. Not only are these showers beautiful but they also enable users with limited mobility to move in and out of the shower with little effort as well as avoid potential tripping hazards at the entrance. Include a built-in shower bench and hand-held showerheads mounted on grab bar rods to serve dual purposes and you have a shower that is beautiful, functional and user-friendly.
No matter the age or ability, grab bars and handrails can help make showers, bathtubs, and toilets safer and easier to use. Worried about the ugly factor? Don't be! Many design manufacturers have come out with styles and designs that are aesthetically pleasing and blend seamlessly with other fixtures.
When choosing bathroom flooring, consider textured tiles that have extra grip for better slip resistance.
Include plenty of layered lighting, particularly around the vanity and shower/bathtub. Consider a motion-sensor light, which provides safety and cuts down on electricity.
Standard toilet heights run between 14-15 inches. Opt for a higher model (16 to 18 or 19 inches) to improve mobility and make it easier for individuals to get up and down, particularly if their legs are weaker.
A wall-mounted vanity is not only modern and stylish but enables users to get close to the countertop regardless if they're standing or sitting.
Other Universal Design Ideas for the Home
Incorporate wider doorways throughout the home (31-32 inches instead of the standard 28 inches). This allows for wheelchair and walker access and creates a more open feel throughout your home.
Avoid changes in floor height. Instead, design smooth low-profile transitions between rooms to avoid accidents.
Choose lever- or handle-style door handles with user-friendly push-button locks. This makes it much easier on the wrists and is simpler for children to handle.
Position light switches and outlets at a lower height (38 to 40 at bottom) throughout the home to allow for easy accessibility for youngsters and those with limited mobility.
If you have a multi-level home and you want to stay in it past retirement, you may want to consider an elevator. While it is clearly a more significant expense, it may also be worth the investment if it keeps you in your home long-term. For anyone with mobility issues, flip-down chair lifts can also be easily added to staircases.
Inspired to incorporate these valuable universal design principles in your next remodel? Incorporating a universal design plan into your home not only helps improve day-to-day living, it can also sustain the use and enjoyment in your home. Need an expert opinion on your universal design plan? We're here to help. Contact us today for a complimentary consultation or sign up for one of our free home remodeling seminars.