Whether you are looking to create a warm and inviting atmosphere for guests, increase your property's resale value, or simply take pride in your home's exterior, you can employ harmonious design, strategic landscaping and thoughtfully-chosen accents to create a captivating entrance that makes a lasting impression. Your home's façade is the first thing you notice, and with the right home improvements and upgrades, you can elevate your curb appeal from ordinary to extraordinary.
The Value of Improving your Home's Curb Appeal
Enhancing your home's curb appeal is a strategic investment. When you dedicate time and resources to beautifying your front yard and main entrance, you can reshape how your property is perceived. A meticulously-maintained exterior sends a message of care and attention to detail, making a positive impression on visitors, passersby and potential buyers.
If you are contemplating a future sale, curb appeal becomes a critical factor that can set the tone for a buyer's overall impression. A well-groomed exterior can entice them to explore further. Moreover, homes with enhanced curb appeal tend to fetch higher prices and a potentially more seamless sales process.
Beyond financial implications, the impact of curb appeal extends to your personal satisfaction and your relationship with your neighbors. As you step outside to admire your landscaping or freshly-painted front door, you get a sense of price and accomplishment. Your home becomes a source of joy and fulfillment, and an embodiment of your style and personality. Your neighbors enjoy it as well. An attractive streetscape can uplift the entire neighborhood, fostering a sense of community pride and camaraderie.
Get Creative with Siding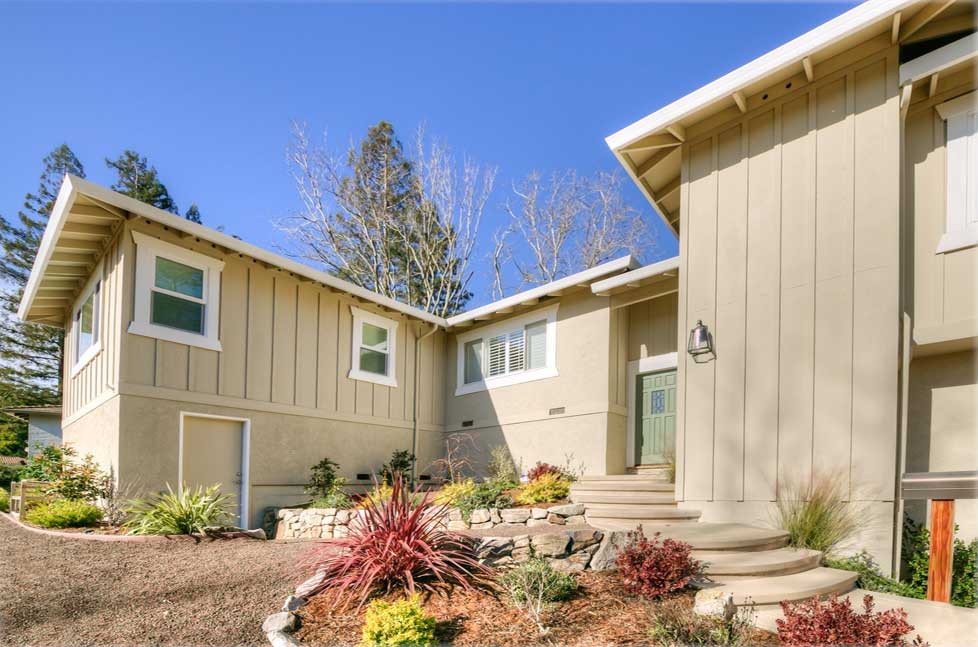 New siding can create a striking transformation for your home's curb appeal, and you can select from an array of design techniques to capture attention and admiration.
In board-and-batten siding, boards typically incorporate wide vertical planks joined by thin vertical strips known as battens. This combination of alternating siding widths infuses depth and visual intrigue and contrast, while the skillfully-placed battens to impart a sense of rhythm and balance. A combination of vertical and horizontal siding can also offer contemporary aesthetics for home exterior upgrades, with a harmonious blend of tradition and modernity that resonates with a wide audience.
Integrating smooth and textured siding products can create tactile diversity, and also plays with light and shadow, giving an ever-changing, dynamic façade. Using an interplay of materials like the rustic allure of wood, the timeless elegance of brick or the sleekness of metal can spotlight specific architectural features and elevate your home's character.
Blending materials can extend to strategic accents, where stone, brick, vinyl, fiber cement, stucco and more weave together to accentuate key areas. Accent shapes, accent elements and bold color choices infuse personality and individuality into your home's exterior.
Make Over your Garage Doors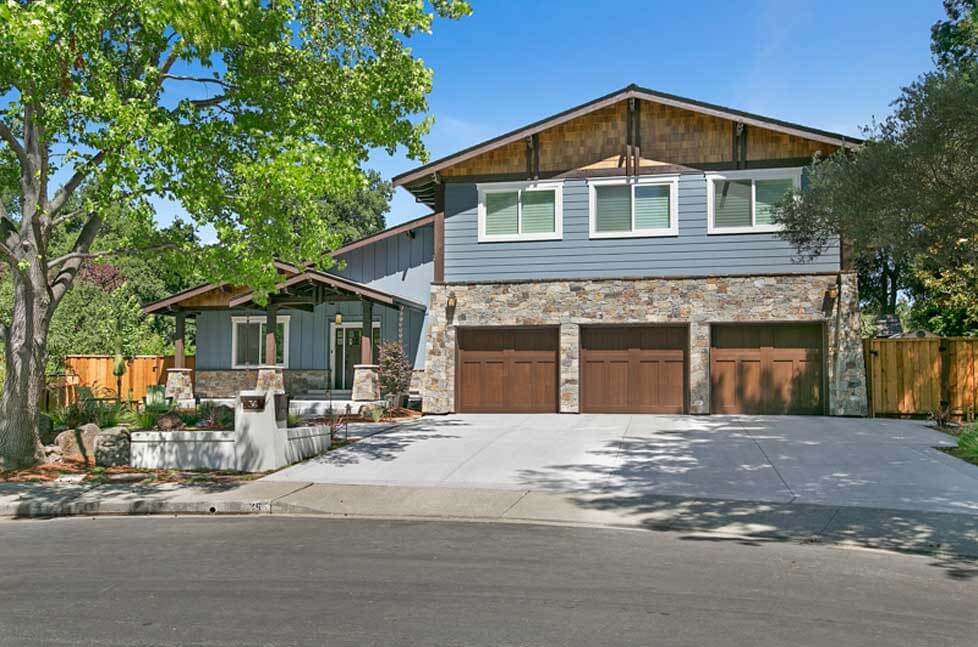 New garage doors can wield a significant impact on your home's curb appeal. The type of garage door you choose can act as a defining element, harmonizing with your architectural style and enhancing the overall aesthetic. Whether you opt for traditional carriage-style doors, sleek and modern designs, or a blend of the two, your choice communicates a powerful visual message.
Color selection plays a pivotal role in your garage door. Matching its color to your home's exterior palette can create a cohesive and harmonious look, while a contrasting hue can add a touch of vibrancy and sophistication.
Garage door windows are another consideration that can infuse character. Choose window styles that complement your home's architecture and you can elevate the entire façade while breaking up the visual monotony of a large garage expanse.
And don't forget exterior garage lighting. Thoughtfully-placed fixtures can highlight your new garage doors during evening hours and make a statement even in the dark, while enhancing security and imparting a warm and inviting ambiance.
Revive Your Front Porch with These Renovation Ideas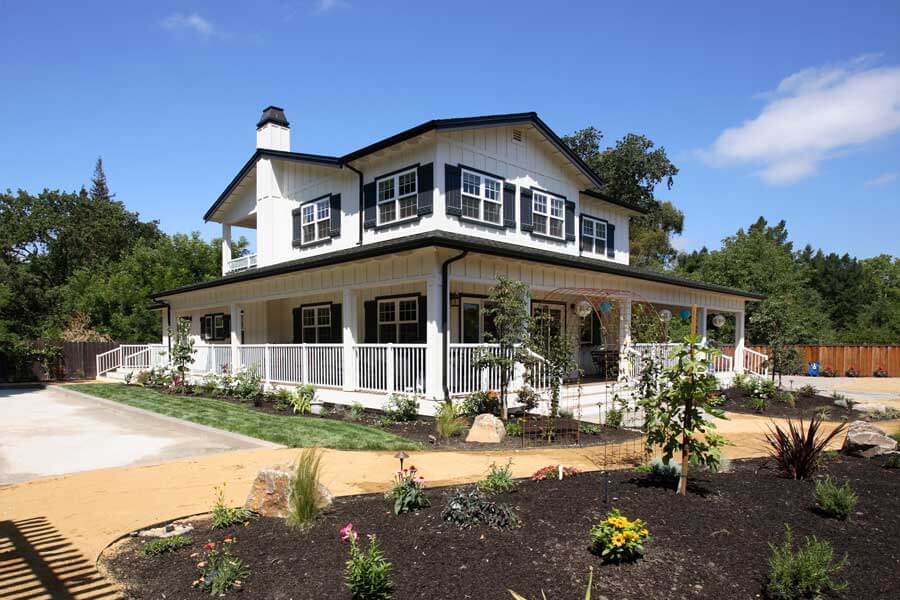 A front porch renovation, whether updated or freshly designed, can add tremendous appeal to your home. Begin by assessing your porch's existing condition: does it need repair or replacement of worn-out materials? A fresh coat of paint can revive some porches, while the addition of decorative elements like railings, balusters and corbels can add a touch of elegance. Incorporating outdoor seating and plantings creates a welcoming atmosphere.
If you choose to design and build a new front porch, envision it as an extension of your home's character. Start with a clear design plan that harmonizes with the existing architecture, and choose the layout, materials and dimensions to complement the property's overall look. Consider the roofing style as well—gabled, flat or pergola-style roofs are popular options.
Choose materials for appeal and longevity. Opt for durable, weather-resistant materials requiring minimal maintenance: wood, composite, stone and brick exude timeless charm and long-lasting performance. Your color choices should also align with the home's exterior to create a seamless transition between the porch and the rest of the home. Here again, don't forget about exterior lighting, for both safety and aesthetics.
Consider a Front Door Makeover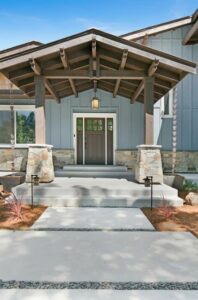 Curb appeal can start at your front door, so select a door in shape and style to complement the overall architecture of your home. This will create a cohesive and visually-pleasing entrance.
Color choices abound for front door appeal, and can set the tone for the overall appearance. A vibrant, eye-catching color can infuse energy and personality, while a subdued hue exudes understated elegance.
Windows in your front door can blend practicality with aesthetics. They allow natural light to filter into your entryway, and their shape and arrangement can add uniqueness. The hardware and accents play a role in your door's presentation as well, and you'll need to make decisions on things like its handles, knobs, knocker, mail slot and doorbell.
Materials should be chosen for both durability and aesthetics. Wood, fiberglass, steel and glass-paneled options offer a spectrum of choices. Think about maintenance, climate and security when making your selection.
Related: How Can I Make My Front Door More Attractive? 7 Ways to Add Instant Curb Appeal.
Install New Windows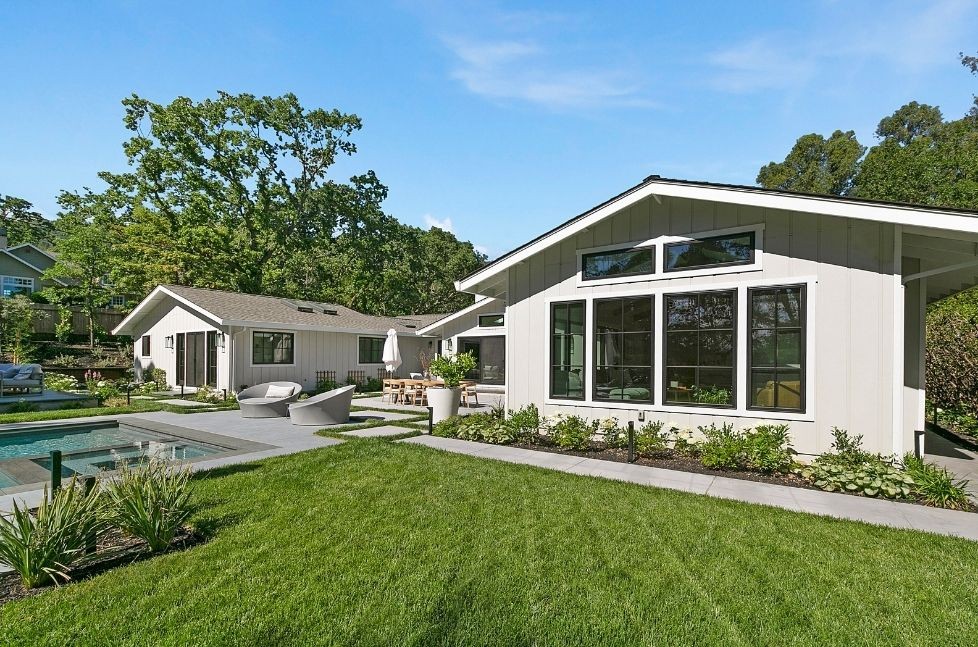 New windows offer enhanced curb appeal as well as provide energy efficiency. Start by evaluating the styles and types of windows that best align with your home's architecture. They can range from classic double-hung to contemporary casement to distinctive bay or bow windows, and can play a pivotal role in shaping the overall look and feel of your home.
Wood windows convey a classic charm and can be stained or painted
Vinyl windows offer low maintenance and energy efficiency
Aluminum windows provide a sleek and modern appeal
Size matters. Larger windows can create a sense of openness and bring in more natural light. Conversely, well-proportioned windows that suit your home's scale maintain a harmonious aesthetic balance. You can also reduce your energy consumption and enhance the comfort of your living space by choosing windows with a high energy-efficiency factor (E-factor).
And don't underestimate the appeal of window accents and treatments like trim, shutters and window boxes to add character to your home's exterior.
Improve Walkways and Lighting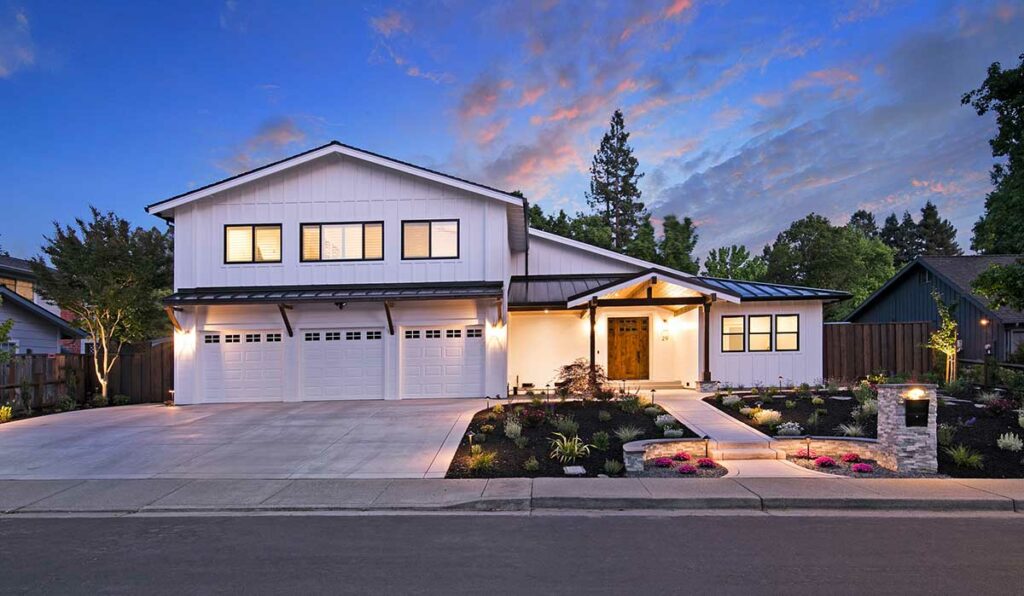 Improving walkways involves careful consideration of materials, layout and landscaping. Thoughtfully-designed pathways, whether through stone pavers, brick or concrete, guide visitors seamlessly to your front entrance. Choose durable materials that can withstand foot traffic and complement your home's architectural style.
Outdoor lighting fixtures illuminate the path, ensuring safe navigation and enhancing security. Beyond functionality, lighting can cast subtle highlights on architectural features, landscaping and the home's façade, adding depth and drama that showcases your property's unique character. Use a combination of overhead fixtures, wall sconces and ground-level lights, each with its specific purpose. And consider smart lighting solutions that allow you to adjust the intensity and timing.
More front yard curb appeal ideas involve landscaping elements along the walkway, such a plants, flowers or shrubs, to inject a touch of nature's beauty and further enhance the pathway's charm.
How Can Gayler Design Build Help Improve Your Home's Curb Appeal?
Gayler Design Build is your partner in transforming your home's curb appeal to create a stunning entranceway. From envisioning striking new front porches to updating windows, Gayler offers customized solutions tailored to your specific needs. When it comes to reimagining your outdoor space, their team understands that every home is unique, and they work closely with you to bring your vision to life.
Rely on Gayler's skilled designers and carpenters, and their expertise in layout, material selection and harmonious aesthetics, and breathe new life into your property's exterior. You'll benefit from a team that values the union of creativity and functionality. And with their commitment to delivering exceptional results, every facet of your curb appeal enhancement will thrill and delight.
Gayler Design Build is a third-generation, family owned design-build remodeling firm serving the communities in Contra Costa County, California. They are renowned for their more than 20 years of a consistent track record of completing projects on time and to their clients' complete satisfaction.
Get started today by contacting us at 925-820-0185.
Want design ideas? Check out of design portfolio of projects we're proud of. And connect with us via our newsletter for ongoing inspiration.