Rachel and David share their design-build home remodeling experience in this tell-all interview.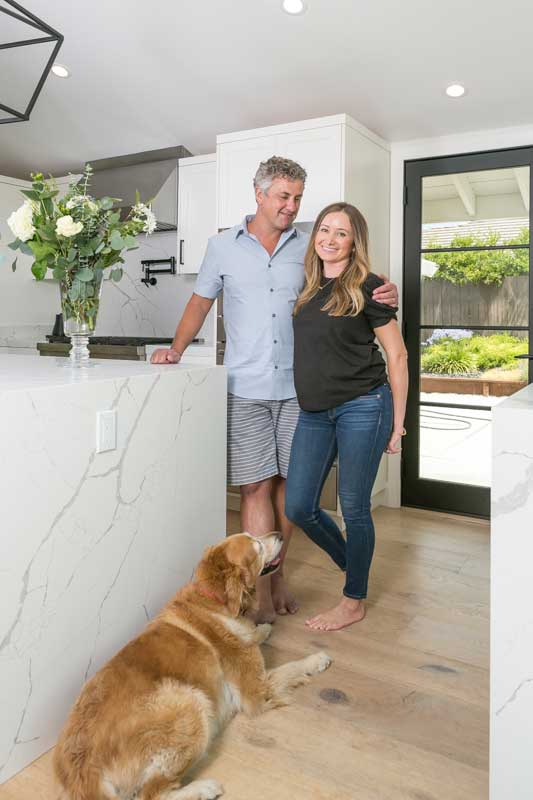 After months of searching for a house that had the potential to be a perfect residence, this young Alamo family identified the right home and sought to work with a design-build firm that would walk them through a seamless design and construction process—one that would fit their functional and lifestyle needs exactly.
Their primary goal was to design and build an open concept kitchen and great room with clean lines and plenty of functional living space. Deriving inspiration from the outdoors, they envisioned a large open space that let in a lot of natural light and blended seamlessly with the outdoors.
Gayler Design Build delivered! The kitchen was relocated to the back of the home, opened up and integrated with the rest of the home's living space, creating a great room that is light, bright and inviting—just what this young Alamo family envisioned!
Rachel and David tell-all, sharing their remodeling experience with Gayler Design Build:
Q: What prompted the need for your remodel?
A: This was a remodel that started from a home purchase. When we were looking for the right home, we wanted to find a fixer-upper that hadn't been updated already and could be remodeled with our vision in mind.
We actually moved into our new home mid-way through construction.

Q: What concern(s) did you have going into your home remodeling project?
A: Not surprising, the budget. This was our first rodeo. In educating ourselves, we looked into getting an architect separate from an engineer and a contractor. We aggregated a lot of information from people by asking questions. We learned about the design-build process in this same manner.
With both of us working, it seemed abundantly clear that it was going to be time-consuming and stressful managing multiple people on our own. We really liked the idea of having one point person with the expertise to navigate the project more efficiently from design through construction.
Gayler had a great reputation. They also appeared to be ready to take on our project. When we were exploring options to work with an engineer, architect, and contractor separately, it seemed difficult to time their availability together.

Q: What was your favorite part of your remodeling experience with Gayler Design Build? Why?
A: The people. They have a very good team. Just knowing that we had one contact person and a project manager to take care of everything was so reassuring.
We moved into our home when Gayler Design Build was starting to lay down the floor and paint the rooms. The guys were great! We met with [President and Designer, George Gayler] Gayler on a weekly basis outlining the next steps and what to expect. Each day, living in the home, we got to see the main part of our house transform right in front of our eyes.

Q: What was your least favorite part of the remodel? Why?
A: The reality of what things cost in order to get to what we wanted. The decision to do something or not because of the cost was really a tough one.

Q: After living in your newly remodeled space, what has become your favorite design feature?
A: We love our big island. We use it for everything—we eat there most of the time, our son does his homework projects on it, guests socially hang out there, and we all sit together while someone is cooking.

Q: What was your inspiration behind the open concept design, and the increased use of natural light throughout your space?
A: We knew what we liked by doing our own "in-house" shopping. We were constantly browsing remodeling ideas, accumulating pieces that we liked, so we had a pretty clear vision of what we wanted when we approached Gayler Design Build.
We also saw an opportunity to connect the inside with the outside, which was important to us having moved from an apartment in San Francisco. With the fixer-upper, we saw a way to make our living space more functional and enhance our everyday life.

Q: Did Gayler Design Build assist you with your design concept?
A: We knew what we wanted. We had no idea if we could do what we wanted to do. George was amazing. He took our vision and came up with great ideas to give us the open concept floor plan we envisioned, without blowing our budget.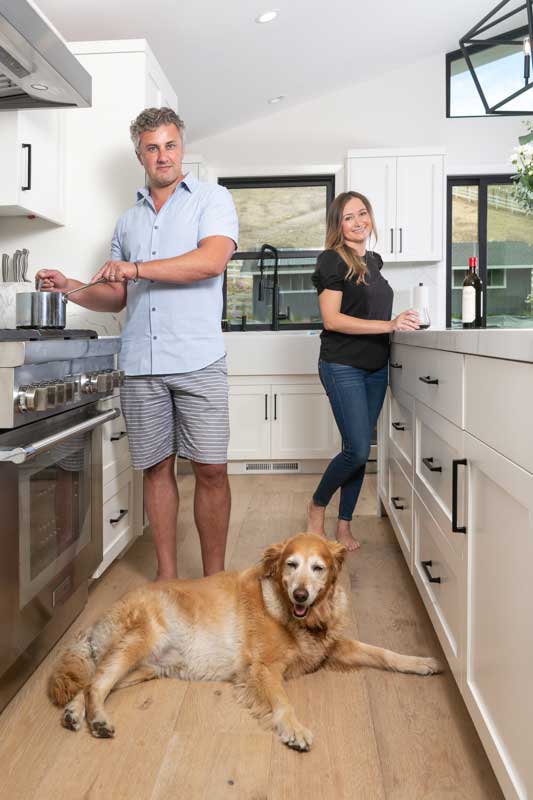 The process was amazing also. George presented us with a 3D rendering of our soon-to-be remodeled space, taking us inside our home. After reviewing the rendering, we were able to point out a few areas that impeded our vision. George was able to make a few adjustments, and then our vision came to life.
George was a good listener through it all. We shared ideas equally and Gayler always let us move forward with what we liked best. In truth, if we had pursued what we thought we wanted from the very beginning, our project wouldn't have turned out as good as it did. George made it better. One of his great suggestions was keeping the little wall—creating a little separation in the room. We have really come to like that feature.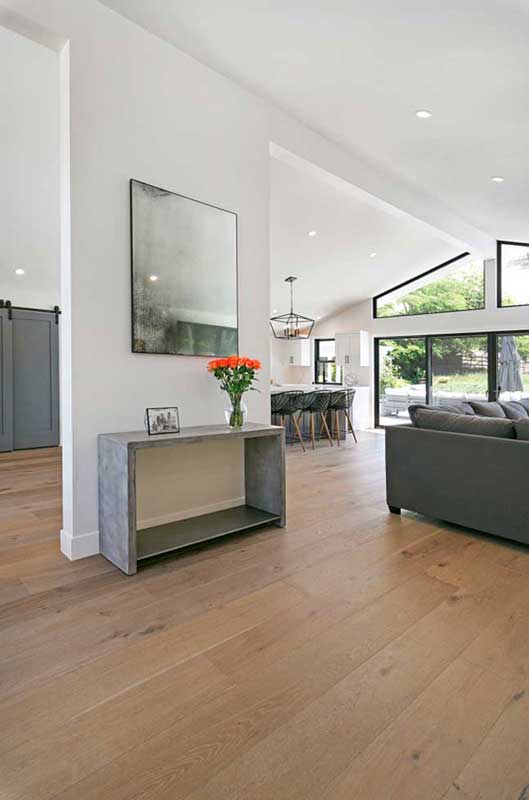 Q: What did you dislike the most about your home before the remodel?
A: We disliked the segmented room, lack of openness, low ceilings, and how every room was closed off from the main area. We wanted to open it up in every sense of the word and raise the ceilings. We also have an amazing backyard—one of our favorite features of the home. We wanted to take advantage of its beauty, bringing the outdoors in, so to speak.

Q: What do you like the best about your home after the remodel? Any big surprise that caught you off guard?
A: We were surprised by how good the crew was and how respectful everyone was. The remodeling process was so smooth. We were so well communicated with. You still face normal challenges of any remodel, but we were pleasantly surprised by the overall experience. It was smooth sailing thanks to Gayler's process and project management—that's a job in itself.
We even felt comfortable walking through the construction site at night barefoot because it was so meticulously cleaned each night—no nail in sight.
[Laughing] A big surprise was how quickly the costs add up.

Q: Which newly remodeled space gets used the most / do you spend the most time in? Why?
A: The great room and kitchen island.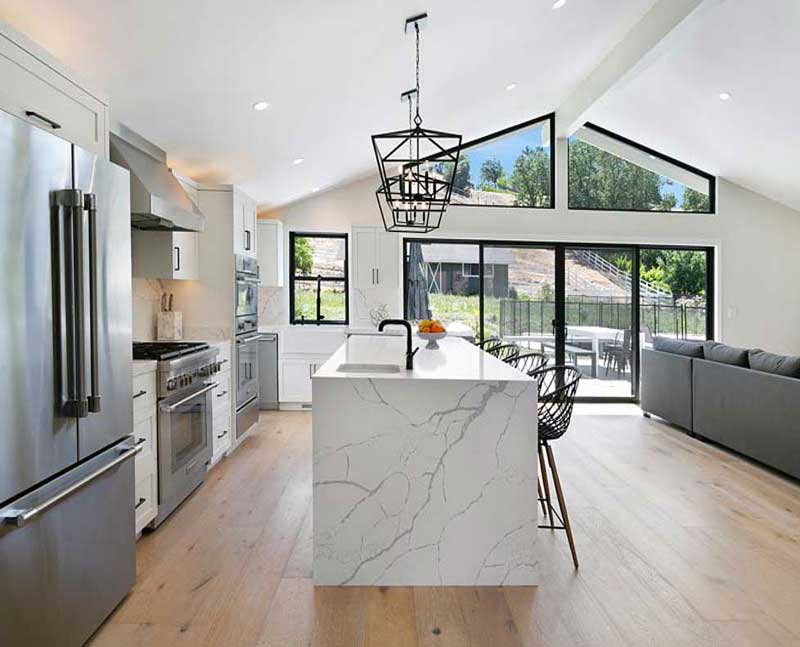 Q: How does your son like the new space? How does he use it?
A: It has been great. Our son refers to it as "his play area." As [George] designed, we can still see him and he stays connected to us, but he feels like he has his own space—his own domain. Another perk? His toys now stay in his general area, instead of the rest of the house.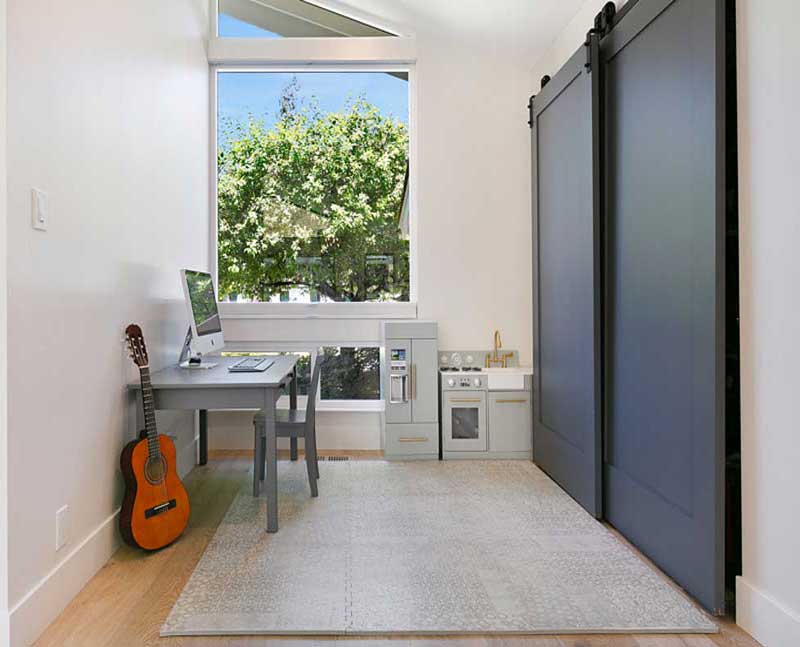 Q: How has your lifestyle changed since the remodel?
A: We eat at home a lot more. Pre-COVID-19, we were able to entertain more also. We also love the fact that we're outside more because it's right there—we feel more connected to the outside. The space is light and airy and makes us cognizant of getting outside. Coming from apartment living in San Francisco, we love this new lifestyle and connection with nature.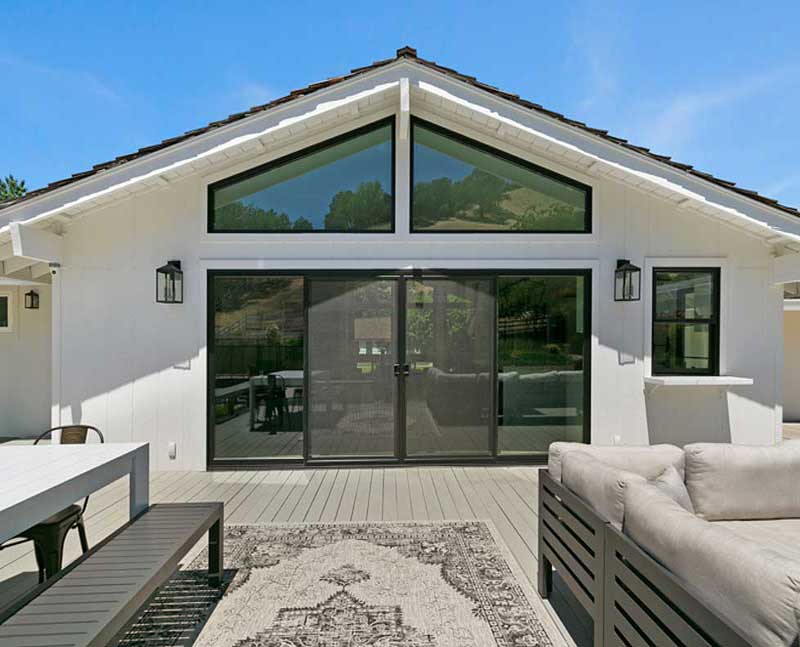 Q: In hindsight, is there anything you would do differently if you were to remodel again?
A: Certainly. There are a few 'wish list' items that would have been nice to have in hindsight, especially now that we're living in the space, but that is natural. For example, we could have used a few more lights and a water heater, but we didn't know how we would feel.
It also would have been great to add wiring for surround sound speakers and a stereo system, particularly since it would have been easy to do while the walls were down. But, we were so concerned for the budget that it wasn't on our radar.
There are also a few more significant things we want to do, but we are putting those off until later. Now we know how the design and communication process works, from experience.

Q: Anything else you want to share?
A: The entire Gayler team was really great. Everyone is super respectful. There is not one person that we were uncomfortable having in our home.
People warned us about starting a remodel—red flags were thrown up everywhere. They blew right through all that. If we'd done this remodel on our own, we could have had a bad experience. Luckily, Gayler made something that was potentially daunting into a positive experience—a process we knew nothing about.
True to form, Gayler Design Build also completed our project on time and on budget. Our budget was set from the beginning. We added a few adjustments along the way. There were no surprises on their end. They communicated realistic expectations throughout our project.
View more transition photos of this kitchen great room remodel.