Looking for a way to add value and space to your home?
Updating your outdoor living area to be functional and beautiful can add a whole new dimension to any home. Not only do outdoor kitchens, patios and pool houses provide extra useable space that fits your lifestyle, but the right outdoor space can increase your curb appeal and boost your home value.
In 2019, we see all kinds of exciting outdoor design trends. Here are six of our favorites that are sure to improve the functionality of your space, increase the enjoyment of your home and make every inch of your property beautiful.
Thoughtfully Designed Outdoor Lighting
Often overlooked, lighting is essential for creating a thoughtfully designed outdoor living space. There are so many different ways to incorporate lighting into your backyard plans. Special consideration should be made to incorporate lighting in the backyard for safety purposes and ambiance. Here are a few ideas to help you gather inspiration:
Accent specific yard features using spotlights
Add a dramatic dimension to pools or fountains using water lighting
Entertain after dark using carefully planned area lighting
Place safety lighting along paths or doorways, steps or even the driveway
Use in-ground lights for uplighting or cross-lighting plants, statues or trees
Use motion activated lighting or light timers for energy saving solutions
Consider solar-powered lighting for improved sustainability
Seating Design Plan to Accommodate both Small and Large Gatherings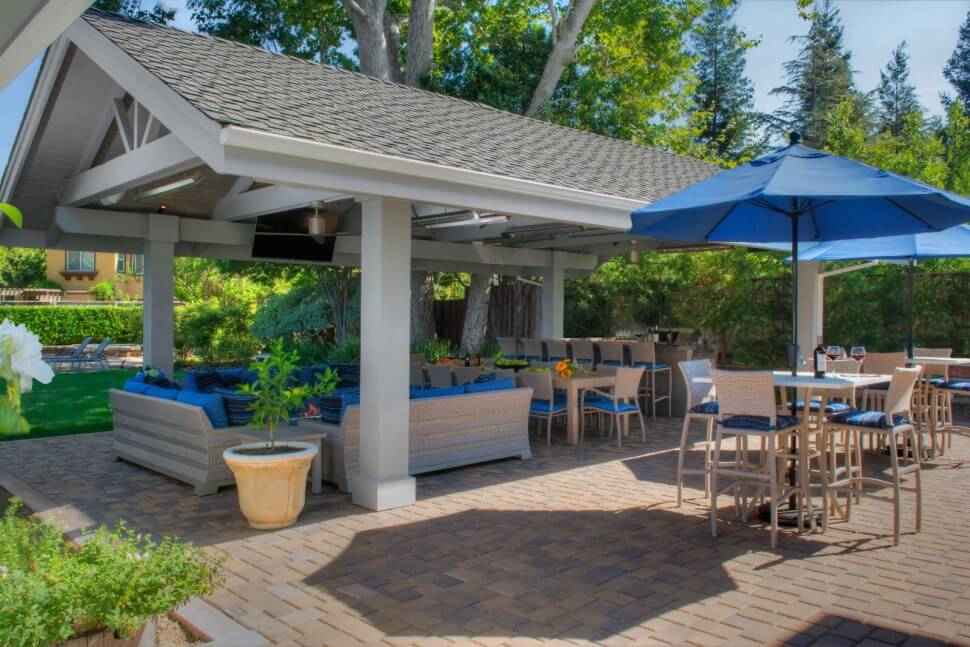 You may prefer one over the other, but a versatile seating area that accommodates small or large groups is sure to last a lifetime. As your family evolves and changes, you may find there are moments where space to accommodate a larger or smaller group is ideal. Or, you may love small, intimate dinner parties. Someday, you may want to host a small wedding or graduation party. Perhaps you like to host large family gatherings during the holidays, but you also want your space to function well when you want a couple of close friends over. The right planning will mean you know exactly how to expand or pare down your seating to make the space feel just right.
Fully Functional Outdoor Kitchens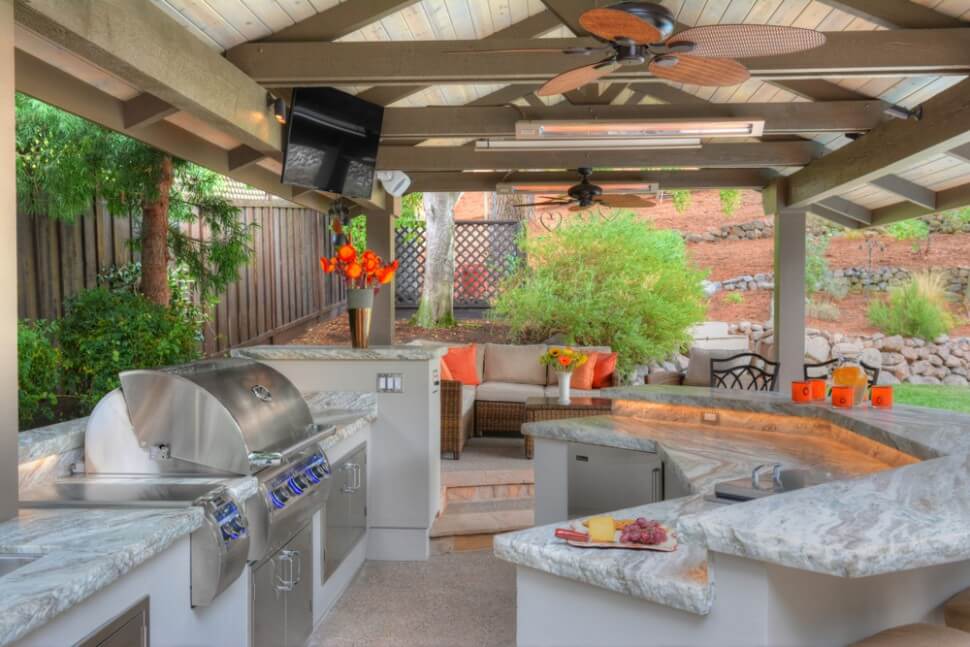 A traditional kitchen in the backyard is not only a desirable feature for entertaining, but it makes it so much more enjoyable to eat al fresco meals. Eating areas are commonly considered must-haves for outdoor living spaces. As far as design trends go, fully-equipped outdoor kitchens are popular among California homeowners—complete with countertops, cupboards, working sinks, refrigerators, stovetops, and more. Often paired with a grill, the full-service outdoor kitchen makes preparing, cooking and serving a meal more efficient. You can entertain in style, prepping your meal amongst friends and family, in the warm sunshine and crisp, clean air.
One of the most significant differences between an indoor and outdoor kitchen is the materials you use to create it. You need kitchen fixtures and product selections that can weather the elements, and you will need a full or partial structure built to protect your kitchen from the harshest of conditions.
Custom Fire Pits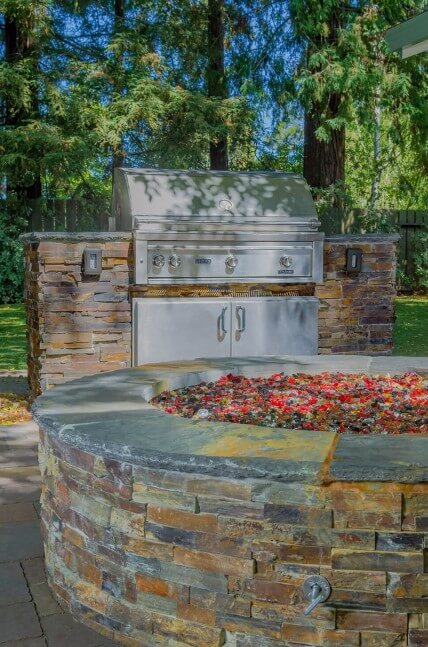 Fire pits have been a backyard favorite for years, gathering people around a cozy fire to share campfire stories, songs, smores, and more. You don't have to have a big space to put in a fire pit. A custom fire pit can be as beautiful and captivating as you want it to be. The right seating, spatial design, and the pit itself can make a big difference in your landscape. If you are considering one, you will need to factor in safety—especially if you will have kids running around. If cooking or entertaining large groups aren't your thing, a fire pit can create a relaxing space for you or your loved ones to enjoy a drink, a relaxing conversation, or simply stare into the flames.
Outdoor Bar for Evening Entertainment
A full-service bar is a popular trend in current backyard design. And, there are a ton of options. You can include seating around a bar portable to make entertaining comfortable and convenient. You can also add an area to prepare food to go along with the drinks you serve. Storage and refrigerator space can make it easier to keep all of your tools, drinks, and glasses on hand. A wine cabinet can be designed into your bar to store your favorite vino at just the right temperature. An outdoor bar is also a great way to boost the value of your property, very popular among California home buyers.
Pavilions, Pergolas, and Arbors For the Perfect Mix of Sun and Shade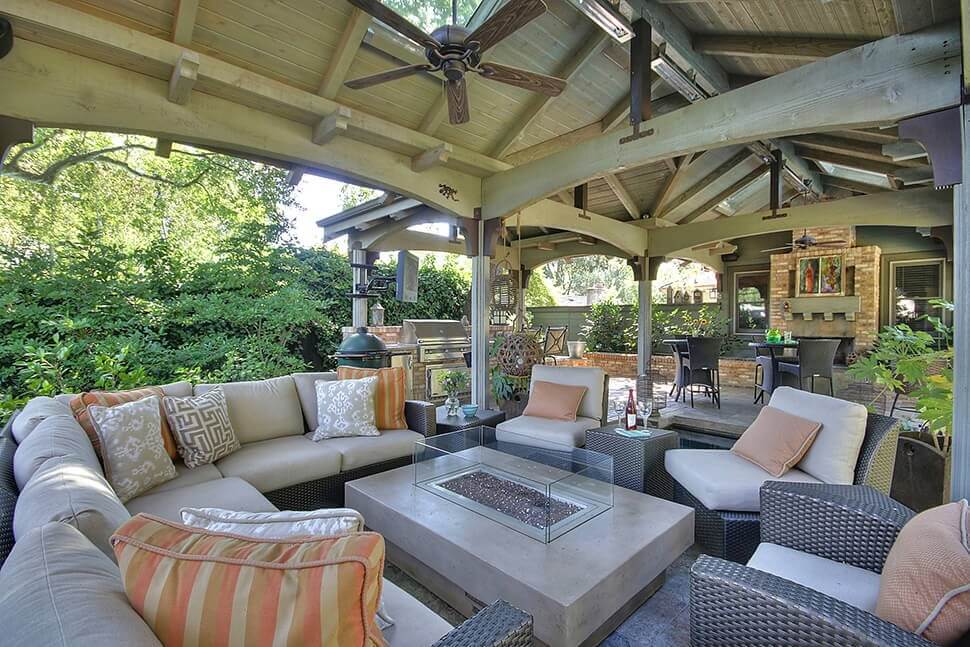 If you are looking for a way to create a chic or rustic feel to your yard, a pavilion, pergola or arbor can add the feature space you want. Many homeowners train plants to these practical structures to add ambiance to the design and provide natural shade. A rustic build can add a wooded landscape feel to any garden, patio or walkway. A more modern design with clean lines and neutral colors can highlight your outdoor furniture, firepit, bar or kitchen. While a more traditional or classic build can provide a luxurious feel in keeping with the rest of your home and grounds. Installing a custom pavilion is the best way to protect your outdoor living space. Its solid roof structure will protect your TVs, fans, heaters, appliances and sound systems from the weather–making the space useable year-round.
If you are considering making changes to your outdoor space, contact Gayler Design Build by calling 925-820-0185. Not quite ready? Sign up for our bi-monthly eNewsletter and stay connected with home remodeling tips and design trends in Contra Costa County.