As warmer weather approaches, we all want to spend more time outside. Whether it is putting together a last-minute family BBQ or hosting an extravagant, themed outdoor dinner party, some thoughtful planning can ensure your outdoor living and entertaining space fits your needs exactly—for many years to come.
While many think of summer as the quintessential time to cook and entertain outdoors, a well-designed outdoor kitchen allows you to enjoy outdoor cooking and entertaining well beyond the summer months. The best outdoor kitchens are as functional as an indoor kitchen, as inviting as your living room, and as fit-for-entertaining as your family room.
Consider these 5 criteria when designing and planning your ideal outdoor kitchen:
1. Location, Location, Location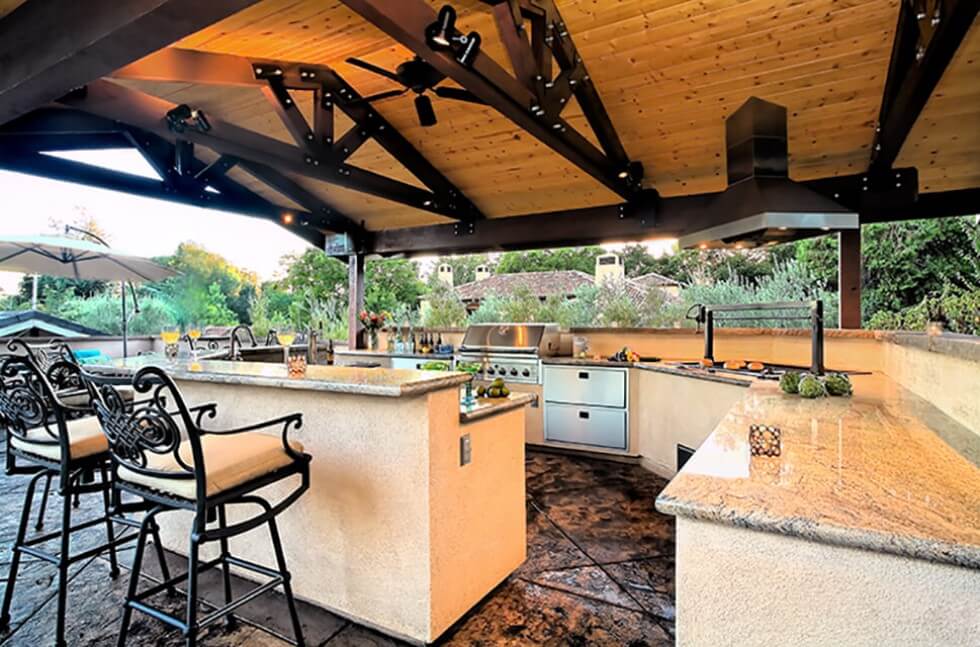 When deciding where to put your outdoor kitchen, consider the relationship between the indoor and outdoor kitchens. How will they be used together when cooking or entertaining? What is the traffic pattern between them?
For example, if you entertain frequently, you will want to minimize the amount of traveling distance between the indoor and outdoor kitchen. Consider placing your outdoor grilling area relatively near the entrance to the inside kitchen, as you will likely be carrying heavy platters of food from one place to another.
Do you currently have a beautiful view of Mt. Diablo or the Bay from your backyard? If so, you will want to place your outdoor kitchen at an angle so as to not obscure the view.
Another consideration is the overall traffic flow of your backyard and safety precautions. For example, a hot, outdoor grill should not be located right next to an area where children will be playing. Just like an indoor kitchen, the outdoor kitchen is full of hazards, so design accordingly.
2. Materials
The primary difference between an indoor kitchen and an outdoor kitchen is its exposure to inclement weather conditions, so it's important to keep that in mind when selecting materials and appliances.
What type of entertaining will you do in your outdoor kitchen? Will there be small children running around or older guests who could slip or fall on smooth surfaces? Flooring such as tile or marble can be very slick and slippery when wet and may not hold up to grease or food stains. Instead, materials like concrete, sealed pavers or natural stone tile could be a better choice.
Ideally, you want to select durable flooring and countertop materials that are easy to clean, highly resistant to grease and stains, and able to withstand high and low temperatures.
3. Functionality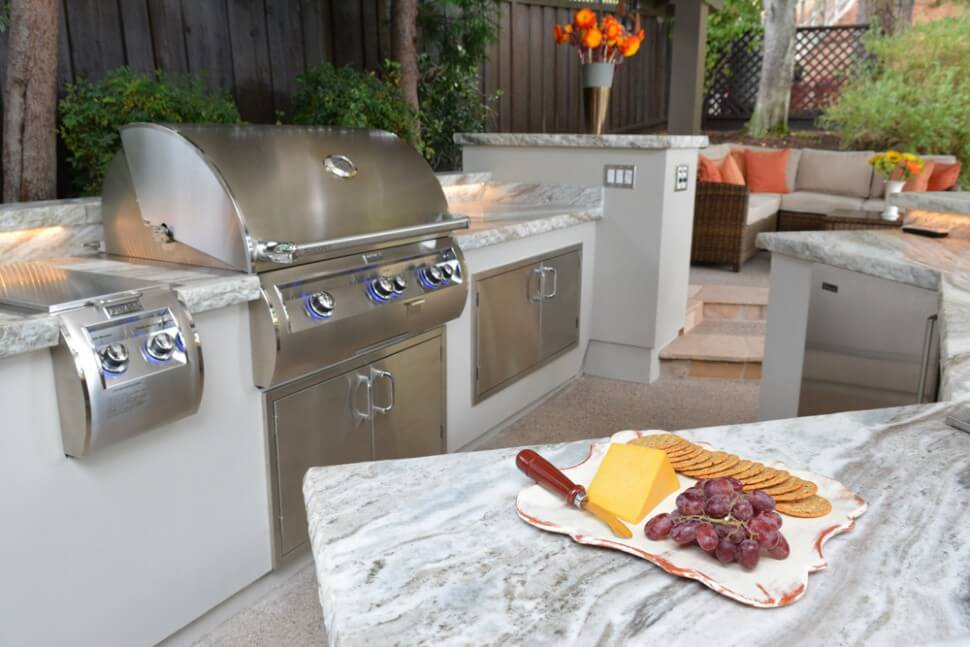 Similar to indoor kitchens, you will want to apply good kitchen design principles to your outdoor kitchen as well. Cold areas (refrigeration), hot areas (grills and cooktops), wet areas (sinks) and dry areas (prep counters and storage) must all work cohesively and efficiently, and have enough workable space.
Most outdoor kitchens include a grill, a sink, and a small refrigerator. Lately, more and more homeowners are adding specialty appliances like countertop coolers, built-in burner ranges, pizza ovens, smokers, hibachi grills and even warming drawers.
Consider how the appliances you select will fit within your design plan, determine how much room you need for each, and how they will work with each other. Moreover, you will want to select appliances that can withstand changes in climate—from blazing hot summers to cold, wet winters. A good choice is always stainless steel appliances, which work well for all weather conditions. They are also very durable and require low maintenance.
Also, don't forget to plan for utilities. Depending on the outdoor kitchen layout and the appliances you choose, you will need to determine the best placement of any necessary gas, water or electricity.
4. Design for Comfort and Safety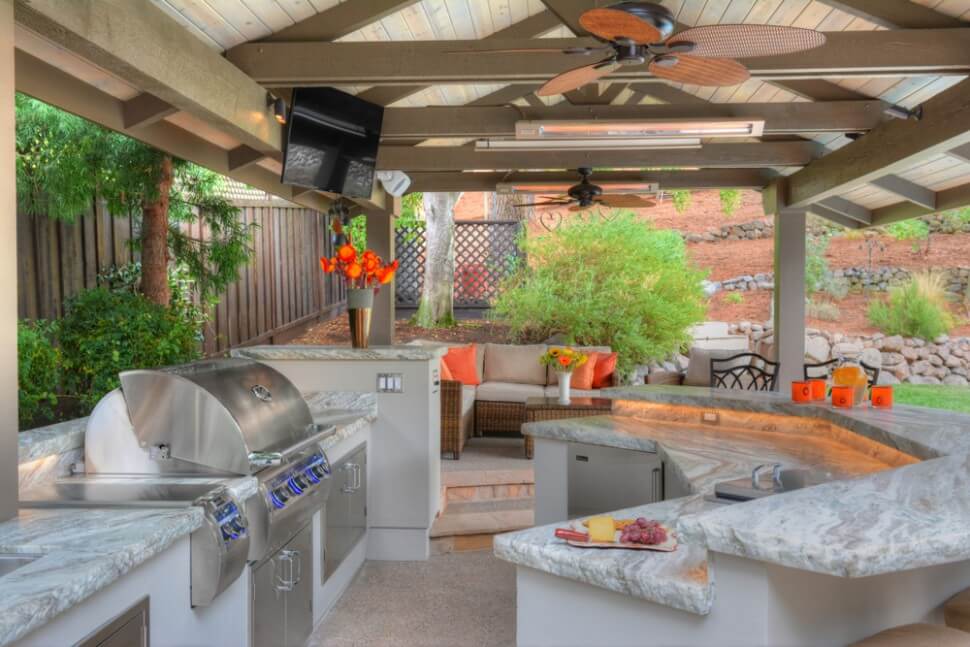 To truly enjoy your outdoor kitchen year round, your geographical location needs to be taken into consideration during the early planning stage.
Building a pavilion or gazebo over your outdoor kitchen will allow you to enjoy cooking and relaxing outdoors in the rain or the heat. With our warmer climate here in California, overhead fans or patio misters are a great addition. To use your outdoor kitchen on cooler evenings and throughout the winter, outdoor heaters, a fire pit or even a cozy fireplace will play a huge part in making that happen.
If you will be cooking at night, lighting that is integrated into the cooking area, whether under the countertops or above, is a must. Outdoor lighting will not only extend your time outside, it ensures the safety of your guests on your walkways, staircases or around your grilling areas.
5. Ambience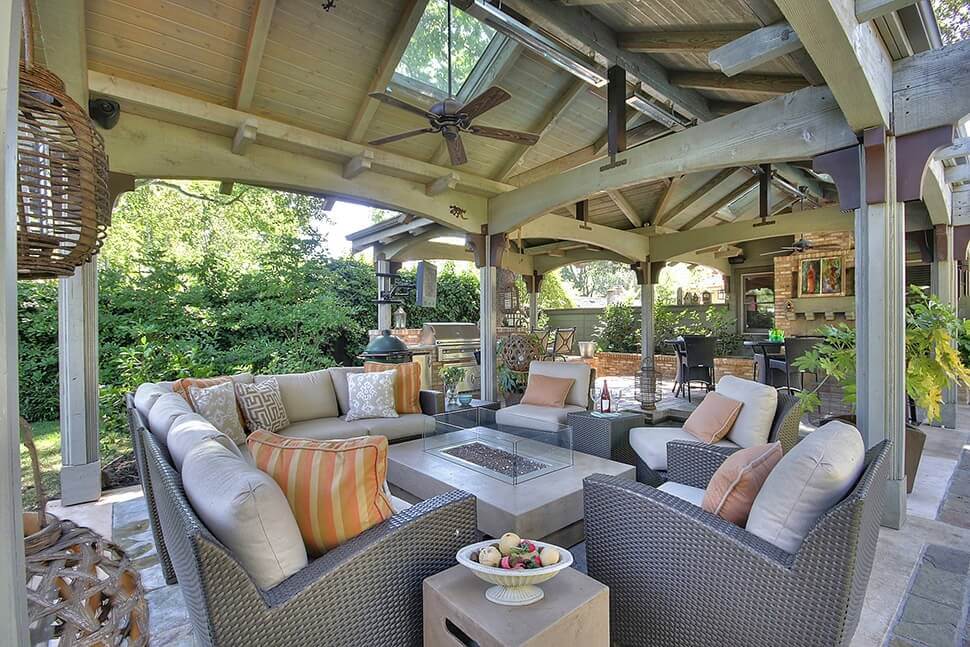 An outdoor kitchen is an opportunity to enjoy the outdoor weather while relishing in the comfort and design of an indoor space. Selecting durable (weather resistant) furniture with comfortable and inviting cushions ensures year-round enjoyment. Incorporating specialty lighting, decorative items and even water features can blend wonderfully with natural elements surrounding your home to create an ideal place to relax and entertain.
Many homeowners are even choosing to include wall-mounted television sets in their outdoor living areas, truly making the outdoor kitchen both a place to cook, eat, relax and entertain. Just be sure your television is properly installed, away from the elements.
Although a homeowner can design a simple and straightforward outdoor kitchen themselves, designing an ideal, powerful outdoor kitchen is best left up to a professional—particularly one that is experienced in designing and building outdoor living spaces.
To begin planning your outdoor living and entertaining space, call Gayler Design Build at 925.820.0185; or begin the exciting process of collecting your own design inspiration from our portfolio of outdoor living projects.