Outdoor living is a given in California, thanks to the temperate climate of the West Coast. While much of the country heads indoors after the summer months, here in Contra Costa County, we get to enjoy the glorious sunshine even during the winter. But it does rain too. So it's important your outdoor living space can support alfresco dining and gatherings all year round.
This article looks at ways to update your outdoor space to support your lifestyle in the heat of summer and during cooler rainy days.
Enclose Your Contra Costa County Outdoor Living Space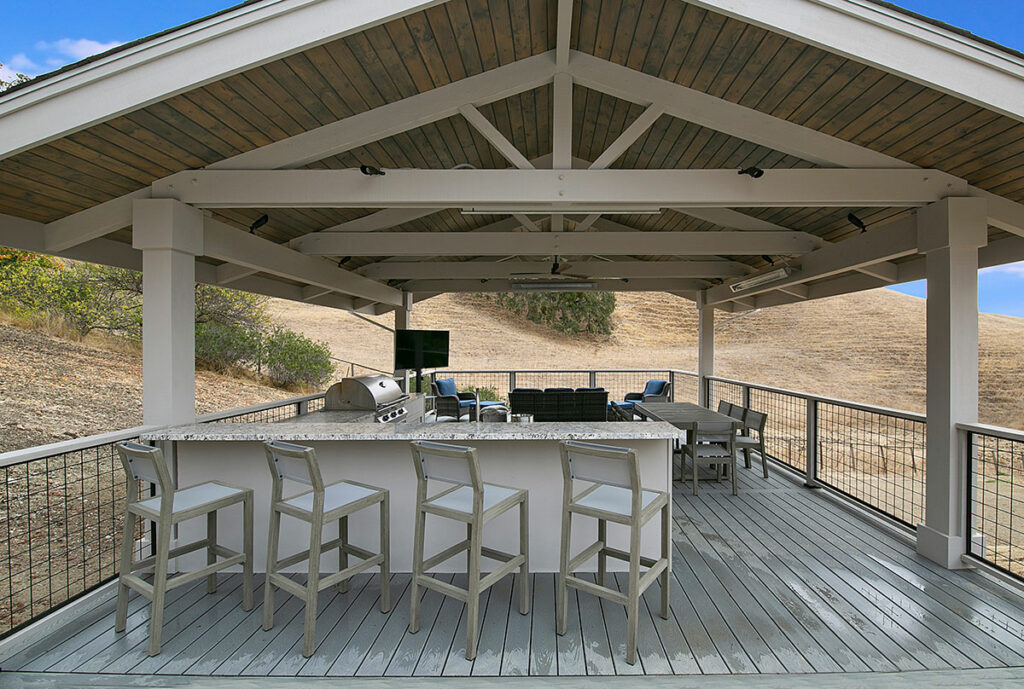 The key to year-round enjoyment of your outdoor living area is developing ways to enclose part of the space. A simple and effective solution is a roof extension that can protect your main seating area from both blistering summer sunshine and winter rainfall.
There are many different types of roof extensions. One of the most innovative options is the louvered roof which features parallel slats – louvers – that can be rotated to control the amount of sunlight and shade that enters the space below. They are made from highly durable materials and improve ventilation, reduce heat, and offer protection from precipitation.
Either adjoining or separate from the main building, structures like a pavilion or pergola can also provide additional protection and aesthetic charm. With their solid roofs, Pavilions create cozy, inviting spaces, while pergolas with latticed tops provide a dappled effect and a framework for beautiful growing plants.
Retractable screens or outdoor blinds are another excellent way to provide further options against different weather conditions and any privacy concerns. They come in various styles and colors that match every architectural look.
Consider Adding an Outdoor Kitchen in Your Contra Costa County Home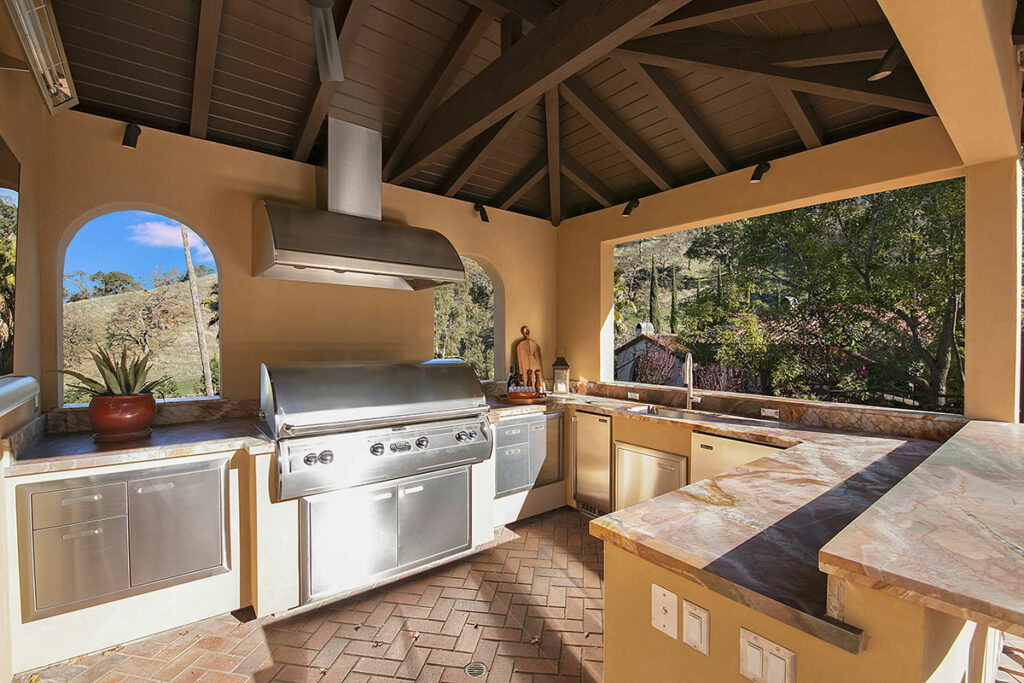 Adding an outdoor kitchen is an excellent way to make your Contra Costa County outdoor living space a year-round hit. Regardless of the season, an outdoor kitchen offers a unique environment for cooking, dining, and socializing without the need to constantly return indoors.
Key elements of an outdoor kitchen include outdoor cabinetry for convenient storage and a grill station for barbecuing. Additional features that will benefit the space include a sink for easy clean-up, a refrigerator for keeping perishable items close at hand, and a wine or beverage cooler for chilled drinks.
An ice maker is an added luxury, supplying ice for cocktails and juices. Perfect for the many hot days we enjoy in Danville, California.
Include a Heat Source in your Backyard Makeover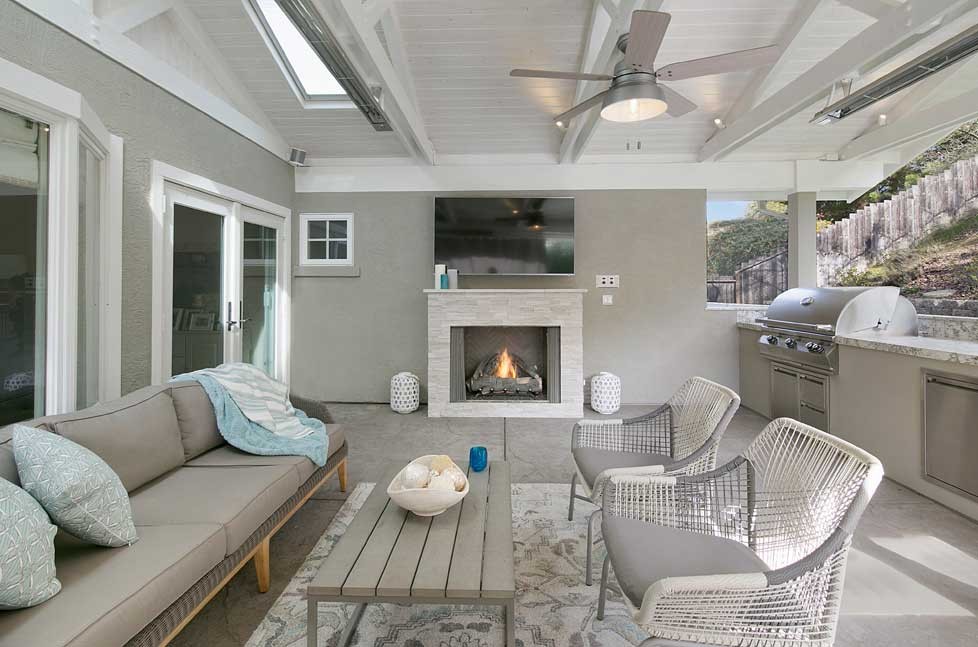 While it rarely gets really cold in Contra Costa County, it can feel cool in winter and non-summer evenings. Therefore, having an effective heat source is an important addition that enhances your outdoor comfort and enjoyment.
Fire pits and fire tables offer warmth and a captivating focal point for conversations and roasting marshmallows. For a more dramatic effect, a custom outdoor fireplace can provide significant heat output and become an elegant architectural feature in its own right.
Patio heat lamps are another excellent option, offering a more portable and space-saving solution. They come in various styles, from tall propane models to electric table-top versions.
And if you love a relaxing soak, a hot tub or spa is an excellent way to keep warm regardless of the season.
Include a Cooling Source in your Backyard Makeover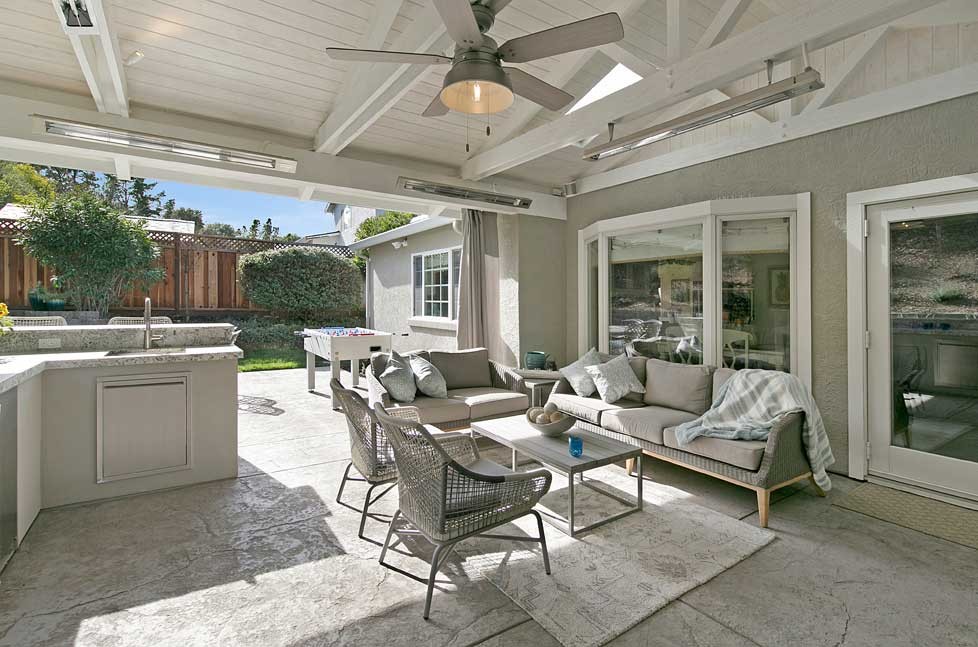 In California, cooling down is usually a core focus of everyday living, especially during the hot summer.
Ceiling fans are a practical choice, working well in covered patios or underneath pergolas. They provide constant air circulation, reducing the perceived temperature and adding a soft breeze to your space. Their wide variety of styles can add to your property's décor scheme as well.
Misters can also be a refreshing addition to your backyard. These systems spray a fine mist that evaporates quickly, cooling the surrounding air without leaving everything soaked. They can be installed around the perimeter of your space or even incorporated into landscaping features, making them a versatile cooling solution.
Include Proper Outdoor Lighting in Your Contra Costa County Outdoor Living Space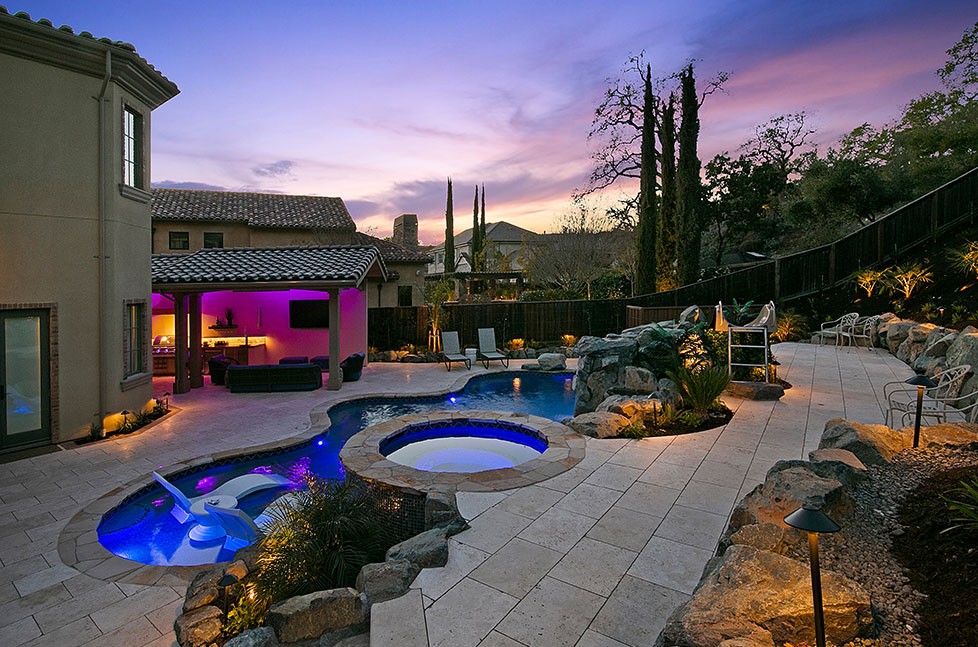 There's nothing quite like the magic of warm California evenings with family or friends. Thankfully, your enjoyment of your outdoor space needn't end when the sun sets. Intelligently designed outdoor lighting can turn dusky evenings into an enchanting experience that lasts the whole night through.
Consider using wall lights to provide broad, general illumination across your outdoor area. Use path lights to highlight walkways or accentuate landscaping. Overhead lighting fixtures, such as lanterns or pendants, can be installed under enclosures for focused light, ideal for dining or reading.
To add a special touch of charm and create a cozy atmosphere, consider string lights. Dangling them across your yard can create a warm, inviting ambiance perfect for late-night gatherings.
Remember, outdoor lighting requires fixtures rated for exterior use, ensuring both the safety and longevity of your lighting installations in all weather conditions.
Choose Comfortable, Durable Weather-Proof Furniture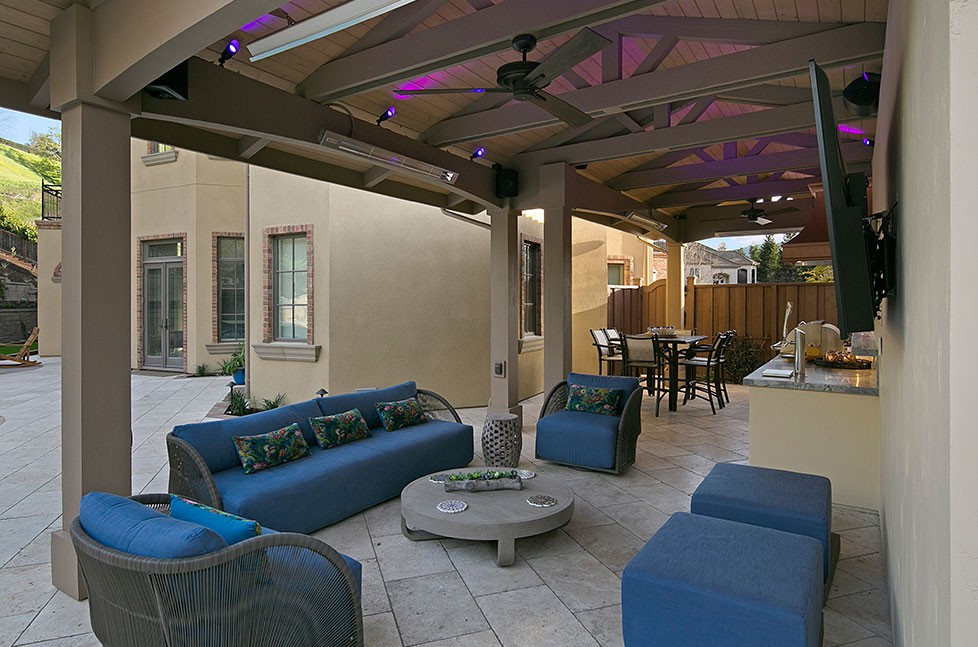 Furniture choice is essential to a year-round usable outdoor living space in Contra Costa County. Select weather-resistant furniture where possible to enjoy your patio both in summer and winter. Materials like powder-coated steel, teak, and polyresin wicker are designed to brave the elements, providing durability across seasons.
Powder-coated steel is strong and corrosion-resistant, while teak, a dense hardwood, is known for its resistance to decay even when exposed to extreme weather conditions. Polyresin wicker, on the other hand, mimics the classic look of traditional wicker but is more resilient to moisture, sun, and temperature changes.
Remember to cover your furniture or move it under a covered area during inclement weather for added protection. Cushions and pillows should be brought in when it rains.
Work with a Remodeling Expert like Gayler Design Build
Since 1961, Gayler Design Build has been remodeling homes in California's Tri-Valley and Lamorinda areas. And we are the only design-build firm with a 24-year unbroken record of on-time and on-budget project completions. It's something we're incredibly proud of.
As a third-generation, family-owned design-build firm, we want you to be proud of your home renovation. That's why we work with uncompromised values. It's how we define our company and what we believe in. So, when you want to remodel your home in Contra Costa County, trust Gayler Design Build.
Learn more about our design-build process and visit our portfolios for inspiring photographs of some of our previous remodeling projects. Then, when you're ready to discuss remodeling, contact Gayler Design Build at 925-820-0185 for a complimentary in-home design consultation. Or use our contact form to schedule your appointment.
Want more inspiration? Sign up for our newsletter and follow us on social media!