With families spending more time at home, they are looking for ways to add value and comfort to their homes all year-round. Not surprising, they are exploring ways to turn ordinary outdoor spaces into extraordinary outdoor living rooms. Here are some simple solutions for turning an ordinary backyard into a luxurious outdoor living space.
Also, read about this year's trends to watch for in outdoor living.
Pergolas
Typically found in gardens, a pergola is a structure made without walls or a solid roof, generally constructed with vertical posts or pillars that support a sturdy lattice of cross beams. Coming in all shapes and sizes, these structures can dramatically change your backyard. Larger structures serve as an inviting area for garden entertaining. Particularly when they are covered with plant vines like jasmine or wisteria, pergolas provide both shade and ambiance, leaving guests bathed in beauty and relaxation. These structures are typically preferred by homeowners whose backyards are void of a patio, and they don't want to add a deck.
Full Roof Extension or Pavilion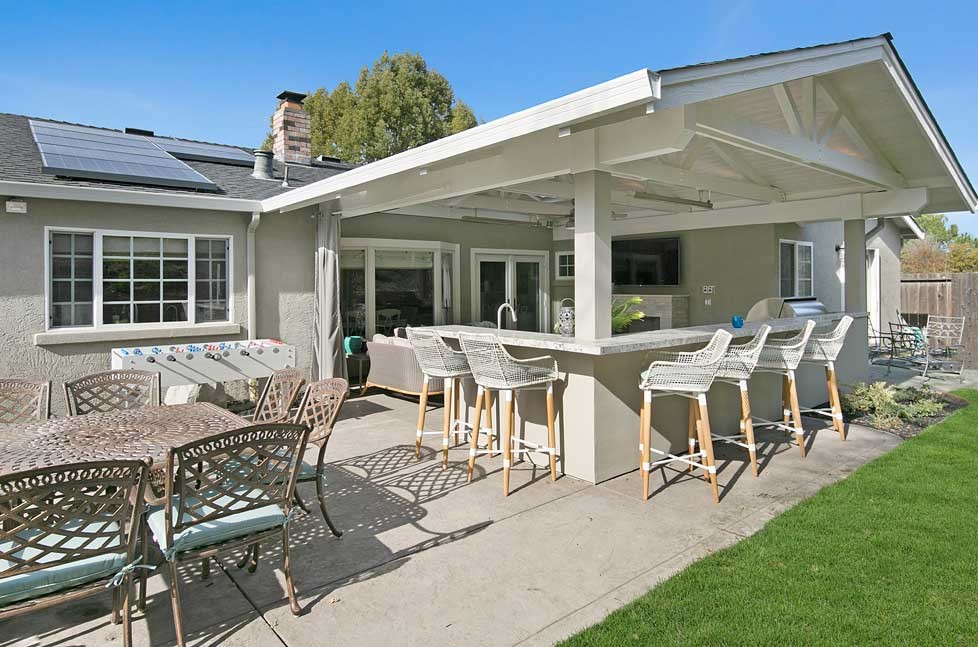 Installing a full roof extension or pavilion is another way to bring a touch of class and elegance to your backyard. Often built separate from the main home, a pavilion is a freestanding pergola with a solid roof and gives you a tranquil place to sit and relax among surrounding trees and other landscape vegetation. Ideally, your full roof extension or pavilion will also include power and lighting for multi-purpose activities such as meal prep, music, mood lighting, and overall entertainment.
Integrated Landscaping
To create the ultimate backyard escape, it is important to consider form and texture as well as color when selecting plants and materials. And, how you combine shapes and textures in your landscaping plan is also critical. The two main elements that make up outdoor living spaces are known as hardscape and softscape. Hardscape is the hard elements in your yard (i.e., concrete, bricks and stone). Softscape is the soft, growing elements (i.e., flowers, shrubs, trees and succulents). Ideally, a well-designed landscape balances these two elements beautifully.
A Variety of Seating Options
Spending time outdoors in the comfort of your backyard is an excellent respite after a long day. That's why you want to consider your backyard's multiple uses when planning your outdoor space. Make sure your plan incorporates multiple seating options to help your friends and family enjoy your backyard all year-round. Need fireside seating for cozy nights by the fire? A lounge area to read a book or laze under the summer sun? Consider benches, chairs, stools or sitting areas designated for dining, lounging, entertaining and gathering.
Fire Up the Fire Pit
Especially in Northern California, the weather entices us to enjoy a beautiful night under the stars to gather with friends and family. A fire pit provides a wonderful excuse to step away from our phones and devices and enjoy the beauty that exists in our own backyard.
Like many other materials, there is a wide range of options to choose from when selecting the perfect fire pit. Beyond considering its location in your yard, you will also need to decide on a wood or gas burning fire pit, and potential seating elements. A cozy built-in seating area next to a fire area can create an ideal environment for snuggling up to a loved one and relaxing in warmth.
Chef-Inspired Outdoor Kitchens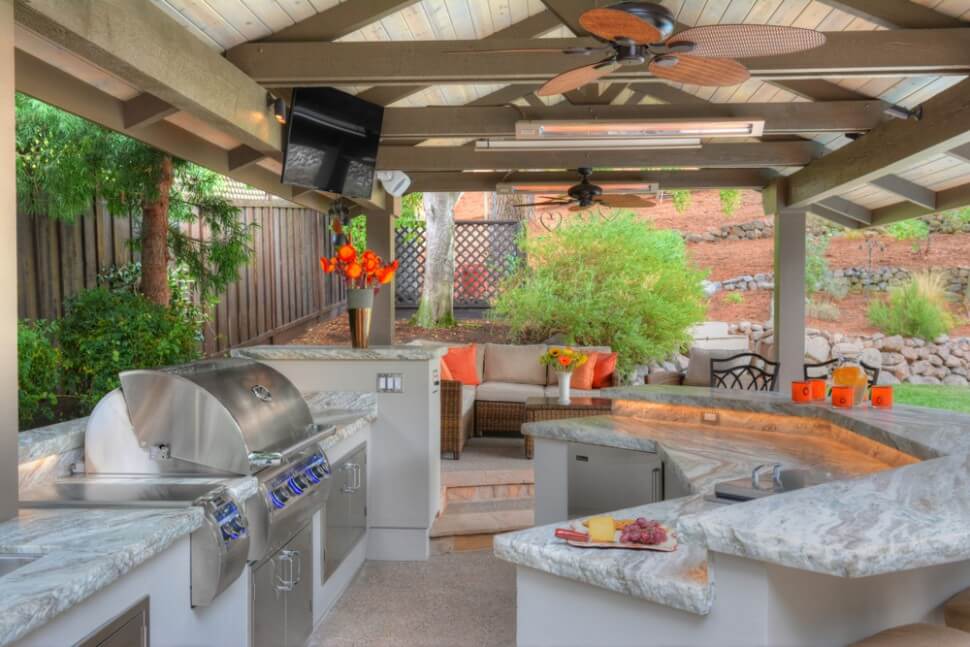 Eating outside is a great way to wet your appetite. And, nowadays, there's no need to skip on the amenities when you are cooking or entertaining in your backyard. A chef-inspired outdoor kitchen will bring a whole new level of luxury to your outdoor living space. You'll want to consider a built-in BBQ, and maybe a pizza oven to boot. Many Northern California homeowners opt to include an outdoor sink, refrigerator, plenty of counter space, and sealed storage space as well. For more information, learn how to design and plan your ideal outdoor kitchen.
Pass-Through Windows/Expandable Floor to Ceiling Folding Doors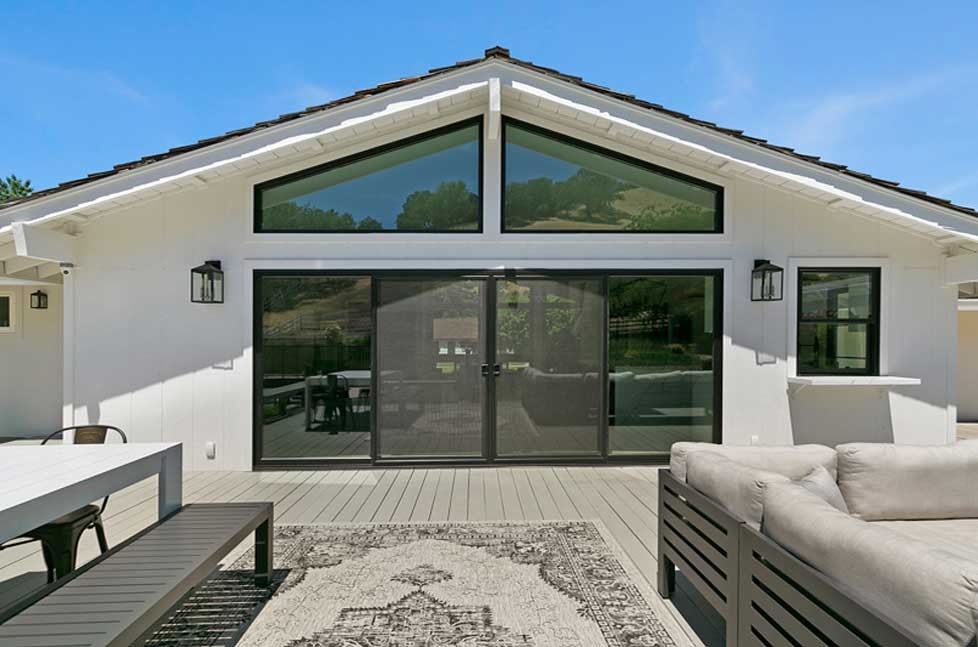 Homeowners who are fully vested on bringing the outdoors in, are installing expandable floor-to-ceiling folding doors, which instantly open up their homes to an outdoor great room. Planning to do a lot of entertaining? A pass-through window is another great option that connects your outdoor space with your indoor kitchen allowing you the flexibility to whip up fixings and pass them through the window seamlessly and effortlessly.
Integrated Sound System
If you enjoy listening to music or watching TV, either relaxing alone or entertaining guests, an outdoor entertainment system is a perfect addition to creating a luxurious outdoor living space. A carefully planned, evenly distributed soundscape will make all of the difference in maximizing sound quality and enjoyment. Work with a professional designer to determine the best places to locate speakers. It will also be important to purchase speakers intended for outdoor use only.
Misters
California summers can get hot! To make sure you continue enjoying your outdoor living space even in the heat, a misting system can quickly cool temperatures down, allowing you to spend as much time as you like in perfect luxury. It also offers the benefit of controlling allergens in the area, such as dust mites and pollen, thus helping to decrease any allergy symptoms.
Power Shades
If you have windows that face that hot morning sun or burning afternoon sun, exterior shades can significantly reduce the direct sun that your outdoor living space gets. For us Northern Californians, summers can get hot. As such, keeping the air cool inside is a necessity. Exterior shades make a big difference. At the touch of a button, power shades can close or open, serving to control the sun's UV rays and heat, quietly and effortlessly.
Infrared Heaters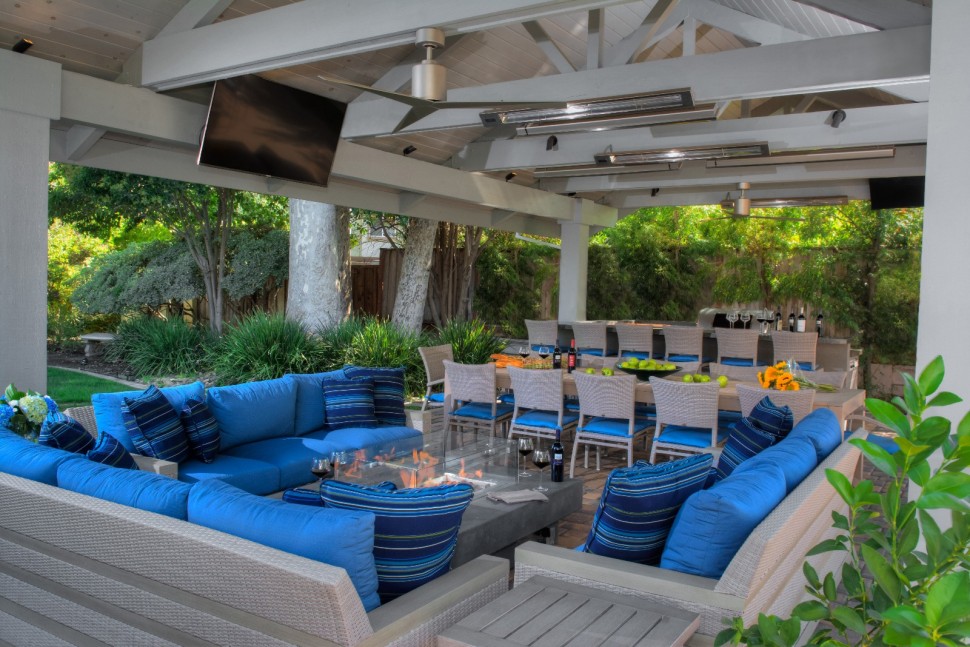 Infrared heaters are electric heaters specifically designed so heat doesn't blow away in the wind or drafty air—just the amenity you need for creating a luxurious oasis in your outdoor living space. Infrared heaters operate silently, emit no greenhouse gases or unpleasant odors and do not require ventilation. They provide heat on the patio, by the pool or in a covered area, such as an outdoor kitchen/eating space, working well in places where the air is not easily contained and circulating. Why do homeowners love them? Infrared heaters emit a safe, clean wavelength of light that is absorbed by solid objects, transferring heat directly to a person or object rather than heating the air.
Water Features/Ponds
There's nothing like water features to bring elegance and relaxation to your outdoor living space—as well as increased home value. Ponds not only attract wildlife, but they add beauty and dynamic design elements to your backyard. A flowing water feature also serves to minimize noise pollution.
Sport Court/Putting Green
Integrating a beloved activity or family activity into your backyard can not only be fun, it can add value to your home as well. Many Northern California families are designing sport courts or putting greens into their backyard landscape, with lots of options to fit their space and lifestyle needs.
Pool With Integrated Spa
A swimming pool is one of the most iconic upgrades you can make to add luxury to your backyard. There can be many considerations that affect the pool design, such as trees, easements and build lines, utility lines, and elevation. A good pool contractor will design around these challenges and explain why certain features or designs will or won't work for your yard.
Pool House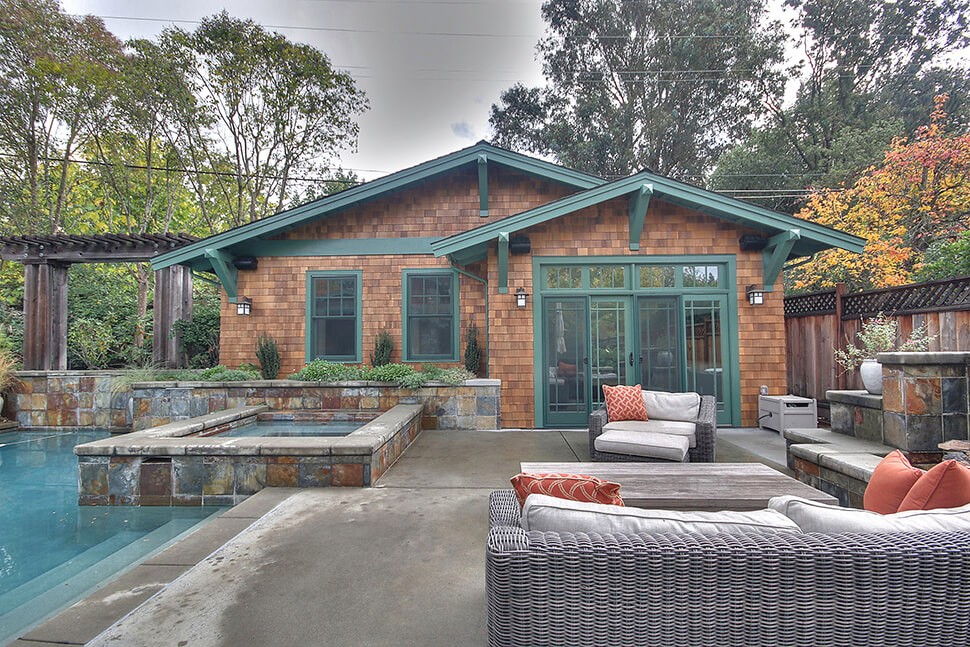 Pool houses are designed with form and function in mind—to fit the existing architecture of your home and provide essential amenities for swimmers to change, shower off, grab fresh towels, and use the bathroom. Because a pool house is a big investment it is critical that the initial planning and design is done correctly. A design-build professional will know how to plan the perfect custom pool house design for your family's needs and lifestyle.
Outdoor Movie Theater
Skip the cinema and enjoy a movie night in your backyard. There's nothing like it! With the optimal sound system in place and an ideal location set up for a screen, you can get ready to stream! Be sure to consult the professionals to make sure that you plan for proper seating and optimal image and sound quality.
Get Started on Your New Outdoor Living Space
An extension of your home, outdoor living spaces are carefully crafted spaces whose form and function should align with the exact aesthetic of your home. When you're ready to get started, consult the design-build professionals at Gayler Design Build. We've been designing and building award-winning outdoor living spaces in Lamorinda and Tri-Valley since 1961.
Ready for more backyard inspiration? Have a look at our outdoor living space portfolio, which will give you and your family a better idea of what our team of talented experts can do to transform your backyard. And while you're at it, subscribe to our newsletter to remain up-to-date on the latest trends in design and new options for remodeling; or sign up for our next complimentary Outdoor Living Space webinar. To learn more about our approach to home remodeling or to set up an appointment for a consultation with our outdoor living space design experts, please fill out our online form or call us today at 925.820.0185.