Add a Fresh Breath of Life to Your Kitchen
In the world of remodeling design, the approaching new year is a time to look at past styles and assess the trends that will influence design for the coming year. Based on the exploration of emerging trends from design experts across the Tri-Valley area, we have identified a handful of ideas that are expected to have a major impact on kitchen design in 2019:
1. Add Color for New Zest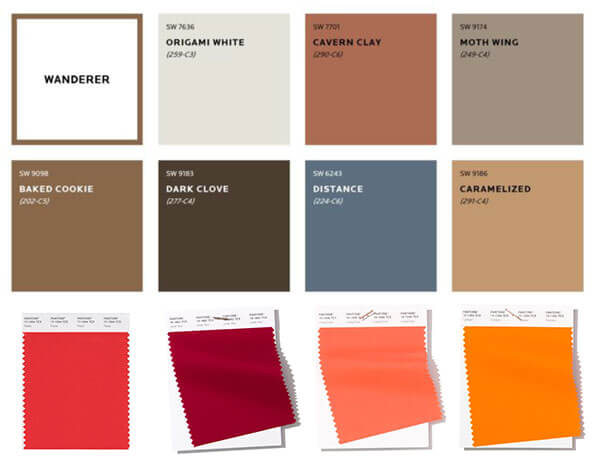 Wood tones and darker colors influenced interior design trends for years before giving way to lighter, brighter, more neutral kitchen decor. Today, however, even though we believe white kitchens will still be popular, the excitement is all about color — and not just any color. The choice of savvy designers is for pops of brilliant color to enliven cooking and gathering spaces. A color-enhanced kitchen will speak powerfully about good taste and style sense.

Forecasters point toward a palette derived from vibrant spice tones to add just the right amount of sizzle. Pantone, the global color trend arbiter, has designated a paprika-like tone called Fiesta for its 2019 Color of the Year. Other tones in Pantone's forecast include Jester Red, Turmeric and Living Coral, all from the warm side of the color wheel, and all with a spicy appeal. Sherwin Williams Paint also named a warm terracotta — Cavern Clay — its choice for 2019, along with a soothing new palette of interesting neutrals, including Origami White.
2. Go Bold with the Backsplash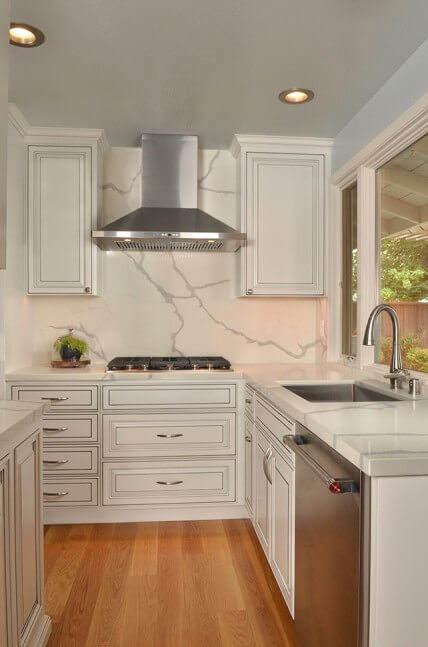 An effective way to add impact in a kitchen is by adding pattern to the backsplash. Glass and metallic backsplashes of recent years will likely fade in popularity as patterned and hand-painted ceramics once again move to the forefront. Whether your backsplash is a thin strip of color or pattern between upper and lower cabinets or extends to the ceiling, consider interesting shapes and unique color combinations. Intricate design is the news for 2019, even if colors are subdued. Tiles in usual shapes, with an emphasis on Moorish patterns or geometric designs, are fresh and trendy. A mix of colors is entirely appropriate as well.
3. Hang Lighting; Go Large with Pendants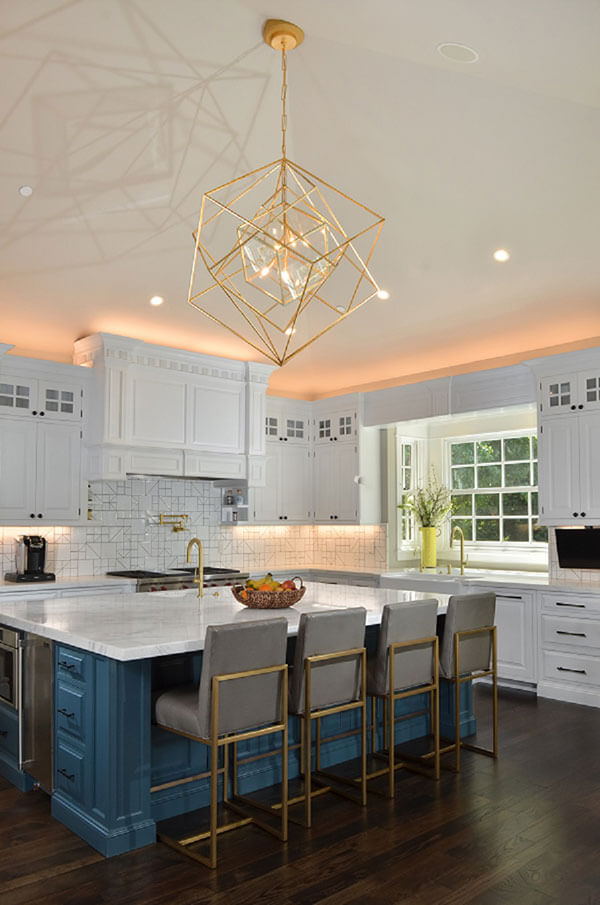 Remember when bathroom chandeliers were all the rage? Now you're likely to see them in the kitchen as well, along with multiple pendants over an island or eating bar, larger hanging fixtures over dining tables, and even accent pendants, perhaps with colored art glass shades, over bars and serving counters. Recessed cans will still be a kitchen staple for general illumination, but task and accent lighting will become much more original in 2019.
4. Top Cabinets with Fine China — Porcelain is New!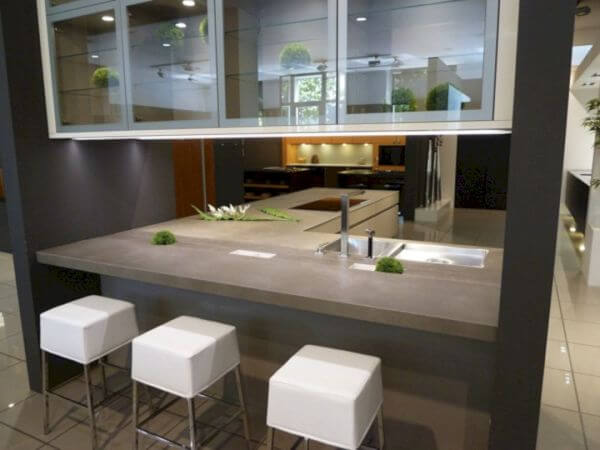 Porcelain is used for countertops in Europe and other parts of the world, but it's almost unknown in the United States. That, however, may change due to its fine qualities. Made from a type of natural clay, porcelain can be shaped into slabs for kitchen countertops. It is smooth, durable, and attractive; clay pigments create different colors, and porcelain may have subtle patterns or graining. It can be matte-finished or highly polished; it is stronger than granite, heat resistant and easy to clean. It is less brittle than natural stone and is available in multiple thicknesses. Porcelain can be fabricated into extremely large slabs, but it is also used to resurface existing counters with layers that are only 3/16 of an inch thick.
There are only a few negatives associated with porcelain counters. Porcelain countertops can be expensive, edge treatments are limited, and they are typically mitered. But, all in all, it's a material that's easy to love!
5. Terrazzo — An Old Material Sparks New Interest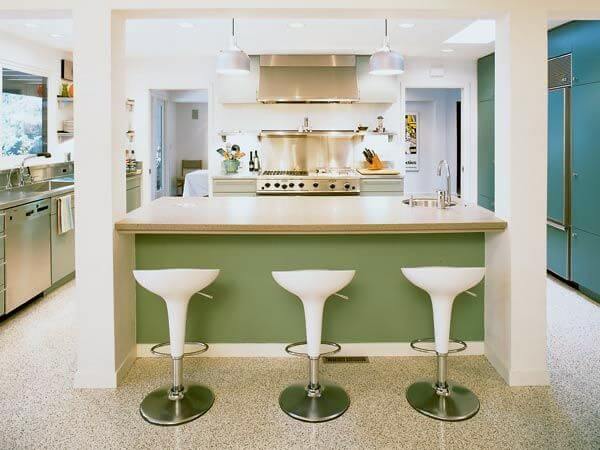 Terrazzo flooring has been around for centuries but somehow fell out of favor for home use decades ago. Perhaps its widely popular use in commercial buildings caused its disappearance in homes. Regardless, it reappeared in 2018 and will very likely continue into the coming year. Terrazzo's fresh new face can add a retro touch, inject a colorful vibe into a room, create a classic, European ambiance, or complete high-tech decor. Because terrazzo is usually embedded with chips of other materials, it exhibits flecks of color, has textural interest and sparkle, and provides a pleasing contrast to sleek surfaces, wood, and solid tones. A kitchen with marble countertops could be stunning with a terrazzo floor embedded with marble chips! Because it's fresh, available in a wide range of hues, and almost infinitely adaptable, we expect to be seeing it often in 2019.
6. New Sinks Perform and Dazzle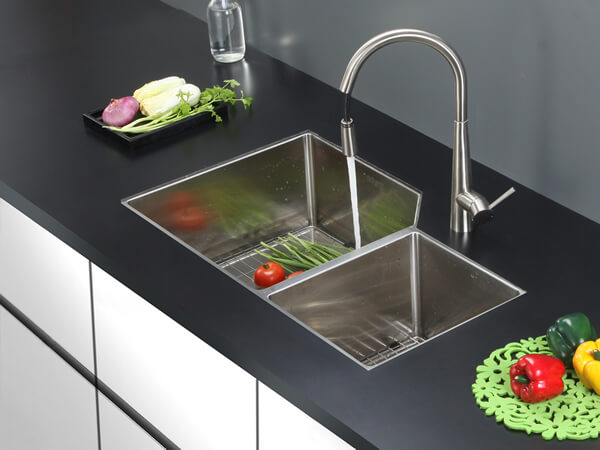 Sinks are poised to become the standout features of 2019 kitchens. Whether there is space for only a single sink or a kitchen that boasts multiple stations for food prep, cleaning, and entertaining, usefulness is key. In 2019, function will be enhanced with innovative, adaptable features. The hottest sinks on the style scene will boast accessories and enhancements: Look for fitted or sliding cutting boards and strainers, integrated drainboards, or food scrap collectors. Also be aware of options like covers to hide bar sinks from view, unusual shapes with inserts to serve as ice buckets or condiment holders, and sinks with embossed designs, unexpected colors and finishes, composite materials and unique metal sinks.
7. Luxury Vinyl Tile Is No Oxymoron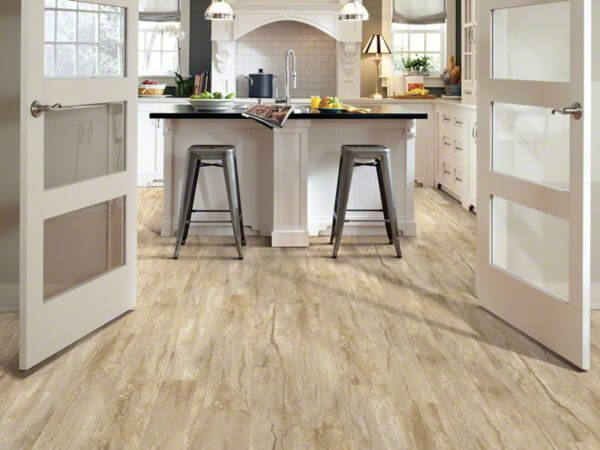 At Gayler Design Build, we sang the praises of luxury vinyl tile (LVT) at the beginning of 2018, and now that a new year is dawning, we still believe it is a material that offers unlimited options for homeowners. Because it mimics other materials so well and requires so little maintenance, LVT is a stunning, durable and cost-effective choice for kitchen and bath floors, high-use entries, children's playrooms, and any other room. If you love the look of wood, but don't relish the upkeep and care it requires for kitchen use, look to LVT. If the traditional glamour of marble tempts you, achieve the same drama easily and less expensively with LVT. And if your creative spirit longs for a patterned floor, give expression to your vision by mixing different styles of luxury vinyl tile. Only an expert will be able to distinguish the material from the real thing.
Our final message is that, in the coming year, homeowners should feel free to use color and materials in unexpected ways. Paint a kitchen wall or add new, colorful accessories. Replace a backsplash, the floor or the kitchen lighting. Go modern with luxury, easy-care vinyl tile, but maintain the upscale design flair that you love. Replace your countertop and add a show-stopping ink, along with some bright and playful cabinet knobs and pulls. Take your cue from the natural colors of food and spices — think saffron and sage, cinnamon and cloves, lettuce leaves and squash blossoms — you'll be right on trend!
At Gayler Design Build, we stay on top of the trends so that you don't have to. If you're considering a home remodel in 2019, make sure to sign up for one of our free and informational home remodeling seminars where you can integrate your important questions with valuable advice from a local, award-winning design/build remodeling company with over 50 years of design and construction acumen who can help you plan a smooth, successful remodel—no headaches, no nightmares.
Ready now? Schedule a complimentary design consultation today.