Every day you grab them, nudge them and pull them to get at your kitchen tools, ingredients, glasses, plates, and silverware. It's your hardware—the knobs, pulls and handles that should make your life in the kitchen quick and easy. Homeowners are often surprised by the overwhelming number of choices in kitchen hardware, which sometimes causes haphazard design choices. Although there's no one right answer, you can avoid functionality and design challenges if you get some help and choose wisely. Our kitchen remodeling experts at Gayler Design Build can help you select hardware that works best in your kitchen remodeling project. To start, consider these 5 tips when choosing kitchen hardware for your home:
1. Start with Your Cabinets
If you have contemporary cabinets, you should consider narrowing your choices to modern hardware. If you've got French country, farmhouse or country style cabinets, then consider classic pulls, such as oil-rubbed bronze or antique brass pulls. If your cabinets are particularly decorative on their own, with design elements you want to feature, choose a more understated hardware set. While it is fine to mix and match styles, be sure to narrow your choices to styles that fit with your cabinetry.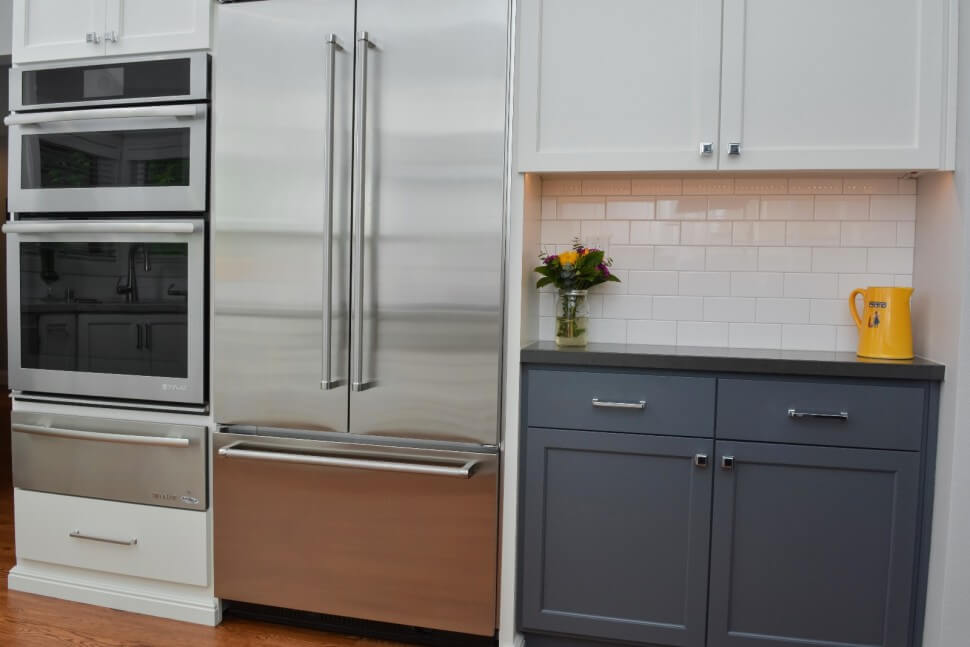 2. Consider Color, Line, and Finish
These cabinetry elements will also guide your hardware choices. Consider some of these winning combinations:
White cabinets—All white cabinets are still a popular choice among homeowners. You can choose hardware that is more traditional, or choose a statement-making piece that pops with color or design. Brass hardware on white is an eye-catching, classic choice.
Warmer toned cabinets—Consider using classic bronze or black hardware for a classic look, whether it's contemporary or country-style.
Cool grays, blacks and blues—Brushed nickel, black, stainless steel and pewter are all on point when it comes to choosing cabinet hardware against these cabinet colors.
Look at your cabinet lines too—are they curved, sleek or boxy? For example, flat-panel and shaker style cabinets have a square, flat profile. Decide whether you want to keep those lines or change it up with hardware that has curves. Curved cabinet styles like traditional raised-panel and recessed-panel doors, may be accented with a curved hardware design that has more detail.
Also consider your lighting, backsplashes, flooring, countertops, and appliances when choosing your pulls and knobs. Each element should complement the other to bring a cohesive feel, even if your home features daring elements.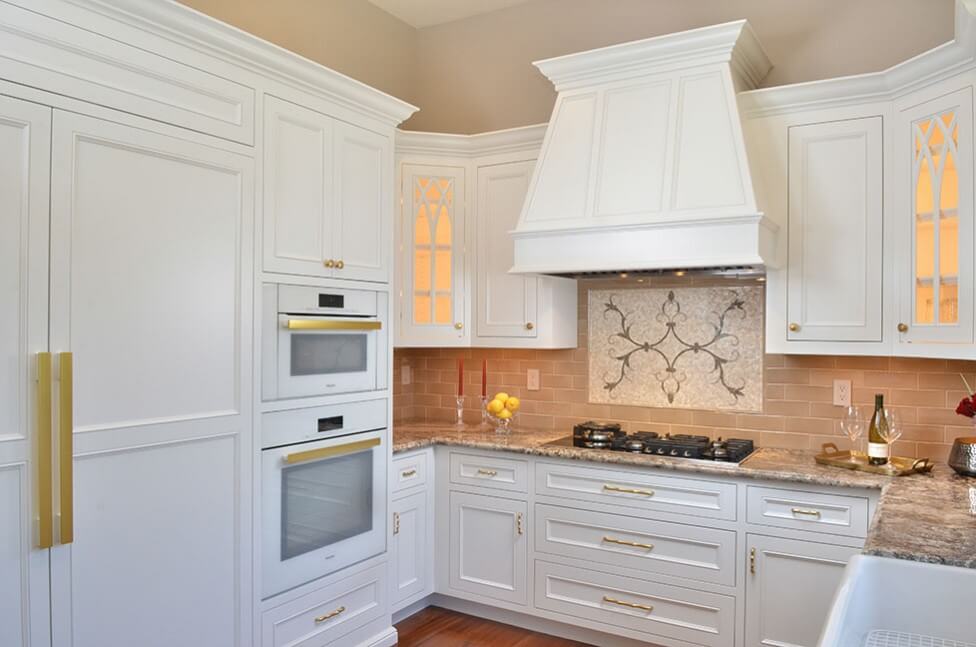 3. Focus on Function
Of course, whatever you do, you have to make sure your hardware works well while looking fabulous. The following are overarching functional types. However, there will be hundreds of design options for you to choose from, even within these categories:
Bar Pulls—sturdy and long, bar pulls come in a variety of lengths, featuring a long bar in the middle that makes it easy to pull open a drawer or cabinet. Some are straight and cylindrical, while others curve to remind you of railways and ocean liners. They're easy to use and come in a wide variety of finishes that go great in contemporary and minimalist kitchens.
Bin or Cup Pulls—Shakers designed this classic pull in the 1800's; these upside-down cups now come in a wide variety of finishes. They go well in shaker-style and other country and traditional style kitchens. They provide a secure grip, so it's a good choice for heavier drawers.
Window-Sash Pulls—These smooth, substantial pulls used to lift big, heavy windows in houses from the early 1900's. They go well in colonial, traditional and other country-style kitchens. They're shorter than bar pulls and provide a nice, secure grip.
Novelty Knobs—It's more about drama and interest than day-to-day functionality with these cabinet knobs, and it can be hard to narrow down what you want. Whimsical novelty knobs may take the form of objects, chandelier jewels, colored glass, porcelain knobs, etc., and they can come in all different shapes and colors. If your new kitchen is contemporary, dramatic and fun, consider these fabulous hardware options.
Backplate Knobs—The back plate that attaches to the cabinetry is usually quite decorative and could include Asian, Mediterranean or Victorian flourishes that make a statement. The right backplate knob will shine in a Vintage, Victorian, Mediterranean, Contemporary or Asian style kitchen.
Drop Handles—These have a piece that hangs down for pulling. It's usually a closed circle, square or other shape. You can use these in any kitchen, but keep in mind: they can be harder to open if you're trying to one-hand something out of a drawer.
Recessed Pulls—Built right into the cabinetry, you have to incorporate them into the cabinet design from the beginning. They provide a clean, sleek look and go well in modern, contemporary kitchen designs. Many busy cooks like them because they don't bump into them or snag clothing on them as they juggle recipes.
4. Mix and Match or Stay Cohesive?
You can mix and match different styles of hardware—based on your personal style and choice. Decide what function each cabinet and drawer will fill and choose hardware that makes those jobs easier. For example, you can use some great knobs on the upper swing-out cabinets while using bin pulls or window-sash pulls on drawers. Ultimately, you'll want to think about your long-term kitchen goals. Will you be staying in your home, or are you getting it ready for resale? This can also guide you towards a more classic look, or something more eclectic.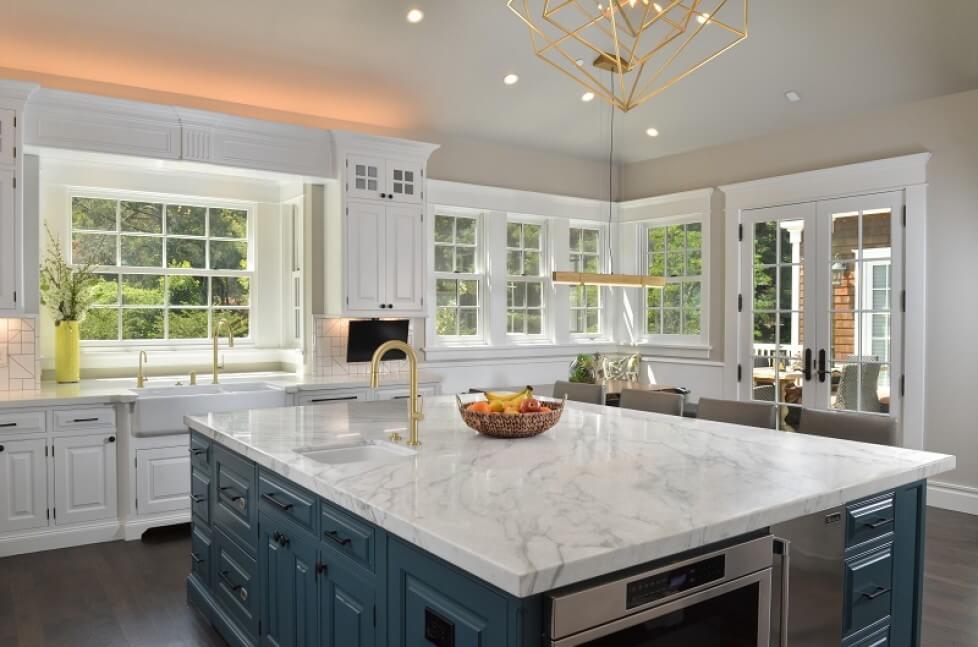 5. Ask a Kitchen Design Expert
Don't leave your kitchen hardware as a last minute decision. Schedule a consultation with Gayler Design Build at (925) 820-0185, and be sure to look through our kitchen gallery for design inspiration.
Also, take advantage of our upcoming home remodeling seminars where you can receive valuable advice from local, experienced design and construction professionals—at no cost to you!