During this unprecedented time, you may be like millions of Americans now working from home and pondering: how can I set up an ideal place to work? The kitchen is too busy (and you can't stop getting into the fridge). The living room doesn't have the right wiring for all of your devices (but it does have Netflix…). The bedroom is too sleep-inducing…
On the other hand, maybe you work better with a little input from the kids or your partner. Maybe a quick nap is just the thing you need to focus your mind. Maybe having the dog rest her head on your feet helps you brainstorm better. The freedom to work the way you work best while staying close to family is what makes working at home so appealing—but how do you set up your perfect home office space?
Gayler Design Build experts have successfully carved out amazing home offices within the existing spaces of our clients' homes—we can do it for you too! Consider these 5 ideas:
1. Revive a "Dead" Space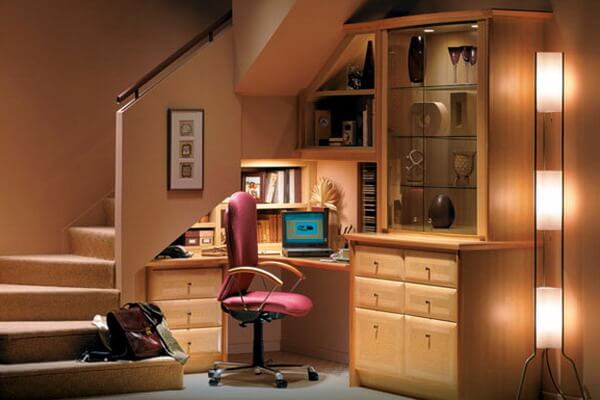 Take a look around your home and search for space that isn't being used to its maximum potential—yet. Are there spaces where you could slot in a desk or a shelf? Is there unused space in the kitchen by the back door where you could keep an eye on the kids playing outback, or on dinner while you still get that important report finished? You might even be able to tuck a mini office onto your landing. Walkthrough some of these other spaces you might be able to re-purpose into a home office area for you and your family:
Spaces under the stairs
Hallway alcoves
Storage closets
The basement
Long, skinny rooms
Lofts and attics
Nooks and crannies
You can even consider custom-made office items like hide-away desks and shelves that are easy to slide out of sight or close up when not in use.
2. Re-purpose an Existing Room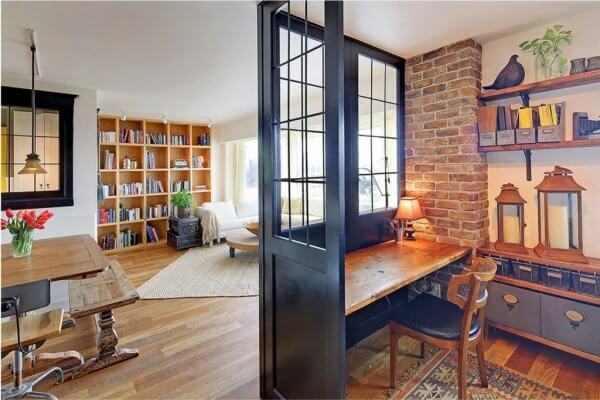 If you've got a room in your home that really isn't doing much but gathering dust or boxes, this could be the space you need to create your home office. We've written another blog article on designing flexible rooms that cover this exact topic and provides some ideas for rooms like this. So, if you do have a room that's sort of extra at the moment, start there. It's almost like a blank slate, so consider remodeling it as a multi-purpose space that can serve as an office, library and spare guest room with tuck-away furniture, multipurpose shelving and new wiring—whatever helps you get the job done.
If you don't have an entire room to work with, you still probably have areas where space is not being used efficiently, as mentioned above. For example, a nook might be the perfect place to slip in a slimline desk or custom shelving with a comfy chair. Or, if you have a bay window, you can have a custom-made desk, shelving and wiring added to take advantage of that space and make it work for you without overlapping into the rest of the room.
3. Design a Desk that Does Double Duty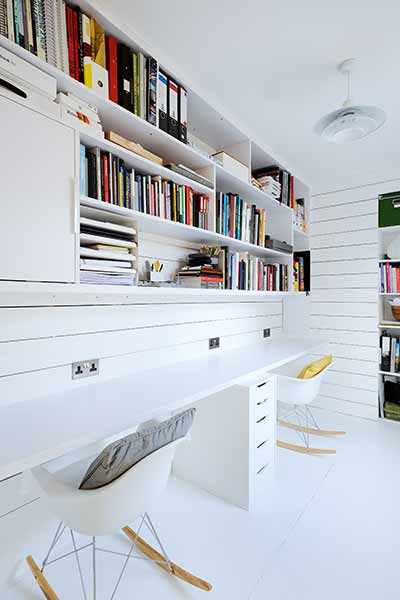 With working at home becoming so popular, you may not be the only one in your family who needs a workspace. Consider double-desk designs that enable you and someone else to tap away at the computer or pay bills at the same time. Consider designing a flexible room that allows plenty of desk and shelving space for several people in the family to study and work together. Basements, lofts, and attics can be converted into beautiful and functional family home offices, as well as long, wide hallways.
4. Discover Deliberate Design
If you have the space to work with when you're remodeling a space into your new home office, really think about how you use the space—how you want to use it, and what your typical workflow looks like so that you can adapt that space into something that grows with you. Consider how the furniture, artwork, color and lighting all play together to make the most efficient use of this space, however large or small it is.
But don't be so deliberate that you paint yourself into a corner either. Look around your home and see what chairs or flat spaces you already have that could be used as a small office area. Think flexibility!
5. Consider the Marvelous Mezzanine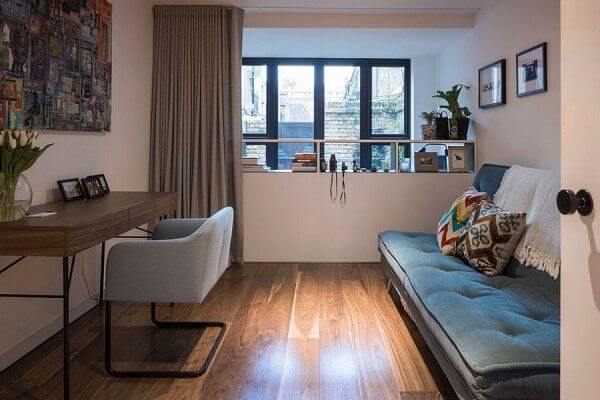 Do you have a home where there is a lot of space between floors? High ceilings where there is just… a lot of open space that can't be used—yet? A mezzanine floor might be just the thing in this case. Even a large landing can be remodeled to add extra floor space that can become your new mezzanine office. We've done some really gorgeous mezzanine remodels that people have used as guest rooms and offices as well as flex rooms, as we mentioned before.
Gayler Design Build now offers Virtual Design Meetings!
We're all doing what we can and making the most of these challenging circumstances. Most of us at Gayler Design Build are still at work creating exciting new opportunities to help homeowners solve challenges and obstacles with their homes.
With the new shelter-in-place mandate and social distancing, you are likely spending even more time at home. Good news! You can still meet with a design and remodeling expert virtually:
We'll cover all the same material in a typical in-home consultation
Anyone in your family can join the meeting where ever they are
Using technology, we can still tour your space
We'll explain our design-build process and provide you with a rough budget estimate
If you need a home office space but are struggling to envision where your home might accommodate one, contact Gayler Design Build today, or sign up for one of our home remodeling webinars and we'll help you create your ideal home office.