Teri and Kirk tell-all, sharing their remodeling experience with Gayler Design Build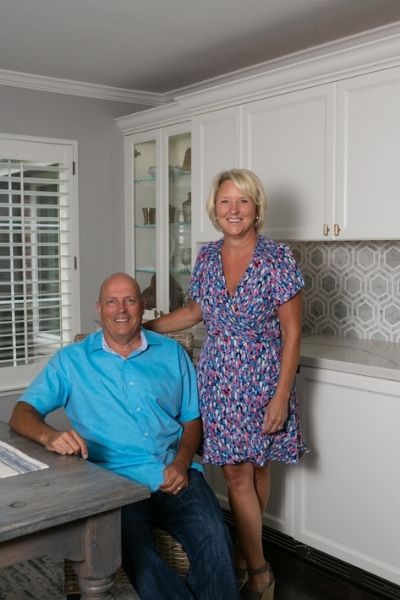 Attention has turned once again to dining rooms—the hidden gems of the home. A dated, cramped dining room needed to function for this couple's lifestyle, which includes entertaining business associates and spending time unplugged with friends and family. Because Teri and Kirk's dining room was positioned right off the entryway, this room was also the first line of site, so it needed to be spectacular.

Q: What prompted the need for your remodel?
A: Because we are novices, I hadn't really considered what we were doing a true remodel. I thought it would be more "simple." After going through the project, I was grateful that we were in the hands of Gayler, walking us through the entire process. It was much more involved than I thought.
The Gaylers are actually our neighbors. We have lived in our home for approximately eight years. About 20 years ago, the prior homeowners hired Gayler to complete a major remodel on our home. So, they were very familiar with our house already. George actually found the old blueprints from the first project and showed them to us. The kitchen was relocated from the front of the house to the back.
What prompted our need for the remodel was our desire for a larger dining room. Our home had a small office (with no doors or closets) attached to the dining room. We used the small office space as a wine storage room. And, our dining room was dated and cramped. We like to entertain and decided that we should make the space more functional and suited to our needs, which included adding new appliances and cabinetry.
Q: You started your remodel during Covid-19. How did the pandemic alter your remodeling plans? Did your functional needs change in any way?
A: We signed off on our project on February 25th. Because I had never done anything like this before, it felt scary. A couple of weeks later, we were all sheltered-in-place. We had just picked out our cabinetry and the pandemic hit.
During this time, there was so much uncertainty. It broke my heart to see people suffering, particularly waiting in line to get food. I had a deep sadness and thought we shouldn't do this.
After a couple of weeks of lull and construction was allowed to proceed with safety precautions, Gayler came back and was ready to move forward. By then, we were too.
Q: Can you speak to safety protocols during construction? Did you and your family feel safe?
A: Everyone who worked on our project took the necessary precautions to ensure our safety and the safety of the workers. We saw them post safety protocol signage in the garage, take temperature readings, use PPEs, sanitize their hands and equipment, wipe down work areas, use protective barriers, etc. They were taking all of the extra steps necessary to keep us safe.
It was a little unnerving with people coming into the house at first, but it was fine. Our project manager, Paul, was on top of all of the safety measures. After being sheltered-in-place, it was actually nice to see people. We enjoyed the experience very much.
Q: What concern(s) did you have going into your home remodeling project?
A: All of the horror stories that you hear from everyone else. We were fearful of spending large amounts of money and not having the work done, or having it done poorly. We had concerns about our timeline getting blown out, and unqualified craftsmen doing the work. In the end, we had nothing to worry about, because we picked the right people to do the work.
Q: What was your favorite part of your remodeling experience with Gayler Design Build? Why?
A: Our favorite part of the remodeling experience was the Gayler staff. They all made us feel like part of the family. The folks working on our project were fantastic and their communication was equally incredible. A lot of people dread the early morning starts, but we felt the opposite. We looked forward to seeing them every morning. We were actually disappointed when they weren't there anymore.
Everyone was responsive, non-intrusive, courteous, friendly. Paul even fixed a gate for us (outside the scope of work) because he saw that it needed fixing. They were a complete joy to be around.
Everything happened as they said it would. They followed all of the safety protocols and did an amazing job of communicating. They updated us on a daily basis on what was going to happen next, so we were always in the loop. We felt equally good about our communication with the office staff too. Anytime I called the office, from the receptionist to the Project Coordinator, Jai, we were always greeted with, "It's so good to hear from you." The camaraderie in the office was great.
Q: What was your least favorite part of the remodel? Why?
A: Our least favorite part was the waiting, and I don't mean that in an "it took too long" kind of way. I was anxious as it got closer and closer to seeing the space come to life. It was exciting and I just wanted to start using it!
I wanted to put my china in the cabinets and decorate my space. Paul sensed my enthusiasm but kept encouraging me to hold off until the end project date on the calendar. If they needed to replace an appliance or make any adjustments, he didn't want to rattle the china or glasses and break anything. It became a joke between Paul and me.
In the excitement of seeing your project coming together, you want to enjoy it that much quicker.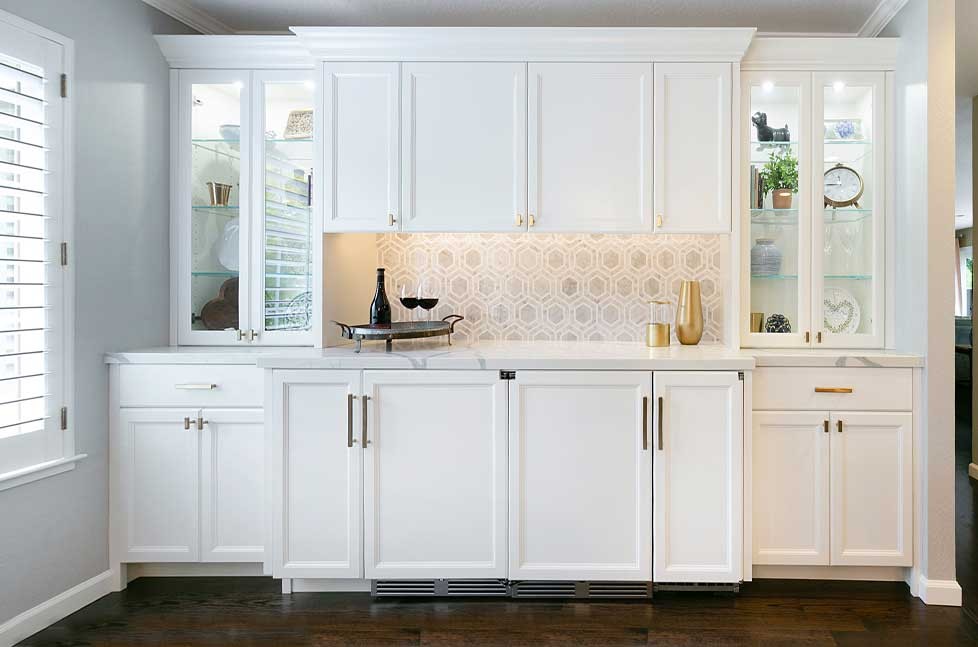 Q: After living in your newly remodeled space, what has become your favorite design feature?
A: It means a lot to us being able to have people over—having this beautiful, warm, and inviting space to entertain. During the summer, we tried to spend as much time as possible outside. But there were many days and nights where we set up shop in our new dining room instead because it's so warm and welcoming. We're grateful for that.
Surprisingly, one of the appliances that we use now every day and didn't know we needed is our new ice maker.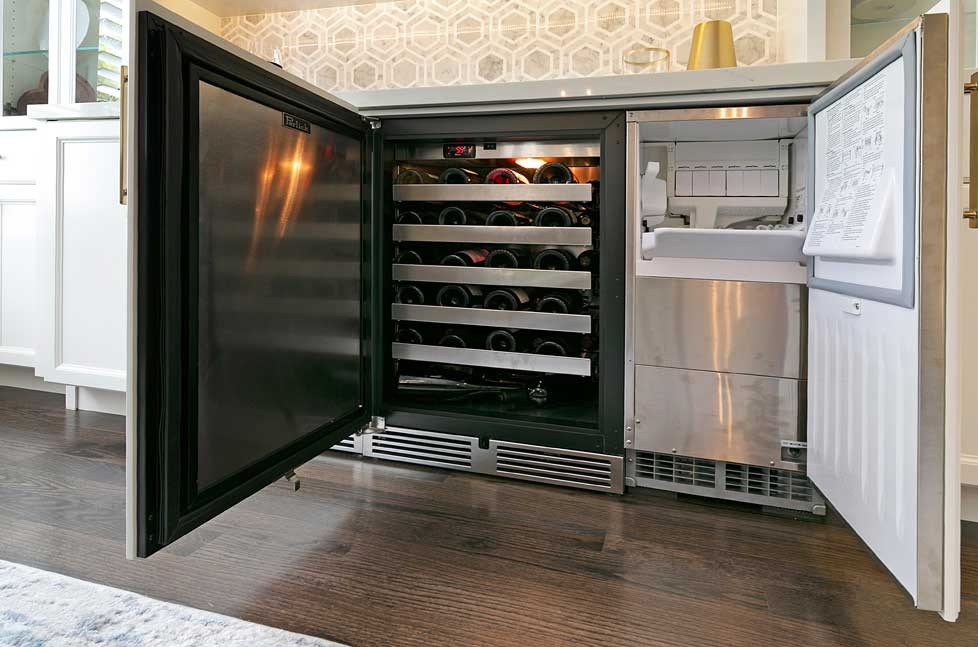 Q: How did Gayler Design Build assist you with your design concept?
A: [After George completed the creative design for the entire dining room space,] we compiled photos of design ideas that we sent to Stephanie, Gayler's interior designer. She helped us design the cabinetry and pick out colors. Jai drew everything out for us. Paul described to us what we needed to move, for example the water and electrical. It goes back to communication. We felt informed and involved throughout the process.
Stephanie's patience and assistance was also appreciated. I was a little wary about picking out our countertops. After COVID-19 hit, I wasn't able to get in and see the Quartz slab that we chose. She had pictures taken of it for me, and then reassured me that it would look great in our space. She was right.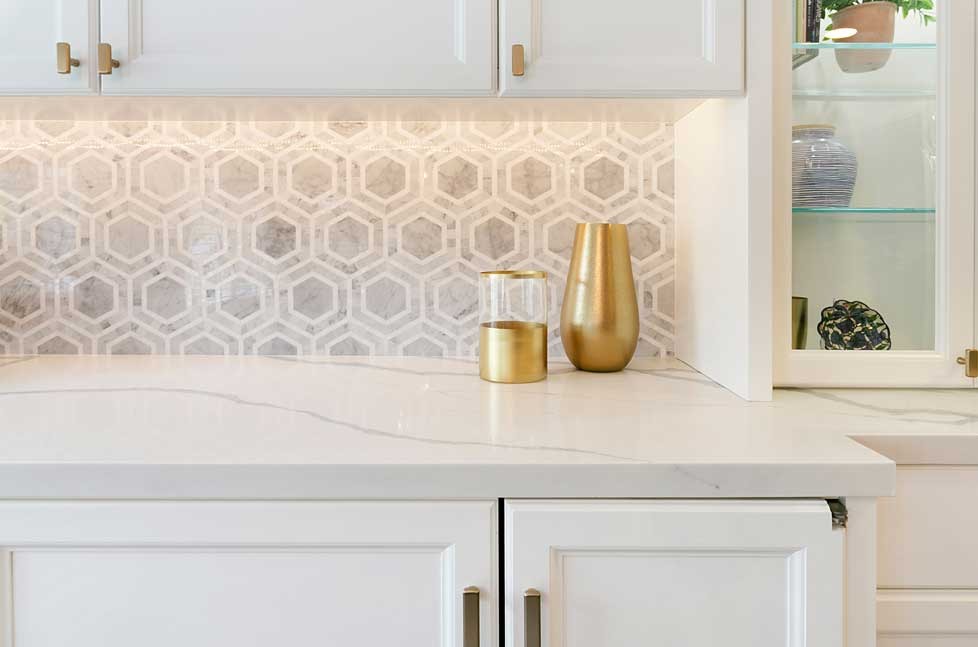 Q: What did you dislike the most about your home before the remodel?
A: We disliked the size of the dining room and its functionality. There was a lot of wasted space. By taking down the wall and doing what we did solved our issues. Now it's a warm, lively space.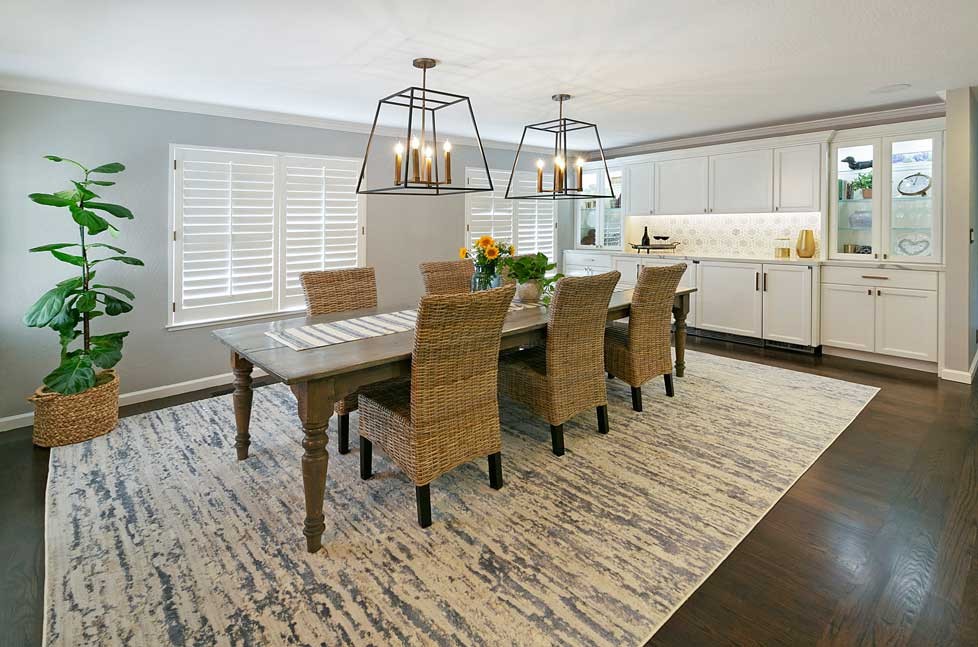 Q: What do you like the best about your home after the remodel? Any big surprise that caught you off guard?
A: The communication was so solid. Nothing was a surprise. Although the complete timeline was a surprise to me, at first. I was thinking it shouldn't take that long. When Gayler Design Build laid out the plan, however, it absolutely made sense.
Q: How has your lifestyle changed since the remodel?
A: I think it's ironic that we complete this beautiful new room, wanting to share it with friends and family, but have to wait until we can gather in larger groups (to follow COVID rules). We have been able to enjoy our new space with small groups of people. And, we are hosting our dinner club next weekend.
Q: In hindsight, is there anything you would do differently if you were to remodel again?
A: Teri: I would have done it sooner. Kirk: I would have done it longer, so Paul and Javier would be here longer.
Paul was so good at pointing things out. As I mentioned before how he fixed our fence for us, just because he saw that it needed fixing. He was so helpful and knowledgeable.
Q: Anything else you want to share?
A: To speak to Gayler Design Build's attention to detail, they set up a porta-potty in the backyard, which stuck up above the fence. To disguise it and make it less visible from the front of the house, they put up temporary lattice around it. This definitely showed me that they care about the details. Now, when we walk through the neighborhood and see other projects going on that have an unsightly porta-potty showing in their yard, we smile knowing that Gayler wouldn't have let that stick out like a sore thumb.
Quick story… We saw a couple of the crew members across the street at George and Darlene's house. We invited them over to see the finished project. We wanted them to see the space all decorated—what it meant to us that they did such a great job on it.
I've been to their offices before. I also told Gayler it was our goal to make their "wall of fame". Mission accomplished!
View more photos of this stunning dining room transformation.