Memories flit around each doorway of your home. The day you first got the keys… The day you brought home your first baby… That door jamb in the pantry where you marked how tall your kids were growing…
Now suddenly your youngest child has graduated from college and is embarking on a career in another town—and she wants to know if she can have her favorite couch for her new apartment. Suddenly that empty nest seems too big and too empty—the time to downsize has arrived.
You probably never dreamed of downsizing before this. But now it seems crazy hanging on to unused space and memorabilia, not to mention spending so much time and energy on maintenance, cleaning and yard work. Imagine liberating all that time and energy for fun by downsizing. Living simpler and smaller brings you so many benefits.
Benefits of Downsizing Your Home
Saving the planet—a smaller home means a smaller carbon footprint (and you spend less money on energy).
Low-maintenance lifestyle—a smaller home means fewer things to clean, replace and maintain, which means more time to do what you want.
Unique personality—Smaller homes come with unique, personal design touches that mean so much more than the giant "conveyor belt" homes that used to be cool.
Going small is going forward for many adults 55 and up. They're moving out of their big, upscale houses in droves, looking for smaller homes in active adult communities like Crow Canyon and Rossmoor that give them more opportunities for being outside, traveling, engaging in cultural activities and nightlife, getting involved in the community, etc.
It's not just seniors going for smaller homes. If you're recently divorced, widowed, between jobs or just desire more time and money for what you want to do with your life, the smaller home trend is a smart move financially and mentally.
And you don't have to sacrifice as much as you think when you downsize either. With smart remodeling, your smaller home can have just as much space as you need with all the design touches you want.
Take a look at these three examples of wonderful downsized home spaces that their owners love:
Gorgeous Downsize in Rossmoor
Our client found this smaller home in the gated community of Rossmoor in Walnut Creek. The layout was exactly what she wanted, but it definitely needed a remodeling update to bring it some style.
We remodeled the kitchen with Lemurian Blue Quartzite countertops and custom southwest cherry Precision Cabinets. We used Venetian Classic Tuscan Slate tile to design an eye-catching backsplash. The Sub-Zero refrigerator blends in beautifully because we cut custom cabinet appliance panels to integrate it with the cherry cabinets. We also added a new stainless-steel Wolf oven, range top, range hood and microwave.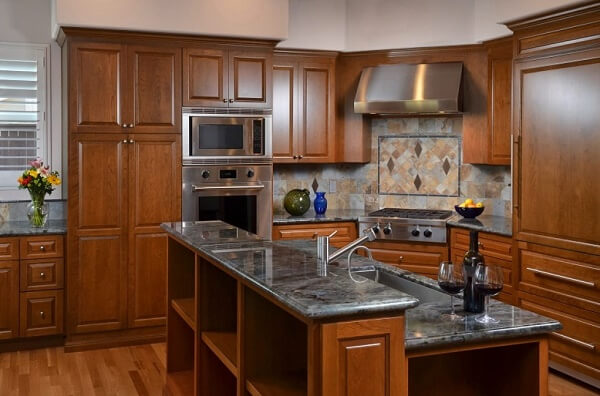 In the bathroom, we used a pleasingly light Fantasy Brown Quartzite with white, raised panel cabinets. We did the tile design using handmade, American ceramic tile from Pratt & Larson. We also installed versatile, accessible features including a hand-held shower head, shower and toilet area grab bars, a shower bench and lever-style faucets and door handles.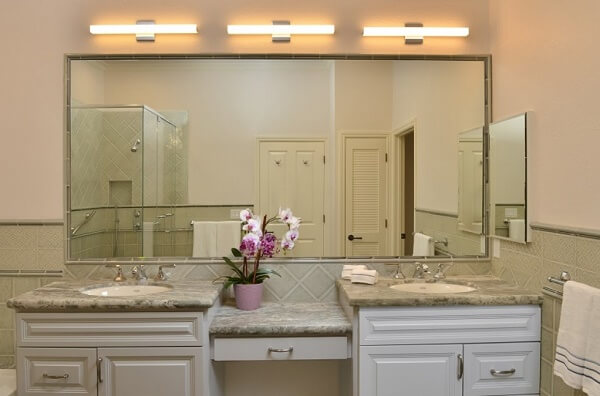 The house was also remodeled with new White Oak hardwood flooring, new windows with white wood shutters, and new doors and hardware throughout. Every room also received a fresh coat of paint.
Adding Light Makes Small Look Big
One simple way to make a smaller home seem bigger is to change the color scheme. One of our Danville clients purchased a small home where she liked the layout, but the original design elements were way too dark. For this home, we updated the dark earth tones to bright whites that immediately expanded the visual space.
We used bright Silestone Lyra Quartz for the countertops to go along with the white cabinetry. We gave the backsplash a Soho Cloud Mosaic facelift that increases the feel of space with its vertical lines. The red accents added by our client make the kitchen pop!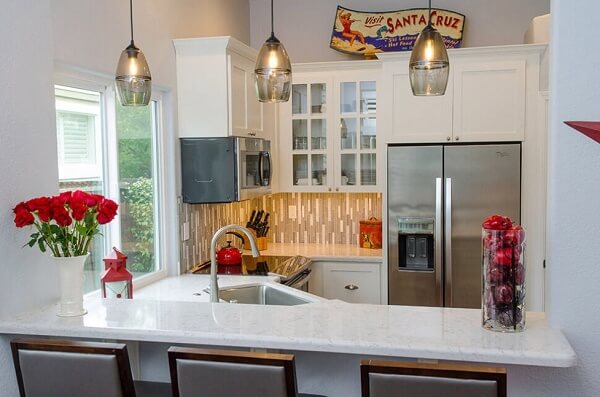 This unified color scheme continues into the living room with a light stone fireplace surround that keeps the space airy, but also adds great texture.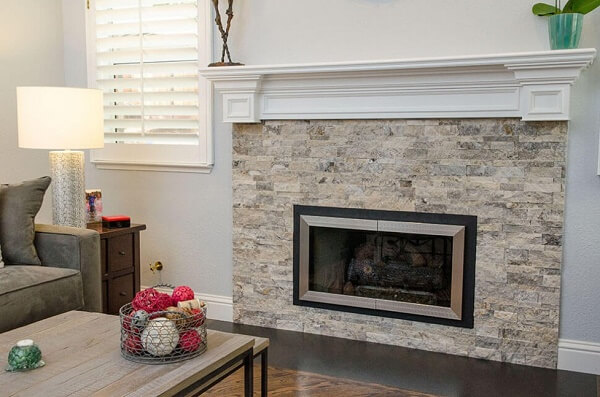 The bathroom continues the white, bright, space-creating feel with white cabinetry and an eye-catching black river stone inlay through the shower. The red accents throughout the home give it a vibrant, active feel.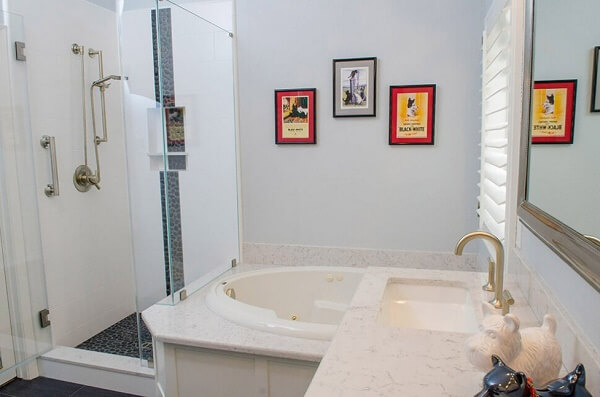 Making a Small Space Work for You
Another of our Danville clients bought a small home in Crow Canyon Country Club with great bones, but where the space really needed an update to fit her functional needs as a gourmet chef. Naturally, we started work in the kitchen.
We actually created more space here by incorporating the patio into the kitchen. This automatically enlarged the dining area and gave the client the second entry to the kitchen from the living room that she needed. This kitchen extension also flooded the area with more natural light because we were able to add a new window and a skylight. We then raised the ceiling, moved the stove and added a soffit to make a more natural transition between the two spaces that are now one space.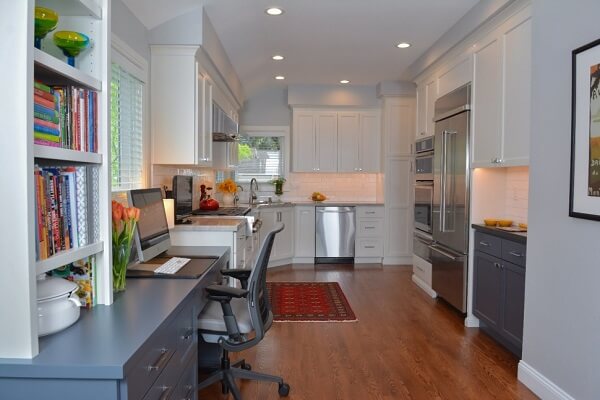 But we didn't stop there. We also maximized storage and functionality by adding a desk with built-in drawers to stash space eaters like printers and other office supplies out of sight. We were also able to create a cozy functional bar area, and added a new microwave/convection oven with a warming drawer.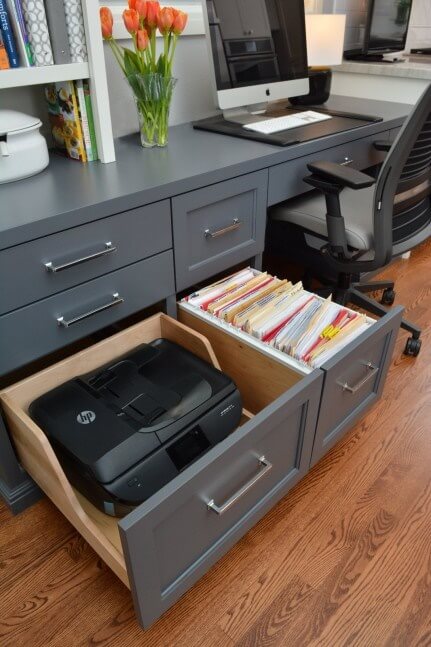 We continued from the kitchen into the rest of the house, opening and maximizing spaces, light and design the whole way so the whole house fit her tastes and needs perfectly. We updated and brightened the guest bath with a new white subway tile tub and shower, plumbing, light fixtures and fresh paint. We created more space in the laundry room by capturing space from the oversized primary closet and updated it with fresh white cabinetry, a Corian countertop, new tile and a new washer and dryer.
The living room and atrium became a beautiful focal point after we refurbished the fireplace surround, added a new mantel and an updated entertainment cabinet. The atrium invites with a new Trex deck. We brightened and enlarged the entire space with a fresh, airy coat of paint.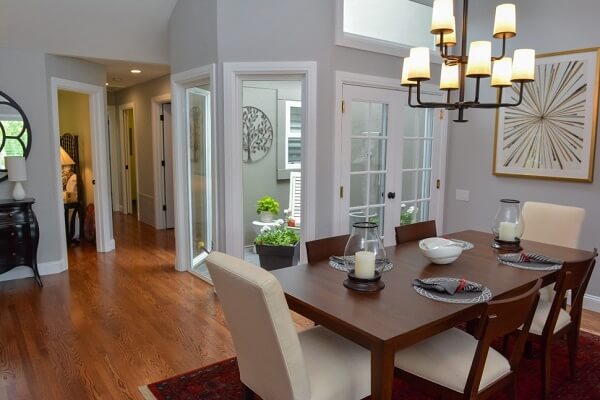 Speaking of brightening and enlarging, we did that for the dark primary bath by removing the dark cabinets and replacing them with fresh white ones. All countertops, tile, fixtures and hardware were updated for sleek, clean lines. We also removed an unnecessary partial wall in the primary bedroom to brighten and open the area and updated the paint to enhance natural light.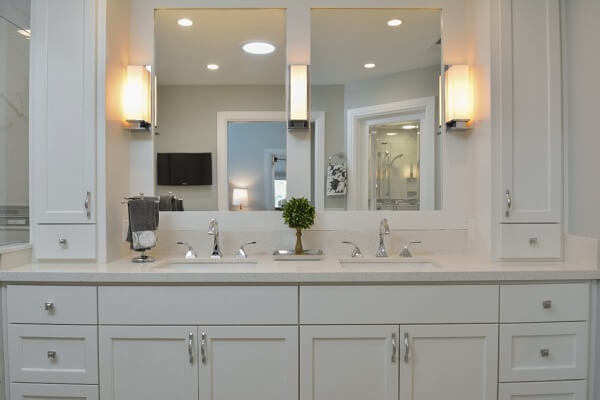 If you've reached a point in life where you need to downsize, look forward to all the possibilities! Give us a call at Gayler Design Build (925-820-0185) and let's explore your remodeling and design ideas today.