When you outgrow your home or notice its outdated style, you're faced with a decision. Do you stay and remodel or sell and move? Sometimes, the decision isn't an easy one. Remodeling adds value to your home but the upheaval may be more than you want to endure. But then, if your kids are plugged into their schools and have friends two doors down, you may not want to uproot them. Here we'll look at the pros and cons of remodeling, adding on, and moving, as each may affect your family.
What To Do if You Are Outgrowing Your Home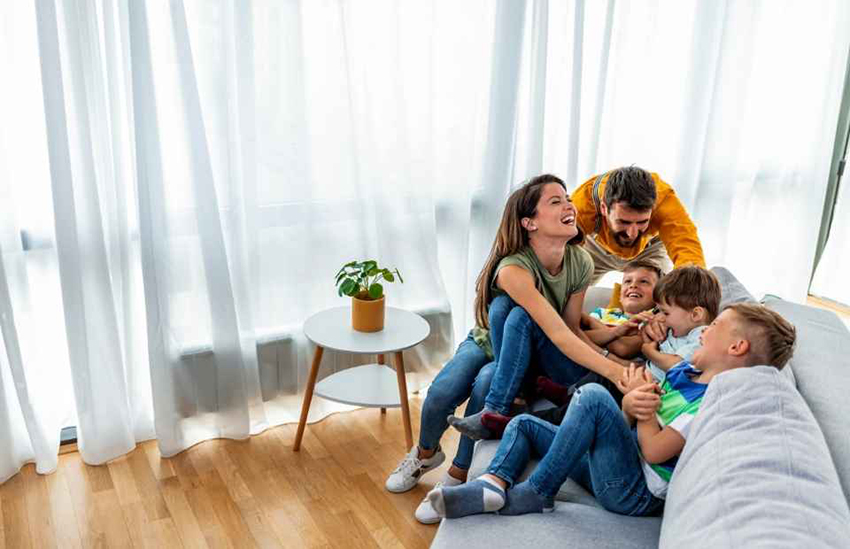 Baby on the way? Tweenagers need their own rooms? Or does mom need to move in with family? For whatever the reason, if you're outgrowing your home, take the time to determine whether moving, adding an addition, or completing a whole house remodel would be the best solution for you. Here are a few points to ponder to help you make the right decision.
Is location important for you? If you really don't want to leave the neighborhood, some type of home remodel is your best bet.
How will an addition impact the home's value? If what you need adds more space than you can recoup for the neighborhood, moving may be a good idea.
Will your lot size accommodate a home addition? If you enjoy your backyard patio, have a swimming pool in the way, or otherwise don't have a large enough yard, adding on isn't an option.
What can you afford, both now and for the long term? Now's the time to crunch some numbers. If you don't have enough equity in the home to finance a whole house remodel, you may decide to move.
Moving Pros and Cons
Moving isn't the right answer for every family or situation. Let's take a brief look at the pros and cons of moving versus remodeling your home. 
Pros
You can physically move your location. For some people, moving is an exciting experience. Shortening the morning commute, living closer to family, or moving to an area with larger lots and more green space is an attractive option.
If your home requires a major remodel, you may not want to live in a construction zone for several months. If your remote work situation, new baby, or health conditions won't tolerate the noise, dust, and general upheaval, moving is a good idea.
You can purchase a move-in-ready home. When you don't have to live in a construction zone, the journey to more space is a shorter one.
Cons
Buying a home can be stressful and time-consuming. Where will you fit time to look at homes into your already busy schedule? And are you ready to keep your home show-ready for potential buyers to walk through?
You could end up in a bidding war for the home you want. Of course, that depends on the market. But if the market is volatile, don't get your hopes up about any home until you actually close the deal.
You may have to settle for less. If time is crucial and you still haven't found your dream home, you may need to buy what you can, knowing a remodel is in your future anyway.
Moving could require you to leave an area/neighborhood you love. If that happens, find out if your children will need to switch schools and how it'll affect your daily commute.
If you're relocating to a new area, it'll take time to develop connections in the community. Finding new places to shop, having your hair and nails done, or your car repaired will occupy your time for several months after a move.
Moving is expensive! A home equity loan can pay for a remodeling project or home addition. But it won't pay for a move. For that, you'll need cash.
Advantages of Remodeling over Moving
If the cons are stacking up and you're seriously considering a home renovation, here are a few more advantages of remodeling.
You can plan your renovation project to meet your exact specifications. A Design Build firm can help you create a personalized space that fits your lifestyle and hobbies. Whether you want a work-from-home office, a home gym, or an accessible basement apartment for the in-laws, you have control over the design. 
You don't have to leave a neighborhood you love. Remodeling your home allows you to remain in your community of friends where you're comfortable.
You avoid the costs and hassles of moving and selling your home. When you have children and pets, it's almost impossible to keep your home show-ready. And if you've been there a while, unloading decades of possessions is a daunting task.
You may be able to use your home's equity to pay for the renovations. Several types of home equity loans make it possible for homeowners to manage the expense of their home remodels. Consult with a lending agency for details on which product is the best choice for your situation.
Remodeling can increase your property value, assuming the cost of the project is in line with the home values in your neighborhood. A local Design Build firm can advise you on the best options for your location.
Ways to Gain Space by Building a Home Addition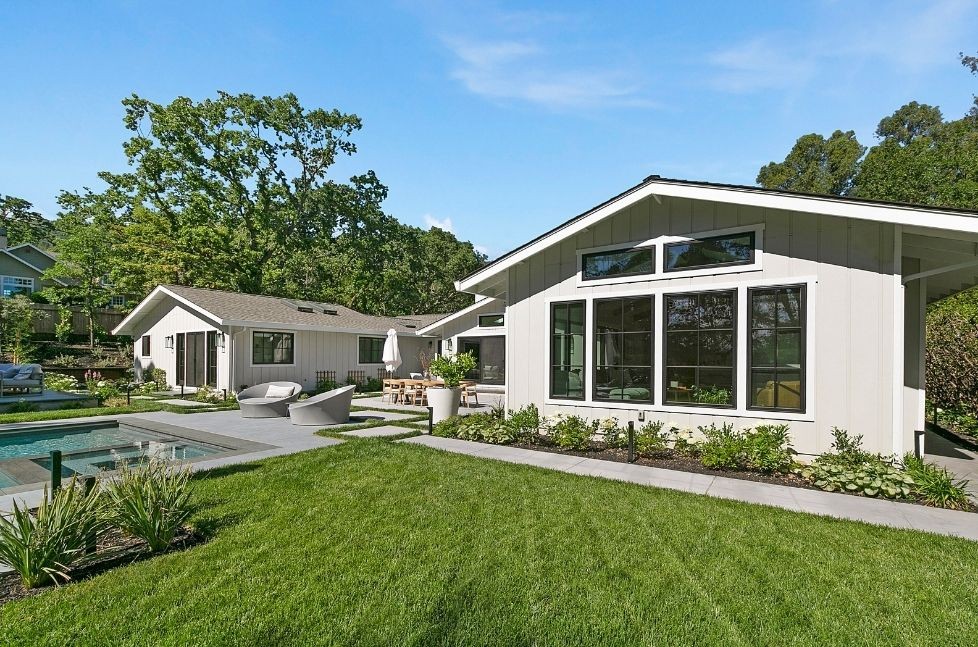 Any home remodeling project is a big commitment. Whether a home addition or a whole house remodel, your project requires time, money, and a whole lot of effort. But, if your family needs space to spread out, and your remodel gives you that space, living with a little noise and dust saves you the potential headache and heartache that accompanies moving to a new home. Here are several ways to gain space through a home addition:
Conventional addition—Whether adding off the main floor or adding a second story, you can add one or more rooms. 
A single room addition or bump-out—The bump-out gives you just the bit of space you've been craving. Mudroom, anyone? Or maybe you need a downstairs bath. The bump-out is a cost-effective way to make that happen.
Sunroom—Adding a three-season room gives you the space to enjoy nature during inclement weather.
Outdoor living space—Enjoy the California sun more with outdoor living space. Deck, patio, pergola, and gazebo all provide open-air space for relaxed living. Add an outdoor kitchen or bar for entertaining, a pool for exercise, or a spa for a little R&R.
Accessory Dwelling Unit—If your work-from-home situation demands peace and quiet, consider an ADU for your home office. Other uses include an in-law suite, housing for an adult child, a creative studio, or even a short-term rental.
Ways to Gain Space with a Whole House Remodel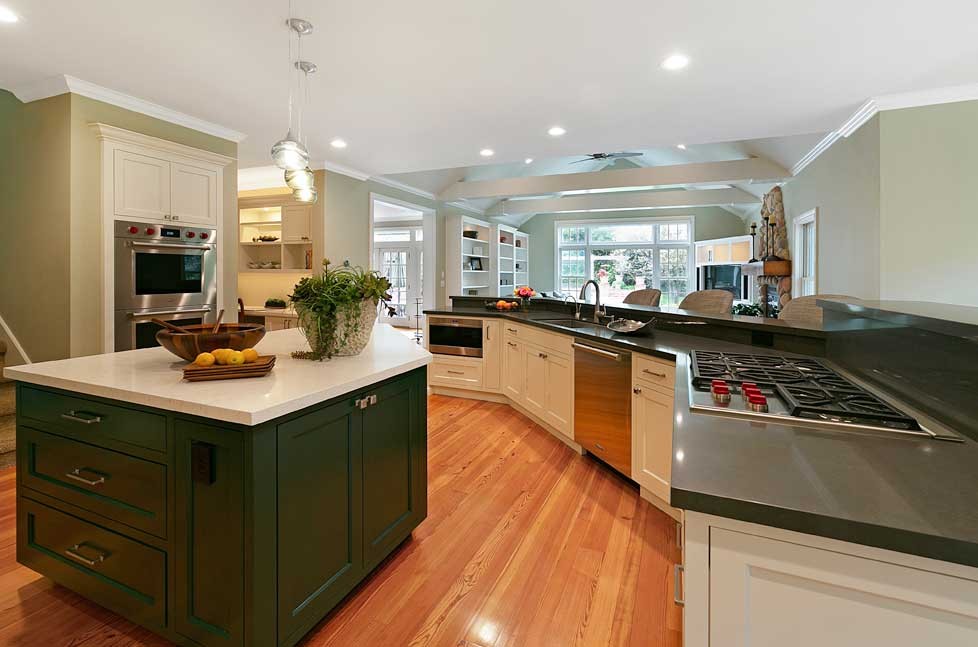 Sometimes, a whole house remodel makes more sense than adding on. Perhaps your lot isn't large enough for both an addition and the outdoor space your kids need for play. Or, maybe you don't need more space—you need better function. For whatever reason, rearranging the interior of your home to suit your needs, while keeping its footprint intact, could be what your situation calls for.
When planning a whole house remodel, ask yourself what isn't working. Is your kitchen clumsy? Do you want to see the kids playing while you cook? Perhaps you need a larger primary suite for a much-needed getaway experience. Take your list to a trusted Design Build firm for ideas to turn your home into the perfect place for your family to live. A few ideas to consider include:
Knocking down walls to create an open floor plan for your kitchen, dining, and living areas. 
Turning an unused bedroom into two walk-in closets.
Rearranging the interior walls to create a mudroom/laundry area.
Making use of an unfinished basement or attic.
Rely on the Experts at Gayler Design Build
Don't waffle between staying and going. Contact the award-winning team at Gayler Design Build to help you make the right decision. Gayler has six decades of remodeling expertise to draw from, including both home additions and whole-house remodels. Their design staff is ready to guide you through the process of assessing your needs, lifestyle, and style preferences to discover a plan that fits your budget.  
If you live in the Lamorinda, Tri-Valley, or surrounding areas, feel free to contact or give them a call at 925-820-0185. Learn what to expect from one of their complimentary webinars, or stay up to date by subscribing to their newsletter. They're waiting to make your remodeling experience both seamless and enjoyable.