Kenny and Erika tell-all, sharing their remodeling experience with Gayler Design Build: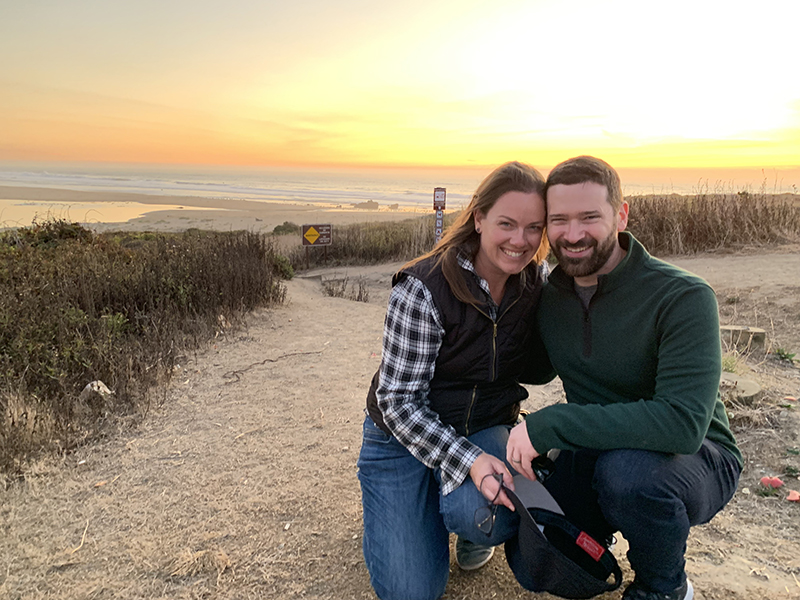 These homeowners came to Gayler Design Build with a long list of "must-haves" for their primary bathroom, including a larger shower space, a new soaking tub, increased storage, and a solution for letting in more natural light.
Now a beautiful, luxurious place to start and end their day, this primary bathroom remodel fits our clients' needs exactly—more light, more storage, more function, more luxury.
Kenny and Erika tell-all, sharing their remodeling experience with Gayler Design Build:

Q: What prompted the need for your remodel?
A: A year ago we were looking at all sorts of renovations—including a whole floor layout renovation and adding space above our garage. We looked at architects and did research. When we sat down to consider our priority needs, my wife and I decided that we really wanted a better bathroom space in our primary bedroom. From the home we came from and previous others, we'd never had a comfortable bathroom to retreat to.

Q: What concern(s) did you have going into your home remodeling project?
A: #1 was building a trusting relationship. We had a contractor that we hired the summer before to complete a half-bath. It was a smaller facelift project. Nothing major. It was the worst experience we'd ever had. He was inconsistent with his communication and then suddenly disappeared. We were worried that it would happen again.
The other bigger concern we had was whether or not we were going to get what we wanted and what we were paying for. We certainly reviewed and saw the projects featured on the Gayler Design Build website, but when you go into a remodel, you never know what the quality is actually going to be like.
Our experience with Gayler Design Build was great.

Q: What was your favorite part of your remodeling experience with Gayler Design Build? Why?
A:  What stands out is the process. The communication was good and we liked the project manager. He always let us know when issues came up. The end result was fantastic. They blew us away.  
 
Q: What was your least favorite part of the remodel? Why?
A: There are always things that occur during a remodel. We had a few minor issues. But, the least favorite I would say is the time it took – even though it was still within the contracted time frame. The project ended up taking two months longer on the construction side of things than we originally expected.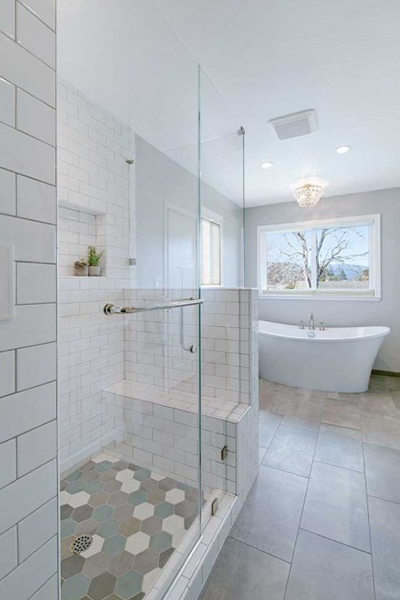 Q: After living in your newly remodeled space, what has become your favorite design feature?
A: The layout—the use of space. Our primary bathroom was small to begin with (12×12), it was non-functional and had no privacy. [President and Designer, George Gayler] Gayler Design Build found a way to add some floor space to the bathroom by removing a wall. Now, we have a really functional bathroom with adequate flow and plenty of space. It has met our needs entirely.

Q: What was your inspiration behind the design of your primary bath?
A: After our walk-through with Chris, we perused Houzz and identified several features we liked for our bathroom, such as a particular walk-in shower, picture window above a large soaking tub, and tile designs.

Q: Did Gayler Design Build assist you with your design concept? How?
A: [George] Gayler first helped us with the floor plan design. We were presented with their initial layout and made small modifications to it. Then, we worked with the interior designer to make our material selections.
When it came to color selections and tile directions, we were pretty confident in what we wanted, so we kept to our decisions when we were gently encouraged to go in a different direction.

Q: What did you dislike the most about your home before the remodel?
A: Lack of privacy. The main sink area looked like a motel. It was wide open to the bedroom. The toilet and shower were not closed off. We have 4 kids, so you can imagine….we didn't have any privacy at all.

Q: What do you like the best about your home after the remodel? Any big surprise that caught you off guard?
A: [Laughing] Unfortunately, yes, we were caught off guard using the tub for the first time after the project was nearly complete. The water overflowed into the shower through the drain, so there was water dripping down into the ceiling below.
Come to find out the plumber didn't remove the main plug when installing the tub. Good news! Everything was resolved immediately and to our satisfaction.

Q: How does your family like the new space? How do you now use it?
A: Of course, we have the private space we've always wanted. Now, our whole family uses it also, particularly the giant soaking tub. Our kids have taken over!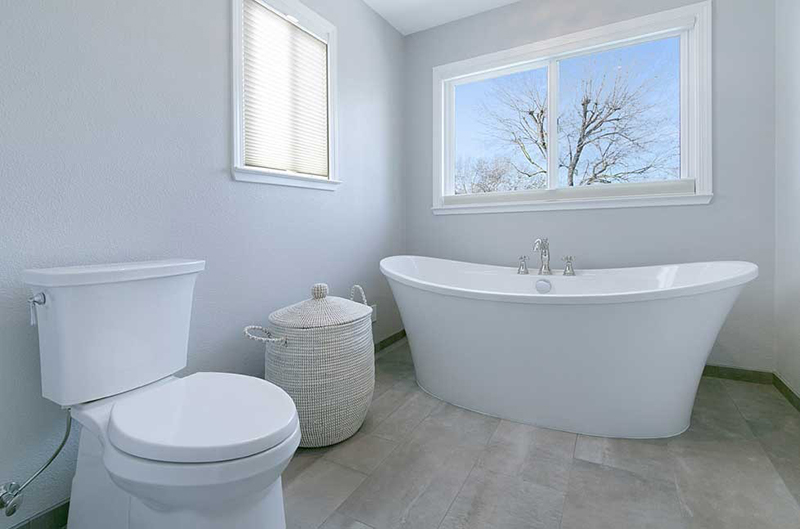 Q: How has your lifestyle changed since the remodel?
A: Our lifestyle hasn't changed too drastically. Our morning routine of cleaning and bathing is similar. We definitely have our own private space to relax in that we've never had before.

Q: In hindsight, is there anything you would do differently if you were to remodel again?
A: For me personally, I would be more assertive and speaking up when I had concerns or questions.

Q: Anything else you want to share?
A: Overall, we loved the experience. We've even hired Gayler Design Build again. They are actually working on our garage right now converting the space into a home office.

Wait! There's More! See more photos and details of this Pleasanton Master Bathroom Remodel.