A powerful Q&A interview with Trish and Liam describing their home remodeling experience with Gayler Design Build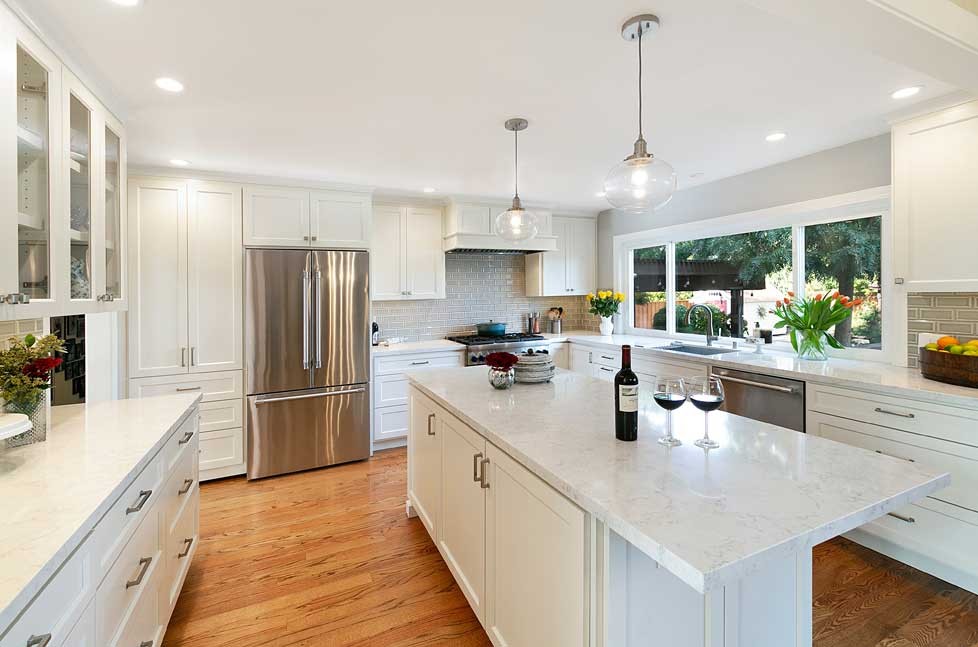 Q: What prompted the need for your kitchen remodel?
A: We moved into our home in 2011. We bought it because our kids were growing and we needed a larger house. At the time, we moved from a home that we had remodeled a few years earlier. It had been designed the way we wanted it. We knew going in that we would need to remodel. The kitchen was not functioning well for us. The ceiling was so low you could touch it. And, the cabinets were tiny. It was also dark and difficult to work in. We made the decision to remodel as soon as the last appliance started to go out.
Outside of the kitchen area, the home was designed with vaulted ceilings. We weren't sure if we were going to be able to raise the ceiling height in the kitchen. We found out that we could increase it without having to make any structural changes. This was very fortunate, and we were relieved since this helped keep the project moving along without incurring extra costs.
See the before and after photos of this San Ramon kitchen remodel.
Q: You started your remodel before Covid-19, correct? Were there any impacts?
A: We were not impacted by COVID at all, no. The construction process started after Thanksgiving last year and finished in January 2020. It also finished faster than we expected. There was a break in activity during the holidays, but there were no delays. The only delay we experienced was with our refrigerator, and it had nothing to do with Gayler. Apparently, the refrigerator that we ordered got stuck in Wuhan when COVID hit. So, the appliance dealer gave us a loaner for a couple of months until the refrigerator could be shipped.
Q: What concern(s) did you have going into your home remodeling project?
A: We were so happy with the remodeling experience we had with our previous remodel, that we were worried we would not have a similar experience. It was also a little daunting trying to find a contractor that we could trust.
We found Gayler through a neighborhood Facebook Group. Actually, our mayor lives down the street from Chris Gayler, and he recommended Gayler Design Build to us. Then, we kept seeing multiple recommendations for them. Finally, we attended a kitchen and bath seminar and met Chris. Our decision was solidified almost immediately. It also made a difference to us that Chris lived around the block. It was a local, family-owned business with a great reputation and we liked their work.
Q: What was your favorite part of your remodeling experience with Gayler Design Build? Why?
A: The experience with the project managers was our favorite part. They were extremely trustworthy and very communicative. Because they were here every day, they became our friends. Everyone, from the office staff to the workers, are friendly and skillful. You could tell they all wanted to do the job well. To give you an idea of how detailed they are, they took the time to move an outlet (an inch) because Erick (one of the project managers) saw that it was too close to the edge and would have bothered us. Their attention to detail was fantastic!
Q: What was your least favorite part of the remodel? Why?
A: Choosing our countertop and backsplash. When the design elements were brought together, we had an idea of what we were looking for. Working with Stephanie was fantastic! We picked out our cabinets almost immediately. It was a piece of cake. But, when it came to the countertops and tile, it was very difficult. Picking out our countertop was the longest process. We went to every store we could think of looking at quartz slabs. Then, finding and matching a tile that we both liked took us a long time to decide. It consumed many weekends, which wasn't fun. There was a huge sigh of relief when we found the quartz and tile that we liked. Then, we were surprised how expensive the materials are. The tile we ended up choosing was actually reasonable in price and perfect for our space.
Q: After living in your newly remodeled space, what has become your favorite design feature?
A: Hands down, the drawer dedicated to tea and coffee. Now that we're working and going to school at home, we drink a lot of tea and coffee, so we use the drawer a lot. I don't know how we came up with that, but we love it. Our interior designer, Stephanie, did recommend going with drawers as much as possible, instead of cabinets. The drawers designed for our space are also very spacious, per Stephanie's recommendation. It was great advice.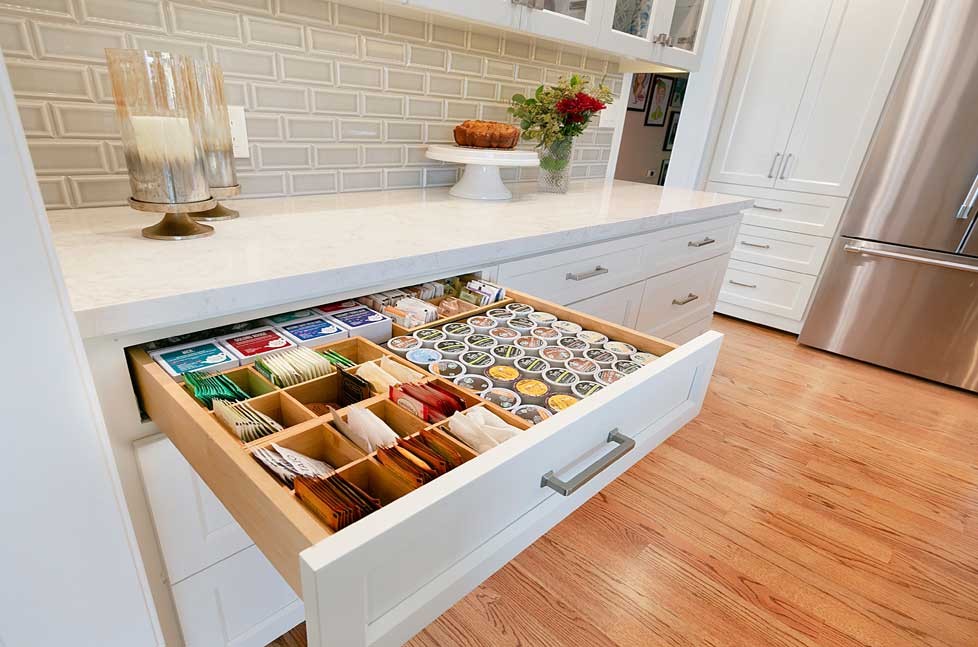 Q: What was your inspiration behind the open concept design and the larger more functional island?
A: For the open concept design, there were a couple of things. First, our kitchen was so dark. We wanted to do what we could to make it brighter. By removing the wall that separated the kitchen from the dining room, it would allow the space to look more inviting, which also utilized the natural light from the sliding door. Secondly, the homes in our community were designed similarly. We were able to walk through and see a handful of them that had opened that wall up, so we picked up some ideas from that.
As for the island, we had one before in our previous home, which we liked. I also spent a lot of time looking on Houzz. I kept a list of ideas that I liked and tried to incorporate them into our new space.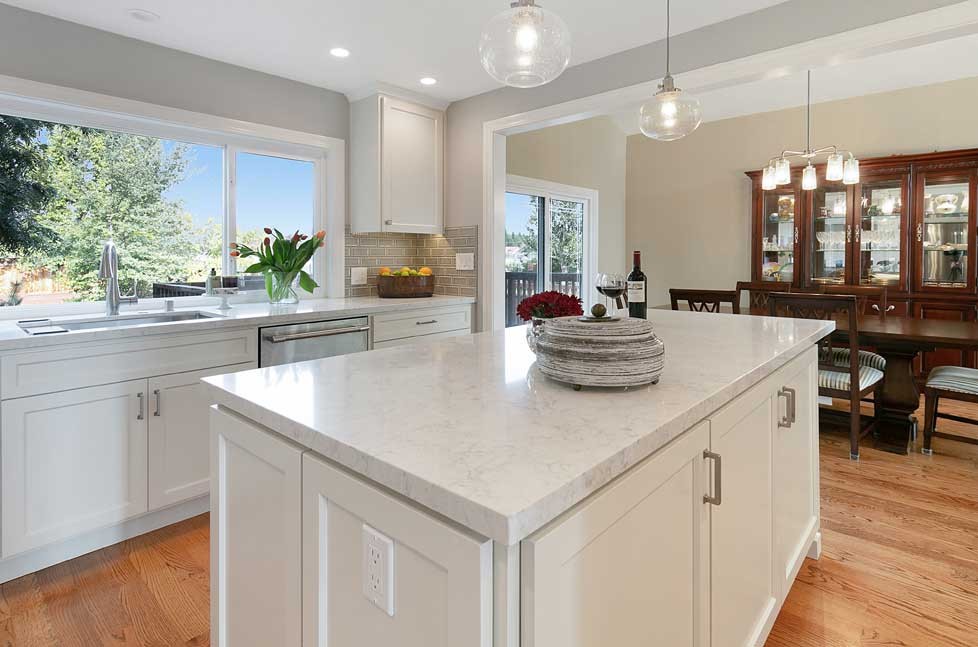 Q: What did you dislike the most about your home before the remodel?
A: There were a lot of things we disliked about our kitchen—the low ceilings, dark kitchen, inadequate cabinet space, appliances that didn't work, and it was messy. No one wanted to spend time in the kitchen. It also was a funky design. For example, the range hood was so low, you had to bend down to cook over the stove. The kitchen was embarrassing. We even hid it from our guests by closing it off from the rest of the house using the pocket doors.
Q: Were there any big surprises during or after the remodel that caught you off guard?
A: There weren't any big surprises, no. Gayler was really good about telling us what to expect along the way. Everything was planned and meticulously tracked and communicated.
Actually, there is one thing. We were shocked at how fast everything came together. Gayler built in extra time for contingencies and fortunately there just weren't any. The entire remodel turned out much faster than we anticipated.
It's always frustrating when demolition takes place because you start to see progress on your remodel but then everything stops. Typically, there's a waiting period for cabinets to get ordered, flooring to arrive, etc. The way this project was managed, we didn't see too much delay. The cabinets were ordered ahead of time and ready for the installers right away, etc.
One more thing…Our sink used to be offset under our window before the remodel. [George] Gayler recommended centering the sink under the window for balance. It made a huge difference. Now the window looks more symmetrical and even bigger.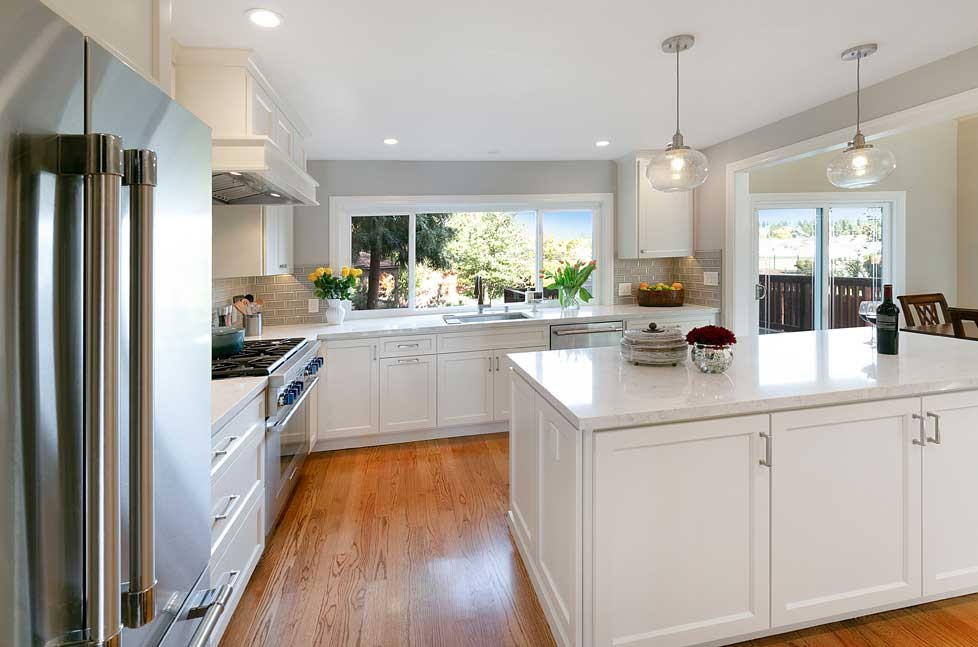 Q: Which newly remodeled space gets used the most / do you spend the most time in? Why?
A: It's interesting, now that we have opened up our space, we use the dining room more often because it's accessible and part of the open floor plan. Before, it was closed off from the kitchen, which discouraged us from using it.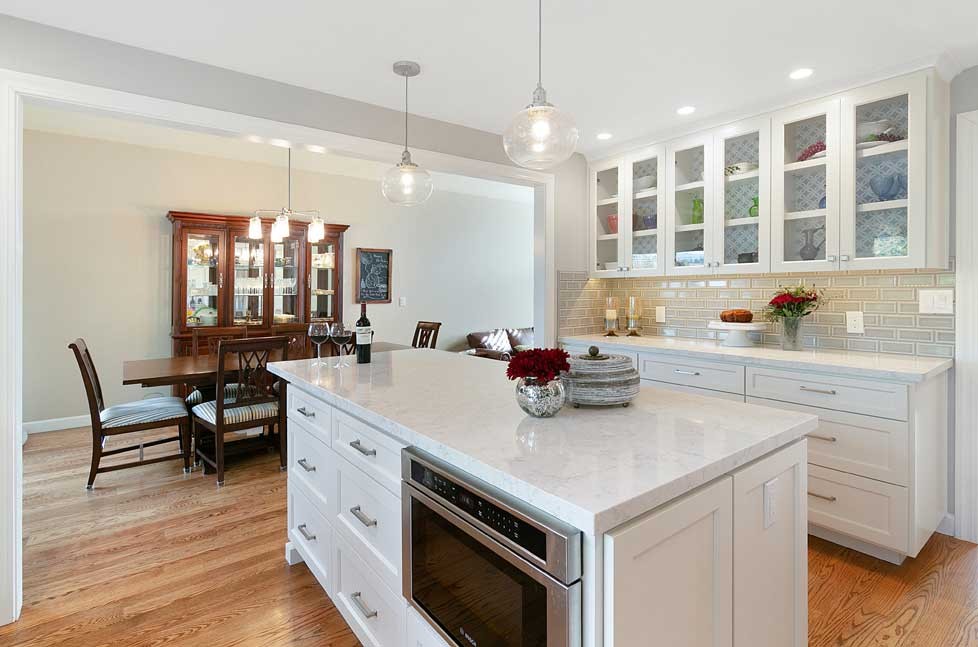 Q: How has your lifestyle changed since the remodel?
A: I can't help but love to be in my kitchen now. I even love spending time cleaning it, and it's always spotless before I go to bed at night.
We've also thoroughly enjoyed being able to have the added counterspace. My parents are getting older. I do a lot of meal prep for them. Having the space to prep food has been great. Our kitchen is now getting plenty of use.
Q: In hindsight, is there anything you would do differently if you were to remodel again?
A: Next time, we wouldn't wait so long to remodel! We shouldn't have suffered so long in a kitchen that was so dysfunctional.
We lived with it that way for eight years before starting our remodel. We had no oven for almost two years, the dishwasher went out, and then the refrigerator started to go. We knew it was time. We waited to replace the appliances until we remodeled the kitchen.
There were certainly "wish list" items that we would have loved to have incorporated into our space, but we needed to keep to our budget. So, there wasn't anything we would have done differently.
Q: Anything else you want to share?
A: We're very happy with our experience with Gayler. Their office staff has been super great to work with. Everyone was wonderful. They all were genuinely excited for us in delivering the finished project.
We were also happy that they allowed us to be so comfortably part of the decision-making process. They welcomed our input and we were given guidance with a lot of check-ins.
One of the things you tend to worry about going into a renovation are the costs that can spiral out of control. Gayler's design-build process was clear and detailed. We ended up with a detailed plan that was tied to a specific budget. Each item had a cost associated with it. So, if we decided to upgrade one item, we could choose to cut costs in another to stabilize the budget. For example, we could choose to go over budget on cabinets, but under budget on lighting. Overall, I think we came under budget.
Gayler gave us advice on where to go and who could help us. We were also given a variety of options. In the end, it was up to us to make a decision on what we liked the best.