Bathroom Remodel Ideas on a Budget
Dated and tired-looking bathrooms top the list of homeowner complaints. Adding a new style and improving a bathroom's function may involve imagination and a fair amount of planning, but it doesn't necessarily require a big budget.
If your bathroom layout is perfectly functional but falls short in terms of visual appeal and modern convenience, several strategies will breathe new life into your space, add comfort, and even save you money over the long term. 
The key is to keep what works while making small changes that have a significant impact. Today's bathroom fixtures, faucets, lighting, materials, and overall appeal are all about function and good looks, in addition to durability, sustainability, and energy savings.
Transform your bathroom with these relatively simple, cost-effective cosmetic updates. 
Look at What's Underfoot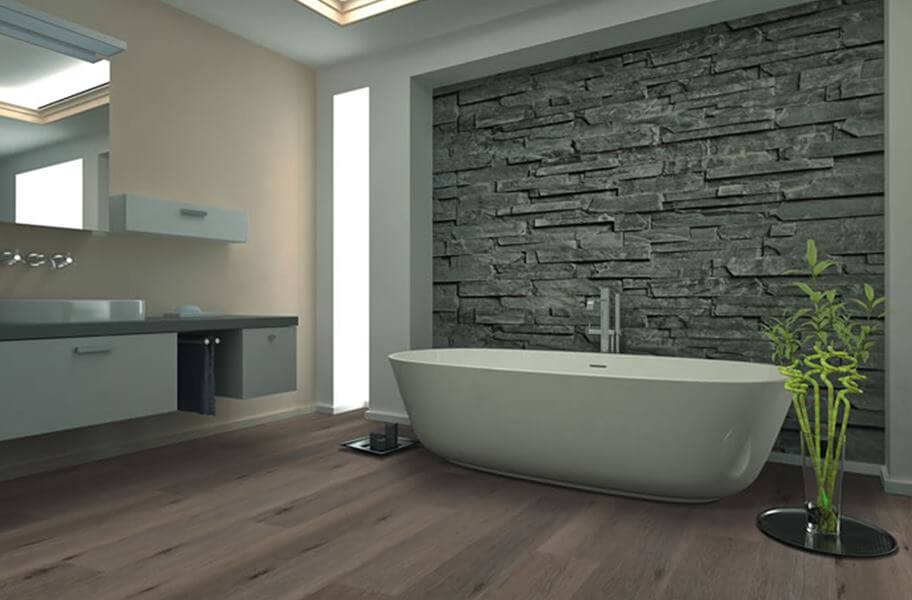 If the floor plan works, keep it. Relocating plumbing lines is a major expense in any remodel, so if you can live with what you have, concentrate on what needs attention. Replacing the floor is not a major expense typically because the room is relatively small. Flooring options are also extensive—between durable sheet vinyl, natural stone, glue-down laminate planks that mimic wood or natural stone, and ever-popular ceramic tile—they are all practical and cost-effective options.
Consider the Basics
You're a step ahead if you already have a basic white toilet, sink, and tub/shower enclosure because they're always in style. If the tub and/or shower enclosure are in good shape, that's an added bonus. However, don't despair at the thought of replacing fixtures. A new water-saving toilet is a smart choice in the long run. A replacement tub doesn't have to break the bank, and attractive new options for tub and shower surrounds are not only stylish but do wonders for a bathroom's personality.
A professional remodeler might suggest seamless modern options that eliminate grout concerns and have an upscale vibe; or choose the timeless look of tile but specify low-maintenance epoxy grout.
Update the Vanity
Let's be honest, old vanity cabinetry and an integrated faux marble countertop with a shell-pattern sink might have been in style in the 70s, but it is out-of-place today. If the existing cabinets are in good shape, consider just replacing the doors and the countertop. However, raising the height of a bathroom vanity improves both function and style in one move. Choose an above-counter vessel sink or a drop-in version paired with a new faucet, and you'll elevate the design aesthetic immeasurably.
Modernize the Working Parts
Metal finishes can suffer the effects of high humidity, hard water, and time. A homeowner who replaces hardworking bathroom faucets and showerheads with newer regulated-flow, "green" options not only gain the benefits of updated style but make an environmentally responsible and budget-friendly decision. New exhaust fans, heat-lamps, and hardware also boost your bathroom's functionality and elevate the design.
Add Color and Light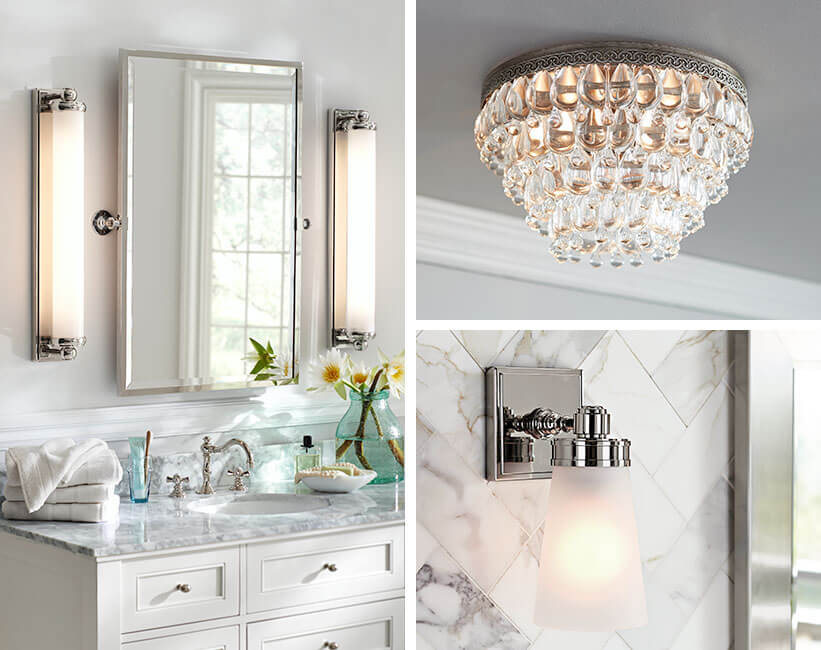 Photo courtesy of Pottery Barn
Fresh color on the walls sparks the same reaction as a new addition to your wardrobe. It will boost your spirits and add comfort or create a dramatic, or otherwise calming effect. It's your choice. Changing the wall color alone might work wonders. But don't sell creativity short: Think about subtle or bold accent colors — in cabinetry, tile, flooring, backsplash, even faucets, and accessories — to bring your entire bathroom into the new century.
Updated light fixtures will also elevate the decor, as well as make shaving, grooming and make-up tasks easier and more efficient. Plan modern lighting to eliminate shadows and shed better quality light wherever it's needed.
Mirror, Mirror, On the Wall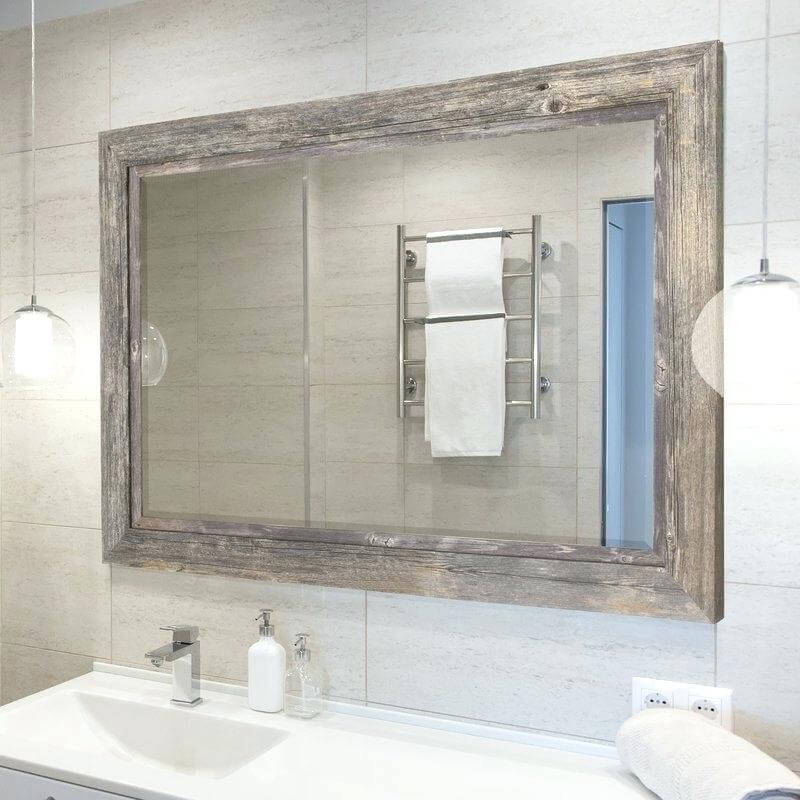 Does your bath still have that unframed glue-to-the-wall expanse of a mirror? A newer look is a framed version, but there are many other options, including a wall-hung mirrored cabinet with integral storage, heated, no-fog glass or a mirror with colored accents. Consider a backlit mirror for the ultimate in luxury grooming accessories or a pivoting, pull-out magnifying mirror with light. The options are almost endless.
A cosmetic renovation can be comfortably budget-friendly, blending the best of what you have with new functionality, performance, style, and materials. 
To learn more about how you can make improvements to your bathroom, attend one of our local design seminars, or register for our newsletter to keep abreast of new ideas, not only for bathrooms but for the entire home.
The Gayler Design Build team has some great ideas to help you get started. Browse our portfolio as an introduction to design possibilities, then contact us when you're ready. We'll help you jumpstart a bathroom remodel, paying close attention to your desires and your budget!