If you're a passionate cook who loves a tidy and organized kitchen, a walk-in pantry is a dream come true. This culinary treasure trove is more than simply a storage space – it's an extension of your kitchen that's both ergonomically functional and aesthetically appealing.
But how do you design a walk-in pantry that is as functional as it is beautiful in your Contra Costa County kitchen? Read on to discover how to create your ultimate kitchen pantry that lends itself to a seamless cooking experience and is always just a few steps away.
How Will You Use Your Walk-in Pantry?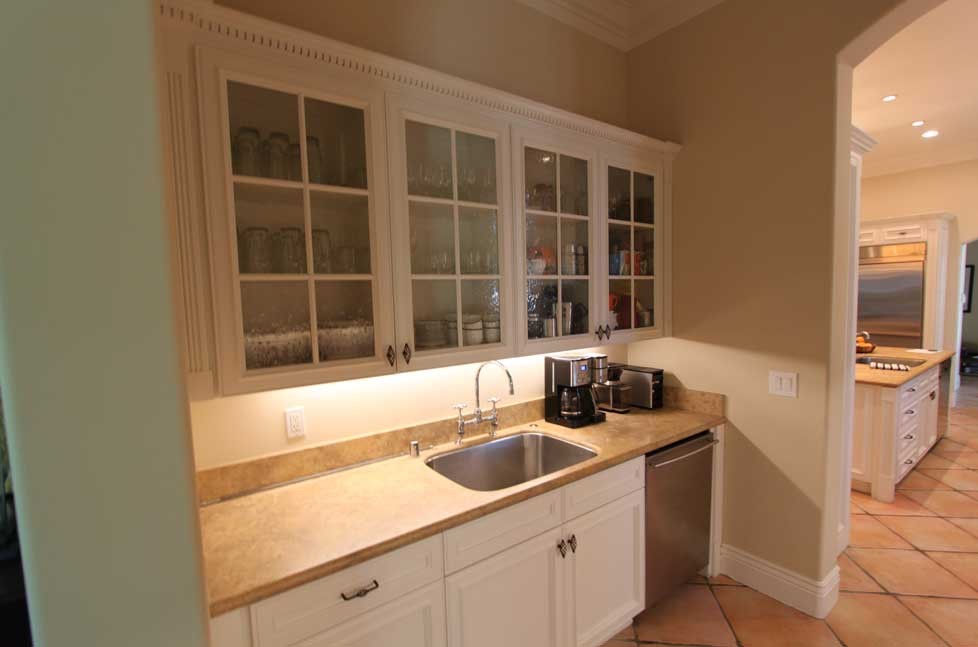 Your custom pantry design ultimately depends on how you will use the space, including your lifestyle, buying habits, and food preferences. For example, if you shop in bulk, you'll require extra room for multiple and potentially supersized items.
A family of passionate foodies will likely need specialized storage features for diverse specialty ingredients and seasonal dishes.
Likewise, for a household that loves to entertain, the kitchen pantry can double as an entertainment support feature providing extra prep space for big gatherings and related appliances such as a wine fridge.
Do you like getting up early and enjoying a coffee before the rest of the household rises? Your walk-in pantry can also feature a dedicated coffee bar for those quiet early-morning caffeine hits.
Before working with a designer, consider all the possible uses you can envision for your pantry, including ones you may not immediately associate with this space, such as a laptop station for short bursts of work or research while cooking.
Take Measurements of Your Walk-in Pantry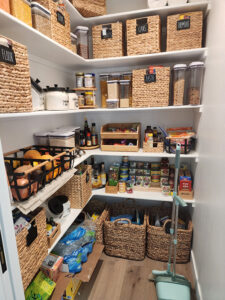 When planning your dream pantry, it's essential to take accurate measurements of the area to ensure you have the space needed for desired features and fixtures. If you need a larger pantry, consider whether you can take space from the kitchen or an adjacent room.
The shape of your desired intended pantry will also play a crucial role in the planning stage. Do you picture in your mind an efficient L-shape, a spacious U-shape, or a regular linear format? Each will require different size and space considerations.
Also, think about the dimensions of your intended shelving and cabinets. They need to be tall enough to store items such as cereal boxes and wide enough for your biggest pots, pans, and trays. But you also don't want these features to look too small or too oversized in the pantry interior.
Shelving and Cabinet Options for Your Walk-in Pantry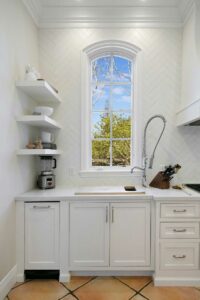 Speaking of shelving and storage, the type you select can significantly impact your pantry's functionality and aesthetics. Consider incorporating, where possible, a blend of open shelves and closed cabinets to provide a pleasing visual contrast and a nice balance between accessibility and tidiness.
Open shelves offer quick access to frequently used items, while cabinets provide the perfect storage solution for less used and bulkier items. You'll also want to consider which objects you'd like on display due to their visual appeal, such as woven baskets, dry food jars, books, and unique decorative kitchenware, and then design accordingly.
Pull-out shelving is a great option that allows easy access to items in hard to reach places. Such shelving can make full use of storage space at the back of cabinets that's often underutilized.
Also, take advantage of your pantry's vertical space with floor-to-ceiling shelves. These designs can significantly increase your storage capacity without eating into your pantry's available floor area.
Pantry Appliances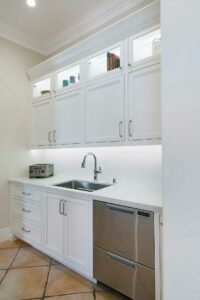 Your walk-in pantry is an excellent place to store a variety of appliances that might otherwise visually overwhelm the main kitchen. Planning for such appliances depends again on how you will use your pantry, as well as the electrical wiring options available.
Popular choices for walk-in pantry appliances include a microwave for quick reheats, a small refrigerator/freezer for extra cold storage, a wine cooler for the wine lover, and even a coffee maker or espresso machine for your personalized coffee bar.
When designing the pantry, consider how these appliances might be stored – such as on open shelving, countertops, or in a closed cupboard. Novelty or attractive high-end appliances can become the main focal point of the pantry interior.
Walk-in Pantry Materials
The materials you choose for your walk-in pantry can influence its look and feel, as well as its durability and maintenance. Material selection will also depend on the type of pantry you go for and the style of the main kitchen interior.
If your pantry is visible from the kitchen, consider using materials that either match or complement your kitchen's style. This design matching will create a cohesive look and feel throughout your space.
On the other hand, if your pantry is tucked away and out of sight, you could opt for less expensive materials to stay within your budget. That said, it's wise to select materials that are easy to clean and durable.
Such a material selection might mean a bigger investment today, but it can save money on repairs and replacements in the long term.
Pantry Wellness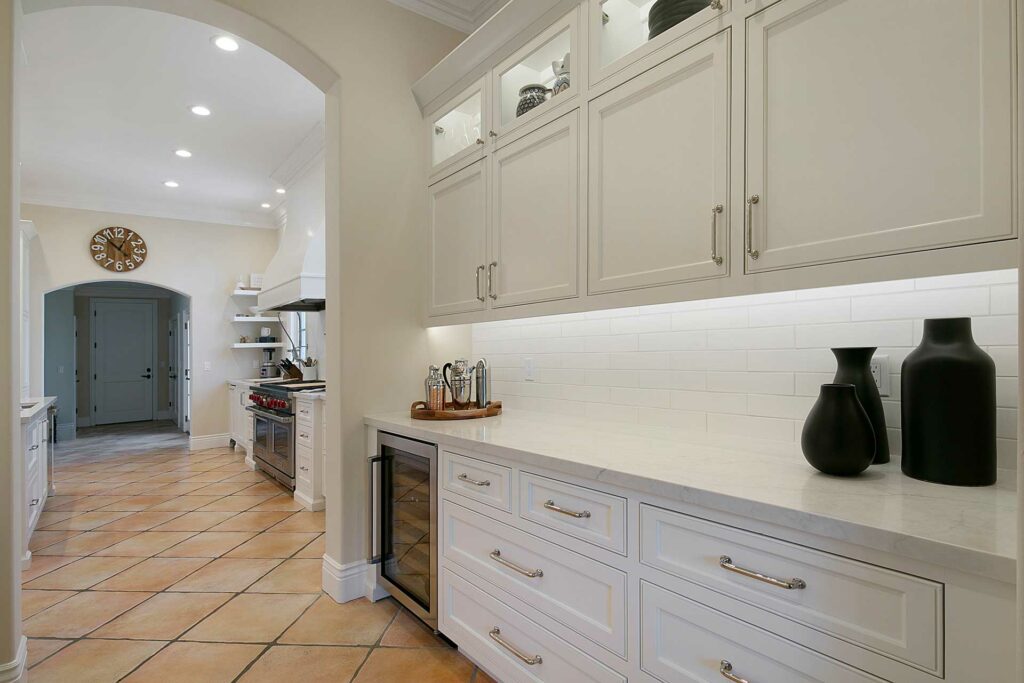 A great kitchen is a healthy and hygienic kitchen, and this applies equally to the walk-in pantry. Wellness is an important factor throughout the home but even more so where food is stored and prepared.
To avoid food spoilage, it's essential to maintain a well-ventilated space that also mitigates the risks of mold and mildew. This might involve incorporating a grille in the door, adjusting door height for airflow, or installing a fan in larger spaces to reduce heat and humidity.
Consider ways to store things up and off the floor, especially foodstuffs. Bugs and small rodents are often drawn to spaces where food is easily accessible at low levels.
When it comes to cleanliness, think of ways to make the pantry easier to clean. Incorporate materials and surfaces that are simple to wipe down, and ensure there's enough storage space so surfaces are clutter-free.
Pantry Decor and Lighting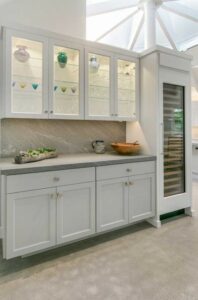 The perfect pantry is an extension of your home's character and your personal style. In this sense, it's more than just a storage space. When designing your custom walk-in pantry, think of ways to make it visually appealing. For the walls and surfaces, embrace colors or patterns that inspire you and complement the adjoining kitchen.
You might want to add fun and stylish fixtures that create a statement and provide talking points for visiting friends and guests who pop their heads around the door.
Lighting is also crucial. A mixture of lighting types – known as layered lighting – will improve visibility and enhance the room's aesthetic appeal.
The pantry door itself offers opportunities for creativity. Glass doors can provide a sleek, modern look while keeping contents visible. Sliding barn doors or glazed glass doors can add a rustic or traditional touch.
Your trusted design-build remodeling team will help you work through these design options.
Work with a Kitchen Remodeling Expert like Gayler Design Build
Since 1961, Gayler Design Build has been remodeling homes in California's Tri-Valley and Lamorinda areas. We are also the only design-build firm with a 23-year unbroken record of on-time and on-budget project completions. It's something we're incredibly proud of.
As a third-generation, family-owned design-build firm, we want you to be proud of your home renovation. That's why we work with uncompromised values. It's how we define our company and what we believe in. So when you want to remodel your home in Contra Costa County, trust Gayler Design Build.
Learn more about our design-build process and visit our portfolios for inspiring photographs of some of our previous remodeling projects. Then, when you're ready to discuss remodeling, contact Gayler Design Build at 925-820-0185 for a complimentary in-home design consultation. Or use our contact form to schedule your appointment.
Want more inspiration? Sign up for our newsletter and follow us on social media!