When the Coronavirus pandemic shut the people of the world up in their homes, homeowners started to take stock. Not always liking what they saw, many began to make changes. The changes all took into account the health, safety, and mental stability of the family members. Now, post-pandemic, many of those trends have stuck. Here, we look at home remodeling trends made popular with the pandemic that we anticipate lasting a long time.
How Home Layouts Have Evolved
Pre-pandemic homeowners wanted an open floor plan that blended kitchen, dining, and living in one large area. With the pandemic, families felt the need to separate. Quarantining sick family members and having dedicated space for work and school needs made everyone think the open floor plan was dead. But, according to several studies since 2020, that's not the case.
Homeowners still need what the open floor plan offers–maximized square footage, improved traffic flow, shared light, and versatile, multi-functional space. Then and now, the open floor plan meets the need of how homeowners want to cook, entertain, and socialize with their families.
However, with pandemic-induced changes in lifestyle that include more working and schooling from home, families need dedicated spaces to escape the hustle and bustle the open floor plan brings. Therefore, we're seeing more demand for home offices, workout rooms, playrooms, and even dedicated rooms for quiet activity. 
Bigger Bathrooms and Kitchens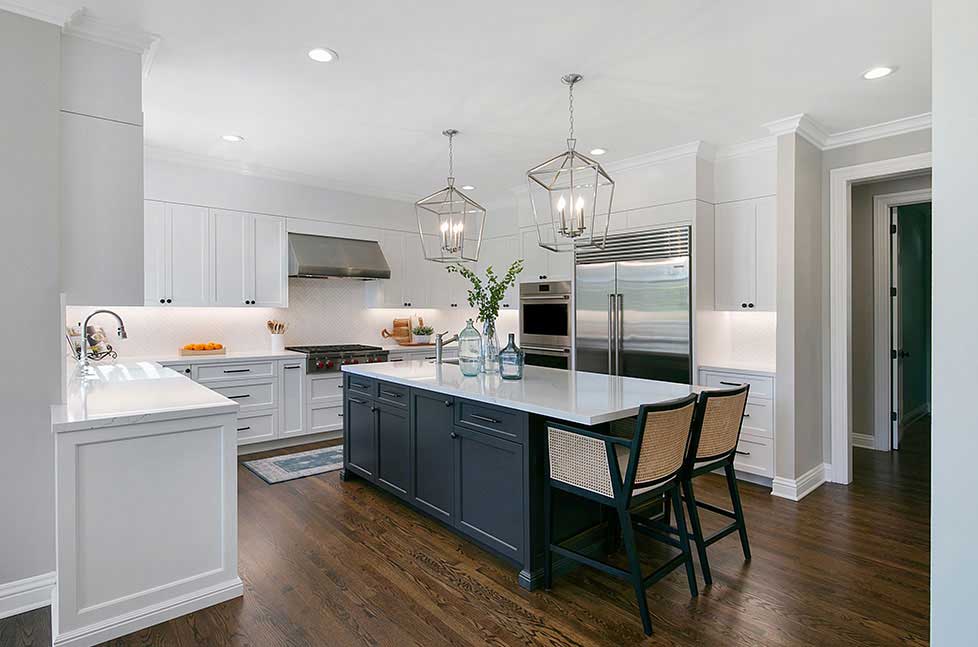 Since the pandemic, bathrooms and kitchens have changed. And homeowners don't just want more space. Here's what we see happening in both areas.
Post-pandemic kitchens
According to the 2022 State of the Restaurant Industry report, restaurants have not recovered from the pandemic shutdown. And, 40% of restaurant operators surveyed believe it will be at least another year or more before the industry returns to normal. In addition to labor shortages and supply chain issues, restaurant traffic is still not what it was pre-pandemic. And with the number of hybrid and work-from-home employees who no longer eat out for lunch, that's not a surprise.
With people eating at home more, kitchens have changed. Besides acting as the hub of all household activity, we're seeing the following transformations.
Bigger pantries to store more food
Open floor plans with more square-footage
More freezer space
Additional specialty cabinets like pull-out organizers
Post-pandemic bathrooms
The powder room came as a result of the 1918 Influenza pandemic. And, a new surge in powder room requests or even additional full baths has come with the Coronavirus pandemic. Homeowners want a restroom their guests can use that won't cross-contaminate with the family. And, when a family member gets sick, sharing a bathroom can cause the spread of germs. So, they need their own bathroom, too.
Bathrooms also are getting bigger. With more people working from home, they're getting used more often. So, families are opting for one large family bathroom on the second story with lower counters to accommodate children, a large separate tub and shower, and a dual vanity or trough-style sink. In addition to the primary bathroom, homeowners are adding a powder room for visitors and a full guest bath that can also serve household members in isolation. And with a focus on wellness and technology, we're seeing some of the following amenities.
Large, spa-like footprints
Hands-free faucets and light switches
Voice-activated showers, thermostats, and sound systems
Dedicated Zones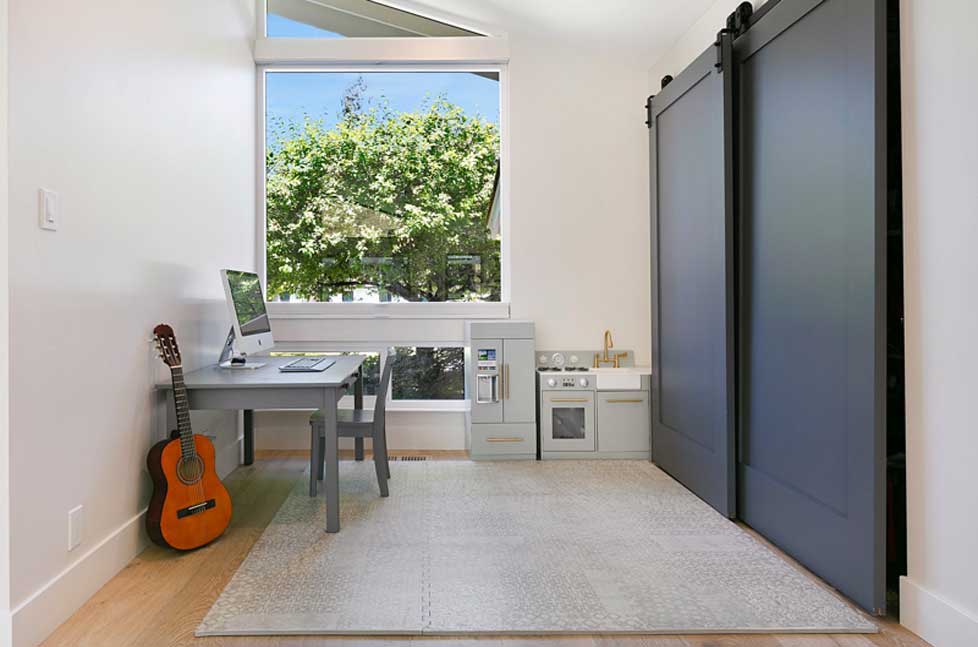 Since the open floor plan is still popular, homeowners need dedicated spaces for activities like work, exercise, and play. And with the increase in online shopping, homeowners want a space to accommodate packages of all sizes. A foyer, sealed off from the rest of the home, creates a protected package drop point that eliminates the temptation of porch pirates. It also protects the home's interior from extreme weather and provides a quiet place to welcome guests.
Mudrooms serve as the main entry for family members and continue to increase in popularity. But, in addition to a place to remove shoes, the mudroom acts as an initial landing zone with hooks and storage for items like coats, backpacks, and car keys.
When interior space is limited, homeowners create flex zones or rooms to accommodate multiple needs simultaneously. For instance, a seldom-used formal dining room does double duty as the home's library with built-ins for books and videos. Or, the home office serves as the landing place for the child home from college with the addition of a Murphy-style bed.
Pampered Pets
According to the 2021-2022 APPA National Pet Owners Survey, pet ownership rose from 67 percent to 70 percent of U.S. households in 2020. Pets played a crucial role in comforting Americans during the pandemic, and many of them want to transform their homes into pet-friendly spaces. To reflect this mindset, we're seeing homeowners adding the following inspirational designs that add beauty and functionality to the interior and exterior of their homes.
Washing area–Typically, in main floor laundry rooms or mudrooms, a dedicated washing area for Fido helps to avoid muddy paw prints on the floors.
Hidden litter box–A custom cabinet in the mudroom or cubby underneath a staircase hides the litter box while giving your feline friend some privacy.
Custom bedding–Some homeowners create cave-like hideaways strategically located to allow their pets a comfortable place to sleep that's not underfoot.
Feeding station–Get food and water bowls off the floor with slide-out drawers in cabinetry designed to fit the pet's height.
Wired for the Future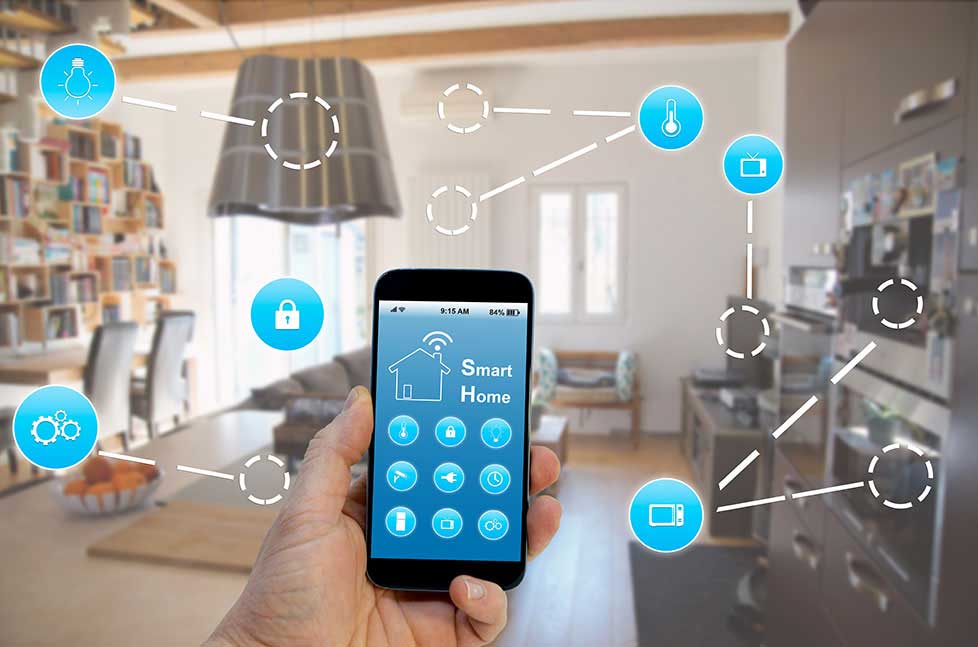 Working and entertaining from home has confirmed the need for strong WiFi, convenient plug-in stations, and smarter homes. In addition, since the pandemic, homeowners want every room of the house connected. When you partner with a design-build firm, their team of professionals can connect everything in your home to a central hub, which you can operate via your smartphone. Or, you can start slowly by adding a few smart options at a time. Some of the most common ways homeowners are wiring their homes for the future include:
Adding home security systems that monitor both inside and outside the home.
Installing power outlets and USB ports for charging devices.
Integrating smart lighting through the use of smart light bulbs, smart switches and dimmers, or smart plugs for lamps.
Merging features via voice command by connecting all to a smart speaker like the Amazon Echo or the Google Home series.
Utilizing a smart thermostat that establishes a heating and cooling schedule and can detect when you're home or not. Some smart thermostats include voice activation, and other high-end devices can even serve as the central hub for additional accessories or a home security system.
Installing multi-room audio systems controlled by a smartphone that allows you to stream music in multiple locations.
Watering the lawn with a smart irrigation system that keeps the outside of the home looking its best.
All About the Outdoors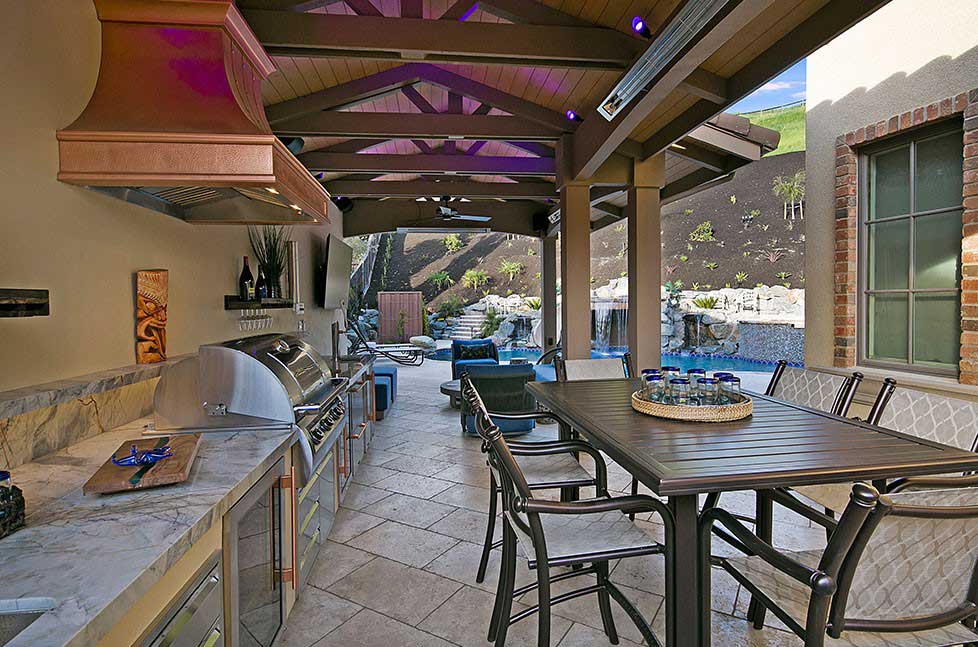 Studies show that being in, or even gazing on, nature restores our mental health, increases our ability to focus, and promotes physical healing with less pain. So, after staying home for the last couple of years, homeowners are looking for ways to bring natural elements into the home. Those elements include a lot more than houseplants, too. For instance, oversized windows, sliding or folding glass walls, and skylights that provide more natural lighting are on the upswing. The use of natural wood and nature-inspired colors is too.
But bringing the outside in is just part of the equation. Homeowners also are improving their outdoor living spaces for entertaining and relaxing. Outdoor kitchens and dining areas, comfortable conversation seating, firepits, and upgraded outdoor lighting inspire homeowners to spend more time outside with nature.
Healthy Homes
While the Coronavirus pandemic taught us to stay healthy, more homeowners want a healthy home that goes beyond eco-friendly and energy-efficient features. They also emphasize safety and germ prevention. Here are a few ways both of these factors play out.
Home safety
Aging in place and universal and accessible design features integrated into remodeling projects keep the home safe for family members of all ages and abilities.
Home security features include items like doorbell cameras, biometric door locks, and security cameras with people, pets, and package recognition software.
Germ prevention
Touchless everything, from faucets to light switches, keeps the spread of germs in check.
Adding guest suites with a separate bathroom keeps the family safe from outside germs and serves as a quarantine room for when a family member is sick.
Innovative germ-fighting products like coated a/c filters kill 97 percent of viruses, and interior paint kills 99 percent of some viruses and bacteria within two hours of contact.
To keep your remodel in step with post-pandemic trends, Gayler Design Build is ready to help you create a home that fits your family and your lifestyle. Located in Danville, California, their award-winning team serves the Tri-Valley and Lamorinda areas. Gayler is the only design-build firm in the region with a 23-year consistent track record of completing projects on time and on budget.
Family-owned since 1961, Gayler's award-winning design-build team specializes in creating whole house remodels, kitchen and bath renovations, additions, outdoor living spaces, and ADUs. To keep the lines of communication open, they use project management software that provides clients with a private portal where they can access daily logs, photos, and scheduling items.
Take a look at their portfolio for inspiration for your next project. Then, to work with Gayler's amazingly skilled team, contact a design-build professional at (925) 820-0185 or use the contact form on their website to schedule an appointment for a complimentary consultation. Or, learn valuable tips by subscribing to their newsletter. Gayler Design Build is skilled at making your remodeling experience smooth, efficient, and enjoyable.