Bathroom Remodeling Gallery
Danville Traditional Primary Bathroom Remodel
Primary bath remodels tend to be one of the most essential remodeled rooms in the home. Just consider all of its amenities and how often the primary bathroom is used. It's not surprising, right? Primary bathrooms are also personal and intimate spaces. As such, homeowners often have difficulty expressing their particular needs.
Working closely with Gayler Design Build, homeowners are always asked, "How do you plan to use the space?" As you might expect, open communication is paramount to a successful remodeling project as we begin the professional journey.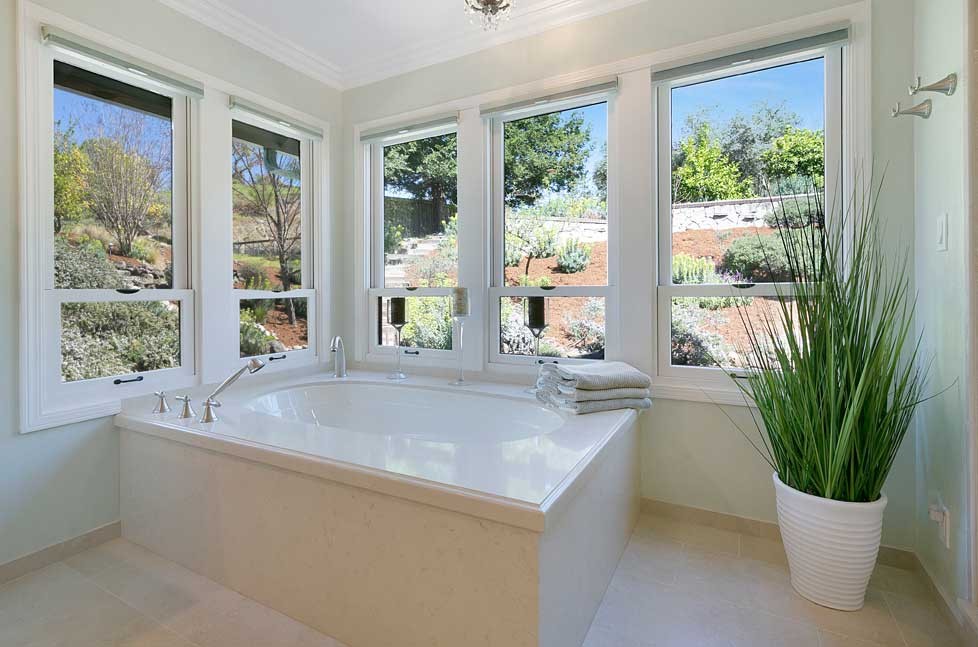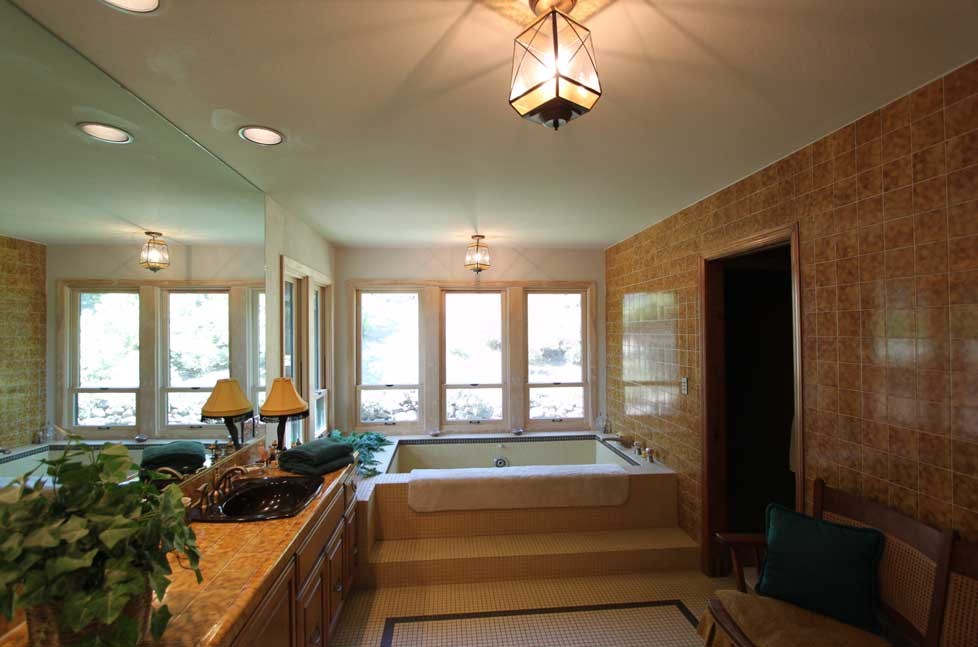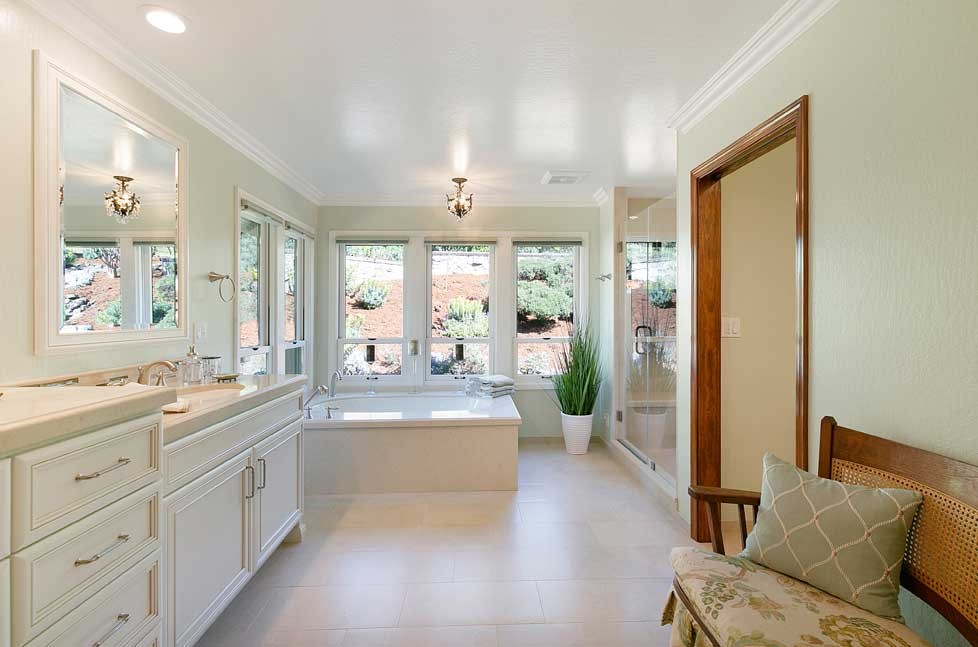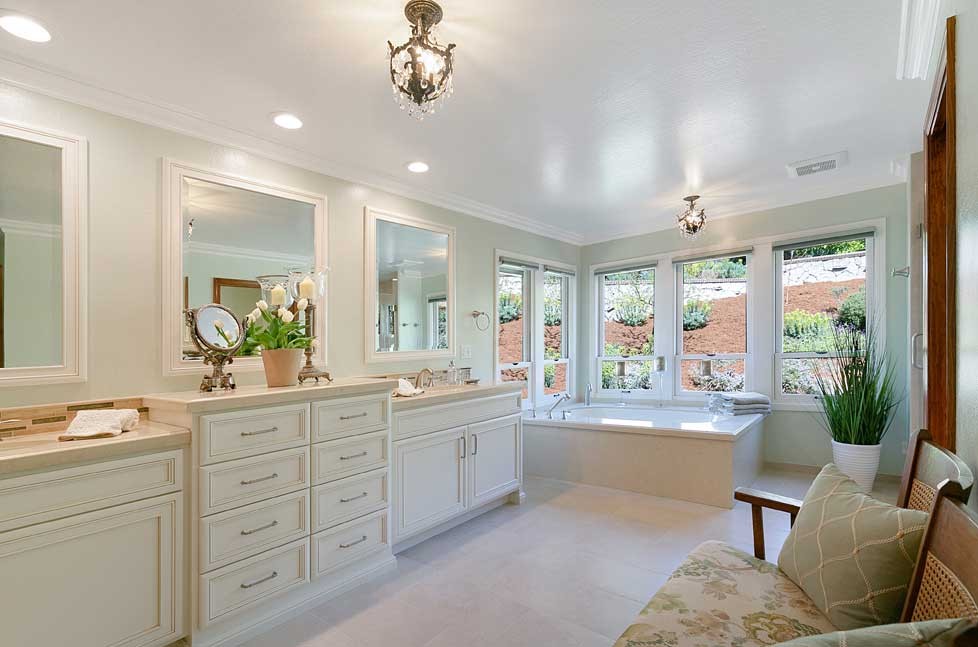 Challenge
This Danville homeowner approached Gayler Design Build with several must-have requirements including a larger shower, a soaking tub, new windows, and a more functional layout. The existing oversized built-in tub wasted water and was rarely used (the tub was difficult to get into). Additionally, the clients wanted Gayler Design Build to increase the size of their modest shower while creating an open and easy flow of access. The existing vanity cabinet was not user-friendly and did not have the storage that our clients so desired.
Solution
Gayler Design Build instinctively knew what needed to be done to re-work the existing footprint and reorganize the layout for greater efficiency. We designed a smaller, built-in tub to fit the new space. New cabinetry would be designed to help keep clutter off the countertops and stow away makeup, bath, and hair products. While moving walls would cost a bit more, it was necessary to create the open floor plan that our clients coveted. Doing so allowed us to add a much-needed window to the shower space along with the luxuries of a bench and attractive shower niche. Keeping to a timeless traditional design style, we were able to create the ultimate space for our clients to relax and wind down before going to bed.
Read More
Primary Bathroom Features
The new bright and airy primary bathroom features a polished Rodi Quartz surface material from Arizona Tile. This cream-colored Quartz with a faint brown detail was used on the vanity countertops, built-in tubs deck, face, and backsplash, giving the appearance of natural limestone. Creating a nice, organic focal point for the shower, Rodi Quartz was also used to cap off the shower bench.
Arizona's porcelain polished Themar Crema Marfil 12 x 24 flooring was installed in a 1/3 offset staggered pattern that seemed to meld the tub and shower curb walls. Moreover, a matte finish was selected for non-slippage. Like jewelry, small honed geometric hexagon porcelain in the Themar Crema Marfil highlighted the shower pan and added to the luxurious feel of the space.
The new full overlay cabinet vanity from Precision Cabinets features a classic elegant design from their signature traditional line called "Long Island." The painted artisan swiss coffee finish came with an attractive glaze that kept the look traditional and stylish. Instead of a full run of vanity cabinets, a tall cabinet was installed in the center to add storage and visual interest.
Three custom 1-½ bevel edge-framed mirrors were installed over the vanity and highlighted with two gorgeous crystal chandeliers finished in bronze. An all-natural stone backsplash with Glazio Sage Brush Mosaic and a small pencil liner were paired with oversized oval biscuit Kohler sinks to tie the countertops together.
To create a high-end look that exudes elegance, we chose classic Providence Series faucets in brushed nickel along with Top Knobs Cabinets hardware pulls. Brizo's Providence Collection of plumbing was also used for the tub and shower area.
The paint selected was a charming soft green from Kelly Moore called "Mystical Mist" adding a lovely contrast and richness to the room. New crown molding painted in "Swiss Coffee" provided additional highlights to the ceiling and made the new paint color pop.
Result
"Let me take this opportunity to thank the Gayler team for transforming our primary bath from a brown and yellow tiled nightmare into a gorgeous oasis. The project went smoothly and finished on budget, and on time. We developed close bonds with the people in the office, as well as the on-site team, and all the people who supported the project in their various capacities. We are very happy we chose Gayler for our remodel!"
—Keven B.
Ready to discuss remodeling ideas for your bathroom?

390 Diablo Road, Suite 210
Danville, CA 94526
(925) 820-0185
Open Monday through Friday
8:00 AM to 4:00 PM PST
Never miss a newsletter
By subscribing, you confirm that you're happy for us to send you our latest home remodeling articles, news, and events.