Homes can benefit from an occasional facelift just as much as humans sometimes need a new look to boost their spirits. Results can be spectacular and cost-effective, with only a little time and imagination. Breathe new life into a traditional older home with some contemporary touches; remove the dated decor that was once so trendy — think sprayed on "popcorn" ceiling texture — and become the envy of the neighborhood with some creative choices.
Relatively minor updates can have a significant effect on livability, practicality, and decorative appeal. Here are our top picks for adding new life and value to a home. Pick and choose according to the vision you have for your unique lifestyle:
Banish the Plush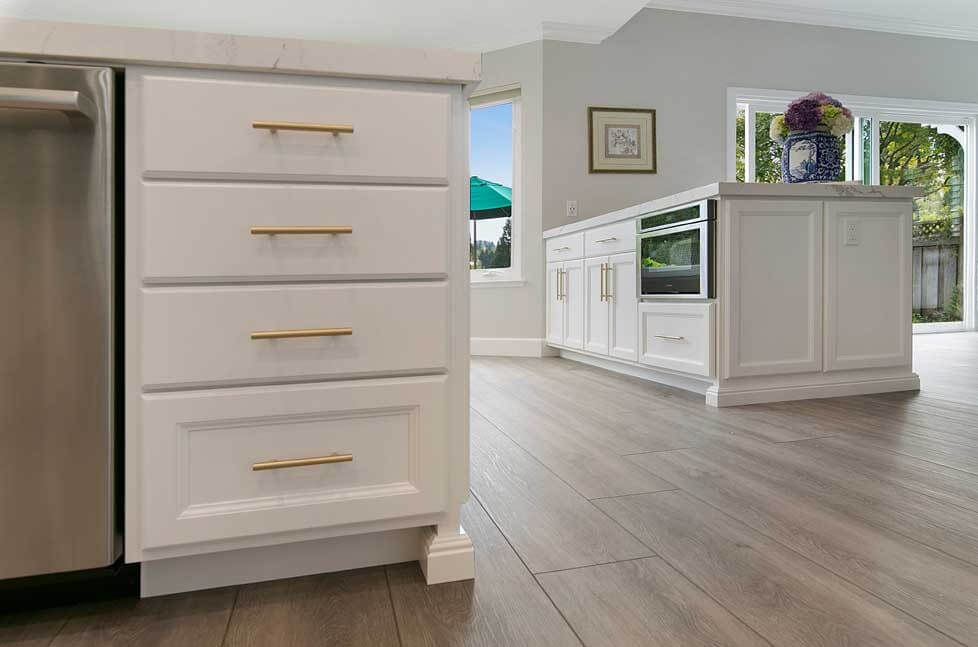 Wall-to-wall carpet was once the height of luxury. Today, not so much. Understandably, there are reasons for keeping carpet in the bedroom. But, if you've been living with carpet in your main living areas or throughout your home, there are many great alternatives. Wood, tile, travertine, bamboo, and Luxury Vinyl Plank flooring can be stunning, practical, and lend an entirely new vibe to your dated rooms.
Refinish Old Hardwood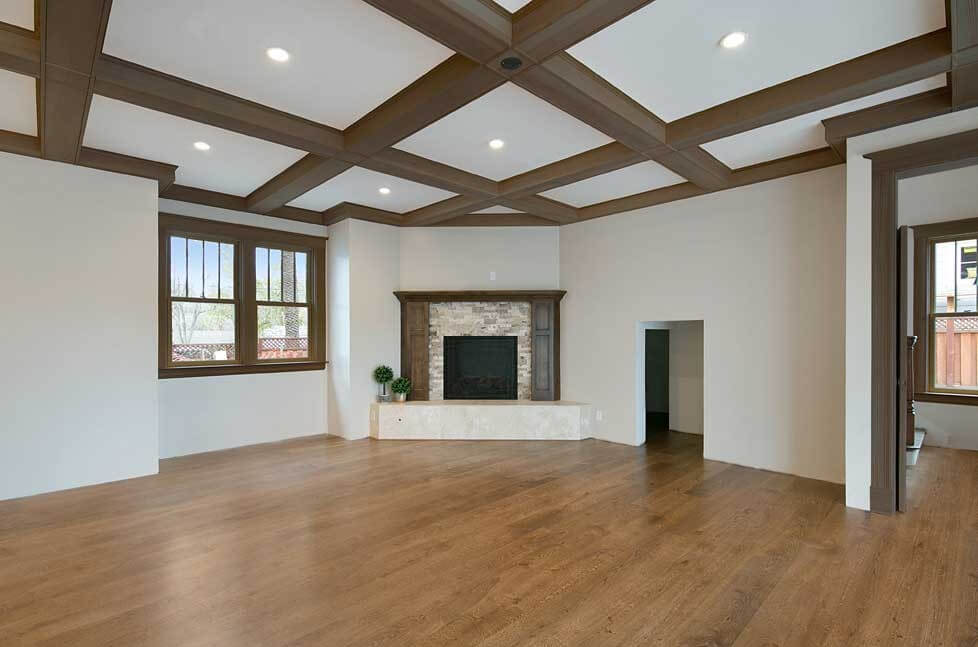 If your home already boasts wood flooring, whether exposed or hidden by carpet, consider yourself fortunate. Refinishing your floors is a great way to change up the look of your home without having to replace them. Today's stain color trends for hardwood floors are both dark and light extremes, along with grey and whitewash. Dark colors make for a stylish and dramatic look, including an espresso or ebony stain. Lighter stains create a warm, airy feel and are easier to clean and maintain. Today's material options even allow you to choose wood flooring for the kitchen!
Renew Kitchen Cabinets and Countertops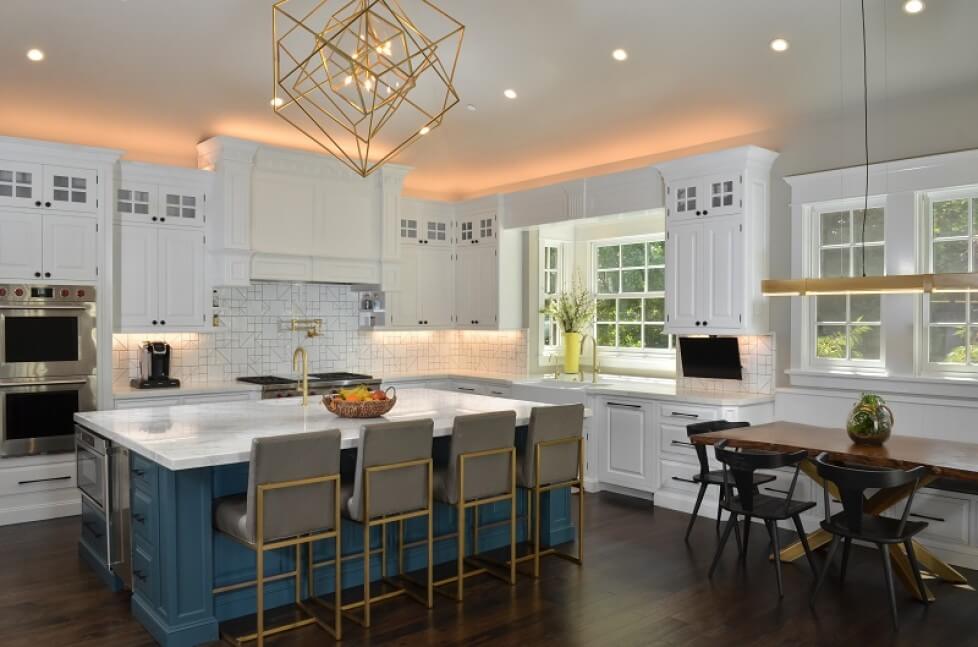 Make your kitchen come alive with or without a complete renovation. It might be as easy as a coat of new paint and sleek solid surface countertops. If existing cabinet boxes are in good condition and the layout suits your needs, it would be a good idea to consider resurfacing cabinets and replacing doors. Add style and sophistication to your kitchen with granite or quartz countertops. For a striking contemporary touch, consider a metallic or glass tile backsplash.
Add 21st-Century Drama to Your Walls
Strip off dated wallpaper or textured wall paint. Replace it with a smooth, painted wall, or make a statement with a wide range of modern wallpaper offerings. Be creative. Choose a dramatic accent color for a single wall in a room. Create a dramatic accent wall using textured 3D wall panels. Add LED ceiling accent lighting to a room. Encircle the room with a high shelf or decorative molding, or paint the upper wall and ceiling a darker hue than the walls. Paint the room in broad stripes of compatible tones for a distinctive appearance. Any of these options can help you accomplish the contemporary design style you're after.
Shed New Light and Sparkle Throughout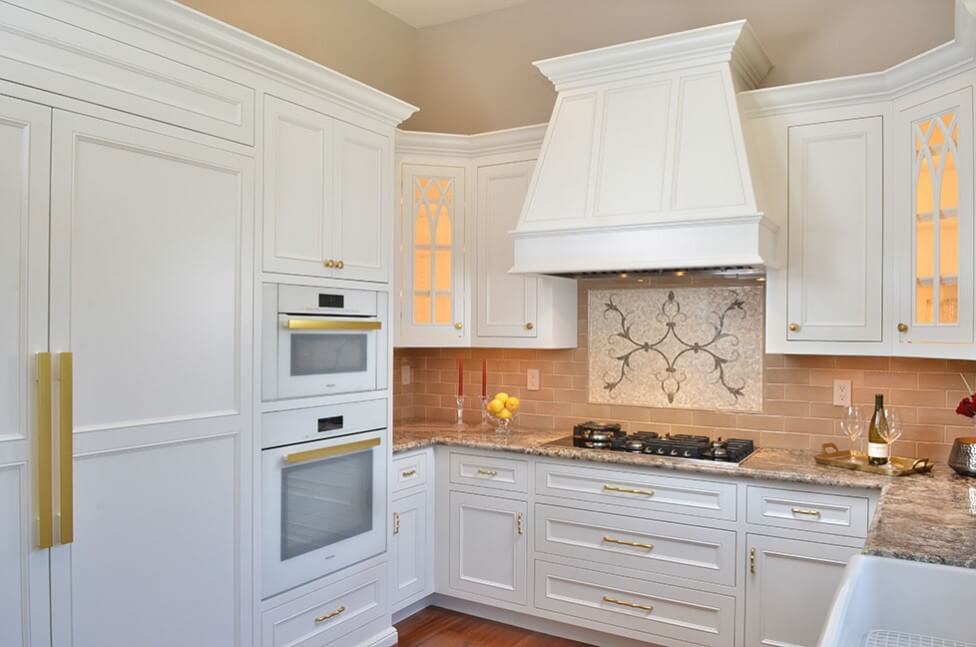 Decorative metal hardware — for doors, cabinets, and bathrooms — and unique lighting fixtures give a lot of bang for the buck. A dining room chandelier can be a statement piece, but play up your home's new style with a great fixture at the entry door, and in the entry hall as well. Add a wall sconce in a hallway, and gain function in addition to good looks by replacing bedroom ceiling lights with ceiling fans with lights. Replace a dated open bulb bath bar with contemporary task lighting (ex: vertical sconces) to provide the best lighting for detailed tasks. No matter what direction your decor takes you, you will find options that will fit your style and your budget.
Go Modern with Technology-Rich Appliances
There have been more innovations in major appliances in the past few years than in any other home feature. Not only are modern appliances more attractive, but they are also energy-efficient, environmentally-friendly, time-saving devices that have built-in "brains" to help you with grocery shopping, meal preparation, and timing. Some brands even communicate with one another! Turn out a holiday dinner for a crowd with ease or personalize your refrigerator's temperature settings to your storage needs. Pre-set your oven to have dinner ready when you arrive home after a long day. Choose options to encourage healthy eating choices: steamers, woks, countertop grills, dehydrators, juicers, even single-cup tea brewers, and espresso machines.
Create a Home Spa for the Bath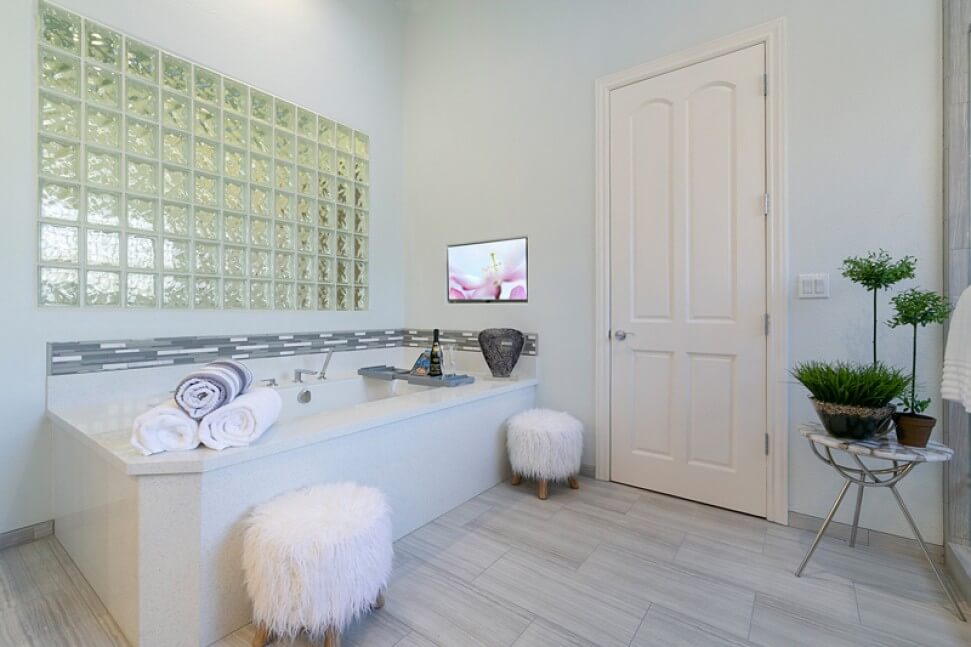 Modern bath fixtures are not only beautiful to behold, but they can add luxury and drama to a space that's used every day. Who doesn't dream of an occasional trip to the spa? Why not bring the spa home with a heated towel rack, a steam shower, a deep soaking tub, aromatherapy jets, and colored lighting that can be dimmed to a soothing glow? Also, look at backlighted vanity mirrors and storage cabinets to hold all your grooming aids.
Replace Old Doors
Traditional raised panel doors, especially if they're painted a builder-grade wood-grain hollow-core style, do not say "modern" or "contemporary." Perhaps it's time to replace them with real wood doors and attractive new lever-style hardware to reflect your design sensibilities.
Pay Attention to the Details
Sometimes it's the little things that have the most impact. Contemporary style is streamlined and straightforward allowing your personal belongings to occupy center stage in your home. If your window and door trim, baseboard, existing chair rail, ornate ceiling molding or wood-grain paneling seem dated, ask our design consultants about ways to simplify your interiors. Even something as basic as replacing electrical receptacles and switches with modern styles can make an immense difference to the ambiance of a room.
The Gayler Design Build Remodel team has decades of experience helping homeowners make the most of their homes. It's our stock in trade and we take great pride in both our design innovation and our consistent on-time, on-budget delivery. We speak the language of home remodeling fluently, endlessly inspired by the awards we have won for design, craftsmanship, and outstanding service.
What can we do for you? Browse our portfolio for some initial inspiration, then Call us at (925) 820-0185, or complete our online form to schedule a consultation with one of our designers. We look forward to getting to know you.