Kitchen Remodeling Gallery
Contemporary Kitchen Remodel in Lafayette, CA
In addition to achieving a new kitchen that met their family's lifestyle needs, the homeowners placed importance on being able to rely on a meticulous project manager who could oversee the entire remodel from inception to completion. Choosing Gayler Design Build for this project was driven by the significance of working with reputable and highly skilled tradespeople, each reliable experts in their respective fields.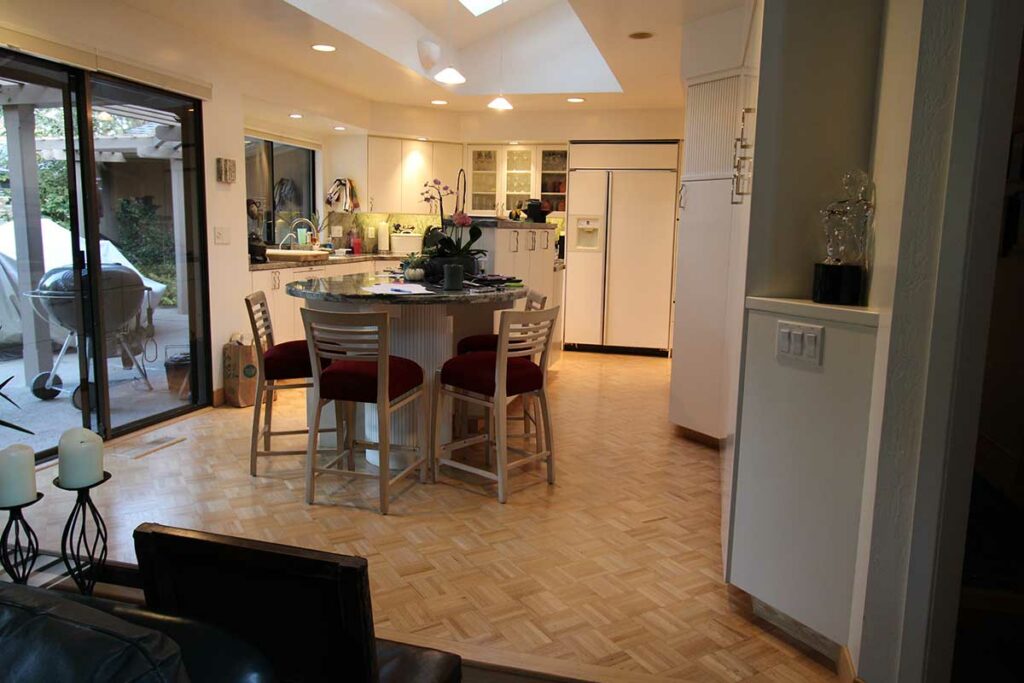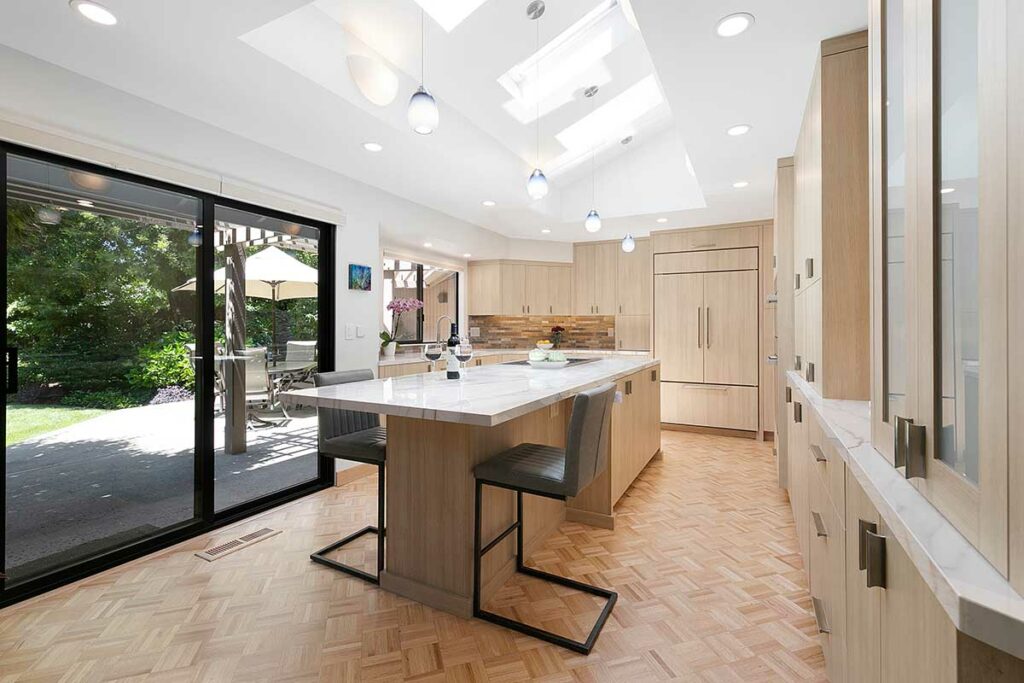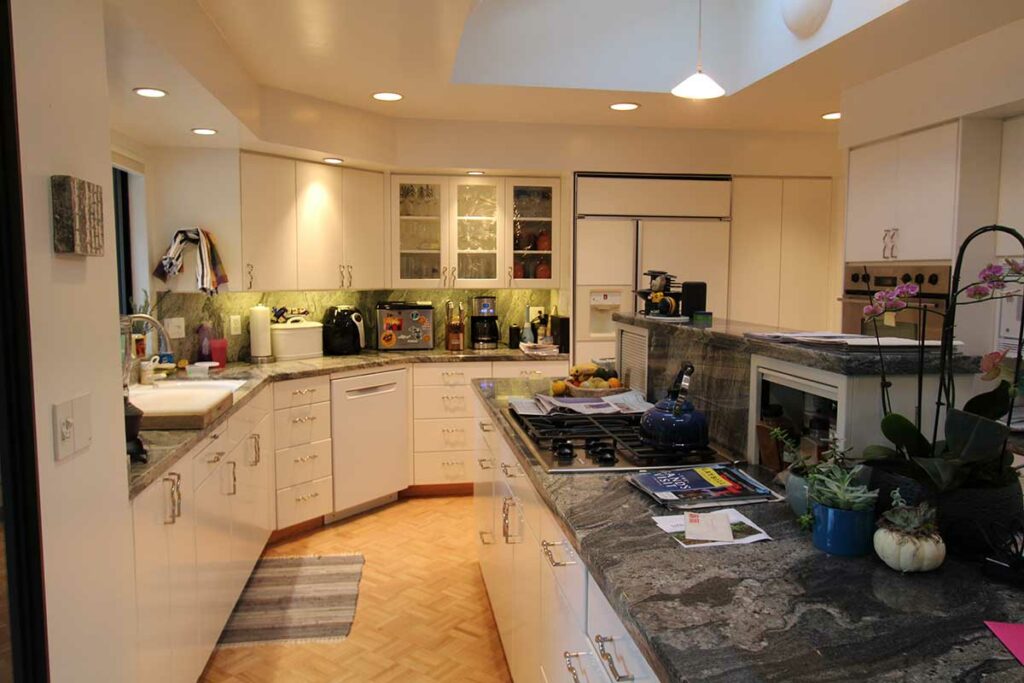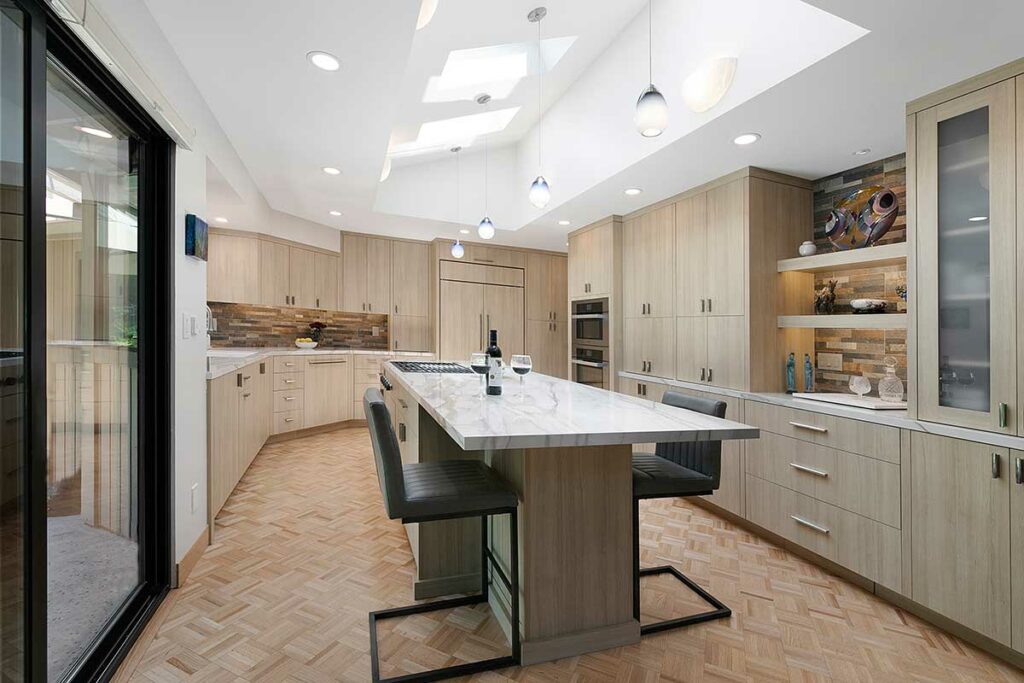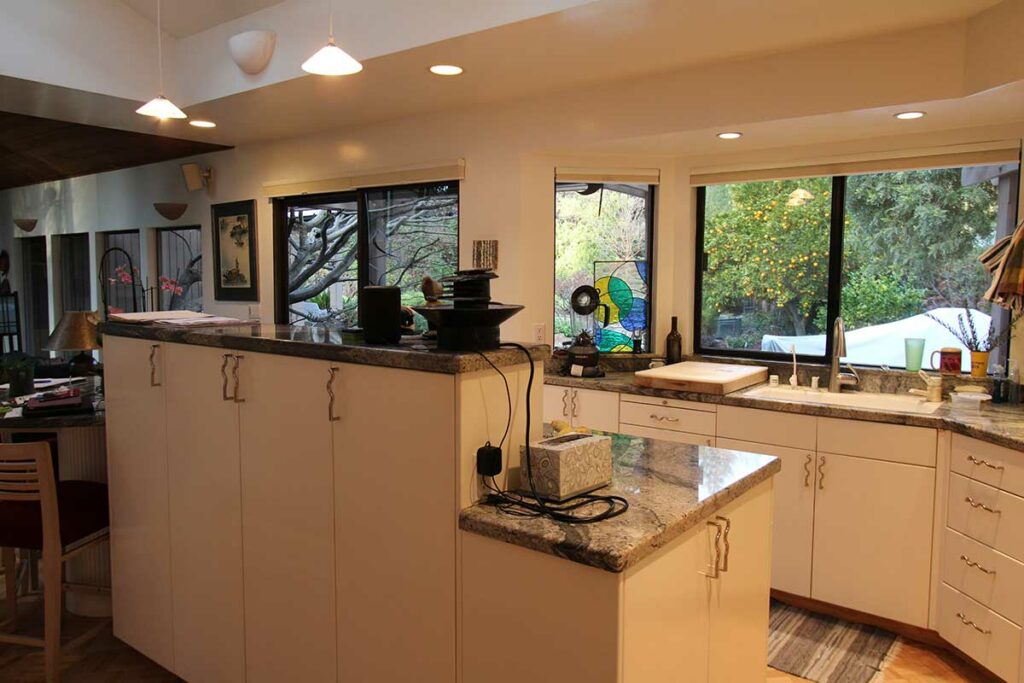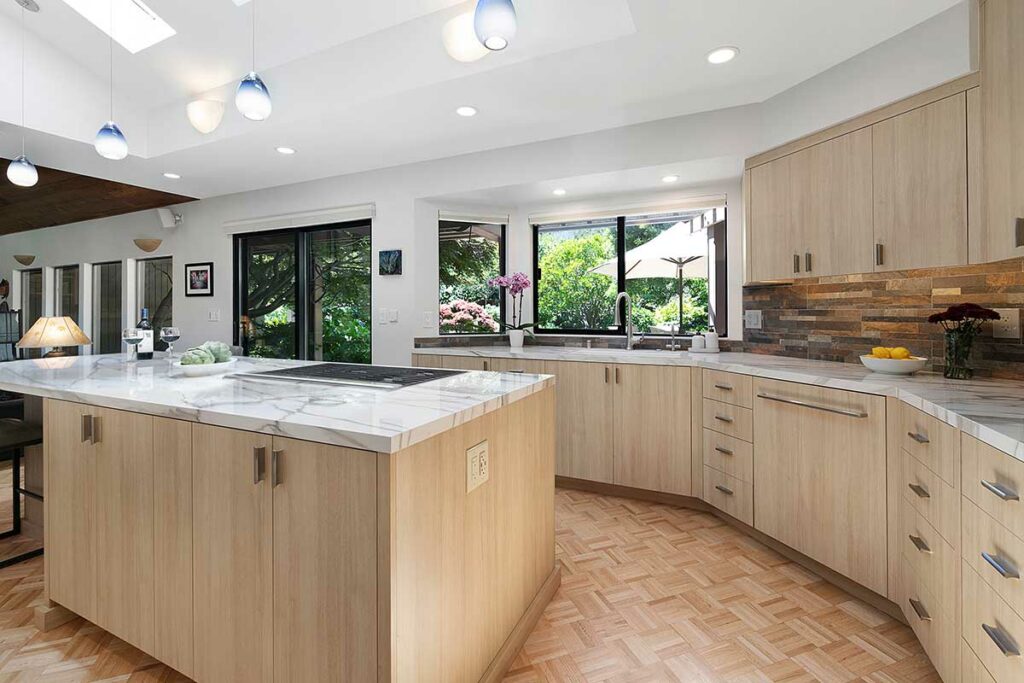 Challenge
Navigating the unique angles and corners of this kitchen presented a challenge when fitting cabinets. However, with the expertise of our cabinet maker, we skillfully maximized storage spaces while staying true to the cabinet design style. For added functionality and aesthetic appeal, the knobs for the cooktop were seamlessly integrated into the cabinet material.
At the clients' request, we meticulously designed several layers of lighting throughout the kitchen space. This thoughtful touch not only enhances the overall ambiance but also brings depth to the room, allowing their special artwork pieces to shine as captivating focal points.
Solution
To preserve the integrity of the kitchen's design, it was necessary to keep the duct work and roof lines concealed with a soffit. This required modifying the cabinets in one specific area to seamlessly integrate with this design element.
It was important for the homeowners to preserve the kitchen's original parquet floors, which we accommodated. We added new parquet pieces where needed and skillfully refinished the entire floor, breathing new life into this beautiful feature.
Read More
The kitchen showcases exquisite craftsmanship and thoughtful design elements. The cabinets feature frameless construction in a vertical grain and an elegant Tafisa sheer beauty finish. The countertops are topped with Level polished porcelain slabs in the luxurious Calacatta Gold design, accentuated by a 1.5″ mitered beveled eased edge. The stone backsplash boasts the timeless appeal of MSI Dekora Rocky Gold 6″x24″ tiles, elegantly complemented by Customs Winter Gray grout.
To add a touch of sophistication, the cabinet hardware boasts Top Knobs Glacier handles in a Brushed Satin Nickel finish, while the appliance pulls feature Top Knobs Podium handles in the same stunning Brushed Satin Nickel.
Illuminating this tasteful space are four Alina Pendant LED lights, each exuding a captivating Steel Blue hue with a Satin Nickel finish. Together, these elements create a kitchen that exudes elegance and charm, making it a true centerpiece of the home.
Result
Ultimately, we successfully completed this kitchen remodel within the agreed timeframe and budget. Throughout the process, we prioritized the preservation of the existing flooring, while maximizing storage solutions within the kitchen's original footprint. The result is nothing short of remarkable, as the space underwent a breathtaking transformation that exceeded all expectations.
Ready to discuss remodeling ideas for your home?

390 Diablo Road, Suite 210
Danville, CA 94526
(925) 820-0185
Open Monday through Friday
8:00 AM to 4:00 PM PST
Never miss a newsletter
By subscribing, you confirm that you're happy for us to send you our latest home remodeling articles, news, and events.