Whole House Remodel Gallery
Walnut Creek Transitional Main Floor Remodel
An open concept kitchen and living space continues to be a popular trend in interior design. Not surprisingly, this Walnut Creek homeowner came to Gayler looking for help to renovate the main floor of their home with an open floor design in mind. A new kitchen, a hall bathroom and powder room were also included in the scope of work.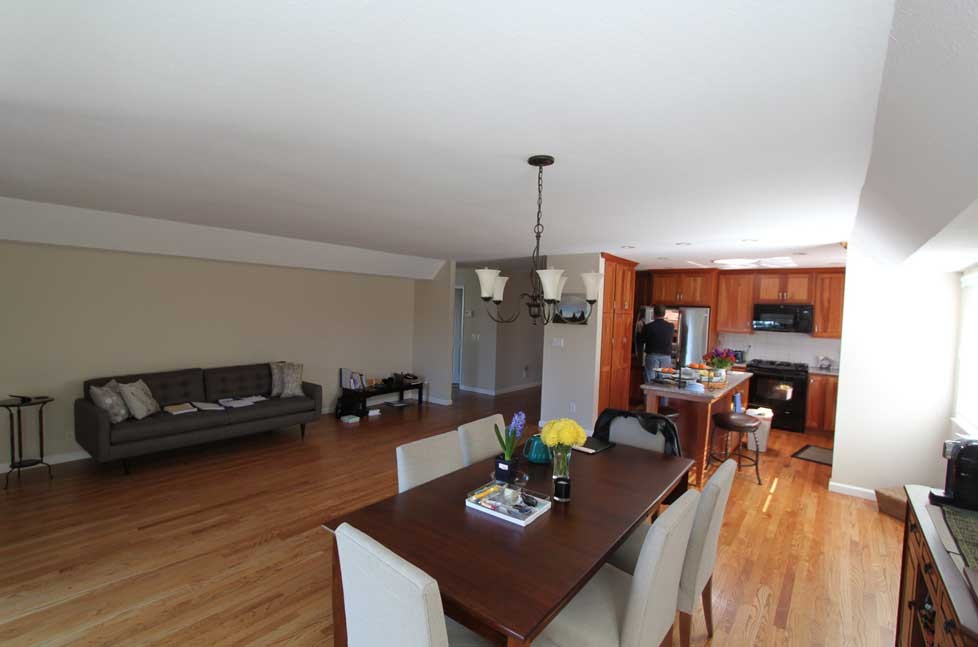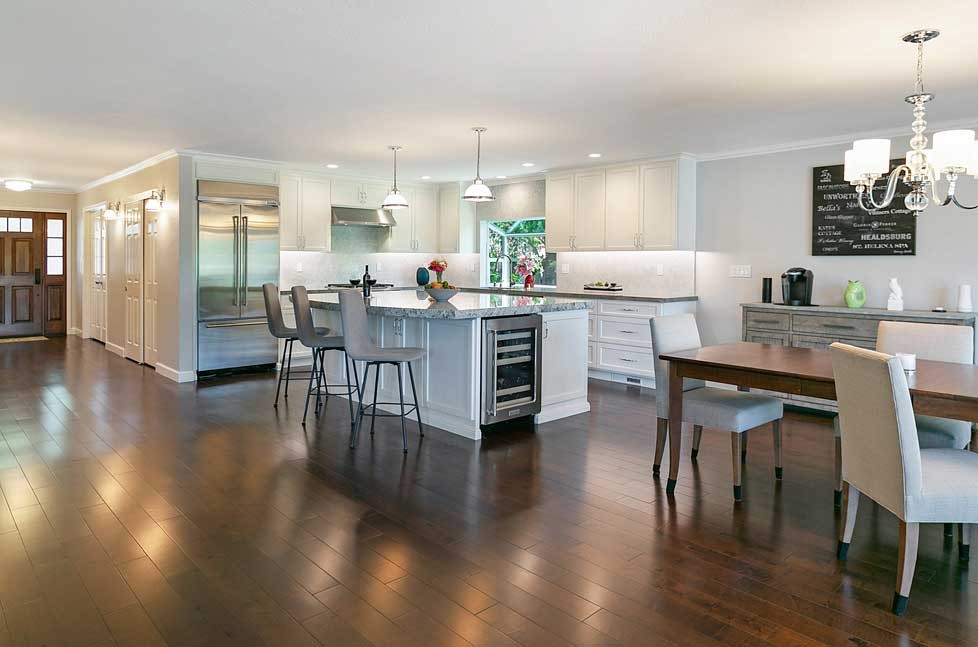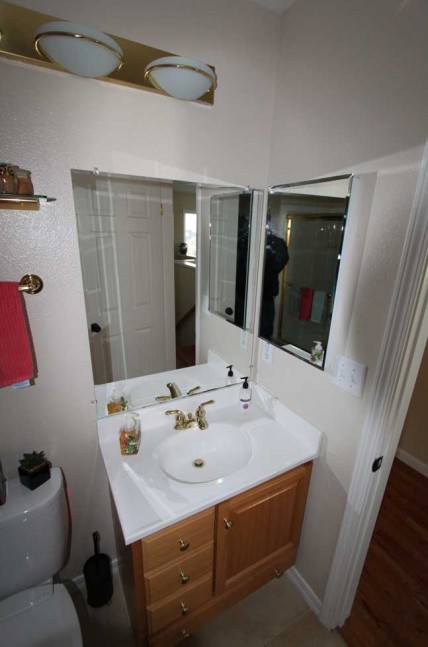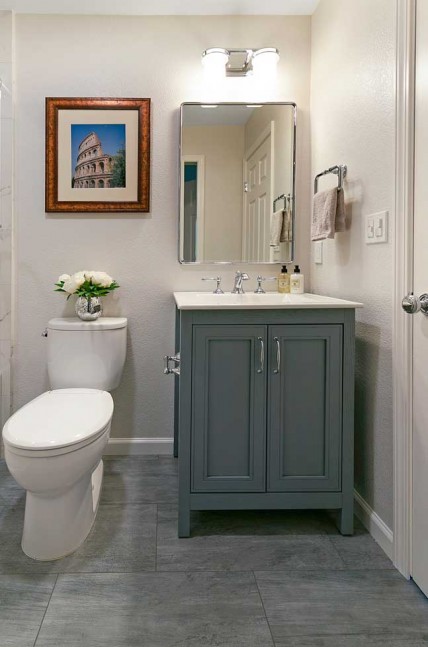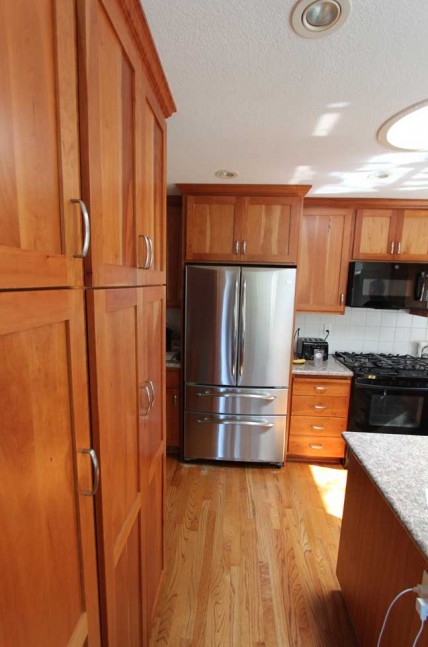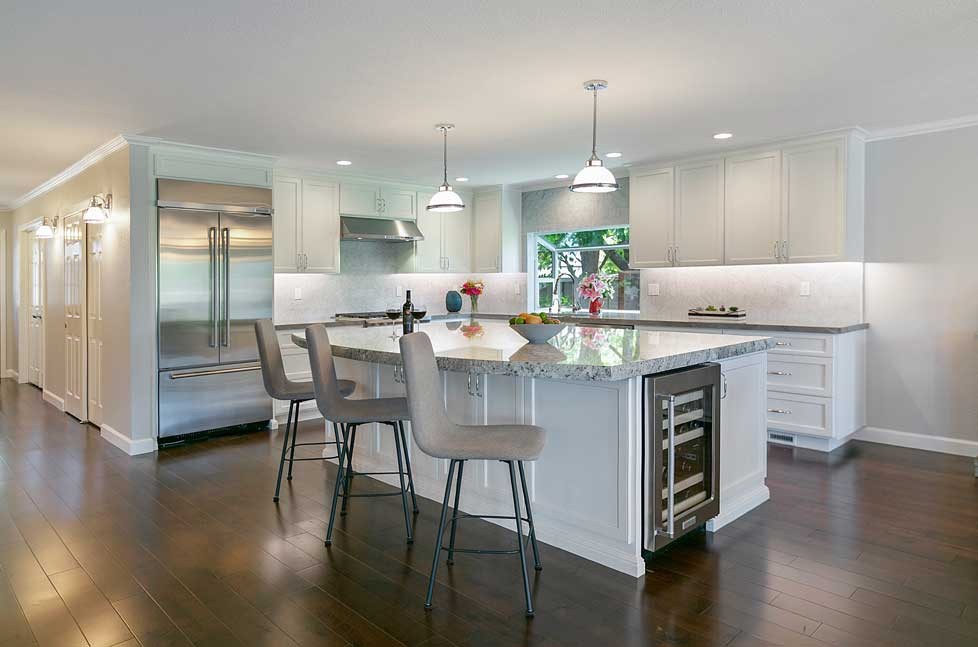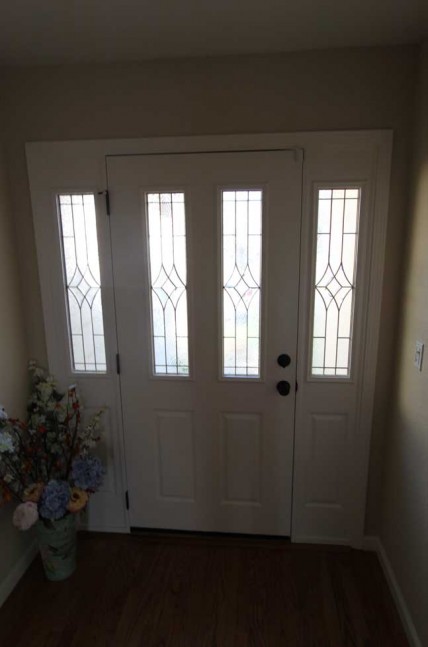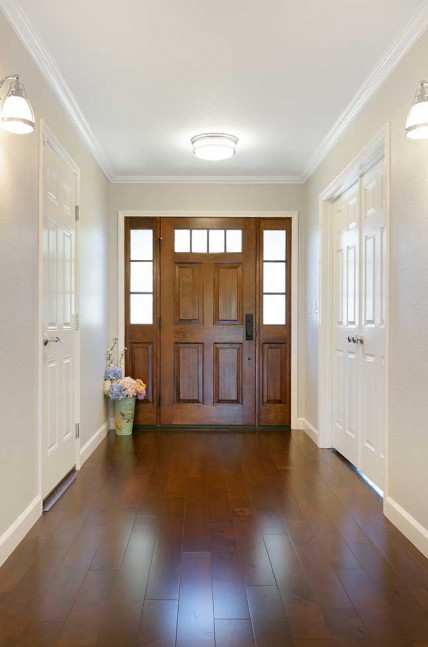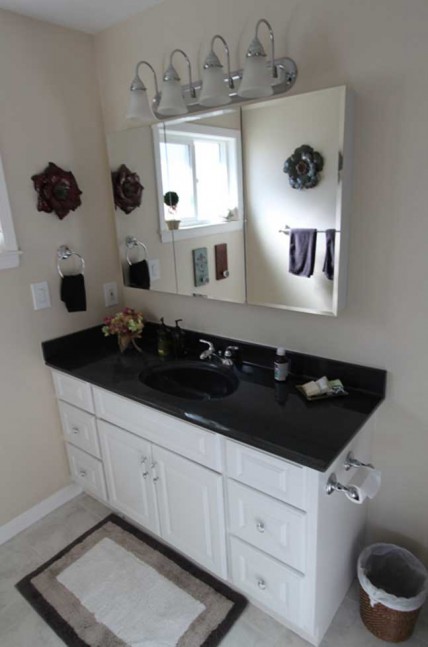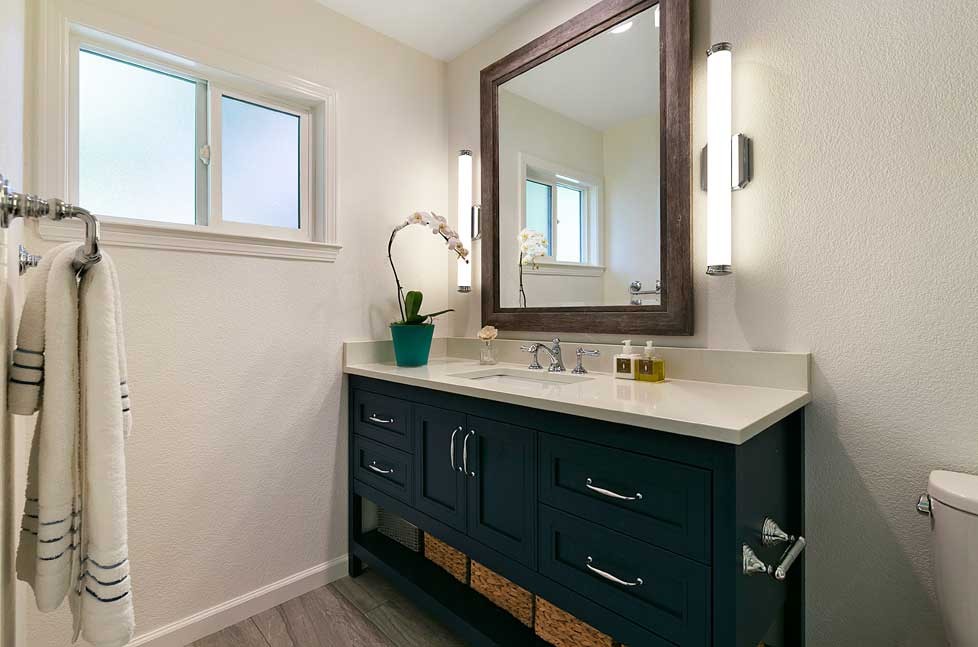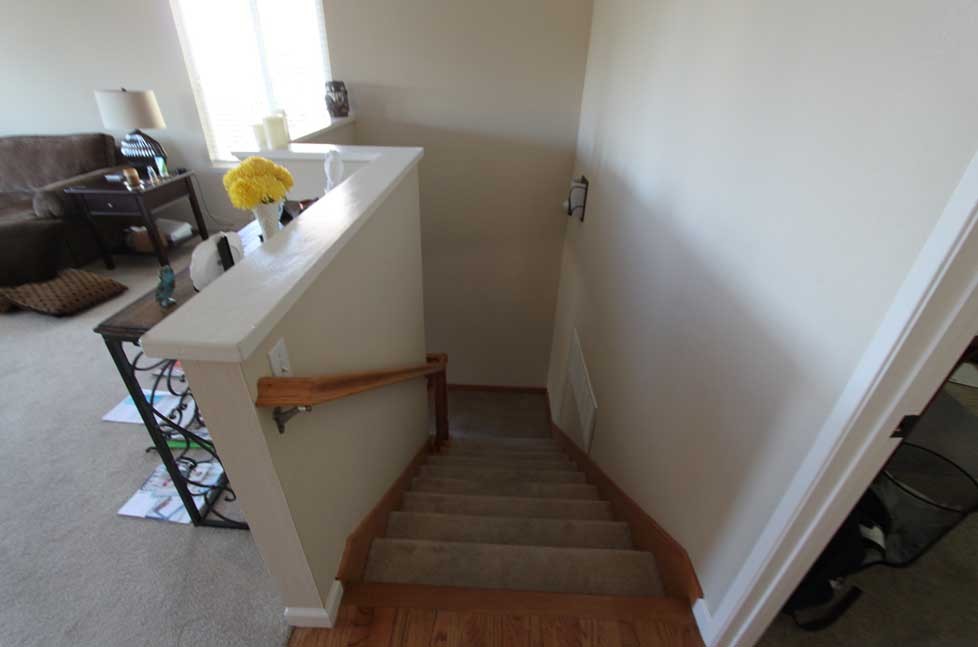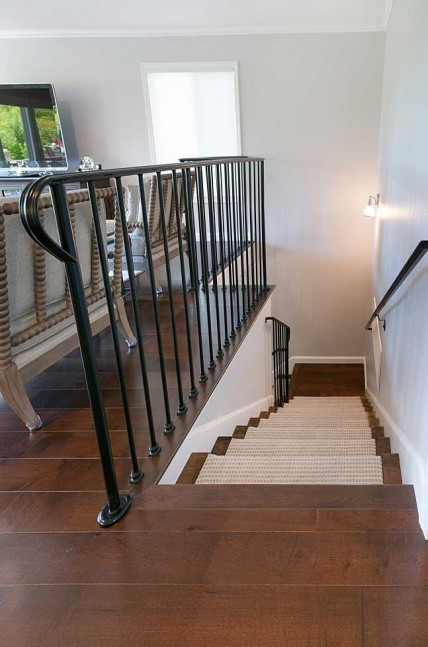 Challenge
Several walls divided the kitchen, dining room, family room and living room. Moreover, the homeowners were missing out on enjoying the stunning California sunsets from their kitchen, so opening up their space and enlarging the living room windows were driving forces for the remodel.
Solution
Kitchen
Gayler started by removing the wall that separated the hall from the kitchen. This gave us the openness to create a larger more functional island that comfortably sits three. Then, Gayler removed the wall to the far right of the kitchen sink, giving enough room to extend the length of the kitchen. Gayler also removed the angled soffit to allow for a smoother, more visually appealing, open space.  
Read More
The luxury details found in this kitchen remodel include Precision custom cabinetry finished in 'Swiss Coffee', a perimeter countertop made out of a porcelain slab by Dekton from the Stonika Collection—color 'Sogne'; and a contrasting island countertop made of polished Nevaska Granite, with a thicker 2-½" full bullnose edge. The full height backsplash is a honed Carrara Marble tile, 4"x12", installed in a brick pattern.
Note: Porcelain is a durable man-made stone that resembles natural marble or granite.  It's an excellent option for kitchens, as it has heat resistant properties like natural stone. Other man-made materials like Quartz have resin components that limit the heat you can subject them to. 
Other features included new high-end appliances, a wine refrigerator and engineered wood flooring throughout.
Great Room
Once the walls came down, Gayler enlarged the living room windows to maximize the sunset and sunrise views—letting as much soothing, natural light into the room as possible. In keeping with the open concept theme, the pony wall around the downstairs stairwell was removed and replaced with a decorative iron railing.
The new wood front door and fireplace mantel were stained a rich color to complement the new hardwood floor.  Specialty glass was installed on the sidelights to provide privacy while still allowing light to filter through the hallway. New polished chrome sconces were installed in the hallway to seamlessly integrate with the other light fixtures in the home.
Bathrooms
The hall bathroom was designed with a new grey/blue furniture style vanity, giving the space a splash of color, and topped with a pure white Porcelain integrated sink. A new tub was installed with a tall but thin-framed sliding glass door—a thoughtful design to accommodate taller family and guests. The shower walls were finished in a Porcelain marble-looking tile to match the vanity and floor tile, a beautiful deep blue that also grounds the space and pulls everything together. All-in-all, Gayler Design Build took a small cramped bathroom and made it feel spacious and airy, even without a window!
The guest bathroom was designed with a 60-inch dark blue furniture-style vanity that includes plenty of storage and open shelving. A new vertical framed mirror elongates the space. It is flanked by two beautiful tall sconces providing plenty of light for makeup or shaving. Linden Point Grigio floor tile ties the space together.
Result
This home received new life and character with clearly defined entertaining and dining spaces, and a proper chef's kitchen. A particular remodeling favorite was the movement and deep vibrant color of the porcelain countertops that contrasted so well with the kitchen cabinets.
The overall design aesthetic created a feeling of calm and excitement—a place our clients expressed an interest in relaxing in and sharing with friends and family, particularly for watching the sunset.
Ready to discuss remodeling ideas for your home remodel?

390 Diablo Road, Suite 210
Danville, CA 94526
(925) 820-0185
Open Monday through Friday
8:00 AM to 4:00 PM PST
Never miss a newsletter
By subscribing, you confirm that you're happy for us to send you our latest home remodeling articles, news, and events.