August 2022 – Outdoor living spaces are a hot trend in home renovation, especially popular in Danville and Contra Costa County where the year-round weather is so accommodating. Inspired homeowners are indulging their creativity and expanding their square footage by transforming under-utilized yard areas into seamless and natural extensions of their homes, with outdoor kitchens topping the list. Not only will the new living and cooking space improve your mood and quality of life, but it will increase the value of your home, give you even more excuses to enjoy our terrific California weather, and endlessly entertain friends and family outside. Read full article.

December 2020 – Diablo Magazine has featured Gayler Design Build's kitchen and great room remodel in Alamo, CA.  Read the full article here.


April 2020 – In the midst of the COVID-19 outbreak, many of us have found ourselves with a little extra time on our hands, and we want to make the most of it. While binge-watching your favorite TV series is an entirely acceptable alternative, why not take this time to make small changes to your home now that will certainly pay off down the road? Redfin has asked local home improvement experts, including Gayler Design Build, for advice on easy projects that can be done around the house. Read full article.

February 2020—Diablo Magazine has featured Gayler Design Build's recent 327-square-foot art studio addition in San Ramon, CA.  Read the full article here.


June 2019—As the housing crisis escalates across Northern California, families—especially the growing number of multigenerational households—need more flexible options. One solution is the creative use of accessory dwelling units (ADUs). This affordable, customizable housing solution allows family members to live in physical and emotional proximity, while providing them their own space and freedom.  Read full article, by Gayler Design Build.

April 2018—Every year Pro Remodeler Magazine recognizes a handful of young, promising industry professionals, who represent the industry both as it is and as it will soon be. These are the minds that will overcome the labor shortage and embrace the next generation of technology; who will take remodeling into an era of new professionalism and efficiency. Gayler Design Build's very own General Manager, Chris Gayler was included as one of the Forty under 40.  Read full article.

March, 2017—Qualified Remodeler's annual outdoor living survey report from 2016 indicates that 51.2 percent of survey respondents are already designing, building and/or specifying outdoor kitchens. Darlene Gayler, vice president, Gayler Design Build, Danville, California, says her company approaches the design of outdoor kitchens and spaces much like other indoor projects—starting with questions about what the clients want, how they will be using the space, etc.—to ensure the design fits homeowner needs, lifestyle and how they plan to use it. Read full article, featuring Gayler Design Build.

July 10, 2016—Danville-based Gayler Design Build, Inc., recently earned a REMMIE Award from the National Association of the Remodeling Industry of Diablo Valley for an outdoor project at an Alamo home. The project involved adding a covered kitchen, bar, counter and sofa seating areas, and TV and music systems near an existing pool in the backyard of the house. For the end result, Gayler Design Build snagged first place in the Landscape Design/Outdoor Living $60,000 and Over category when the REMMIE Awards were handed out at a ceremony in Oakland this spring. Read full article.

When George and Darlene Gayler of Gayler Design Build in Danville, California were asked to update this typical 1980's space, they jumped at the chance to maximize its functionality and give the space the feel of an old Italian farmouse. Read full story.

March/April 2006—Not Just for Breakfast Anymore. Modern Breakfast nooks and bars provide round-the-clock enjoyment. Today's breakfast areas are "falling in with the great-room concept—kids are doing homework, guests pop over for coffee." A well-planned bar or nook can be a seat of almost non-stop activity in the home. Read full article.

April 2006—A Bath Divided. How a shared space was divvied up into his-and-hers zones, then unified with a turn-of-the-century treatment. When it comes to designing a primary bath, designating one side for him and one for her can be a no-brainer if you're working with a generously sized rectangular plan. But Linda and Gene Frederick wanted their Alamo, California, bath to have personal cleanup zones and a cozy old-house scale, with odd angles and small niches you'd find in a vintage cottage. Read full story.

October 2006—To Watch: New Generation Takes Overs. Deep in the minds of many remodelers, one big question looms: What happens to my company when I retire? A handful of owners will sell their businesses to employees. A few will sell to strangers. Most will sell off their tools, and then simply walk away. But in a number of remodeling companies across the country, the owners are busy grooming their children to take the reins. Read full article.

Adding Up. A combination of space and style. After 20 years in the home construction business, George and Darlene Gayler know a thing or two about renovating houses. When they recently decided to renovate their undistinguished ranch house in Northern California, they put that knowledge to very good use. "We've had plenty of opportunity to see what works and what doesn't," says Darlene. Read full article.
Get started on your home remodeling project today
Design and construct your home remodel with the peace of mind that your project will be done right—six decades of experience caring for homeowners, using reputable contractors, quality materials, insurance protection, and more.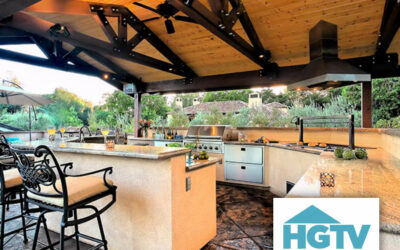 Thirteen (13) bars place guests in the middle of the action and showcase sensational style from coast to coast. This extensive California outdoor kitchen, created underneath a vaulted ceiling, features a bar with granite countertops and iron stools. The...
Meticulous Design Build Firm Dedicated to the Best Craftsmanship and Results On Time and On Budget 18 years… and Counting Danville, CA – June 2015 – Gayler Design Build is the unrivalled premier design/build company in Danville, CA and the Tri-Valley region. With an...

390 Diablo Road, Suite 210
Danville, CA 94526
(925) 820-0185
Open Monday through Friday
8:00 AM to 4:00 PM PST
Never miss a newsletter
By subscribing, you confirm that you're happy for us to send you our latest home remodeling articles, news, and events.